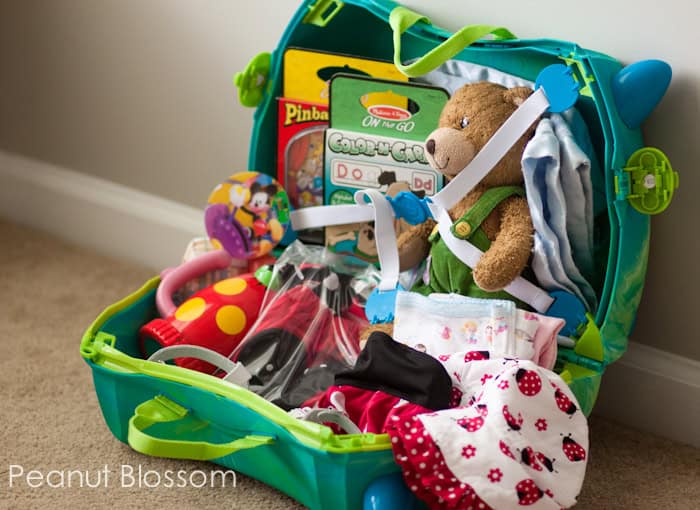 This summer my family is On the Go with Melissa & Doug. I'll be sharing some of my favorite travel tips as part of their ongoing weekly series along with Marnie from Carrots Are Orange and Zina from Let's Lasso the Moon.
This week I'm in the middle of packing for our own vacation so my tips are being put to use right this minute in my own packing station! I'm elbow-deep in laundry and trying to get organized!
Do you have any great packing tips to share? Leave me a comment, I'd love to hear it!

______________________________________________________
Have you seen this quote floating around on Pinterest?
"Nothing is truly lost until your mother can't find it."
Ha.
The key to successful traveling with kids is organization. There are few things worse than mounting frustration as you hunt through piles of stuff to find the one thing your baby needs. There are 2 scenarios in particular where this becomes extra important:
1. Your airplane carry-on: What happens if your checked luggage is lost on the way to your destination?
2. Your overnight bag during a road trip if you need to drive more than a day to reach your destination: Do you really want to haul every last thing into the hotel for a one-night stopover stay?
Last year we flew with the kids for our vacation, this year we're driving with a one night stopover before we get there so I've encountered both of these situations. I will be carefully packing small, grab-able bags for the kids to make our stopover night as stress-free as possible.
Here is my checklist of what I include in our grab bag for the kids for both scenarios: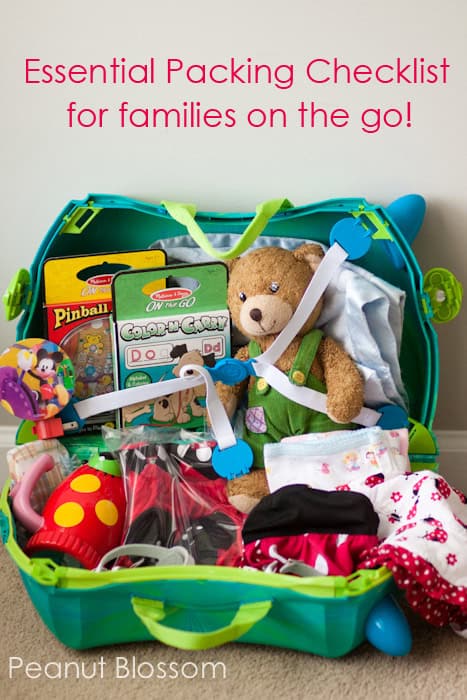 Pajamas/Nightgown
1 clean change of clothes including undies; i.e. 1 zip top bag from here
Swimsuit: Heading to the pool is a great time killer while you wait for lost bags!
Sunhat and/or sunglasses
Traveling lovies, they stay on our person at all times during the transportation
Diapers/swim diaper if applicable & wipes
Nightlight and/or a kid's flashlight: More important for the road trip, not worth the hassle inside a carry-on. Helps the little ones scared of the dark when they're transported from the car to the room past their bedtimes.
Toothbrush and the kids share from my essential toiletries as needed
1 or 2 small books or toys to keep entertained in a pinch: We love the Melissa & Doug On the Go Color N Carry Books because they include the crayons right in the packaging.
And for the carry-ons: Any other essentials you wouldn't want to spend your vacation without. For us that means our camera, Disney pins & travel journal!
If you are worried that an item will be confiscated by airport security, it is always worth the time to double check here before you go.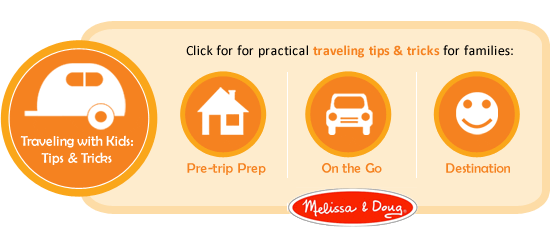 Did you enjoy these tips? Looking for more great information on traveling with your family? Be sure to check out the Melissa & Doug On the Go hub and the awesome Pinterest boards we're keeping:

_________________________________________________
This post was sponsored by Melissa & Doug. I was compensated for my time and provided products to review. All thoughts and opinions are my own. You may view my full disclosure here.