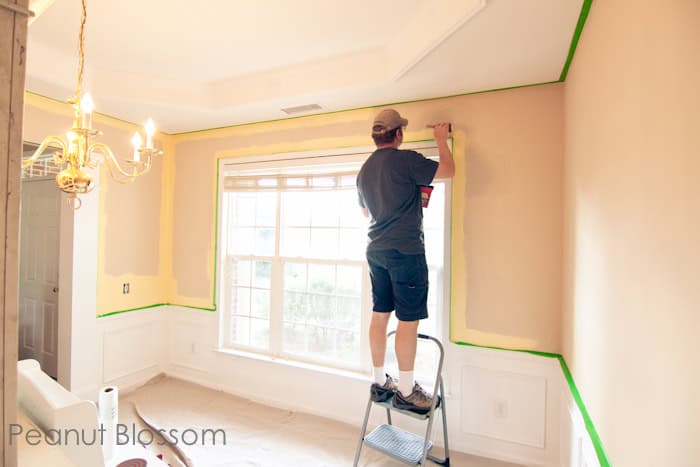 Last month our family finally completed our major move across the country. The last 3 weeks have been a blur of boxes and new faces and house hiccups as we try to get settled into our new lives at work, school, and home.
Item  #1 on my to-do list was to try and scour every inch of this house that has been sitting vacant and unloved for 2 years. (I'm frustrated to say, I'm still working on that one!)
Item #2 was to unpack all the essentials we need for day to day living: clothing, dishes, cooking utensils, bathroom towels ets.
Item #3: Paint!!!
It took 2 weeks before Handyman Tim broke out the painting brushes, drop cloth and tape. Since then he has been a Painting Machine! Both girls' bedrooms are done along with their shared bathroom. This weekend he attacked our dining room and as I type this he's coating the powder room with color.
The bank had painted the entire home that awful shade of tan. It was nice to start with a clean slate so to speak but once we started getting new color, OUR colors, up on the walls we realized how oppressive feeling that Overwhelming Tan really was.
Tim is painting for me. This is not a job he enjoys. But late last night as he pulled the last strip of paint from our pretty new dining room he said, "This really gave the room some character, didn't it? It's nice how it brightened up the space."
Obviously even Tim is noticing the difference putting our own thumbprint on the place has made. And I'm so glad since he's been doing most of that work!
In the coming weeks I'll be sharing our painted room before & afters. I've loved using Pinterest to research paint colors so I'm looking forward to contributing to the inspiration over there.
If you could start over with a totally blank slate, which colors would you do in your home? Picking a color palette was so overwhelming but very exciting. I'd love to hear your color preferences in the comments!