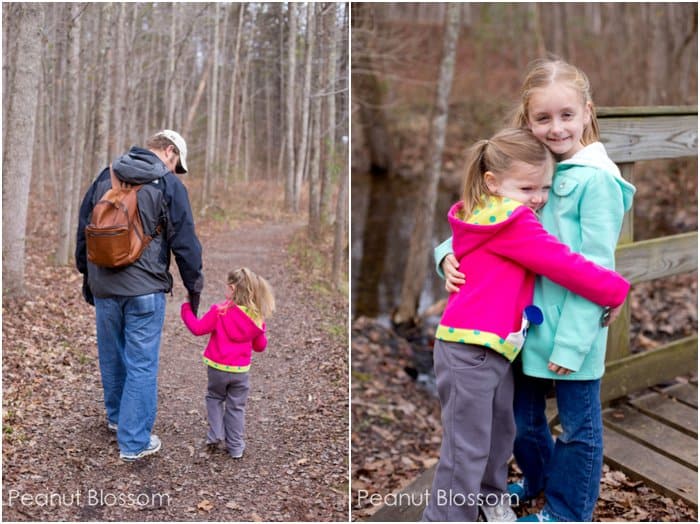 Happy New Year to you! This year we chatted as a family and decided to choose a family word of the year. I've seen this suggestion making its way through the internet and thought it would be a fun way to set  a family goal based on a theme. On New Year's Eve over our celebratory dinner we decided our 2014 word of the year is going to be: Outdoor.
My personal goal of spending 15 minutes outside with the kids in 2013 went fairly well. I wasn't as purposeful about it by the end of the year but we definitely spent more time outside than we did in 2012. I love that the whole family is on board with this goal.
New Year's Day found us enjoying our annual french toast breakfast and then strapping on our hiking shoes for a trip the local Crowders Mountain State Park. We chose a simple trail that took us around a lake, maybe a mile or two of walking at most, very few hills. The girls had a fantastic time.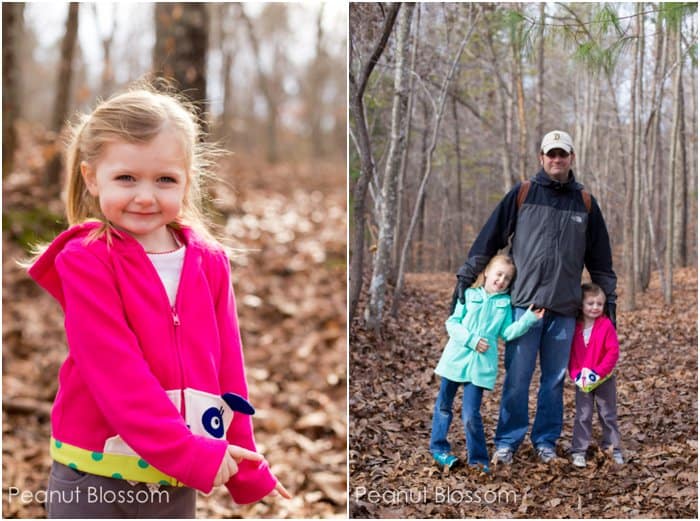 Of course my camera came along for the ride. We didn't have great light until right at the tail end of our walk when the sun finally came out. I'm still getting used to the North Carolina winter landscape. My midwestern friends are buried in snow and while I appreciate the fact we were able to head outside dressed as you see here, it is still an adjustment to get used to all the brown in January!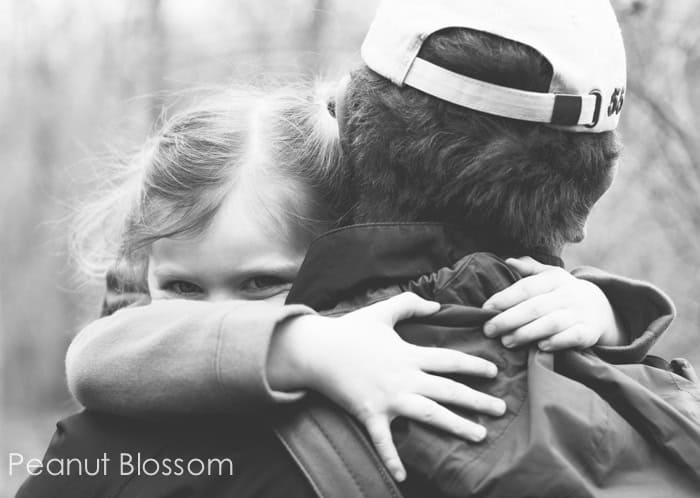 I did manage to capture this priceless shot of Little Pea and Handyman Tim though. I love that sneaky look in her eyes as she hides behind her daddy.
During the car ride home, we chatted more about what our word of the year looks like in practice and we decided this:
1. We are going to do a family event outdoors once a week. It might mean playing basketball in the driveway, it might mean a trip to the park, or it could mean a hiking adventure like our holiday.
2. It requires all four of us to count.
3. I'm going to kill two birds with one stone and make this my personal photography project for the year. I want to document our outdoor time in a special Project 52.
So, Week 1 is done! How satisfying!
How about you? Do you have a family word for the year? Did you settle on a different goal? It's not too late. In my opinion the "new year beginning timeframe" lasts all week!