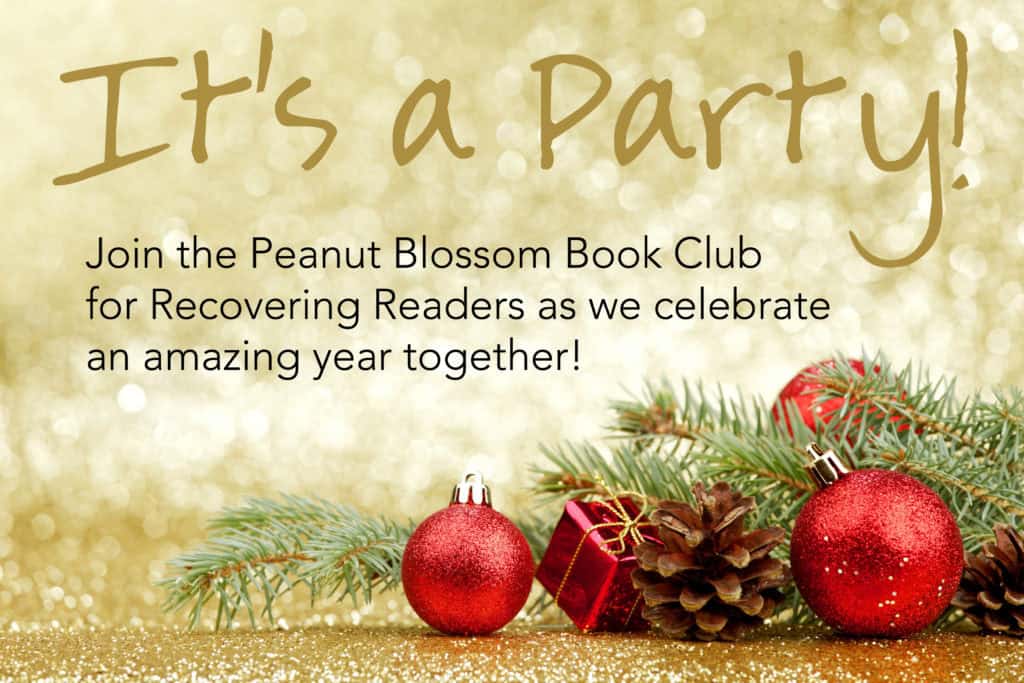 Merry Christmas and Happy Holidays everyone!! Can you believe it's been an entire year that we've been reading our monthly book club books together? When I came up with the idea of hosting an online book club last December, I had no idea what an amazing community we would end up building together. I hoped to encourage other moms to rediscover their love of reading but I have been blown away by the encouragement and support YOU have given to ME this year.
Without you, I would not have read a fraction of the books I can now check off my list. You motivate me to continue reading despite all of life's busy challenges. Your comments and interaction in our monthly parties makes my heart glow and I look forward to spending that time with you every month.
The one thing our online book club can't really compete with an in-person book club is the tradition of ending a spectacular year with a fantastic party. My beloved book club ladies from Illinois (who inspired the way I run our group in every way) used to take December "off" and rather than squeeze in another book, we would head out on the town for a fun dinner out together. There was great food, great wine, and great friends sharing some merriment of the season and recapping our year together.
I so wish we could get together in person for a similar experience. I've been trying to figure out how I could mimic that feeling. Then it hit me!
Today, for our last party of 2015, I am hosting an online "cocktail party" with some of my best blogging friends. We're going to chat all things holiday: books, movies, gift giving, craft ideas, recipes, and so much more. Instead of my traditional book club questions, I will be introducing one friend to you at a time over the course of today. I would love for you to enjoy some holiday chit chat with ladies who have become some of my favorite friends in real life, not just online.
And tonight? Be sure to join me for our live discussion. There will be special surprises in store because what's a party without gifts and goodie bags?!?
So whether you read this month's book or not, I hope you will enjoy hanging out with our amazing book club community as we celebrate the end of a phenomenal first year together. I can't wait to regroup again in January for year 2!!
Big hugs and holiday cheer!

P.S. Not already a member of our book club? We LOVE new members! You are personally invited to join us right here:
https://www.facebook.com/groups/1527882504131105/
Question 1:
Question 2:
Question 3:
Question 4:
Question 5:
Question 6:
Question 7:
Question 8:
Question 9:
Question 10:
From the Party: