Often you'll hear there is one thing that is unavoidable at Disney World: Lines.
To a point that is true but I think that is also a major mistake many families make when spending time with The Mouse.
Looking back at our trip from last year, some of the more memorable moments happened by accident, without planning, and with no lines required. This year we'll be actively looking for more to-do's just like this. Here are our top suggestions for having fun when you're a little tired of standing in a queue.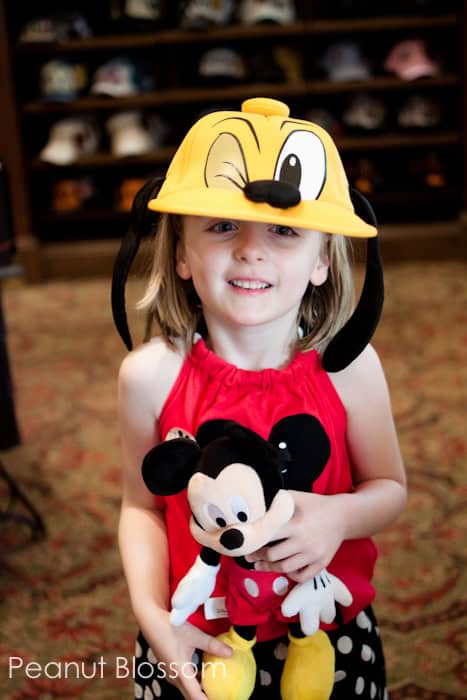 1. Play Dress Up: Our little ones had an enormously fun time trying on all the goofy hats in the shops. When picking out our mouse ears, we spent a good 30 minutes just playing with the different options. You don't need to purchase them to take a photo so it is entertaining to pose for photos in some of the wilder concoctions you may not want to bring home.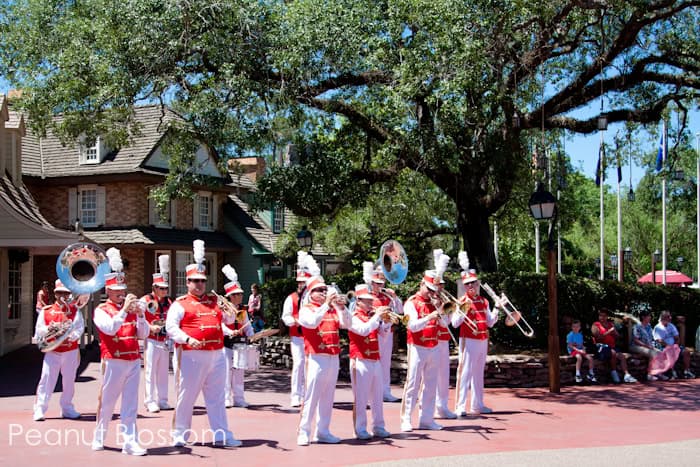 2. Surprise street performances:  Yes there are scheduled parades you can attend and watch but generally we found you have to find a good viewing spot early and wait. Not too fun. On the other hand, if you walk slowly and keep your eyes open you are likely to run into a random street performance eventually. We loved this marching band in Magic Kingdom. The show didn't last longer than 10 minutes and it was the perfect excuse to stop and rest. I know there are wandering performers of all kinds and we'll be on the look out for them next time!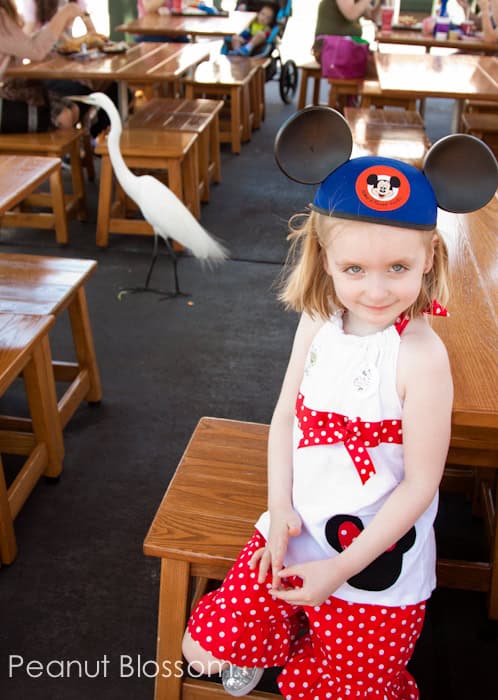 3. Living the wild life: When we stopped for a snack at Hollywood Studios we had a little partner saddle up to our table to join us. I'm not sure which was more memorable--the turkey leg bigger than the Peanut's head or the bird taller than the Peanut wanting her lunch! We spent 20 minutes watching the bird wander the rest stop and tossing him some treats. Coming from the Midwest, this was quite the exotic sight for us and the girls were delighted!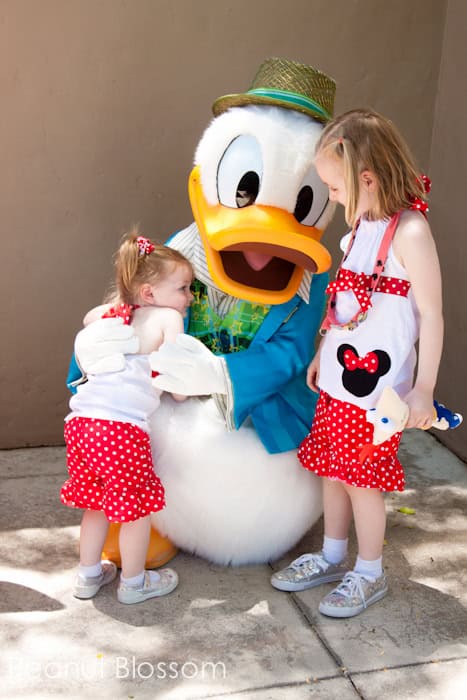 4. Magic character interactions: I know we can't take much credit for this experience but on our way out of Hollywood Studios a cast member approached us and asked if we wanted to meet Donald and Piglet. We followed her to a quiet and private courtyard where our girls had these two characters all to their very selves. I'm not sure how you could manage to repeat this except to be prepared for stopping at any moment and being ready to say "yes" to "Do you have time?"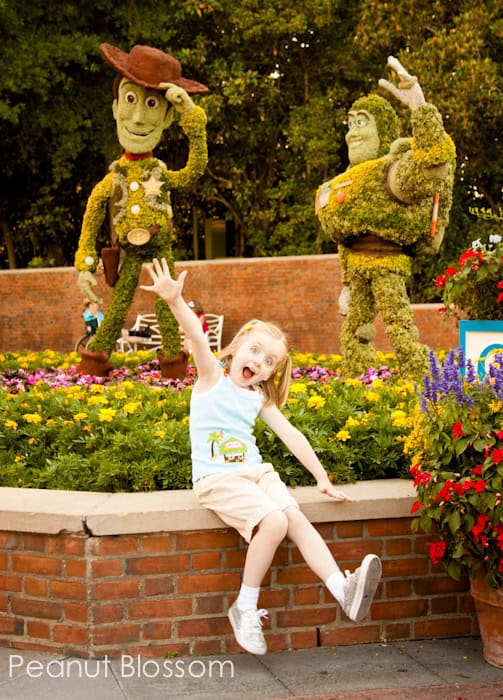 5. Epcot's Garden Show: Epcot is by far the best place for non-line fun. The World Showcase has so much to explore that isn't a ride or show. I completely underestimated the attraction of the Disney themed topiaries during the annual Flower & Garden Show. We all had so much fun spotting the characters and posing for photos with them. I hear they've added Wizard of Oz this year, can't wait to see it!
6. Water babies!: Lastly, Do Not Underestimate your hotel pool. We made sure to take advanatge of the pool at least once during our visit despite the cooler weather and our girls loved it. Water is therapeutic after a long morning spent bumping into other people and standing in line. It's the perfect way to recharge before heading out for more evening fun.
Which spur of the moment experiences did your family enjoy most from your trip? Anything I should keep my eyes out for? Leave me a note in the comments!

Did you enjoy these tips? Looking for more great advice on planning a Disney Vacation? Check out the rest of my Disney Guide here!
Or follow along with other great Disney inspired ideas on my Pinterest board: Simple Disney Magic.