I've spent far too much time in the kitchen this week, but my freezer is all the happier for it. I am not the best baker by any means; definitely had my share of culinary disasters. On the other hand, however boastful this may sound, my hits are usually home runs.
The key to my best recipes are my two secret ingredients. Hold on tight, I decided to share them with you.
I'm a huge fan of Penzeys Spices. I'm lucky enough to live within distance of their store where I can gleefully spend hours wandering up and down the rows. But if I were forced to go live on an island with only 2 spices it would be their Mexican Vanilla Extract and Chinese Cassia Cinnamon. Not sure what I'd be making on an island with those particular spices, but they are the two I find myself constantly restocking.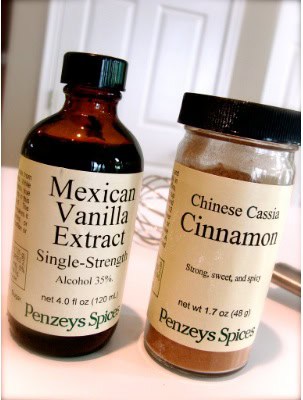 This particular vanilla is harder to find, they don't always stock it. Guess that provides a little side of hunting satisfaction. It comes with a huge vanilla bean in the jar that I plan to use for making vanilla sugar once I finish the extract. The cinnamon is just the perfect spicy and improves just about anything I use it in.
Now excuse me while I head back to the kitchen to lick my spatula.