Book Club Kit for My Not So Perfect Life by Sophie Kinsella includes book club discussion guide and party menu.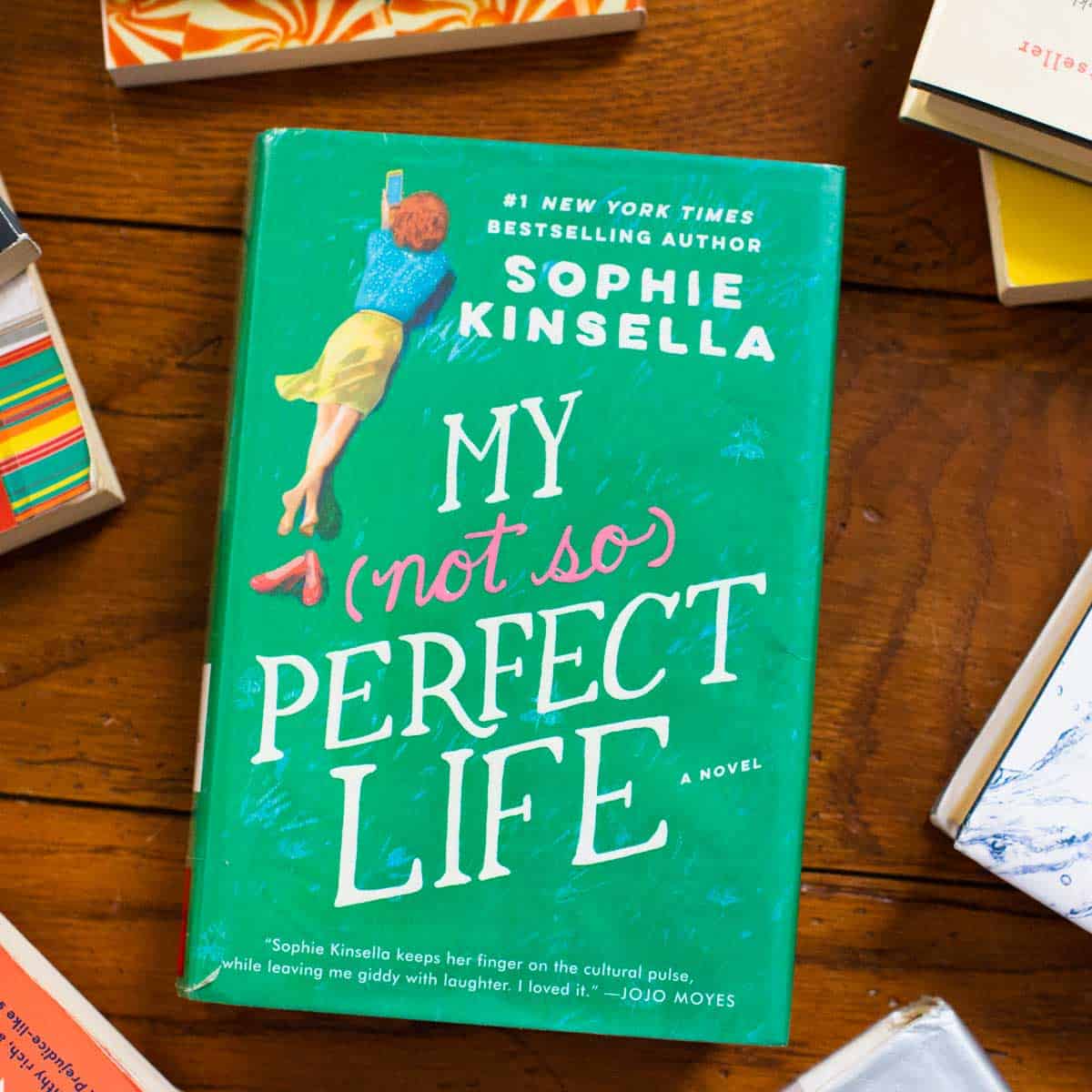 You probably haven't picked up on it, but over the 3 years of our book club, I've been trying to rotate in selections from my favorite authors. We've seen Sarah Addison Allen, Jennifer Weiner, Mary Kay Andrews, and Liane Moriarty make appearances over the months.
But I've been waiting for just the right time to include one of my old school favorites: Sophie Kinsella.
In my late 20s/early 30s, I devoured her Shopoholic series. They are the epitome of light, fun, happy books. She's had several books branch away from that series since then, but I haven't found the time to try any of them.
I'm thrilled to announce our March book club pick: My Not So Perfect Life by Sophie Kinsella.
Peanut Blossom Book Club
This book was our official March 2018 pick for the Peanut Blossom Book Club.
Want to see what we're reading today? Check out our book club book list here.
Want Free Reminders for Each Book?
Sign up for my book club newsletter right here:
What is My Not So Perfect Life About?
Check out the full book description for My Not So Perfect Life here:
"Everywhere Katie Brenner looks, someone else is living the life she longs for, particularly her boss, Demeter Farlowe. Demeter is brilliant and creative, lives with her perfect family in a posh townhouse, and wears the coolest clothes. Katie's life, meanwhile, is a daily struggle—from her dismal rental to her oddball flatmates to the tense office politics she's trying to negotiate. No wonder Katie takes refuge in not-quite-true Instagram posts, especially as she's desperate to make her dad proud.
Then, just as she's finding her feet—not to mention a possible new romance—the worst happens. Demeter fires Katie. Shattered but determined to stay positive, Katie retreats to her family's farm in Somerset to help them set up a vacation business. London has never seemed so far away—until Demeter unexpectedly turns up as a guest. Secrets are spilled and relationships rejiggered, and as the stakes for Katie's future get higher, she must question her own assumptions about what makes for a truly meaningful life.
Sophie Kinsella is celebrated for her vibrant, relatable characters and her great storytelling gifts. Now she returns with all of the wit, warmth, and wisdom that are the hallmarks of her bestsellers to spin this fresh, modern story about presenting the perfect life when the reality is far from the truth."
Grab a copy of My Not So Perfect Life.
My Not So Perfect Life Book Club Questions
I believe the best book club questions to spark a lively discussion in your group help readers make personal connections to the story.
You can read about how to write the best book club questions on your own here, but hopefully these will get you started!
Question 1:
What did you think of this month's book? Is it something you would have picked up on your own?
Question 2:
My absolute FAVORITE part of this month's book was the "My Not So Perfect" Instagram photo project that Katie starts at the end of the book. I'll share mine, if you'll share yours!
This is My Not So Perfect Dining Room Table. I've been traveling for the better part of 2 weeks and in the chaos it has become covered in items to return to the store, clean laundry to be put away, and random objects on their way in and out of the house.
I have a birthday dinner to throw for the Peanut at that table on Wednesday, this clutter will be long gone by then. But, I see this mess as a sign of an amazingly fun few weeks we just had!
Now, show me something in your world that's "not so perfect" and totally, beautifully real.
Question 3:
Have you ever gone "Glamping"? If not, do you think it would be fun? Were you even familiar with the term before this book?
Question 4:
Demeter has several buzzwords she uses over and over in her branding projects and personal life: organic, authentic, artisan, etc.
Why do you think she gravitates to them?
Which phrases do you find overly repetitive / drive you crazy in marketing and/or social media?
Question 5:
Katie struggles financially throughout the book trying to break into a career in branding at a large agency in London--she lives with crazy roommates in a tiny flat, eats crazy cheap meals, and does everything she can to get by while trying to get ahead.
Were you able to connect to her early career financial challenges?
Did the book bring back any memories of your own starting out days?
Question 6:
"Why did you believe my hype when you knew your own hype was all fiction?"
Why is it so easy to believe that what is shared on social media is the full truth? Do you share the downs along with your ups on your own social accounts?
Why or why not?
Question 7:
"Every promotion requires you to do less of the thing you originally wanted to do. Don't you find?"
How true does this feel to you? Have you seen it first hand in your own job or in your partner's work?
Is this just bound to happen as we age and earn experience? Or, can we do something about it?
Question 8:
Katie's dad has such a protective love for her, that he holds grudges and defends her against her "enemies" long after she has forgiven and moved on.
"I know he reacts like that because he loves me. But sometimes it's hard to bear his disappointment at life as well as my own."
How did you react to this part of the story as a parent? How do you react to your own children's challenges?
Are you more like Mick or like Biddy?
And if you don't have kids, how did your own parents behave in this aspect? Was it helpful or hurtful?
Question 9:
The revenge Katie plays out on Demeter: warranted or over the top?
Question 10:
Life in London makes Katie feel more alive.
Is there a place or an activity that makes you feel invigorated like that? Tell us about it.
Book Club Party Menu
For the book club party menu, channel a hearty afternoon tea and offer your friends plenty of pick up nibbles to enjoy over the book discussion:
You May Also Enjoy
If you enjoyed this book, you'd likely enjoy these other fun book club picks from through the years: