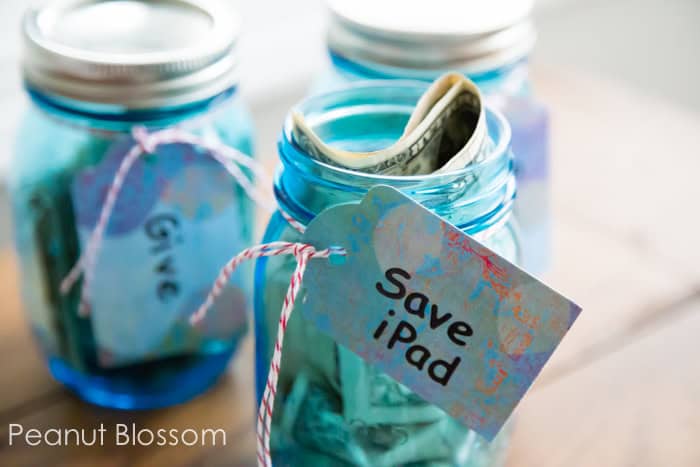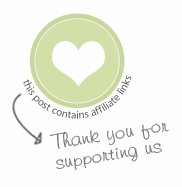 Several months ago we started a new money-saving program with the Peanut. She's old enough now to do extra work around the house for payments and we wanted to give her some control over what happens with her money.
We initially started with just a single jar to collect her coins but after a few too many trips to the store to spend the whole loot in one blow, we decided to take some advice from Dave Ramsey. We added two jars to the collection to assign them: Spend, Save, and Give.
To water down and simplify the advice, Dave suggests having kids start saving to buy their own cars. That's an awesome goal and lesson but at only 6 years old, a car felt too far off and intangible for her first big saving goal. We chatted and decided that an iPad of her very own would be a better long term savings goal. It's expensive enough to require some work but appealing enough she's excited to see the money piling up in that jar.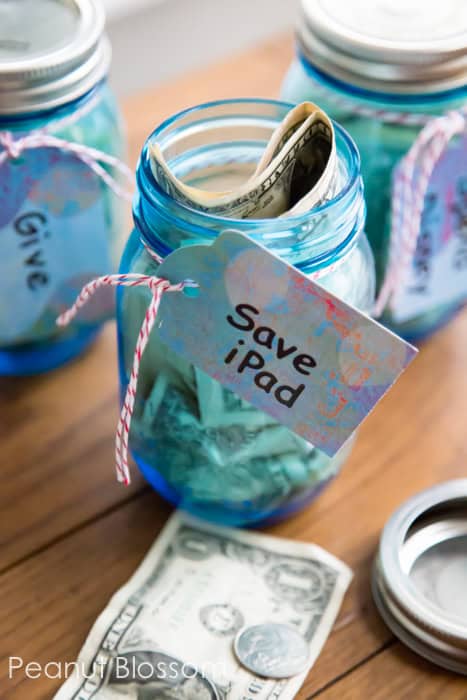 The problem we initially ran into was how to encourage the Peanut to divide up her money among the jars. Especially when she's doing a single task around the house for a quarter. Do we pay her in two dimes and a nickel and ask that she fill all 3 jars?? It seemed overwhelming and confusing.
Thankfully, my friend Zina offered up the perfect solution: "Money Mondays." The idea is simply brilliant. You can read the full explanation here but basically we give the Peanut a weekly allowance of $3 on Mondays--$1 for each of her jars. We outlined what kind of household helping is required to earn her money and she needs to remind us to pay her or she misses out until next week.
The last challenge was still what to do with the Spend jar. That money BURNS a hole in the Peanut's pocket and rarely grows larger than $5. I know that's the partly the point--it is her jar to spend as she chooses but we still used this as an opportunity to have a discussion over making spending choices.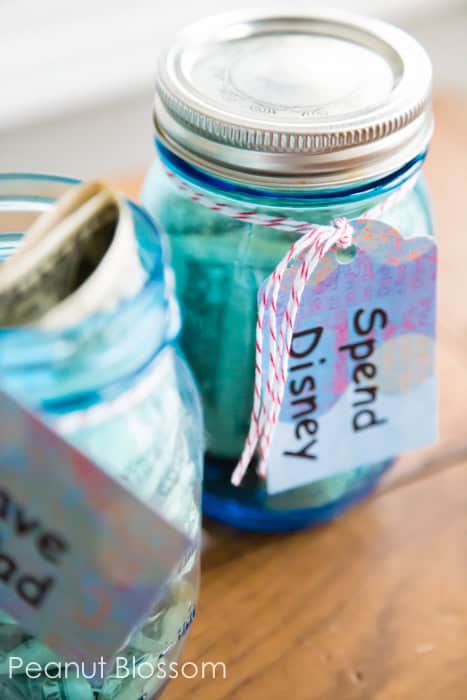 Knowing we have a trip coming up quickly to Disneyland, we talked to the Peanut and she agreed that it was important to not blow through the dollars in that jar at the local Target and that it would be more fun to hold on to it a bit to take along on our trip.
To help remind her of the goals for each jar, I made simple little tags for each one with the name of where that money will go. I attached them with some twine and done! I love that this solution allows us to switch the tags as she achieves her goals and sets new ones. It's a little more flexible than our permanent Disney money jar.
This project was the perfect use for the blue Mason jars I couldn't resist! You can find your own set here if you're interested.
Have you set money goals with your kids? What age did you start?

Resources you might find helpful: