Miss Cecily's Recipes for Exceptional Ladies by Vicky Zimmerman is the official September pick for the Peanut Blossom Book Club for Recovering Readers.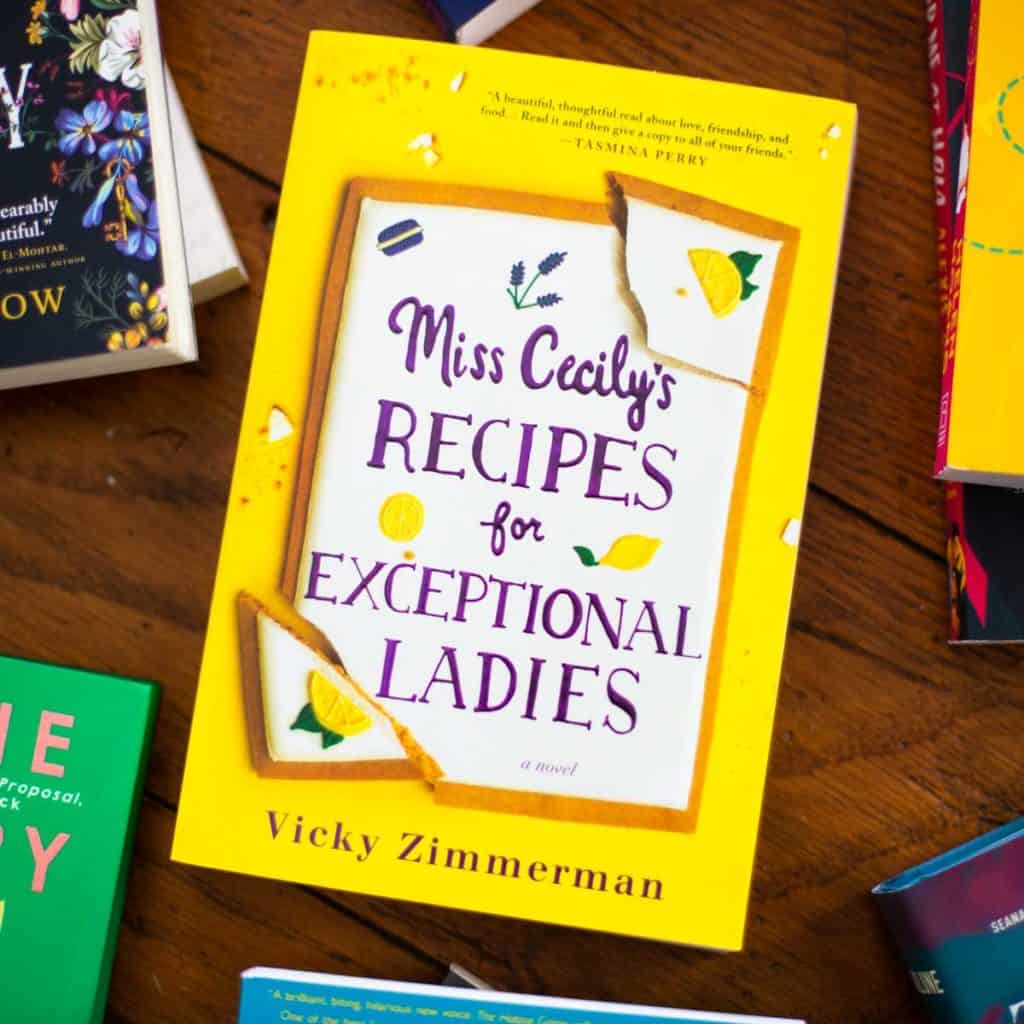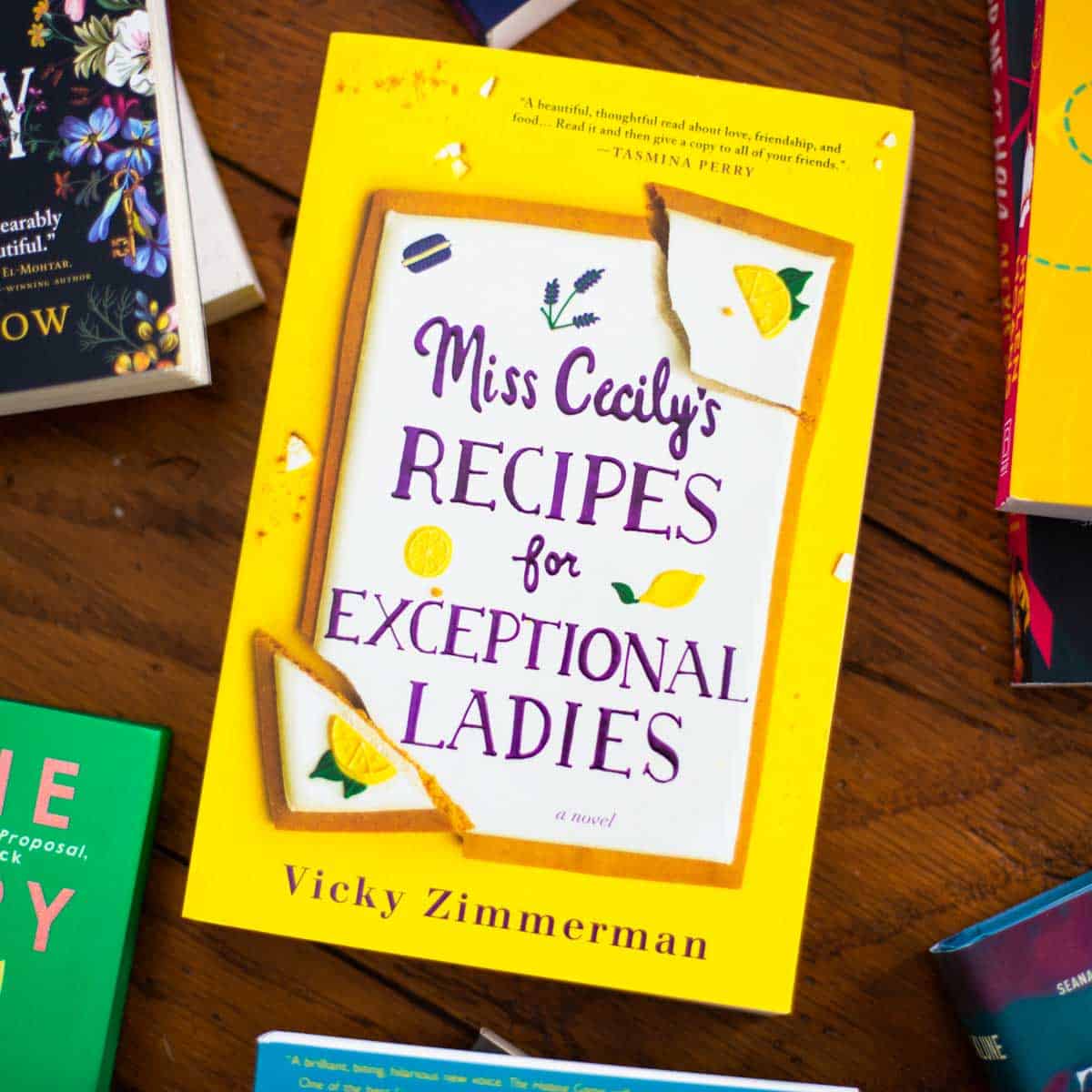 I know you're not supposed to judge a book by it's cover, but when this bright yellow, pretty thing popped up in my Facebook feed, it stopped me in my tracks.
One of our book club members shared this with a positive review last spring and I was immediately smitten.
The cover is gorgeous, the plot sounded cute, but I didn't expect it to become my favorite book I've read all year. I was so moved, I ended up with 20 different passages highlighted on my Kindle!
Friendship, romantic foibles, and good food--this book has all the perfect elements for a fun book club discussion.
I just can't wait to chat about this book with you!

P.S. Just joining us? Don't miss the full 2021 line-up for our book club picks.
Want Free Reminders for Each Book?
Sign up for my book club newsletter right here:
September's Official Book Club Pick: Miss Cecily's Recipes for Exceptional Ladies by Vicky Zimmerman
I'm pleased to announce that this is our official September Pick for this year.
Get your copy of this month's book club pick:
Money-saving tricks for reading this month's book pick:
You can get the book from your library.
The Kindle version is a little bit cheaper than the paperback AND you can save money on the Audible version if you own the Kindle copy! I love to use the Amazon Whispersync feature to go back and forth between audio and digital reading.
What is this month's book about?
"An unlikely friendship between two stubborn, lonely souls anchors this big-hearted book and dares us all to ask for more.
When her life falls apart on the eve of her 40th birthday, Kate Parker finds herself volunteering at the Lauderdale House for Exceptional Ladies. There she meets 97-year-old Cecily Finn. Cecily's tongue is as sharp as her mind, but she's fed up with pretty much everything.Having no patience for Kate's choices in life or love, Cecily prescribes her a self-help book…of sorts.
Thought for Food: an unintentionally funny 1950s cookbook high on enthusiasm, featuring menus for anything life can throw at the "easily dismayed," such as:
Breakfast with a Hangover
Tea for a Crotchety Aunt
Dinner for a Charming Stranger
Read the full description of the book here.
Discussion Questions for Miss Cecily's Recipes for Exceptional Ladies
Want to discuss this month's book with your book club friends? Here are some great conversational questions to get the party started.
You can download the full discussion guide here and then print it to have handy.
Which of the meals/menus described in the book sounded the most delicious to you?

Did you ever date someone like Nick? How did it turn out?

Did your girlfriends ever advise you that a boyfriend wasn't good enough for you? Did you listen to them? Or, have you ever tried to warn a friend of yours?

Miss Cecily isn't the warmest figure, could you have been as patient with her as Kate is throughout the story? Would there have been a breaking point for you?

Kate bemoans the state of online dating, do you think it is still possible to find and connect with someone offline as Miss Cecily suggests?

Which side of the story did you enjoy reading most: Kate's or Miss Cecily's? Why?

Cooking and sharing food with friends brings joy to Kate, do you have a hobby that brings you that kind of joy?

Would you buy a copy of Thought for Food? If you were naming a new menu for the book, what occasion would you suggest? Share the Title and Aim.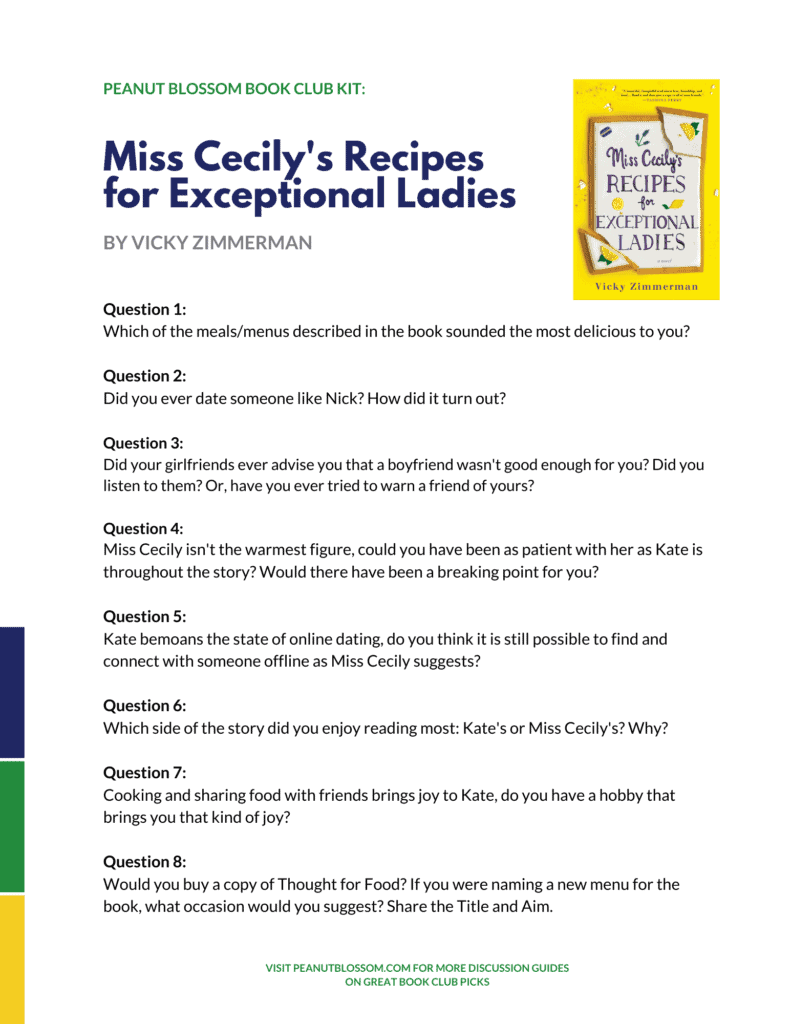 Book Club Party Recipes:
There are tons of excellent recipe ideas in this month's book but why not host a "Double Pasta Dinner Club" for your friends in honor of Kate's grand event?
Make a batch of Italian bread and cut it into fingers for dunking and dipping into the sauce. Add a simple green salad and a few bottles of wine.