Midnight at the Blackbird Cafe by Heather Webber is the official July 2022 pick for the Peanut Blossom Book Club for Recovering Readers.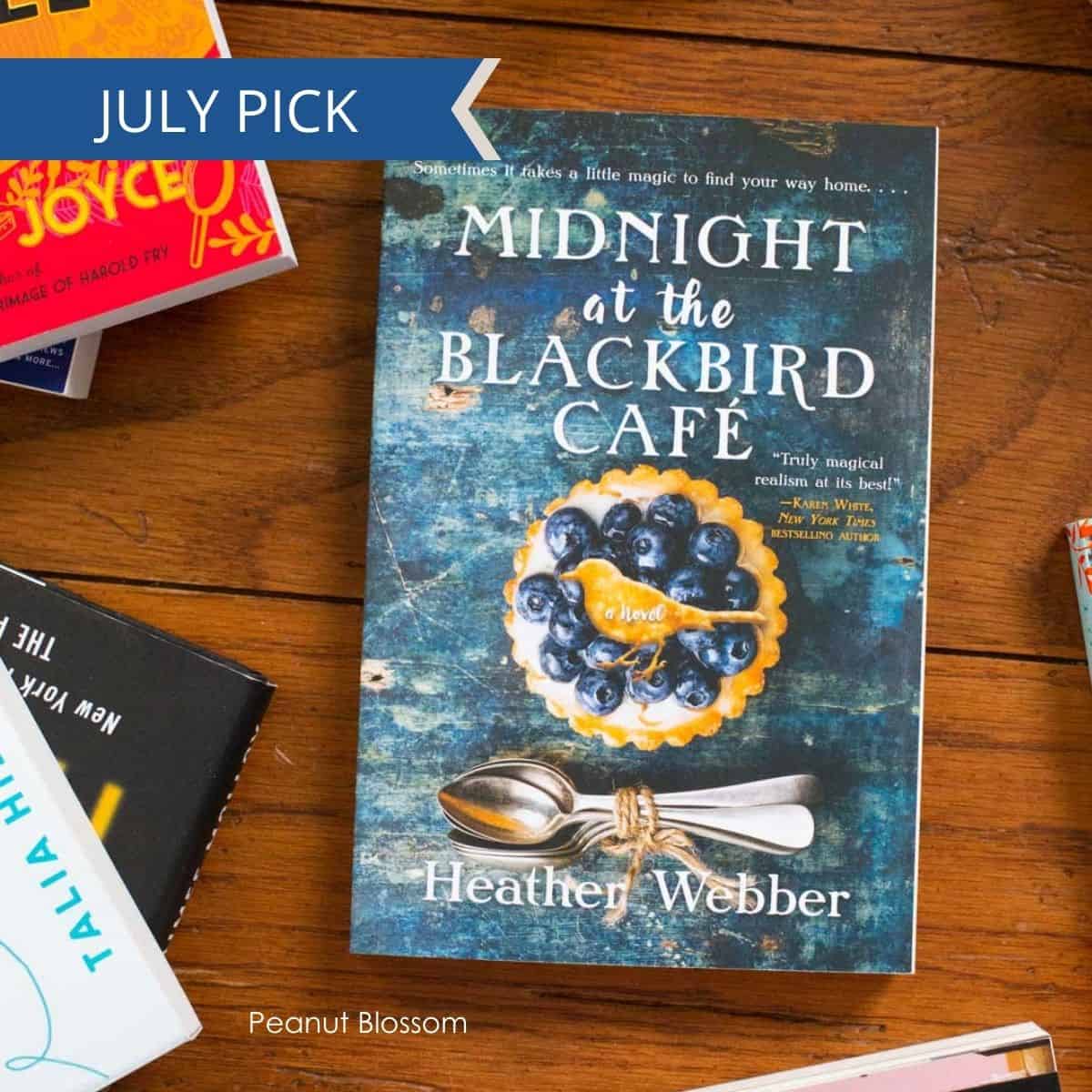 I've been a big fan of magical realism since before I even launched the Peanut Blossom Book Club.
It all started when I read Garden Spells by Sarah Addison Allen and was immediately enamored with the magical details she inserted into an otherwise realistic modern story.
Over the years, I've picked at least one magical realism book each year and they never fail to delight our readers.
This year's pick kept popping up in our club as one of our members' favorite reads from last year, so it was the perfect choice for summer with that sweet blueberry tart on the cover.
Whether this is your first magical realism book or you're already in love with the genre as I am, I hope you enjoy this read!

Want Free Reminders for Each Book?
Sign up for my book club newsletter right here:
July Official Book Club Pick: Midnight at the Blackbird Cafe by Heather Webber
I'm pleased to announce that this is our official July Pick for this year.
Get your copy of this month's book club pick:
Money-saving tricks for reading this month's book pick:
What is this month's book about?
"Nestled in the mountain shadows of Alabama lies the little town of Wicklow. It is here that Anna Kate has returned to bury her beloved Granny Zee, owner of the Blackbird Café.
It was supposed to be a quick trip to close the café and settle her grandmother's estate, but despite her best intentions to avoid forming ties or even getting to know her father's side of the family, Anna Kate finds herself inexplicably drawn to the quirky Southern town her mother ran away from so many years ago, and the mysterious blackbird pie everybody can't stop talking about.
As the truth about her past slowly becomes clear, Anna Kate will need to decide if this lone blackbird will finally be able to take her broken wings and fly."
Read the full description of the book here.
Discussion Questions for Midnight at the Blackbird Cafe
You can read the online discussion for Midnight at the Blackbird Cafe here.
If you plan to host a book club party, these questions will help get your conversation started:
Question 1
What did you think of this month's book? Is it something you would have picked out for yourself?
Question 2
This book falls in the "magical realism" genre. Have you read this kind of book before?
Question 3
The cast of characters had many memorable folks included. Who was your favorite character in the book?
Question 4
How did you feel about the way the small town community was described in the book? Do you recognize similarities to where you live now?
Question 5
If you could eat a slice of pie and get a message from a loved one who has passed on, would you do it? What would you hope to hear?
Question 6
If you passed on tomorrow but could send nightly messages to someone you love, what would you say to them?
Question 7
What happens next for the characters in the story?
Book Club Party Menu
I think it is an essential rule that if you host a book club party for a book that features a pie as a main plot element you absolutely must serve a pie to your friends.
Better yet, have every book club member bring a pie and do a taste test!
My personal preference is my cherry slab pie but the crumble apple pie bars or shortbread pecan pie bars are quick and easy.
Don't want to bake? Try my no bake Butterfinger pie!