Malibu Rising by Taylor Jenkins Reid is the official June 2022 pick for the Peanut Blossom Book Club for Recovering Readers.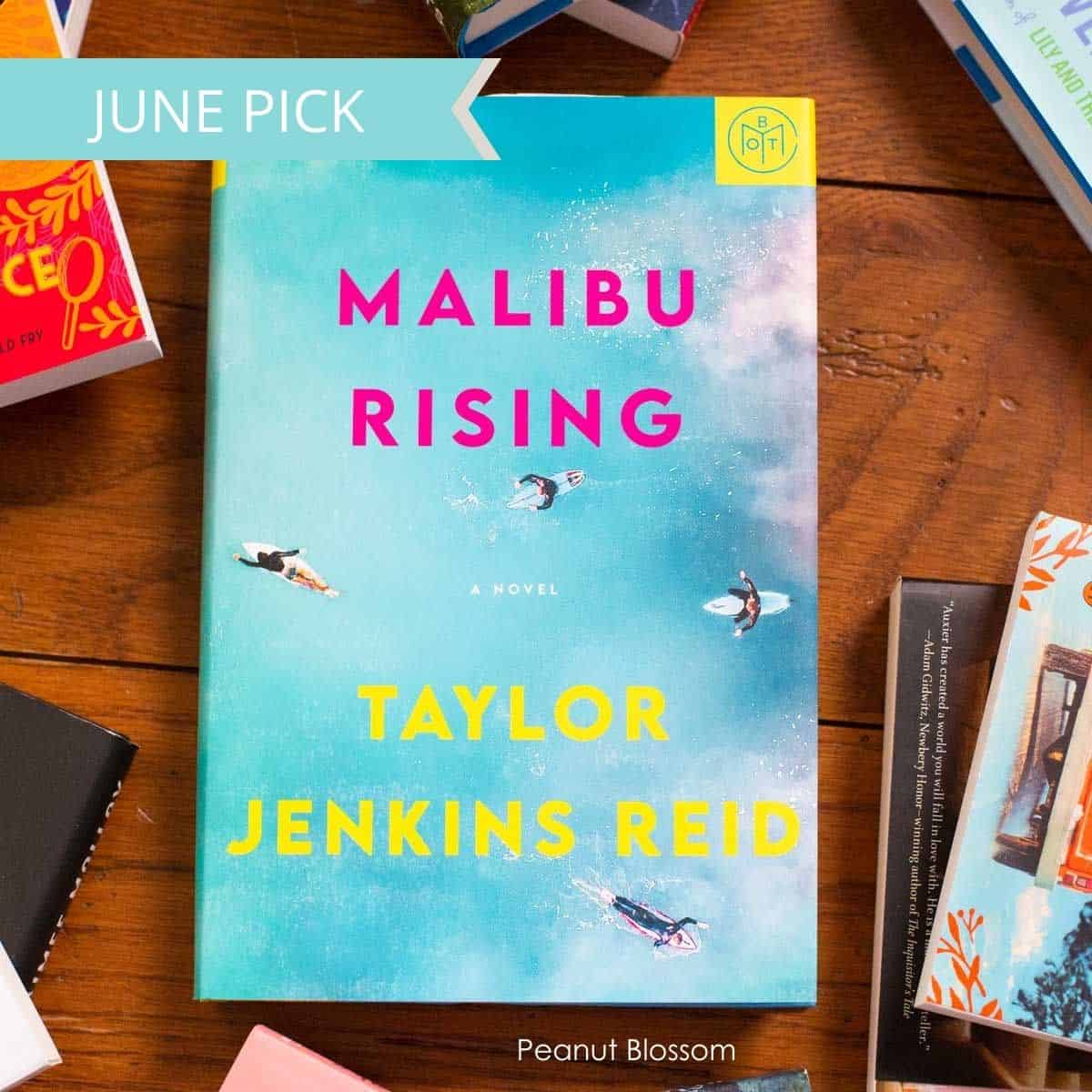 Taylor Jenkins Reid has quickly become one of my favorite authors this last year.
I listened to the audiobook of Daisy Jones and the Six when school started up and it was so good I found myself looking forward to carpool lane delays!
Then I devoured The Seven Husbands of Evelyn Hugo on my Kindle and found myself losing sleep for "just one more chapter."
I knew I had to add this month's book club pick to the line-up and I've been looking forward to this read since last fall!
School is wrapping up for my kids this week and I'm looking forward to lazy mornings on my back patio with an iced coffee and this book. I hope you'll join me!

Want Free Reminders for Each Book?
Sign up for my book club newsletter right here:
June Official Book Club Pick: Malibu Rising by Taylor Jenkins Reid
I'm pleased to announce that this is our official June Pick for this year.
Get your copy of this month's book club pick:
Money-saving tricks for reading this month's book pick:
What is this month's book about?
"Four famous siblings throw an epic party to celebrate the end of the summer. But over the course of twenty-four hours, the family drama that ensues will change their lives forever.
Malibu: August 1983. It's the day of Nina Riva's annual end-of-summer party, and anticipation is at a fever pitch. Everyone wants to be around the famous Rivas: Nina, the talented surfer and supermodel; brothers Jay and Hud, one a championship surfer, the other a renowned photographer; and their adored baby sister, Kit. Together the siblings are a source of fascination in Malibu and the world over—especially as the offspring of the legendary singer Mick Riva.
The only person not looking forward to the party of the year is Nina herself, who never wanted to be the center of attention, and who has also just been very publicly abandoned by her pro tennis player husband. Oh, and maybe Hud—because it is long past time for him to confess something to the brother from whom he's been inseparable since birth.
Jay, on the other hand, is counting the minutes until nightfall, when the girl he can't stop thinking about promised she'll be there.
And Kit has a couple secrets of her own—including a guest she invited without consulting anyone.
By midnight the party will be completely out of control. By morning, the Riva mansion will have gone up in flames. But before that first spark in the early hours before dawn, the alcohol will flow, the music will play, and the loves and secrets that shaped this family's generations will all come rising to the surface.
Malibu Rising is a story about one unforgettable night in the life of a family: the night they each have to choose what they will keep from the people who made them . . . and what they will leave behind.
Read the full description of the book here.
Discussion Questions for Malibu Rising
COMING SOON
Book Club Party Menu
When you get together to discuss this month's book club book, plan a Malibu menu filled with fresh treats you could imagine eating poolside at your California getaway home.
This light and creamy poolside dip is an obvious winner and for the sweeter side offer up strawberry mango salsa with cinnamon pita chips.
A platter of these easy spicy shrimp would go perfectly with a strawberry lemonade possibly spiked with sparkling wine!