I'm getting ready to share a series of "before" photos of our new home. We've been here for 6 weeks today, I can hardly believe it. Our first weeks have been a blur of fix-its, lots & lots of painting, unpacking, losing & finding things, and just generally learning the quirks of our new house.
It doesn't feel like "home" yet but we're getting there. Every little decor project no matter how small makes a dent in making this place ours. But I still feel shadows of our last house. I find myself reaching for the child safety lock keys that aren't here when I go to open the cabinet under the sink. It takes me a minute to realize why my hand is dangling in the air reaching for something that's not there.
I stop myself as I'm walking to the garage to get a pack of nails that I realize had a special spot in our last garage. I know that I fully expect to see the old white shelves when I open the door but am shocked to find a mountain of boxes instead.
I turn around in the kitchen absolutely confused about where my cabinet with baking supplies went when I realize I'm looking for my old one above our refrigerator.
I'm obviously a creature of habit and the new habits haven't settled in just yet.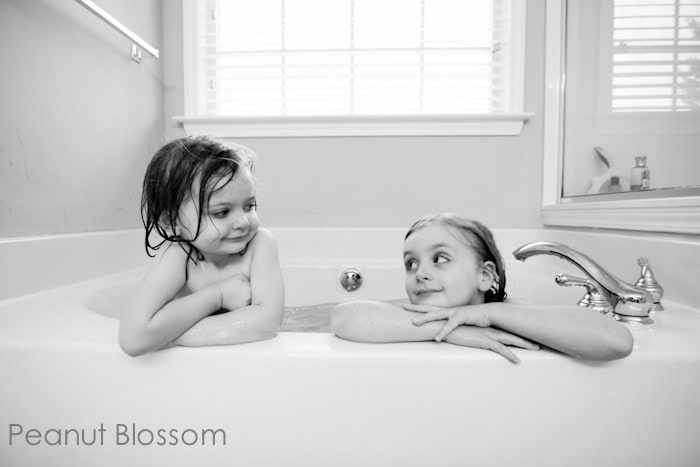 But there are new things about our house that we didn't have at the last one that make me grin from ear to ear. First one that comes to mind is the big fat window above our bathtub. After all these years I finally get to take natural light pictures of my babies in the tub. No matter how hard I tried, I never did get the artificial lighting to work for me at the last place.
And even in taking the "before" shots of all our rooms, I see the potential. I know we're going to make them our own. We're just busy trying to dig out of this transition zone first.
I wanted to share this personal post because I'm planning a series on moving tips and I want to remember that we didn't feel settled right away. Even here at 6 weeks, everything feels new and foreign--a little bit like we're squatting in someone else's house.
I suppose it's all part of the process. It's exactly what makes moving so stressful.