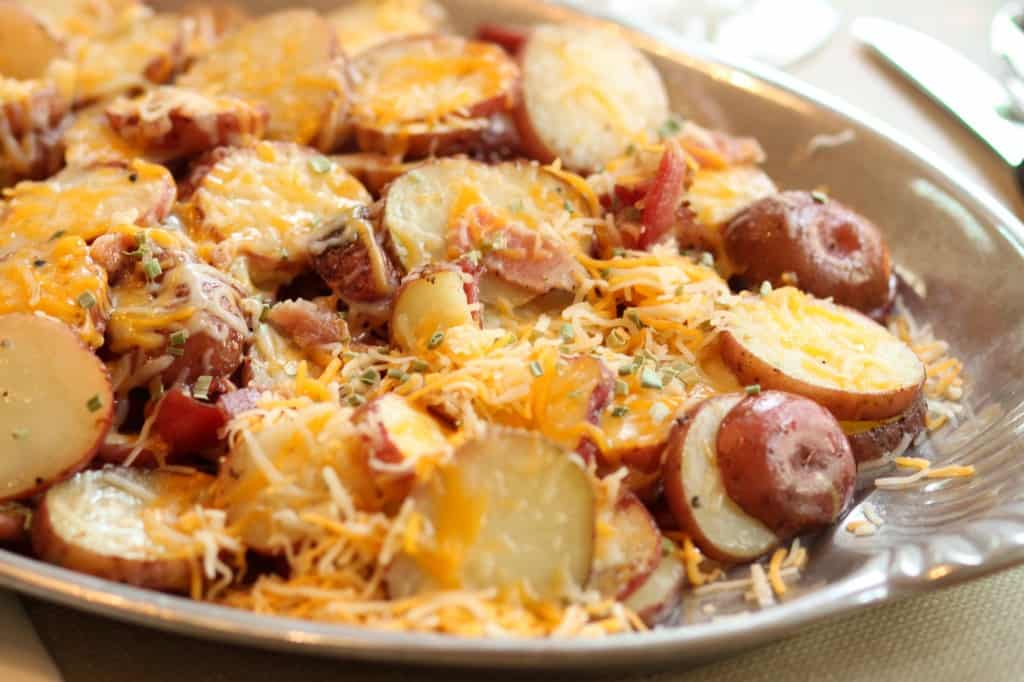 I mentioned yesterday that Handyman Tim is a meat and potatoes kind of guy. Yesterday I shared some meat, today the potatoes. I wanted something a little different than our normal roasted ones, so to mix things up a bit, I decided to try this over the top loaded potatoes recipe I stumbled upon over at Tasty Kitchen.
Handyman Tim devoured this side dish. As did Little Pea! I can't blame them, everything is better with bacon! I goofed up the recipe when I tried it and used 3 pounds of potatoes instead of just the 1. oops. It caused the potatoes to crowd the pan and steam rather than crisp up and it screwed up the ratio of bacon to potato. Don't make that mistake. Either triple the bacon (hey! not a bad idea) or keep to the 1 pound of potatoes. Sooo yummy.
If you have any leftovers, I think they'd make an awesome breakfast side dish with some eggs. Yum.
______________________________________
Loaded Oven Roasted Potatoes
from Twinks on Tasty Kitchen
Ingredients:
1 pound baby red potatoes
3 slices bacon, chopped
4 cloves minced garlic
1 tsp salt
1 tsp black pepper
4 scallions, chopped
grated cheddar cheese
sour cream
Method:
Preheat oven to 400 degrees.
Line a jelly roll pan with aluminum foil for easy cleanup.
Slice potatoes into 1/4 inch thick slices.
Combine bacon, potatoes, garlic, salt and pepper and spread evenly on a prepared jelly roll pan. Cover with foil and bake 20 minutes.
Remove potatoes from the oven and stir. Return to the oven and bake uncoverd for an additional 20 minutes.
Place under the broiler to brown the potatoes and bacon, watch carefully it will happen quickly.
Adjust salt and pepper to taste and top with chopped scallions, cheddar cheese and sour cream.