My completely fantastic book club ladies surprised me with a baby gift for Little Pea at our last meeting. I can't think of a gift more appropriate from them than the one that they chose--a starter library for Little Pea. Each woman from the club chose the chapter book that inspired her love of reading as a young girl and they filled a basket with copies of their choices.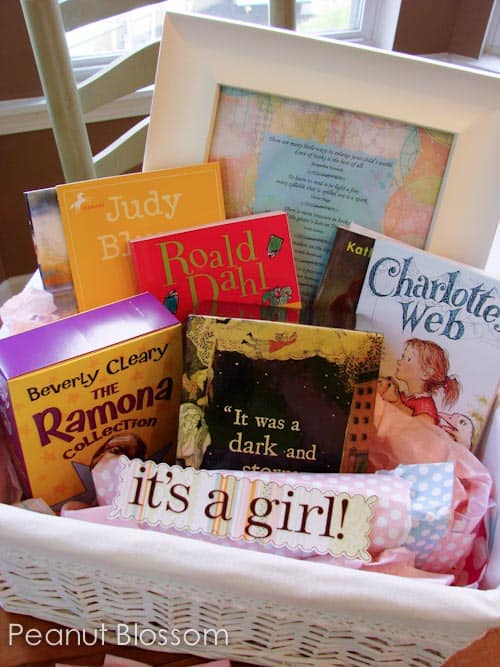 I was thrilled to see several titles I remember loving myself mixed in with a few I hadn't heard of before. I can't wait to share this collection with both my girls. Our little library starter set thoughtfully included:
The Ramona Collection by Beverly Cleary
Matilda by Roal Dahl
Charlotte's Web by E.B. White
The Great Gilly Hopkins by Katherine Paterson
Freckle Juice by Judy Blume
The Wrinkle in Time Series by Madeleine L'Engle
Misty of Chincoteague by Marguerite Henry
It just so happens that I've already been setting aside my childhood favorites for the girls so I was thrilled there were no repeats of the ones I already have on hand. If I had been adding to this basket, my selection would have been either A Little Princess by Frances Hodgson Burnett or Ballet Shoes by Noel Streatfeild. 
What would you have added to the basket? Do you have a specific memory of the first book you loved? I'd love to hear about it if you would leave a comment.
To top the basket off, they included a beautiful framed series of quotes and a matching baby onesie and toddler t-shirt that says "Got Books". Too clever for words. The quotes they found are so special, I thought I'd close this post with them for your enjoyment:
There are many little ways to enlarge your child's world.
 Love of books is the best of all.
-Jacqueline Kennedy
To learn to read is to light a fire;
 every syllable that is spilled out is a spark.
- Victor Hugo
There is more treasure in books than
 in all the pirates' loot on Treasure Island.
-Walt Disney
Children are made readers on the laps of their parents.
-Emilie Buchwald
The greatest gift is a passion for reading.
-Elizabeth Hardwick
Any book that helps a child to form a habit of reading,
 to make reading one of her deep and continuing needs, is good for her.
- Maya Angelou
The more you read, the more things you will know.
 The more you learn, the more places you'll go.
- Dr. Seuss