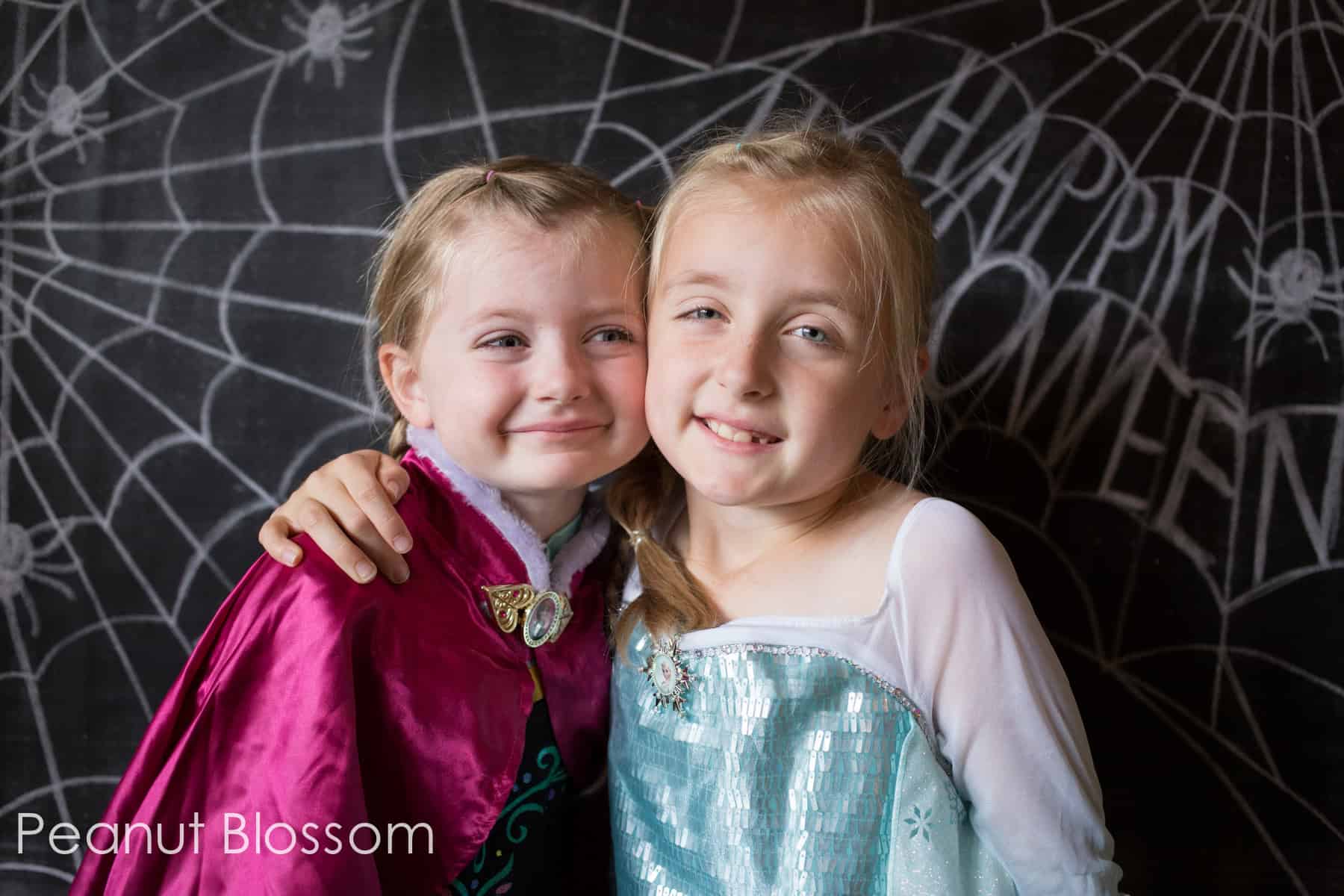 This is a story of two sisters, two Elsa dresses, and one Halloween.
It's slowed down quite a bit from the hysteria of last year, but you still remember don't you? The dozens and dozens of Elsas knocking at your door shouting "Trick or Treat!"
Little girls in icy blue frocks and crazy blonde braids everywhere you turned. For what felt like forever.
My girls were not immune. Frozen Fever ran high in our house for both girls which felt like nearly a miracle. My Peanut had shunned all princess movies and paraphernalia throughout the 7 years of her life until Elsa arrived on the scene--Powerful, Frosty, and wearing her very favorite color blue dress.
The Peanut was enamored with Disney's newest princess and it was the first time she shared this interest with Little Pea. I was shocked but excited when she started talking about wanting to dress up as Elsa for Halloween. It was perfect! The Peanut could be Elsa and Little Pea Anna!
At that moment in time, the costumes were nearly impossible to find. At The Disney Store they ran $50 but people were selling them off on Ebay for double or triple that amount. I started stalking the updates from Disney and one early morning caught them available online. Knowing the dresses would sell out within hours, I double checked with the girls that this was indeed the costume of choice for Halloween. NO changesies!
Little Pea heard the plan and balked at the last minute saying that SHE wanted to be Elsa. Because of course she did. Why wouldn't she? EVERYONE wanted to be Elsa.
The Peanut was crestfallen. SHE wanted to be the only Elsa. Her reaction was completely unfair, and yet I understood.
But more importantly: So did Little Pea.
While I scrambled to figure out what was the right thing to do in this sticky situation, that precious little girl of mine took one look at her big sister's disappointed face, paused, patted her hand and said,
"It's ok, I'll be Anna. You can be Elsa for Halloween."
No hesitation, no bickering, no sarcasm. Just an instant giving and loving response. For a 4 year old in the height of all that was Frozen to sacrifice the costume of her dreams for her sister's happiness?? My heart just couldn't take it.
Into the shopping cart went 2 Elsa dresses . . . along with one Anna outfit: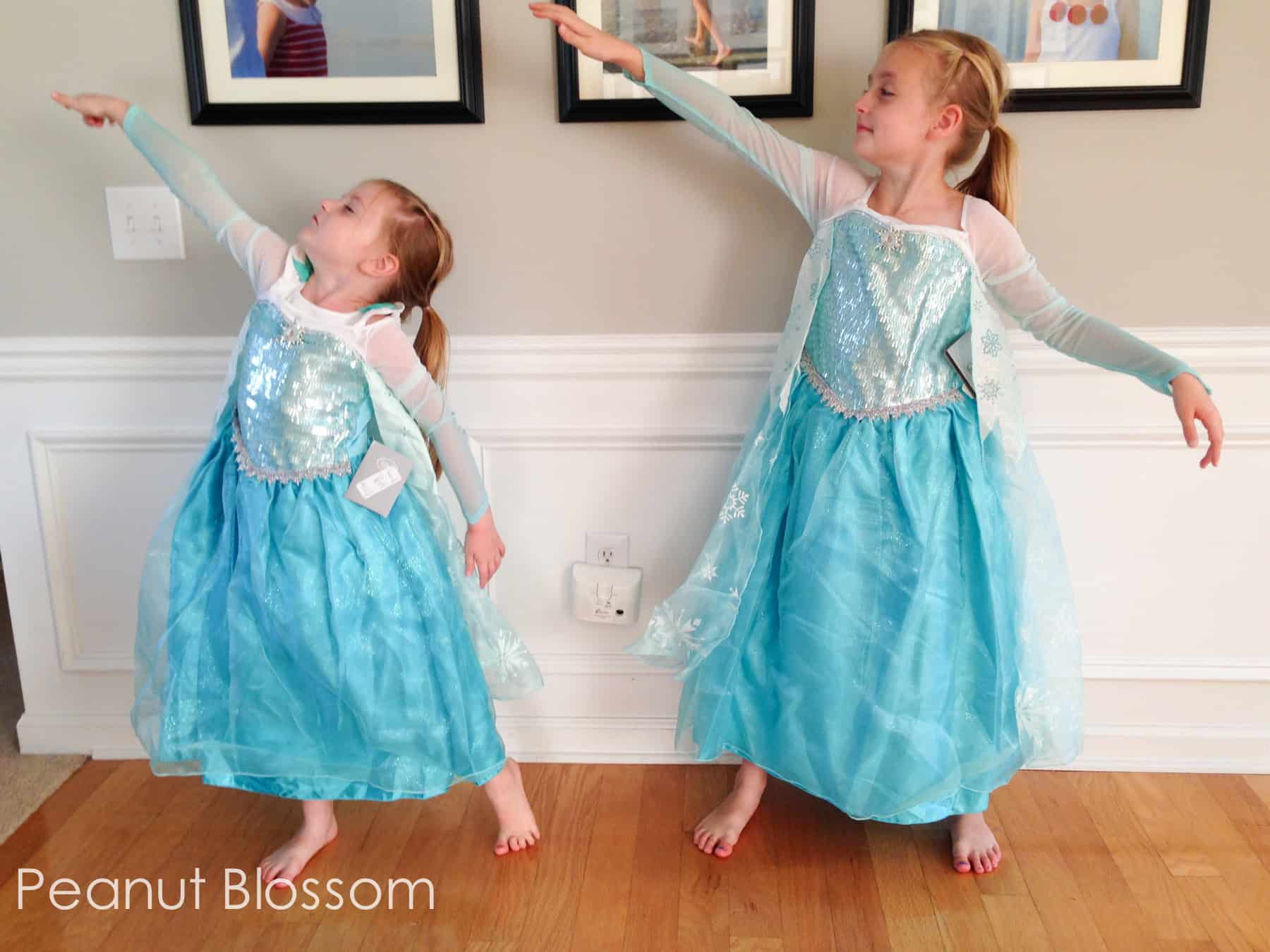 The day the outfits arrived, the girls stalked the UPS man every few minutes. They squealed when the doorbell rang and demanded to do a dress rehearsal the moment I opened the box.
Look at the delight, the seriousness of their imagination on their faces. They posed like that with exactly ZERO prompting or direction from me. It is one of the most real photos I have ever captured of the girls.
Little Pea never once complained about playing Anna to the Peanut's Elsa. She enjoyed her dress during dress up play in our house but in every mention of Trick or Treating she knew exactly what she would be wearing.
When the big day came, she was tickled pink to dress up as sister princesses with her beloved big sister: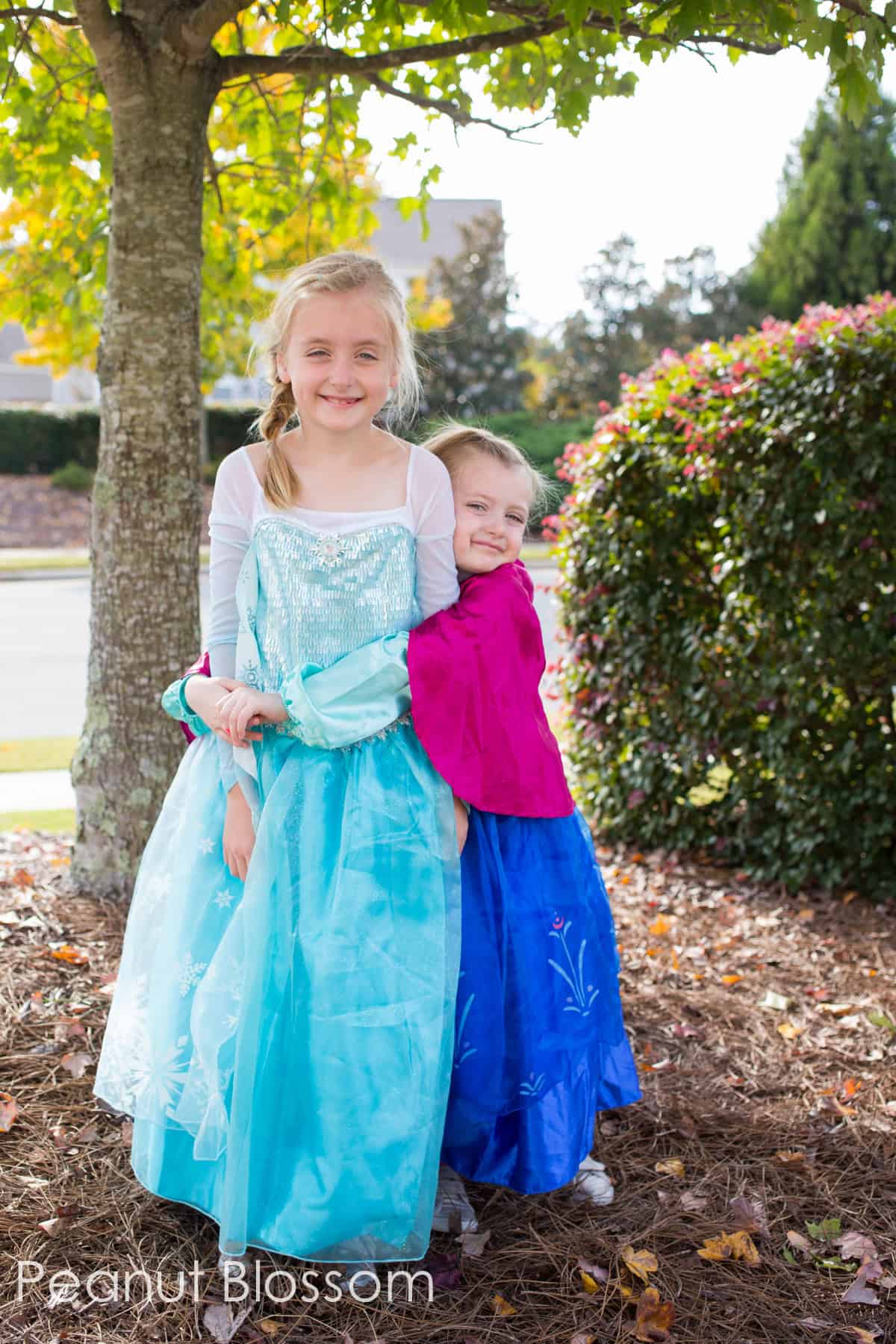 We got busy after Trick or Treat day and this post kept getting pushed off. I've held on to the story for a year now and I'm so happy to finally be sharing it. I can still so vividly recall that moment and how proud I was of Little Pea.
This post isn't for you, it's for my ladies. The day may come where they are struggling to get along and I'll drag this out to show them and remind them that Olaf said it best:
"Love is putting someone else's needs before yours." - Olaf