Little Fires Everywhere by Celeste Ng is being made into a mini series starring Kerry Washington and Reese Witherspoon. Read this awesome book club pick with your friends and then follow it up with a tv night and popcorn!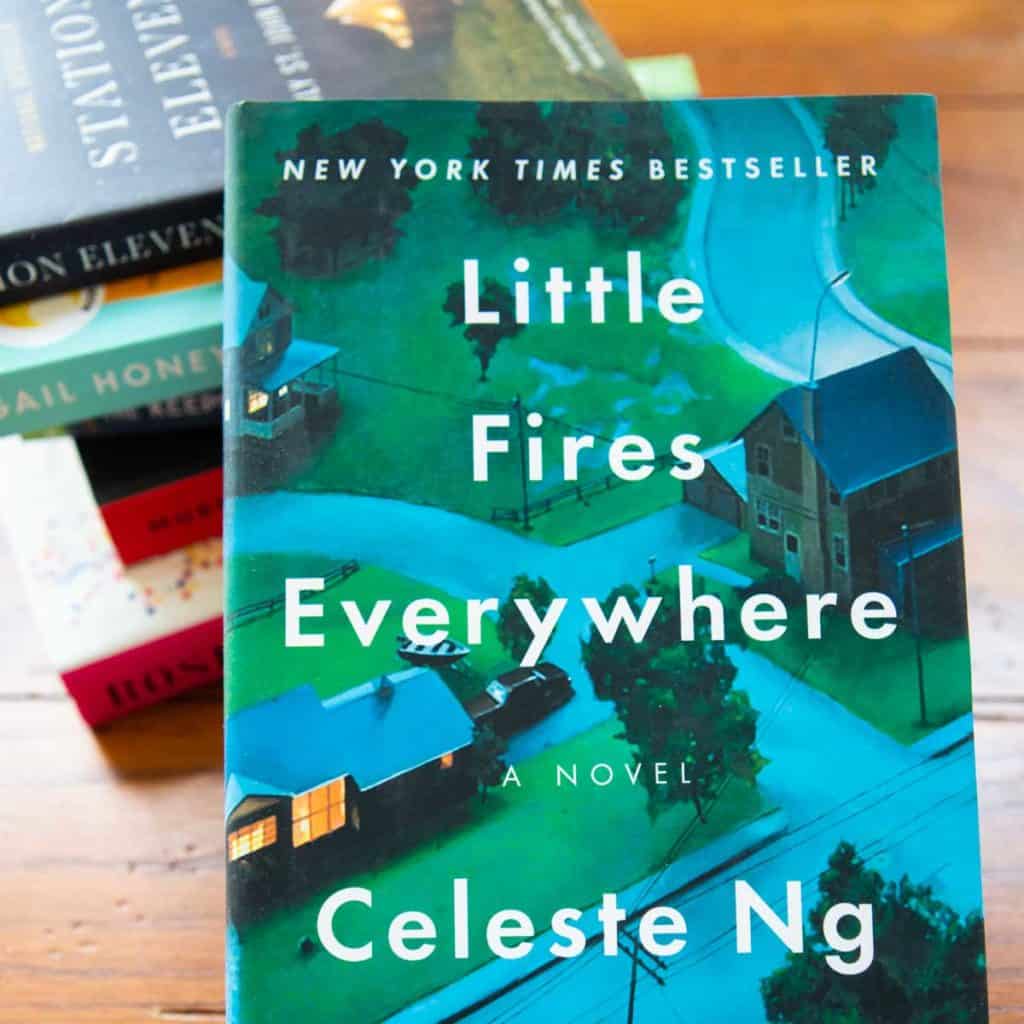 I simply love choosing book-to-movie or book-to-tv pairings for book club.
Even grown adults enjoy popping some popcorn and judging just how well a favorite book title made the transfer to the screen.
If you're looking for a great book for book club, Little Fires Everywhere is a perfect choice for moms everywhere.
The Little Fires Everywhere mini-series adaptation is currently in production and will star Kerry Washington as Mia Warren and Reese Witherspoon as Elena Richardson.
Grab a copy of the book and then set a date for a girls' night in to chat about the movie and then you can meet up again to watch the tv show when it launches!

P.S. This was the first book from our 2019 book club line-up. See the rest of our favorite 2019 book club books here.
Want to Get Free Reminders for Each Month's Book Pick?
Sign up for my book club newsletter right here:
January's Official Book Club Pick: Little Fires Everywhere by Celeste Ng
Get your copy of this month's book club pick:
Money-saving tricks for reading this month's book pick:
You can get the book from your library.
The Kindle version is cheaper than the paperback AND you can save money on the Audible version if you own the Kindle copy! I love to use the Amazon Whispersync feature to go back and forth between audio and digital reading.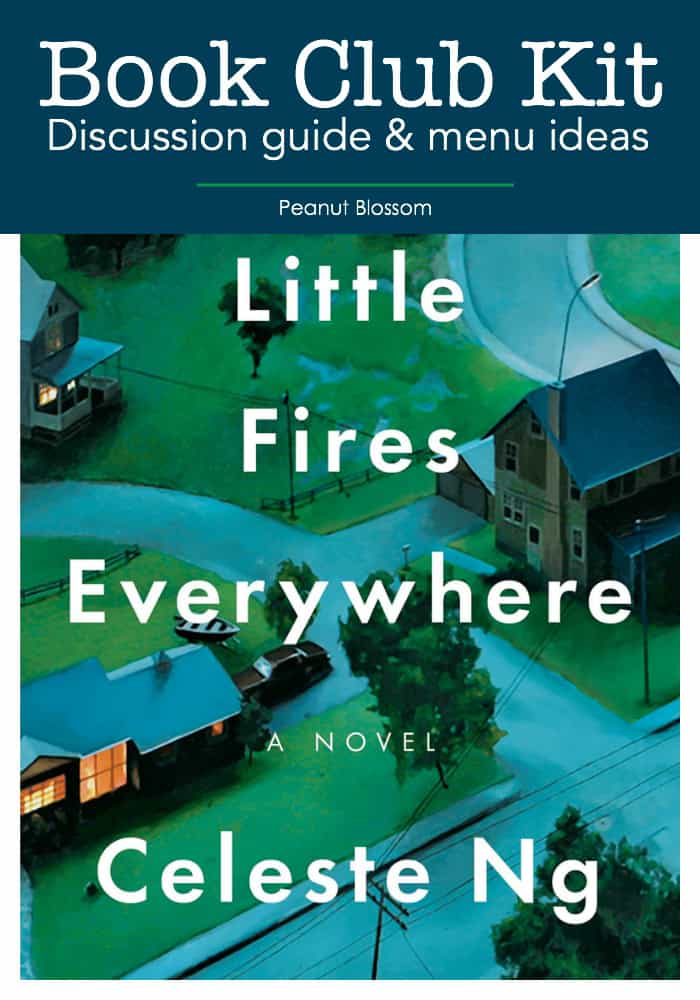 What Is the Book About?
"From the bestselling author of Everything I Never Told You, a riveting novel that traces the intertwined fates of the picture-perfect Richardson family and the enigmatic mother and daughter who upend their lives.
In Shaker Heights, a placid, progressive suburb of Cleveland, everything is planned—from the layout of the winding roads, to the colors of the houses, to the successful lives its residents will go on to lead. And no one embodies this spirit more than Elena Richardson, whose guiding principle is playing by the rules.
Enter Mia Warren—an enigmatic artist and single mother—who arrives in this idyllic bubble with her teenaged daughter Pearl, and rents a house from the Richardsons. Soon Mia and Pearl become more than tenants: all four Richardson children are drawn to the mother-daughter pair. But Mia carries with her a mysterious past and a disregard for the status quo that threatens to upend this carefully ordered community.
When old family friends of the Richardsons attempt to adopt a Chinese-American baby, a custody battle erupts that dramatically divides the town—and puts Mia and Elena on opposing sides. Suspicious of Mia and her motives, Elena is determined to uncover the secrets in Mia's past. But her obsession will come at unexpected and devastating costs.
Little Fires Everywhere explores the weight of secrets, the nature of art and identity, and the ferocious pull of motherhood—and the danger of believing that following the rules can avert disaster."
Little Fires Everywhere Discussion Questions:
There are plenty of lovely book club questions in the back of the book or on the Kindle copy of Little Fires Everywhere. However, I've found that discussion questions from the publisher often miss the heart of what makes a book club especially wonderful: getting to know your fellow book club friends!
I've written several questions that help you to make personal connections with the text of Little Fires Everywhere:
Which of the many mother-daughter relationships most closely matches the relationship you have with your own mother? How about the relationship with you and your children?
The fate of Miarbell/May Ling is central to the book. If you were the judge in the case, who would you choose to parent the young girl?
Mia's journey towards becoming an artist involves several different characters who supported her in formative ways. When you look back on your past, can you see similar instances where people helped guide you? Who were they, describe one memorable interaction.
How is the town of Shaker Heights similar/different to where you live?
What did you think of the title of the book before you started? How about once you were finished?
How many times have you moved in your life? Did you bring everything with you or shed possessions the way Mia does?
What do you think of the casting of the mini-series? Kerry Washington plays Mia while Reese Witherspoon plays Elena.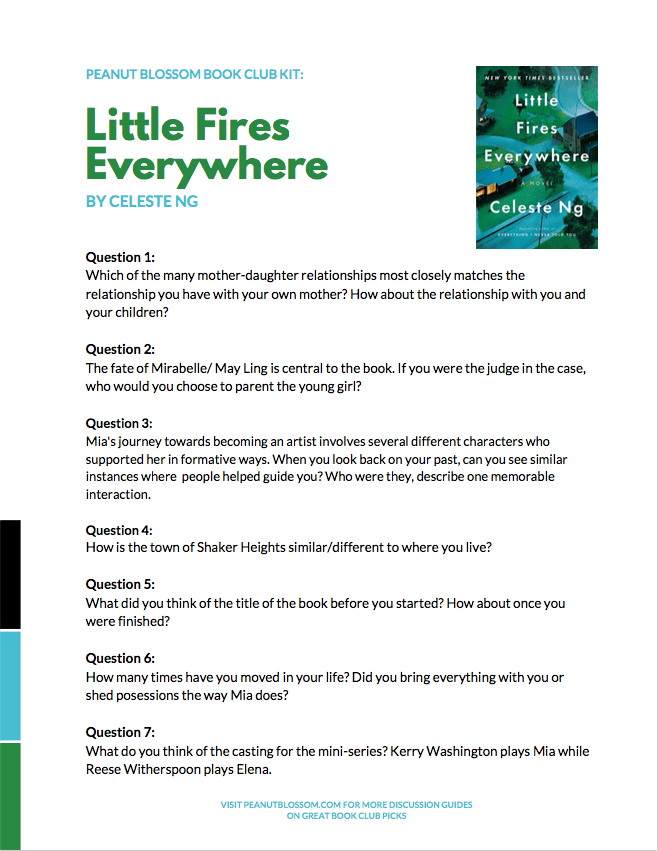 If you prefer, you can download the free printable Little Fires Everywhere discussion questions guide here.
Book Club Party Recipes
Whether you're gathering to chat about the book or for a television viewing party, these spicy snacks are perfect for chatting about Little Fires Everywhere with your friends.