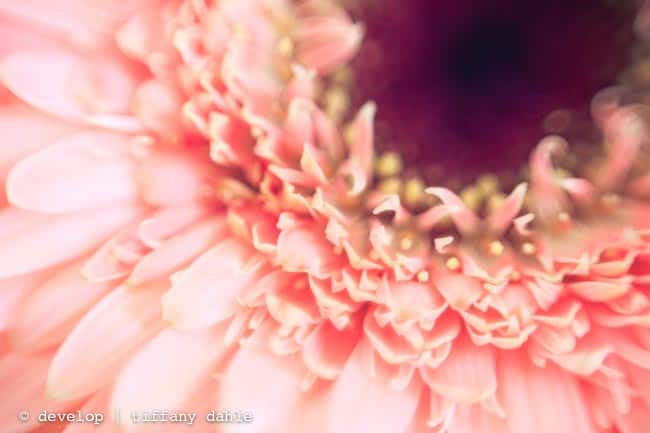 I'm busy working on today's 10 on 10 project. It has not been the best of days and I'm happy to have the distraction of this project to keep my mind busy. At 1 p.m. as I closed the door on my girls' quiet times, I decided to try something totally new and pulled out my macro rings for the first time.
The bouquet from our Easter centerpiece is fading but the tulips and gerbera daisies still had a few lovelies left. I plucked the best ones, put them in milk bottles on our mantle and played with macro for 20 minutes. I was too excited to see how they turned out so I took more of my precious break to upload what I've got so far.
As I edited this image, I remembered my April Challenge: Renewal. This pretty pink bloom, saved from our whithering bouquet, found new life on my mantle today. It inspired me to try something new on a day I was struggling. I feel better for having spent some time with something pretty and my outlook is brightened again.
Life in renewal. I can't think of anything better I could capture this month--both the image and the moment. I hope my friend is smiling at the way she has forced me to slow down today in her memory. Thank you, Alexia.
If you're interested in joining me for the April Challenge, please share your Renewal photo by April 30th in our Flickr group. Simply tag the image: #renewaldevelop