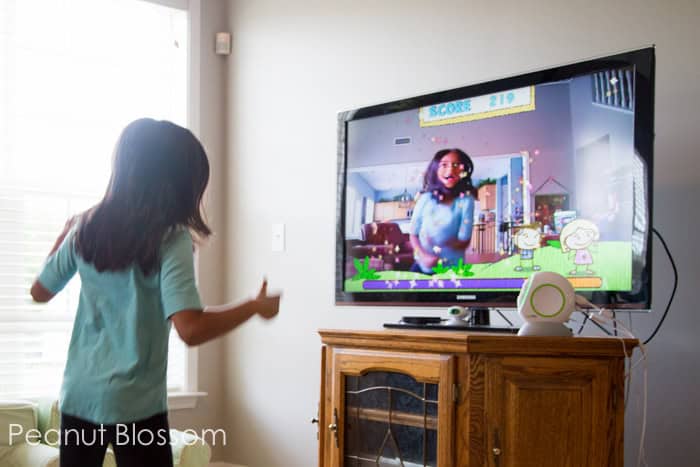 Welcome to the Busiest Time of the Year! Between now and January 2nd, your calendar and the calendar of everyone you know is going to be a complicated puzzle of over scheduled insanity. Here at the holiday season, we all want to spend time with those we love and the pressure is on to entertain.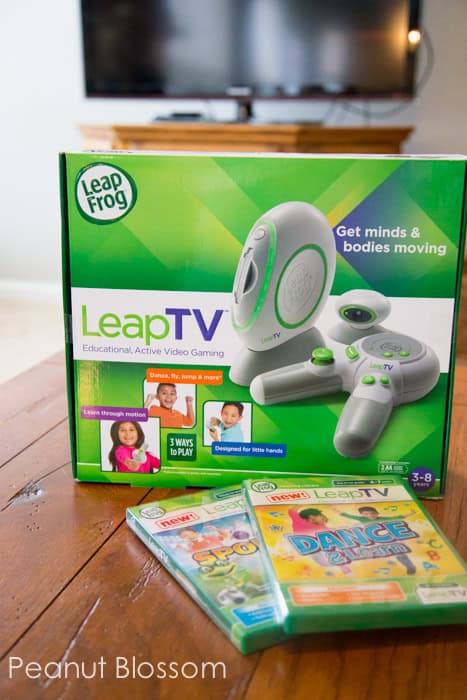 A few weeks ago, we were invited to host a party to test out the new LeapTV by LeapFrog. It sounded like such a fun opportunity, we leapt at the chance. What I didn't consider, was the timing and how we were going to schedule a get together with 8-10 people during this crazy busy time of year.
We ended up having an intimate playdate that fit perfectly into our busy schedules and was big on fun and low on stress. I learned several important lessons on what is truly important when it comes to hosting friends and I'm hoping to keep these in mind over the coming weeks.
I hope these tips inspire you to host a simple, last-minute, squeezed-in celebration with your favorite people this holiday season because time together is truly what matters.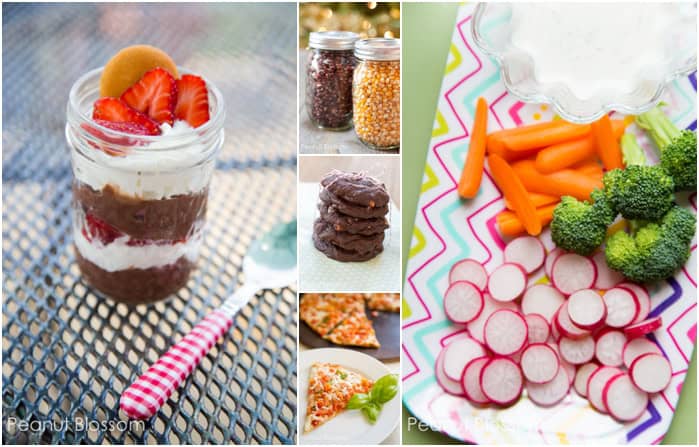 1. Don't let Pinterest keep you from entertaining:
I love to express creativity through party treats: baking from scratch, fun snacks, adorable serving pieces. I spent days stressing over what to serve but you know what? Kids Don't CARE! They are just hungry and want something to eat & drink.
I served drop, & bake cookies from the refrigerated section along with hot cocoa and whipped cream for our playdate treat. The kids thought I spoiled them rotten. Mom of the Year <-- right there, people!
Run through your local store and grab any one of these straight from the shelves and you're good to go:
frozen pizza, cut into squares if you want smaller servings
Frozen appetizers (think pigs in blankets, mozzarella sticks with dip, potato skins, etc.)
Veggie tray & dip
Apples and caramel dip
Pudding layered with whipped cream
Strawberries & Nilla wafers
Pop some stove-top popcorn and be generous with the butter
Nutella on toast with berries
Drop & bake cookie dough
Hot Cocoa, whipped cream or marshmallows seal the deal!
2. Be flexible with your timing:
I originally hoped to host in the evening, but that didn't work for our guests. Be creative with your pockets of time. How about a Saturday morning breakfast playdate? Or Sunday afternoon post-soccer? You really only need an hour or two to squeeze in the fun. I usually get caught up in thinking it needs to last longer and be a bigger ordeal but kids are thrilled with any time they're given!
3. Set a simple itinerary:
The difference between a "playdate" and a "party" is simply having a suggested list of specific activities! Knowing there was a planned schedule to their time together elevated the event into something that felt more special. When our party started, I told the kids we would play a series of games on the LeapTV and then take a break for treats in the kitchen.
4. Set them free to have some fun:
I'm going to feel silly admitting this, but I'm finally realizing that the Peanut is old enough to have friends over and not require constant supervision. I set them up in the living room to play with the LeapTV and then went into the kitchen to make the treats. I loved how the LeapTV games were interactive and kept them engaged, active, and entertained while I spent some time getting other things done.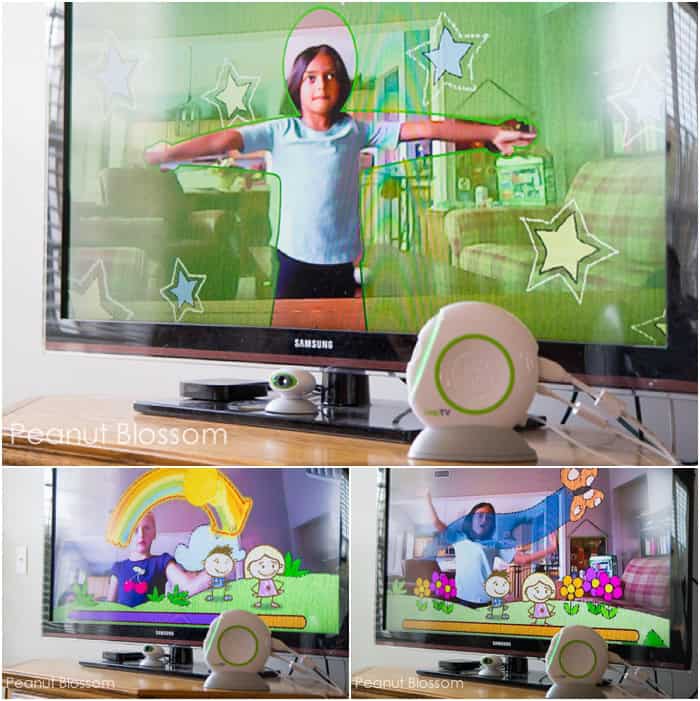 The games are very party-like, they spent a lot of time with the Dance & Learn game and were able to easily figure out the instructions by working together. The camera sensor explains right where they should stand by having them fill in the silhouette before starting up the game. Sweet animations prompt physical movements set to music.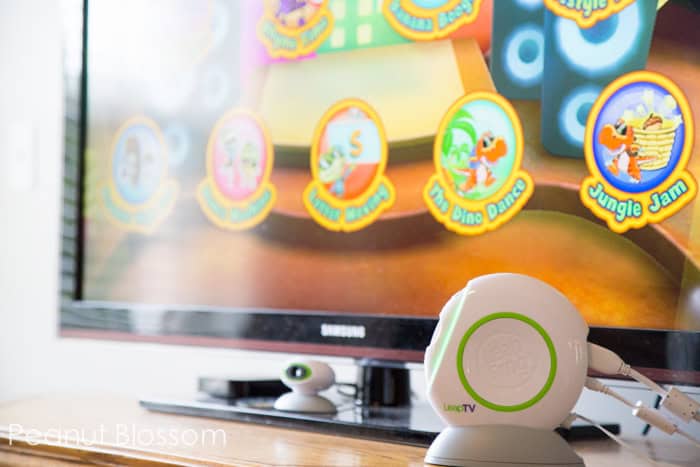 The girls also loved playing with the different animal care taking mini games. By waving their arms, they can help clean and care for customized pets of their choice.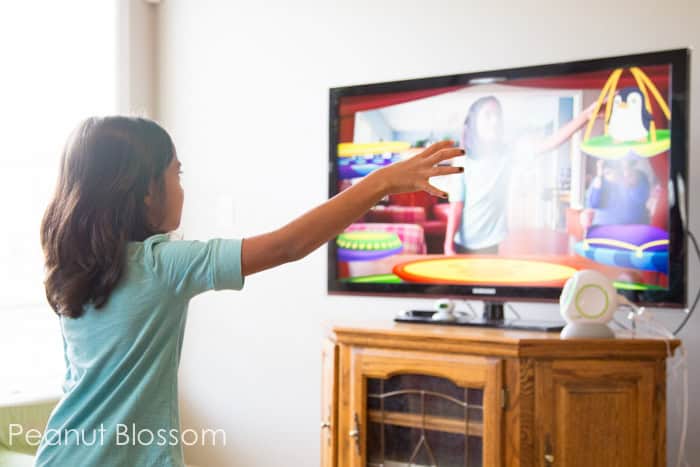 Sprinkled throughout the Sports & Dance game are math and reading lessons. The kids need to solve quick math problems to move their characters through the game.
There is a game controller that is used for certain activities, but a lot of the game includes physical prompts. Check out this video of one of our friends interacting with the dance game:

I can see why the LeapFrog LeapTV is going to be a hot game for the holidays. The content is absolutely kid-safe, educational, fun, and physically active. It will grow with my girls and we're looking forward to checking out some of the new games that will be released in the coming weeks. There are 9 games available now with 100 more educator-approved titles to come by year end!
You can check out more details about the LeapTV and get your own here. Be sure to check out the Sports and Dance & Learn games, too!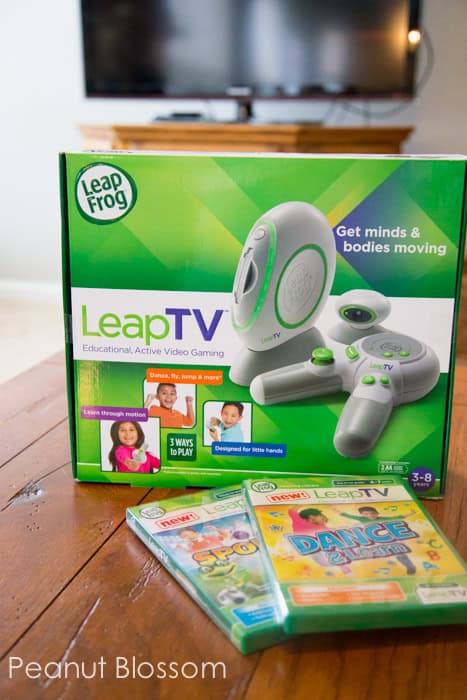 Liked this post? Pin it!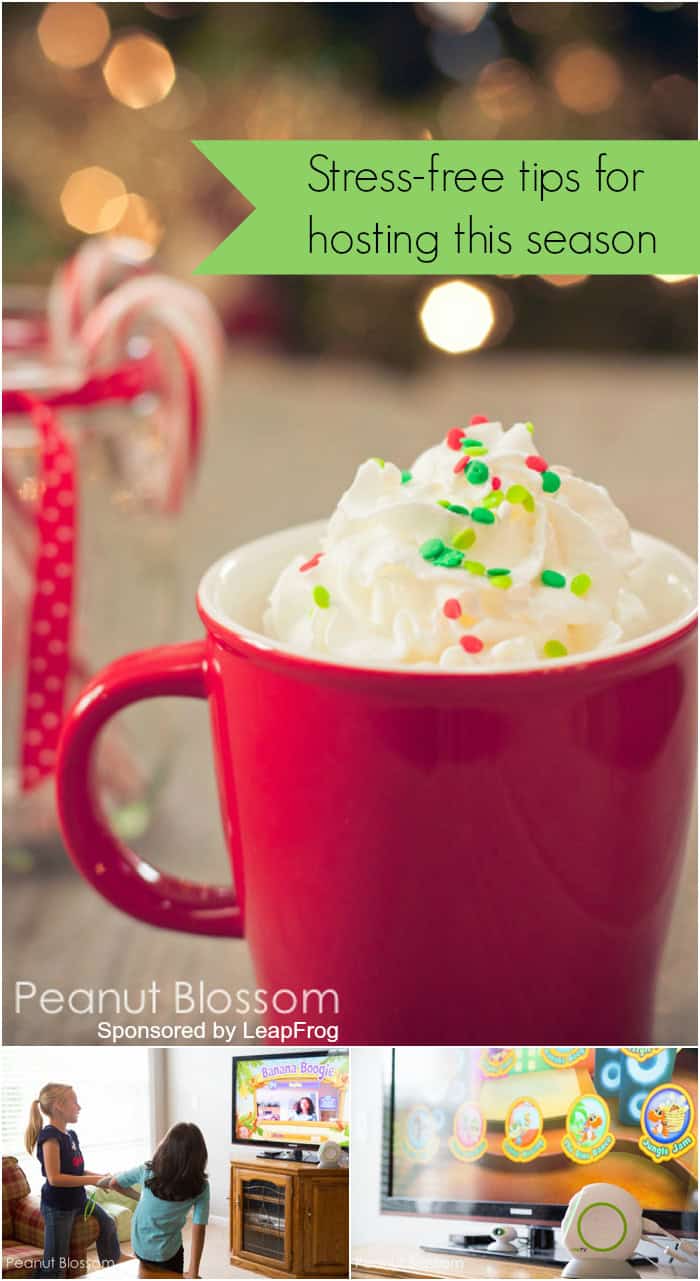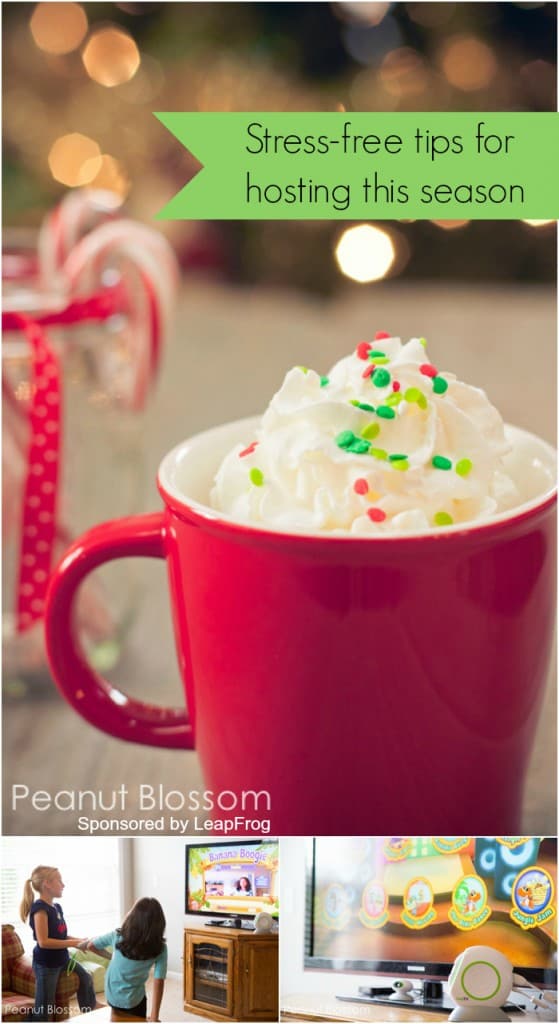 This post was sponsored by LeapFrog and MommyParties. Peanut Blossom is proud to work with trusted brands. We were given the LeapTV system and games in order to test them and share our review with you. All thoughts and opinions are our own.