These easy, last-minute fall activities for kids don't require a lot of planning and are perfect for procrastinators who want to make the Halloween season feel special for their families.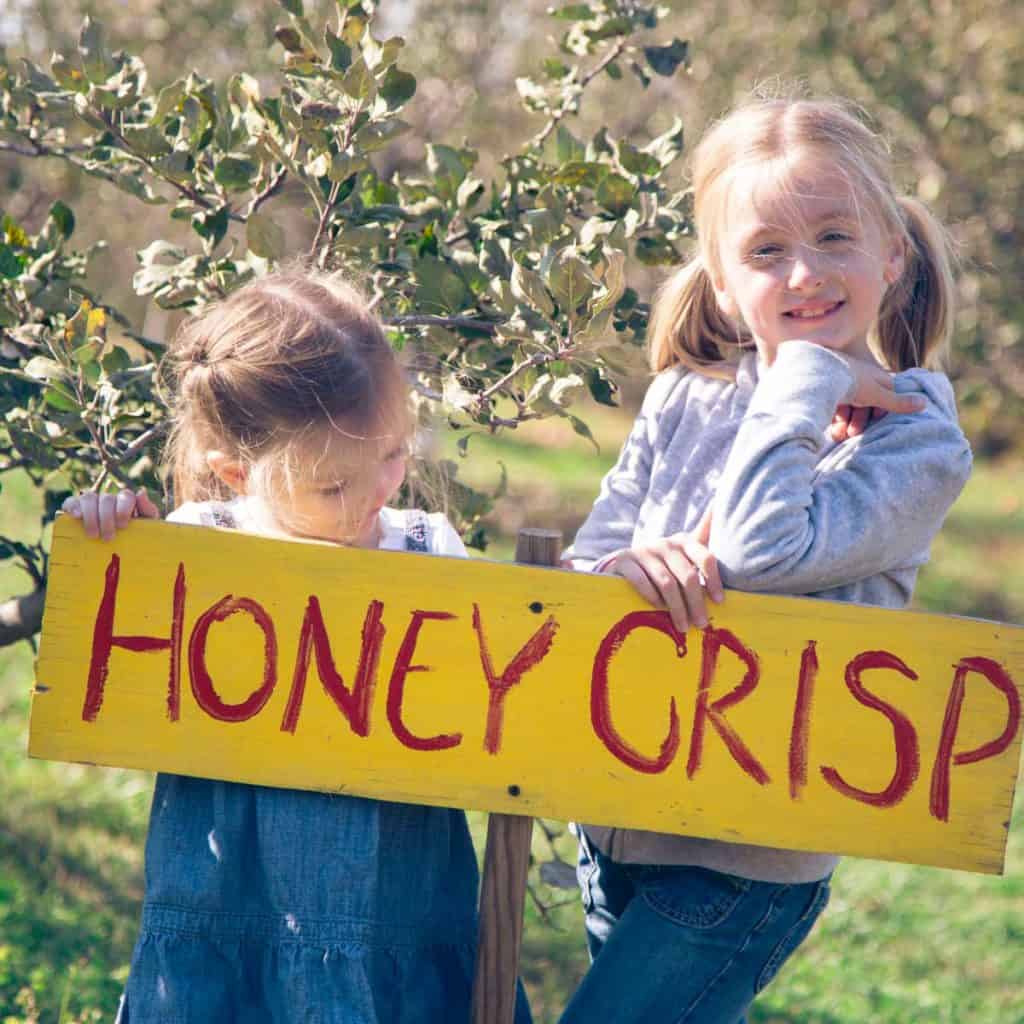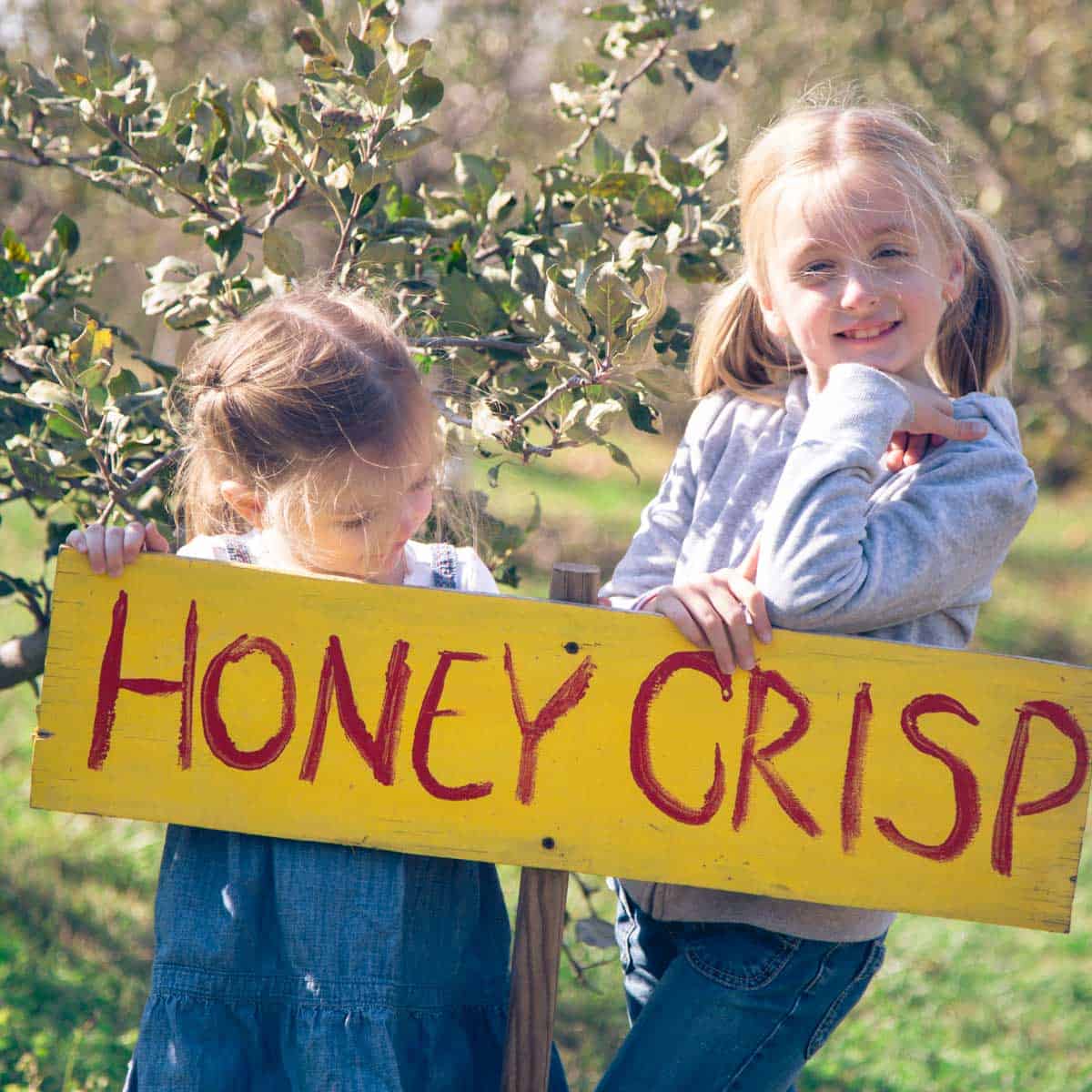 It is so easy to have time get away from you during the start of a busy fall. Settling into the new school year and figuring out your new routine with a new rotation of after school activities makes September and early October fly by in a blur.
But sometimes, the greatest family fun happens at the last minute in a flurry of impromptu moments.
With less than one week before Halloween one year, I glanced at the calendar and realized I had done NOTHING for my girls that was even remotely related to the season.
I knew once November 1 hit, the focus would switch to Christmas and I couldn't stomach the idea of just completely skipping a holiday season altogether.
I had just 7 days to make the most of fall and Halloween for my kids and it was the most fun we ever had celebrating the spooky season.
You too can wait until nearly the very last minute and then sneak in a whole entire season's worth of fun and awesome in the span of just a few days.
Jump to:
1. Name Your Time Frame
Whether you have time for a whole week or just a few days, give it a goofy name and you immediately up the "fun" factor.
I declared ours to be "Spooky Week."
I brainstormed one activity or event for each day and made a checklist for our seasonal bucket list chalkboard I keep in the kitchen.
I always pad our activities bucket list a little bit by adding checkboxes for things I know we'll be eating along the way:
2. Find a Pumpkin Patch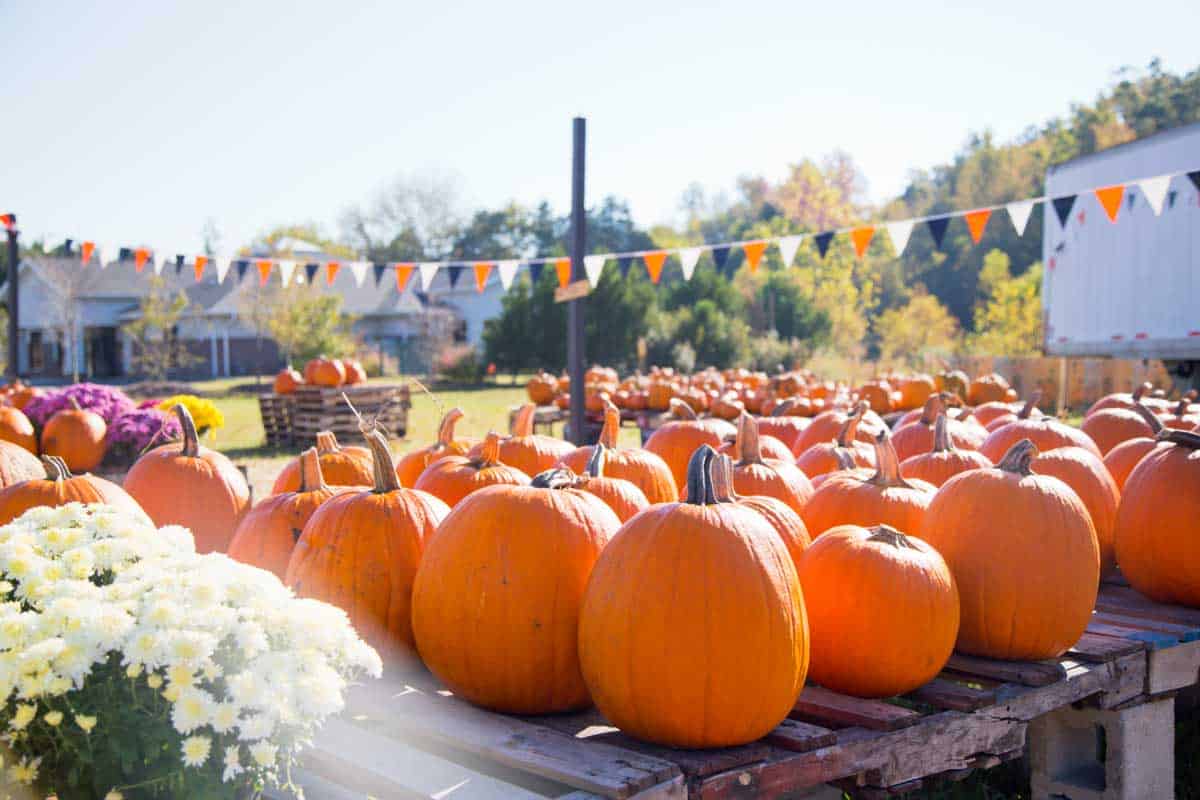 We headed to the local family farm for an event with Little Pea's school.
We enjoyed a hay ride, picked out our pumpkins from the patch, and joined her class for pizza.
If you don't have a real patch to go to near you, make a big deal out of a trip to the local home hardware supply store or roadside stand. Buy their popcorn or hotdogs and make it an event!
3. Go Apple Picking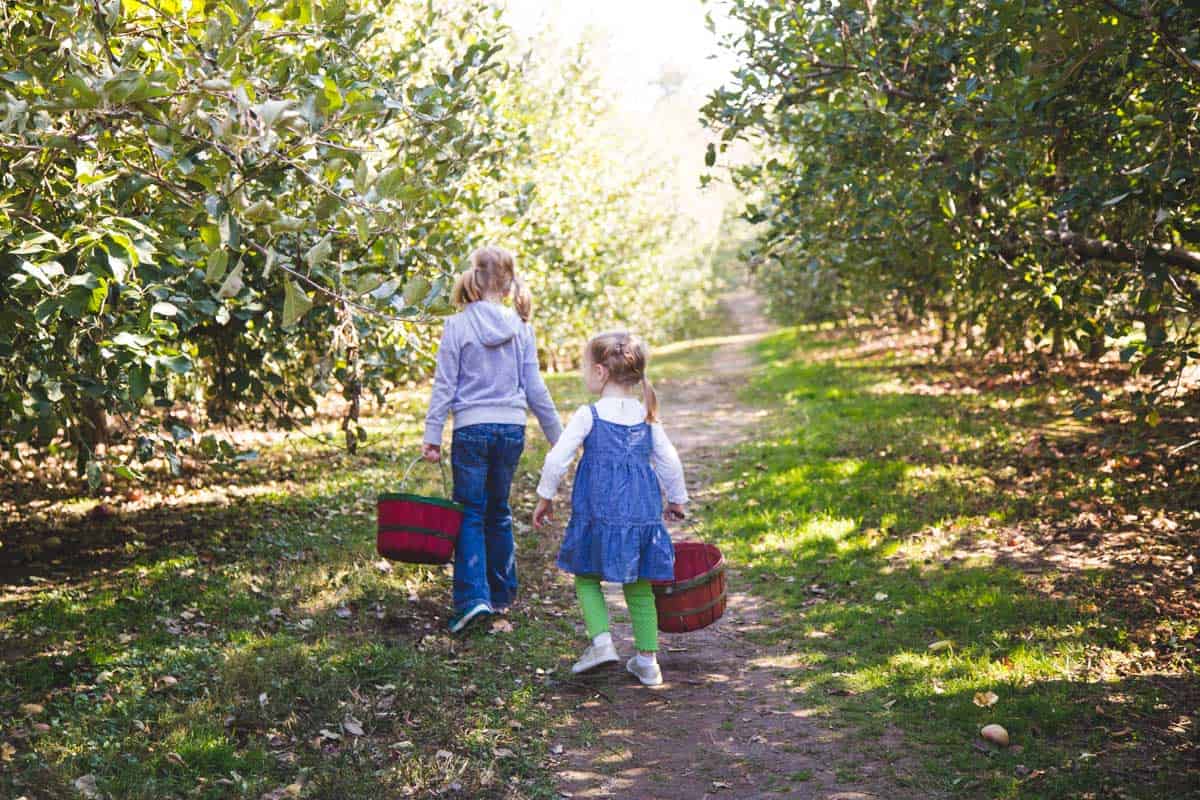 We came *this* close to missing apple season altogether.
Instead, we took our chances and hit one of the last big weekends at Sky Top Orchard in Flat Rock, NC. We ate apple cider donuts, drank fresh apple cider, picked our apples, and the girls played on the playground before we headed home.
The lesson? It's never too late to visit the pick your own fruit orchards. Just go for it!
If you can't go to an actual orchard, head to a local roadside stand and pick up a bag of granny smiths and make one of these awesome apple recipes.
4. Set a Spooky Bubble Bath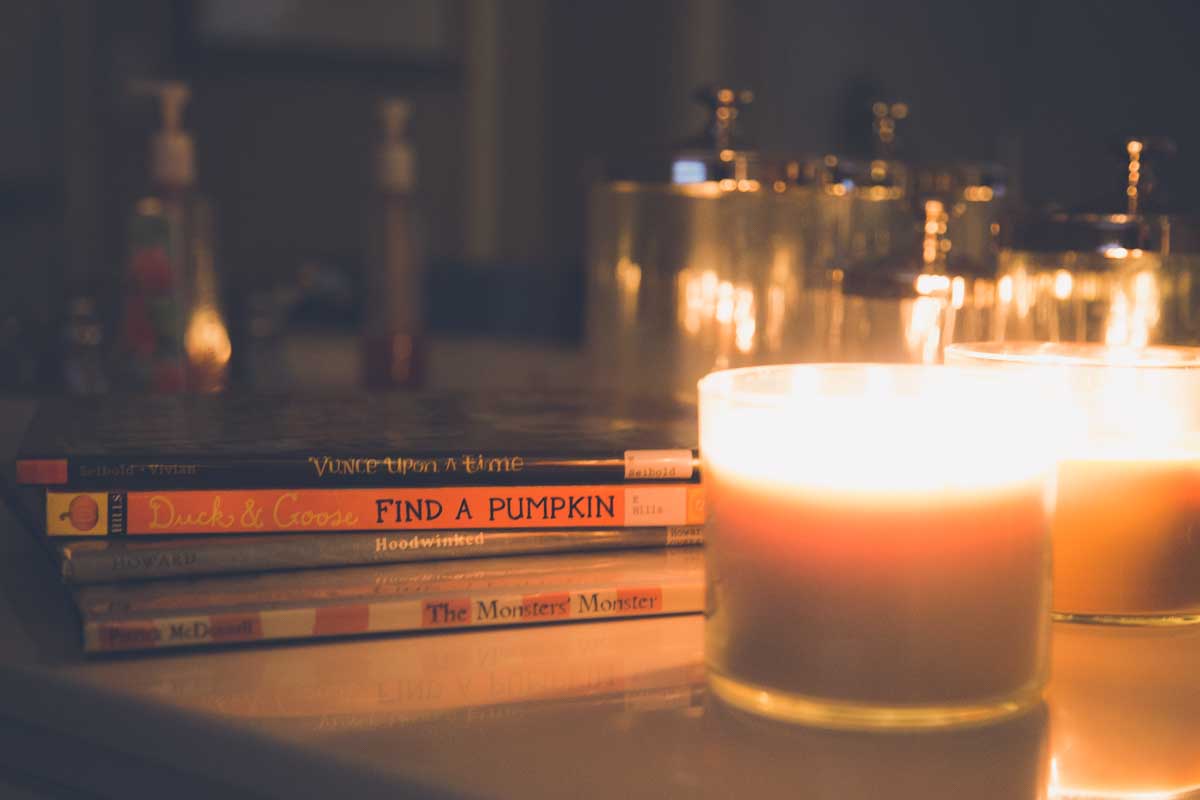 This is one of my all-time favorite fall activities to do with kids.
Fill your bathtub with oodles of bubbles, turn the bathroom lights off and light as many candles as you can find and place them on the bathroom counter.
Read aloud a bunch of Halloween books by candlelight while your kids soak in the bubbles.
Need inspiration for fun Halloween books to read? Check out this list of over 30 fall & Halloween books to get you started.
Out of everything we did during "Spooky Week," I think this was my girls' favorite activity. And it isn't any harder than lighting candles.
When you're last-minute-ing it, it is all about the presentation!
5. Have a "Creepy Crafts" Night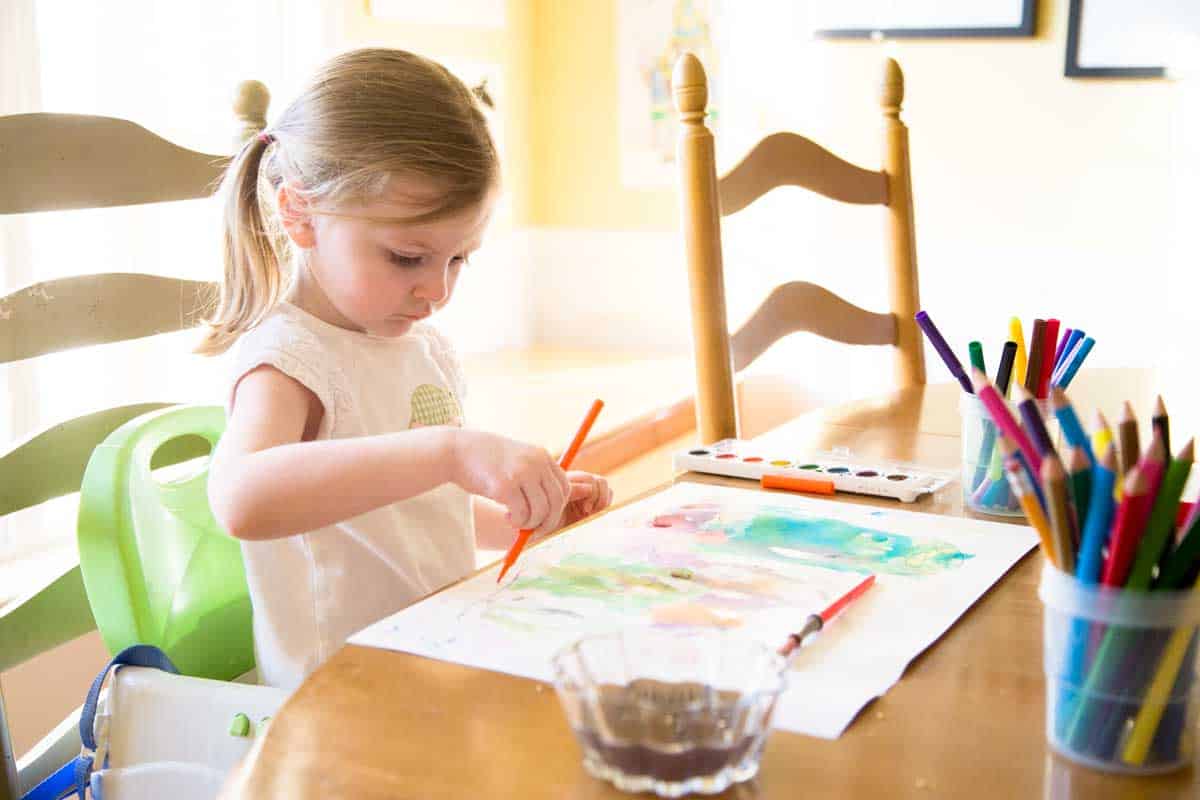 This can be as easy as setting out fall-themed coloring pages and crayons like I did.
If you want to put in extra effort and do a full craft, go for it. But it is all in the presentation.
My girls came home from school to discover a festive art filled table waiting for them:
All the coloring pages printed and set at their place
Markers and colored pencils waiting in cups
Watercolor paints and brushes set with water cups
They could barely contain their excitement. . . over coloring! Something they do every day.
But it was made extra special because I set up the full invitation to creativity ahead of time.
Don't forget to proudly hang their festive art all around your dining room for decorating for the rest of the season.
6. Host a Halloween Costume Photo Session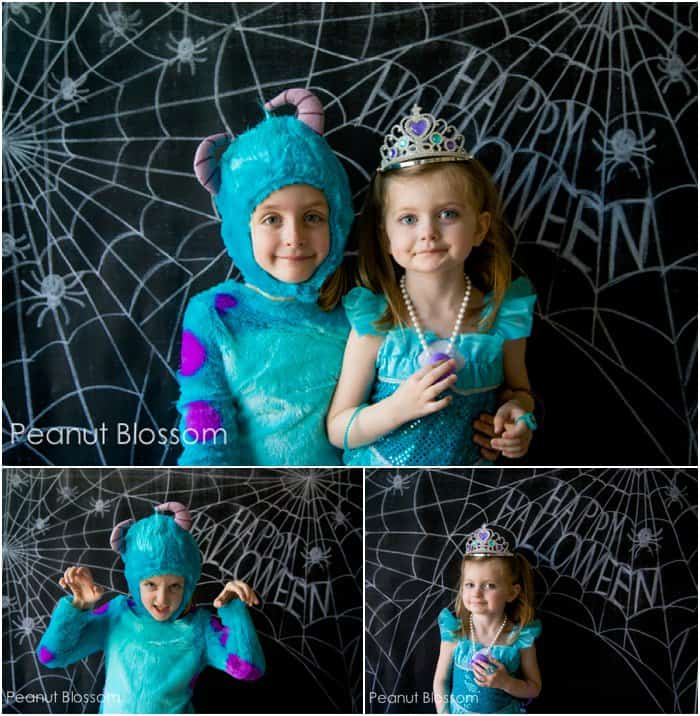 Kids have such a hard time waiting to wear their costumes. My girls asked daily if it was time to try them on again.
Since Trick or Treat comes and goes so quickly, I did a costume photo session in our living room one night.
Because the girls weren't overly crazy about heading out the door to get candy, they were more patient with me taking pictures.
Earlier in the day I had printed out this awesome spooky backdrop from Caravan Shop and had it printed cheaply at Staples. I taped it to our wall for our photo session.
They had so much fun being allowed to dress up in their costumes and play in the living room for an evening and I got some of the cutest photos ever!
7. Add Something Special to Carving Pumpkins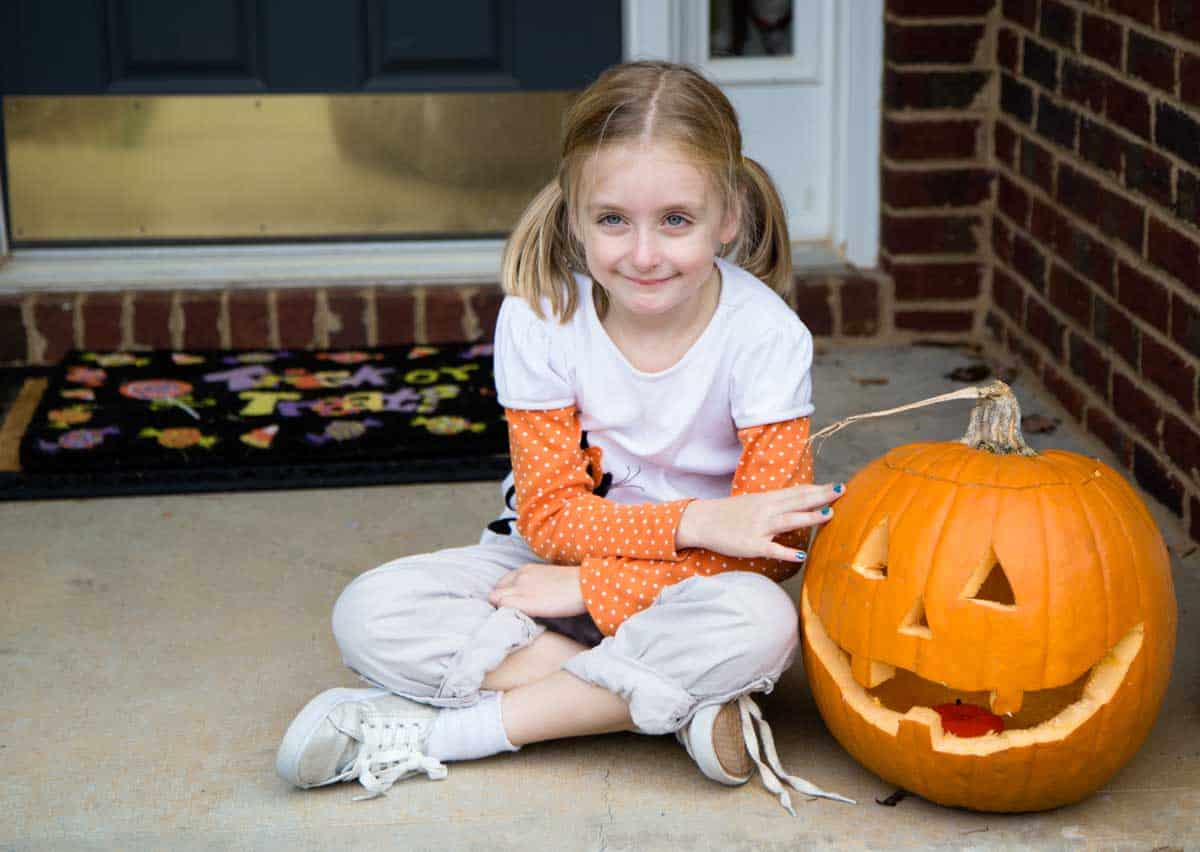 The key to last-minute fall fun is always trying to set the mood.
We made our pumpkin carving night a little more special by listening to the "Family Halloween" channel on Pandora while we worked. Awesome hits like "Monster Mash", "Ghostbusters", "This is Halloween" and so many more definitely made the night more fun.
Adding music to the pumpkin carving ended up turning the night into an impromptu dance party in the living room.
8. The Easiest "Fall Feast"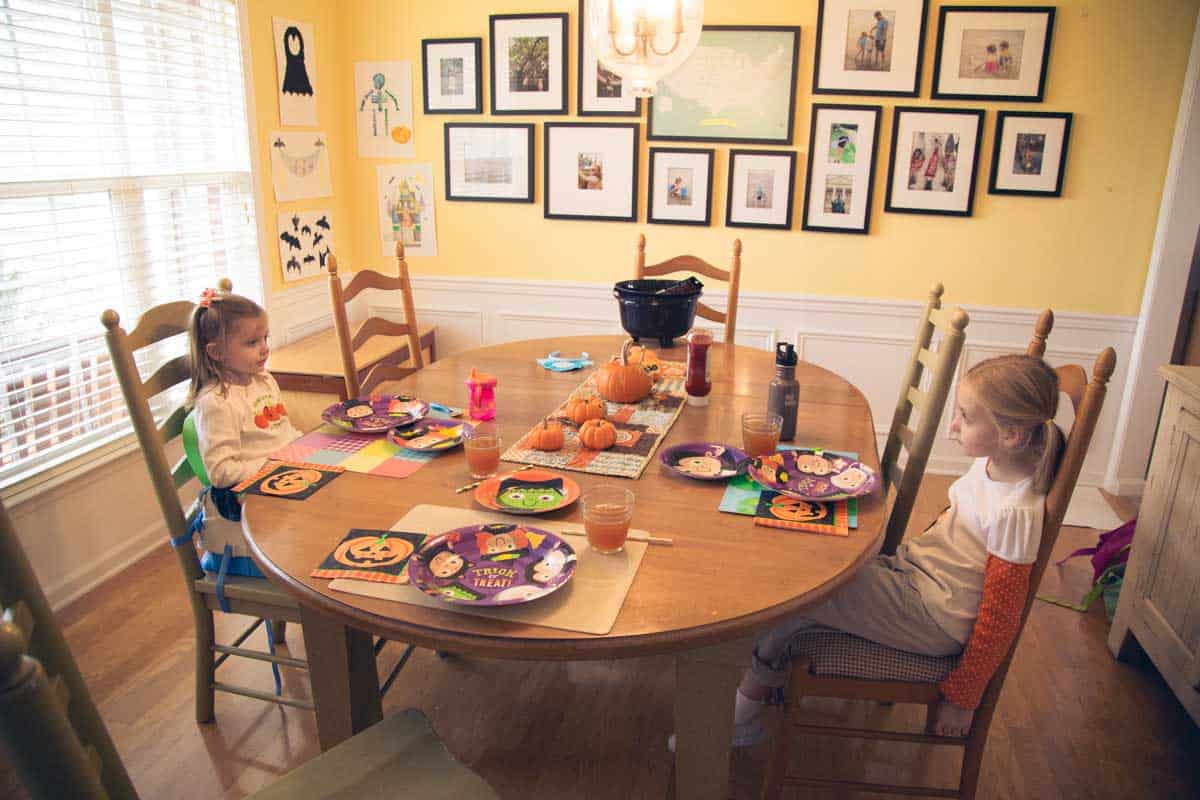 Also known as "dinner."
You're going to feed them anyways, right?? It only takes a few extra minutes to give a regular weeknight dinner a little festive flair:
Give your family dinner a fancy name: Fall Feast, Halloween Hoopla, Treats Before Tricks, etc.
Serve everything up on festive paper plates and napkins.
Serve apple cider as the dining beverage.
Throw a couple mini pumpkins in the center of the table.
Light a candle or two.
Turn on that Pandora music playlist again.
Our pre-Trick or Treat meal involved crescent roll Mummy Dogs and breadsticks made from the leftover prepared dough. They came out all misshapen and odd so I dubbed them "Bones." The girls thought it was hysterical.
The Lesson: Silly names and a playful attitude cover most culinary mistakes.
Looking for a few easy dinners to serve for your own fall feast? These are some of my kids' very favorites:
9. Boo Your Neighbors
Grab your FREE You've Been Booed Starter Kit here and then get into the kitchen for a little baking fun with the kids.
This is such a fun Halloween tradition to do in your neighborhood.
Your kids will have so much fun baking treats for their friends.
10. Take Lots of Photos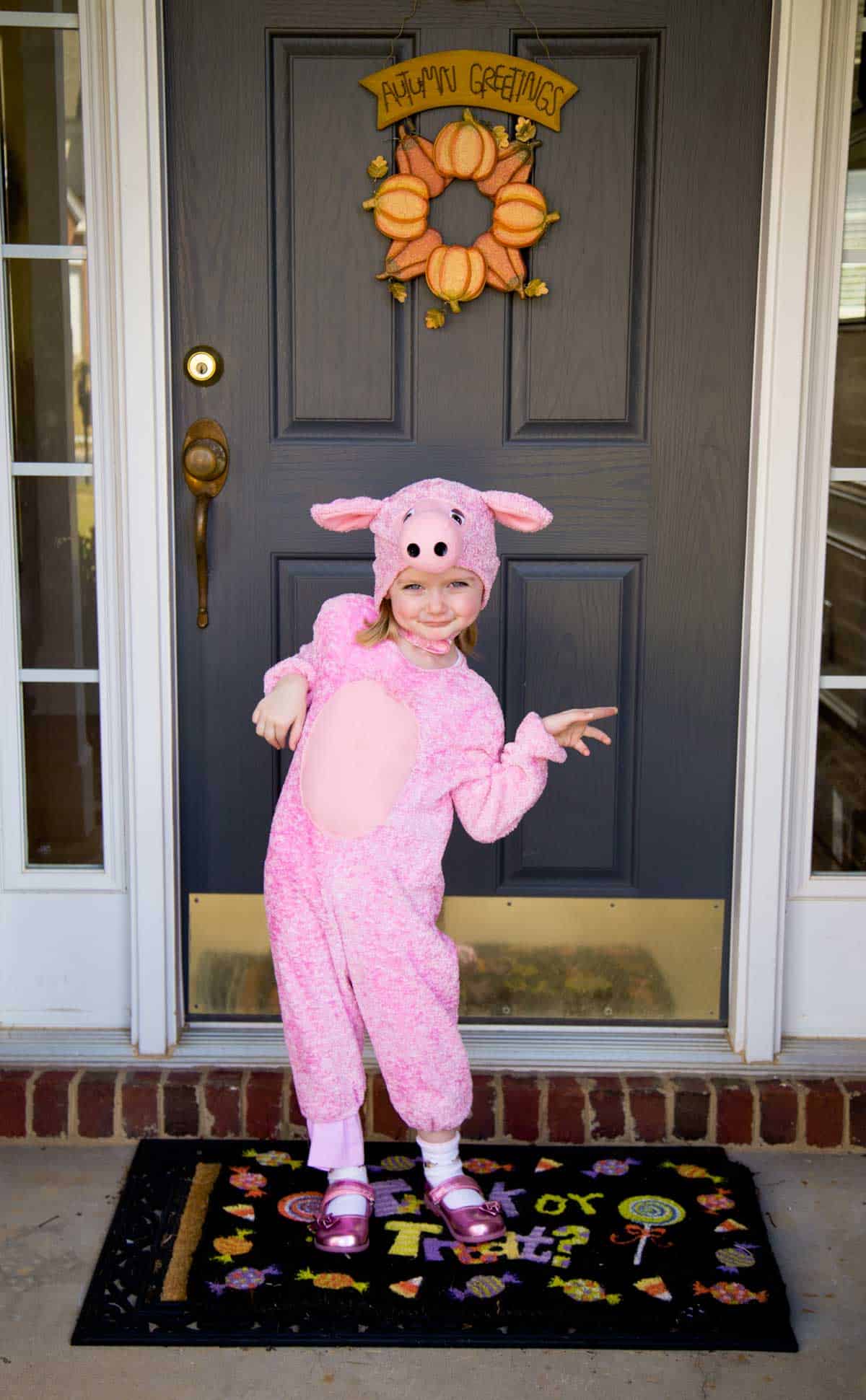 You can easily make anything and everything a bigger deal than normal during your celebratory time frame simply by taking a few extra photos of your kids.
Little Pea had an "On the Farm" day at preschool to celebrate fall. She was so proud of her costume she actually asked: "Take my picture mommy??"
Pause a moment before running out the door, in the middle of the baking session, or in the middle of an art activity, and snap the picture. Your week will go fast and you'll love looking back on the festive fun later.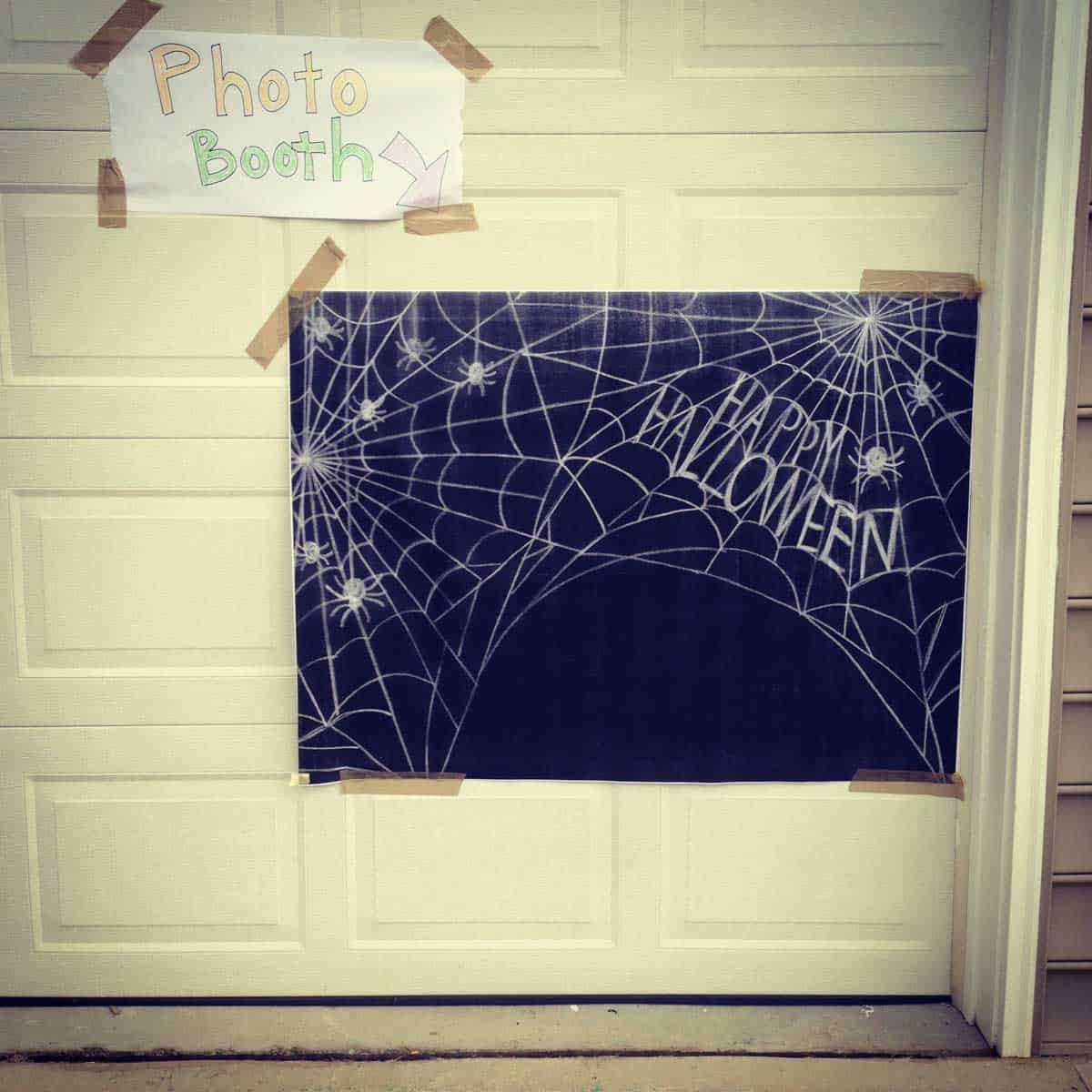 And the photos don't need to stop with just your kids, get the neighbors involved!
I already had our Halloween sign printed so I just moved it outside to the front of the garage door and put a note out on Facebook tagging all my neighbors to come to our driveway for pictures.
I recommend printing out several copies of different designs and putting them at different heights so that the bigger kids and grown-ups don't have to scrunch down and the little ones can get more than their head in the shot.
Give your neighbors enough time to plan to come to your house early in their costumes. It is the perfect kick-off to a group Trick or Treating event.
This photo came from my Instagram feed. If you want to be inspired by future last-minute endeavors, be sure to follow along here.
How about you? Any other great last-minute tricks you employed to make your fall special? Leave me a note in the comments, I'd love to add it to my list next year!
More Fall Activities You Can't Miss