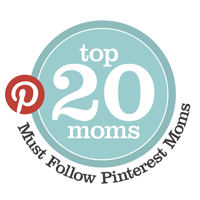 Today I'm excited to be bringing something a little new to share with you. I was honored to join the Top 20 Moms to Follow on Pinterest last fall--these amazing women bring such wonderful content to the web each day.
We decided to swap blogs for a day and I am super thrilled to have Amanda of Not Just Cute joining us for a little something different.
While Amanda is here, I'm over at Maggy's blog, Red Ted Art sharing a painted fairy houses craft that has been on our to-do list for ages. I so rarely share crafts, this is a sweet one--I promise!
While you're there, see where Maggy is at today too, and keep going through the 20 Moms until you make it back here!

__________________________________________________________
Since I've begun re-reading Richard Louv's book, Last Child in the Woods, as part of a read-along series on my blog, I've been more mindful of the time my kids spend out in nature, the types of experiences they have, and the role I play. I've largely been focusing on the typical natural play experiences you would think of, things like getting out in the inspiring wilderness areas near our home, and of course setting them loose to play in the rugged wilds of our own back yard. But until the other day, I hadn't really thought about how my children's experiences with nature could be connected to work.
I should have. I grew up in farm country, that disappearing "second frontier" that Louv talks about in his book. Nature was all around me and its direct connection to life and livelihood was always apparent. Work was the key vehicle for many in my area to get out into nature.
When I recently set about my day's work around the house and realized the yard needed some cleaning up, I saw the opportunity with new eyes. It wasn't just a product oriented task anymore, it was also about the process. So I shifted my purpose from simply cleaning the old piles of leaves that had recently resurfaced from the melting snow and slowed down to allow us all to enjoy the discoveries along the way. In fact, the new perspective made the whole job more fun. Cleaning up the leaves was simply a by-product of our hunt for natural treasures.
In the soft, wet corners of the foundation beds, we giggled at earthworms as they burrowed in and out of the soft soil right in front of our eyes. We found paper thin skeletons of leaves that had almost completely decomposed. There was a quick and exciting millipede siting and a slug was discovered sliming its way out of our leaf bucket.
We stumbled on rolly-pollies (as my boys adamantly call them, I still default to "potato bugs"). These fascinating insects are my near four year-old's favorite, and he sat mesmerized for quite some time as they crawled across his hands.
If I had made efficient work my first priority (which it arguably needs to be from time to time) I might have been less patient about my kids taking the time to discover all these fun treasures. But with a new perspective, the task was not only enjoyable, it was a valuable adventure in nature.
As a British study referenced in Louv's book pointed out, the average eight year-old is more likely to be able to identify fictional characters from TV and games than to be familiar with the native species living right outside their doors. I don't want that to be my kids.
I want them to know nature. I want them to hold it in their hands. And hold it in their hearts.
Even the dirty, wriggly parts.
Amanda Morgan is a self-admitted nerd. She writes at Not Just Cute, sharing information to support parents and teachers in promoting intentional whole child development. When she's not writing, she's wrangling her four boys, working part-time for a non-profit children's organization, or snitching chocolate in her pantry.