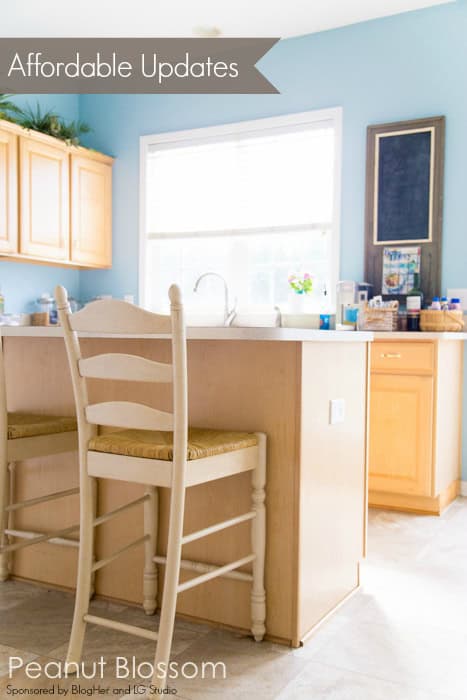 When we first moved into our house I was most excited about our kitchen. It's a lot bigger than our previous one, has oodles of natural light, a lovely window over the sink, and a walk-in pantry. Those were pretty much the only things I wanted to keep. I faced a status list that looks like this:
walls: painted builder beige
appliances: used, gross and nasty
sink & faucet: teeny tiny and we couldn't wash dishes without spilling water everywhere
light fixtures: hideous builder-grade cheap
counters: cheap and peeling
backsplash: nonexistent
cabinets: faded and have water damage
hardware: cheap brass that is spotted and tarnishing
window treatments: greasy and yellowing
floor: brand new linoleum the bank installed to sell the house. I can live with it until we finally have the budget to fix the whole darn lot.
But, new house? Budget for design fixes? Those two things don't go hand in hand. For nearly 2 years I've had to make do and find ways to update the kitchen one little element at a time. I've been amazed at how my tiny changes are starting to finally add up.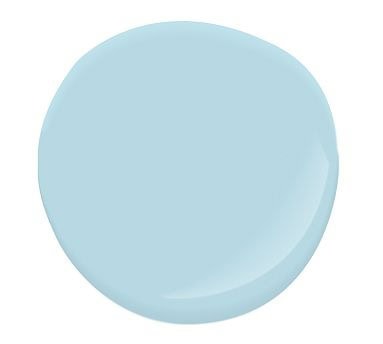 The very first thing we tackled was painting. That builder beige made me hate being in the kitchen. We picked Benjamin Moore's blue bay marina seen here:
Then just a few months into living here, we sprung a leak under the sink. Handyman Tim had to dig in and replace some of the pipes so I took the opportunity to snag a whole new sink and faucet. I did a ton of research and LOVE LOVE LOVE this farm style white cast iron sink and gooseneck faucet: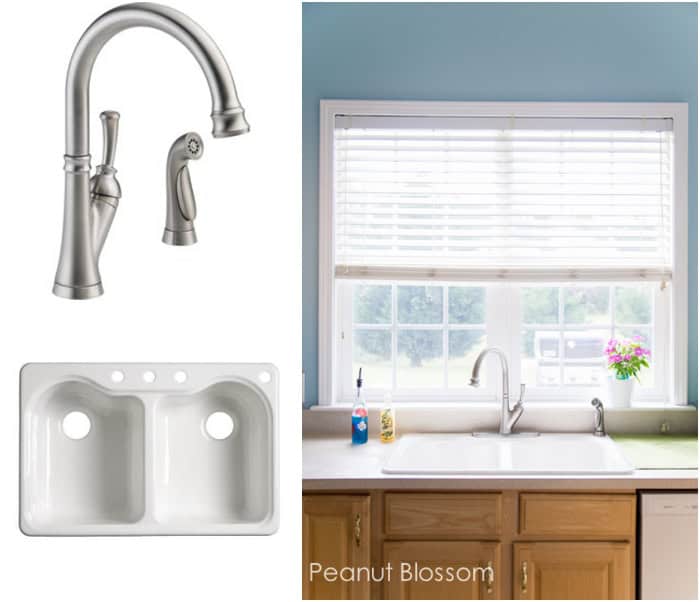 Next up was tackling the ugly brass chandelier hanging over where the dining table goes. We added this cute oil rubbed bronze lantern but instead of a dining table, my kids have their play kitchen in this space. You can read more about that decision here, but it has worked out so well for our stage of life right now.
Still left to do is the awful fluorescent light over the kitchen island. I've had my eye on this inexpensive swap but haven't yet pulled the trigger. What do you think? Yay or nay?:
From a functional standpoint, all our kitchen appliances needed to be replaced. We've done one at a time as we paid them off. Right now I'm looking to replace my oven. I've been checking out the LG Studio line of appliances. I'd kill for the double oven but we don't have the space for it without making more significant structural changes. I hated leaving behind my gas option in the last house and the transition to electric has not gone well for me. That said, I am intrigued by the convection feature and the baking drawer on the LG Studio version!
At this point in the decoration process, our budget has been mostly tapped and we've had to work on other spots in the house. The remaining fixes I have done to the kitchen involve more personal touches. My very favorite is the chalkboard with wire magazine wrack. We use this space to make our seasonal and birthday bucket lists. Having it in the center of the kitchen reminds us of the fun things we have to look forward to together. (It's blank now, we're still drafting our official summer list! Stay tuned.)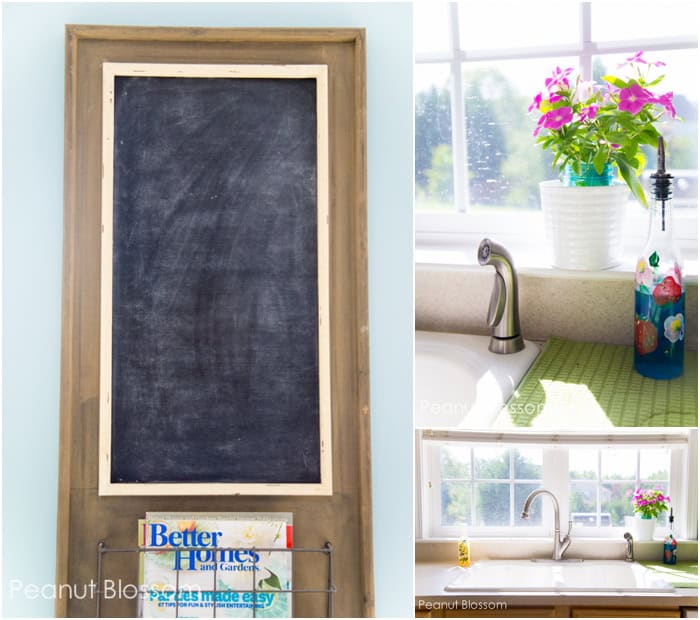 I've also added some cute storage for my most-used kitchen items. I love to keep my flour and sugar in jars a la Barefoot Contessa. I also found a simple white tray to corral my spices and oils to keep by the stove: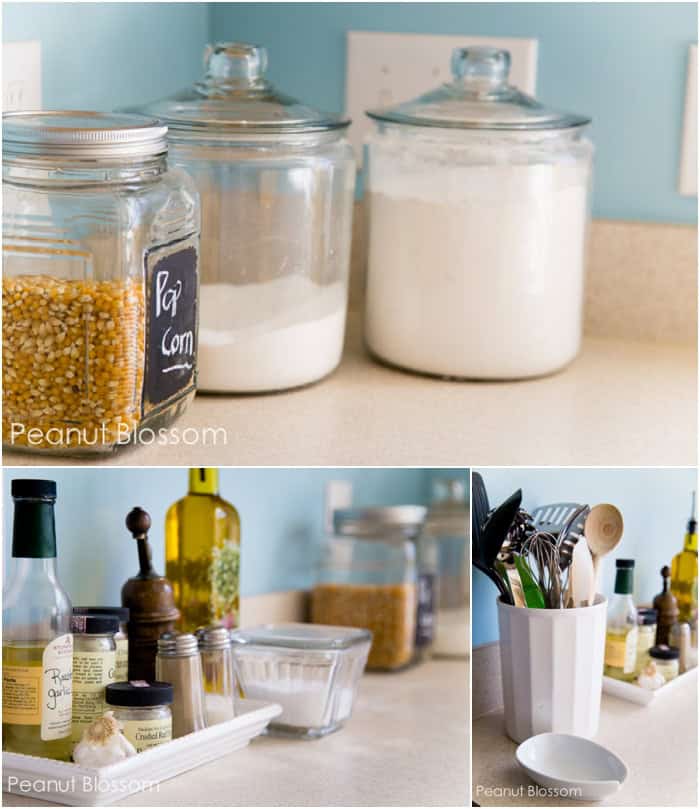 For the last several months, my kitchen has been at a standstill. Then I received the following announcement:
"LG Studio announced its partnership with renowned decorator and product designer Nate Berkus for its high-end LG Studio kitchen line earlier this year.  LG Studio chose to partner with Berkus as a result of their shared commitment to living with what is well thought out and well designed, without sacrificing personality.  Berkus' unique skill set complements LG Studio's plans to continue delivering premium appliances built with sophistication and functional elegance in mind.
Timeless sophistication is the signature of the LG Studio Collection, a beautiful complement to the advanced technology that elevates the entire series. As the artistic advisor to the LG Studio Collection, Nate Berkus brings his celebrated style to LG's premium appliances. Nate's sophisticated yet accessible style resonates strongly with homeowners, and he is recognized amongst them as an inspirational expert on kitchen remodeling and design. 
The LG Studio Signature Kitchen with Nate Berkus focuses on a kitchen web series in which Nate responds to kitchen remodeling and design-based questions from his and LG's social communities in the form of personalized videos, some of which were shot during a live event at the LG Studio Kitchen in Manhattan last week. Nate also filmed five exclusive videos offering insight and expertise on various design trends, including achieving a well-appointed kitchen, summer in the kitchen, layered design, entertaining in the kitchen, and technology in the kitchen. Visit LGStudioKitchen.com to watch Nate in the kitchen sharing his expert design tips and insights!"
Let me translate: Nate Berkus + LG Studio appliances = Kitchen Redo Opportunity for YOU! They have launched the "My Kitchen Needs Nate" makeover contest. If you win, Nate Berkus will remodel your kitchen featuring stellar LG Studio appliances. You can check out the full entry details below. But to get your creative juices a flowing, I was asked to share my own kitchen inspiration board: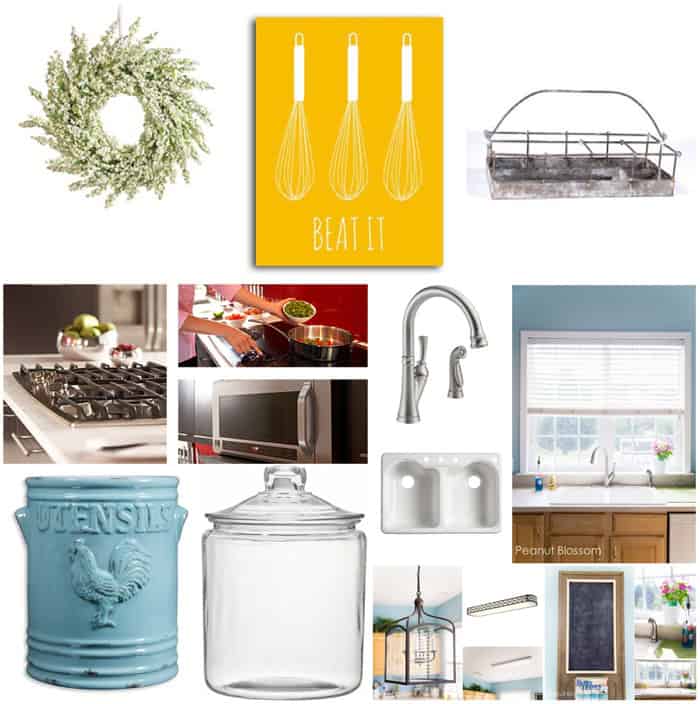 My ideal kitchen is bright and light and airy. As I've shared, I lean towards clean and crisp colors with pops of antique-y touches in the accessories. I love clear glass and wire baskets, happy accessories, and floral themes. This inspiration board is just the tip of the iceberg. I've actually been busy curating an entire Pinterest board featuring the items I've already installed in the kitchen alongside the ones I WISH I could install. If you're curious about the sources for any of my hardware or lighting, you'll find it all pinned for your convenience: Follow Tiffany Dahle's board Design my signature kitchen -- brought to you by LG Studio on Pinterest.
If you'd like to grab your chance to win a remodeled kitchen, be sure to check out all the following details of participation:
"My Kitchen Needs Nate" Contest
Beginning June 19 and extending to July 31, consumers are encouraged to enter the "My Kitchen Needs Nate" contest in which the winner will receive a Nate Berkus designed and remodeled kitchen that incorporates LG Studio appliances. Contestants are asked to shoot a video of themselves in their kitchen, noting the personal inspiration point they want Nate to incorporate in his design and why they're excited about LG Studio's line of appliances. LG Studio and Nate will choose the winner based on the following criteria: compelling design opportunity, quality of LG Studio appliance-based answer and visibility of kitchen space. Once the renovation is complete, renovation episodes, tip videos and images capturing the renovation will be posted to LGStudioKitchen.com and shared across LG and Nate's social properties.
Readers may submit video entries at LGStudioKitchen.com for a chance to win a new kitchen renovation, designed by celebrity designer Nate Berkus and furnished with LG Studio appliances.
Does your kitchen need Nate and the LG Studio line of appliances? Send LG Studio a video and tell them all about it.  Make sure to include the following:
• You are the star. Make sure you're in your kitchen and that LG Studio can see a 360° view of it.
• Tell LG Studio your story. Describe for them the design elements that matter most to you. NOTE: They're going to see a lot of videos, so make it great!
• Tell LG Studio what you love so much about LG Studio appliances
• Enter the My Kitchen Needs Nate contest for a chance to win a new kitchen renovation, designed by celebrity designer Nate Berkus and furnished with LG Studio appliances