Debating a Kindle vs. paper books? Which format is best for you? This is a great list of reasons a Kindle might be a better pick.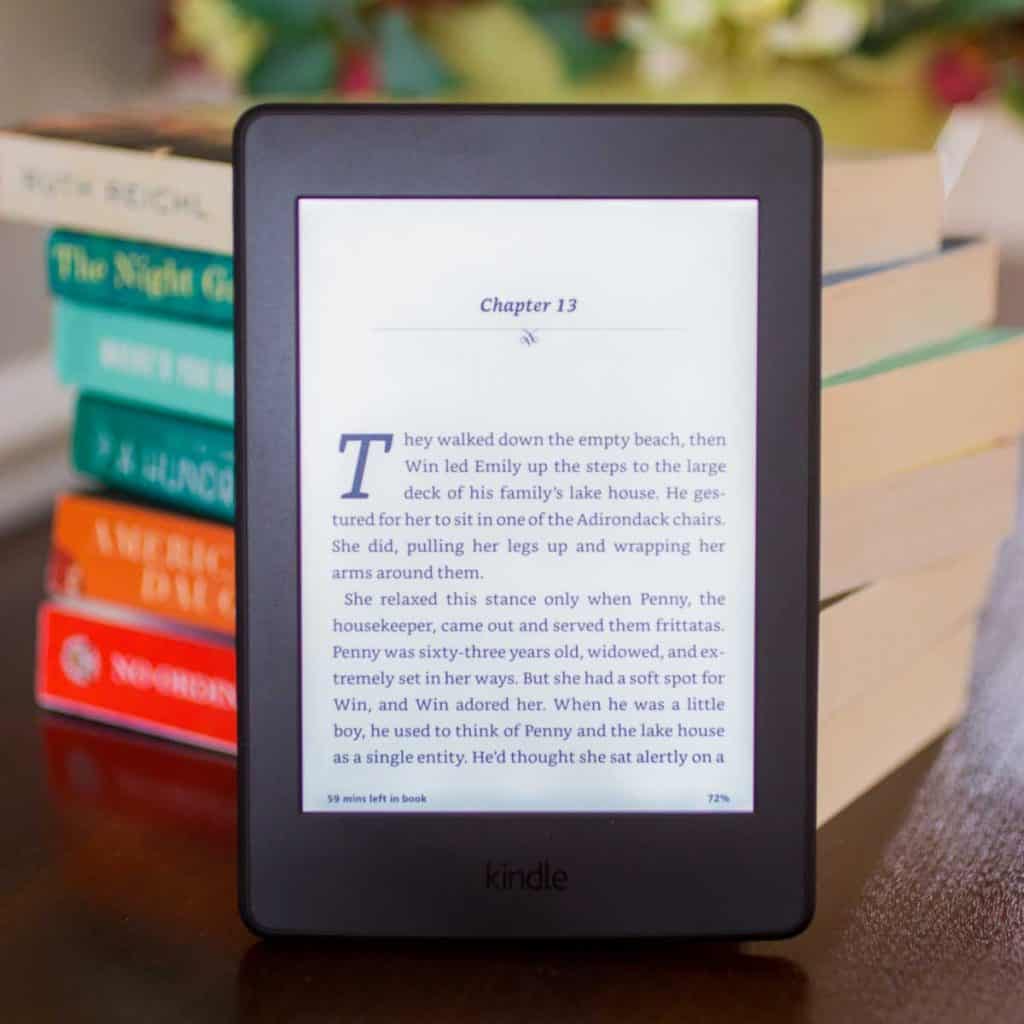 I'm one of those girls that thinks they should bottle up the smell of a library and put it in a candle.
I would die happy in a big overstuffed arm chair in Belle's library with shelves covered in books as high as the ceiling.
I love, love, love a good paper book.
But I finally made the switch to digital reading and I think you should, too.
Why I Chose to Go Digital
If I love paper books so much, why on earth would I make a goal to go 100% digital??
For many years, I bought all my books in paperback copies so that the kids can see mommy reading actual books.
I worried that they suspected I was actually putzing around online when they saw me with a tablet and that it wasn't clearly obvious when I was reading a book or not.
It suddenly occurred to me that by stubbornly sticking to classic paper books, I was significantly reducing my window of time I can actually read.
I read in pockets of time on the go but the biggest chunk of my reading habit happens in bed before sleeping.
My husband goes to sleep earlier than I do and I like to stay up for another hour or so to read.
The book light I was using for my paper books was hard to read with and was still too bright for him to be able to sleep.
By switching to my Kindle Paperwhite, I found myself suddenly plowing through books at a rate I haven't experienced since pre-kids!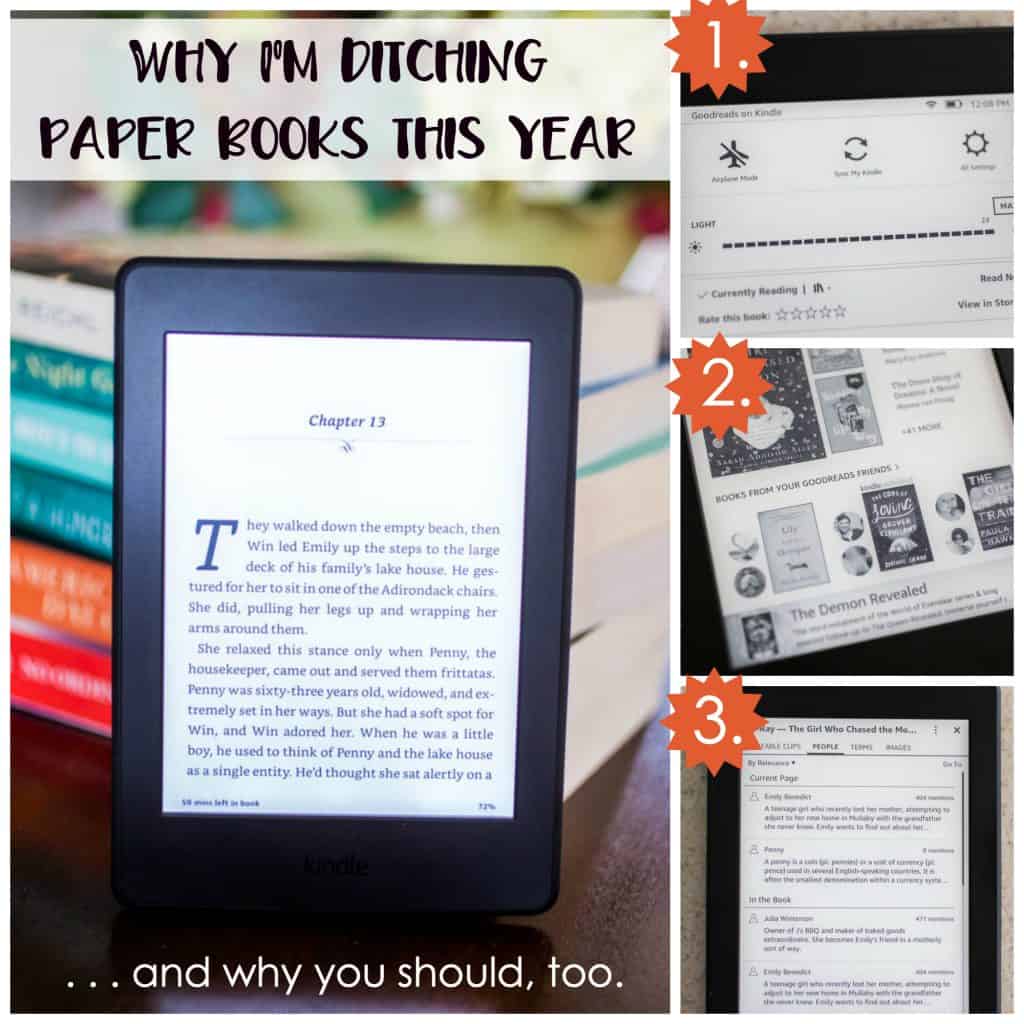 After several months of heavy Kindle use, I've discovered more benefits to it in addition to increasing my reading time.
Built In Light
This is the biggest pro of a Kindle vs. a paper book for me.
I read both inside and outside with no glare on the screen.
I can crank the brightness way up to give it the whitest/crispest appearance but then dial it way back in the dark so my eyes aren't overly taxed right before sleeping.
Not having to worry about a book light or having enough ambient room light to see my book is such a wonderful relief.
Whispersync Rocks
Amazon's Whispersync feature will track your reading progress in your Kindle book and allow you to pick up where you left off in the audio version through Audible.
I can listen to the book while doing dishes in the afternoon and then quietly read my book on my Kindle when laying in bed before sleeping.
I love that this lets me get through my books faster and allows me the best of both worlds. I used this feature the most when working through the Outlander series!
Connected to GoodReads
Now that I'm reading so much more, I'm using GoodReads to track my goals more often.
I love that I can sync my current read to my profile but it is even more fun to see recommendations for other books from friends right on the home screen of the Kindle!
When I open a new book, it will automatically mark the date I started it. Once I finish, it marks that date too and adds it to my annual reading challenge progress.
This is a fantastic motivator when you're struggling to read more often.
Kindle X-Ray
This might be one of my very favorite features.
When you're reading a book that has a complicated cast of characters, you can tap on the X-Ray feature and it will tell you who is who in the book with the names from the page you are on listed first!
This came in SO HANDY when we read The Royal Nanny for book club.
X-Ray also has book terms and images to help you with places, maps, and references made in the book.
Built-in Dictionary
I am too lazy to go looking up a word I don't know on my own.
I normally just guess and keep moving.
With the built-in dictionary on my Kindle, I find I have actually stopped to tap the word to see what it means and my vocabulary is growing.
Even better, the Kindle will save the words you look up so you can see a little flashcard section of words that stumped you and reference them together.
Personalized Collections
You can sort your Kindle books into custom collections.
I have a Book Club folder, a To Read folder, a Favorites collection, and growing Read by Year collections.
You can sort your books into multiple collections at the same time so you don't have to choose just one classification for each book.