I'm one of those girls that thinks they should bottle up the smell of a library and put it in a candle. I would die happy in a big overstuffed arm chair in Belle's library with shelves covered in books as high as the ceiling. I love love love a good paper book. So, why on earth would I make a goal to go 100% digital this year??
Oh friends, this was not an easy decision. For the last few years, I've been buying all my books in paperback so that the kids can see mommy reading actual books. I worried that they suspected I was actually putzing around online when they saw me with a tablet and that it wasn't clear when I was reading or not.
It suddenly occurred to me that by stubbornly sticking to classic paper books, I was significantly reducing my window of time I can actually read. I read in pockets of time on the go but the biggest chunk of my reading habit happens in bed before sleeping. My husband goes to sleep earlier than I do and I like to stay up for another hour or so to read. The book light I was using for my paper books was hard to read with and was still too bright for him to be able to sleep.
By switching back to my Kindle Paperwhite, I found myself suddenly plowing through books at a rate I haven't experienced since pre-kids!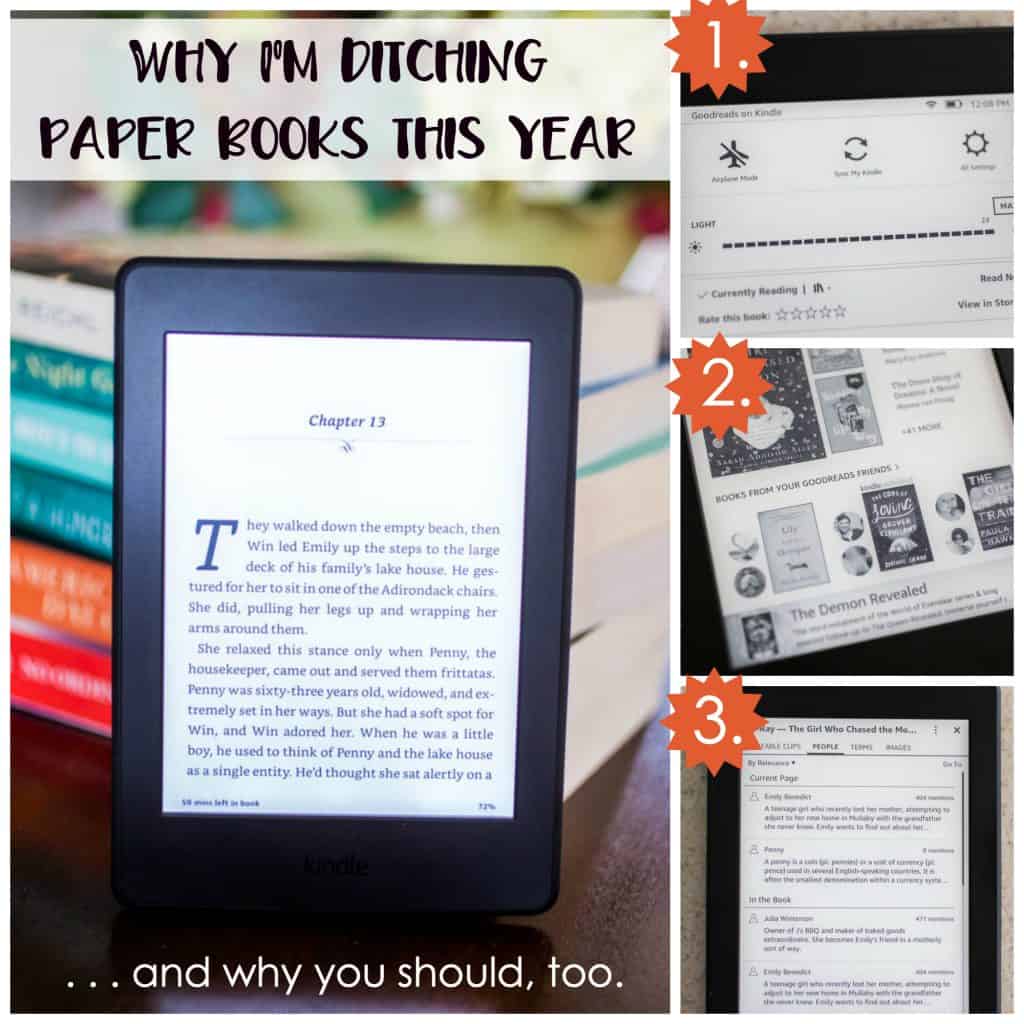 After several months of heavy Kindle use, I've discovered more benefits to it in addition to increasing my reading time:
The built in light: This is the biggest pro for me. I read inside and outside with no glare. I crank the brightness way up to give it the whitest/crispest appearance but then dial it way back in the dark so my eyes aren't overly taxed right before sleeping.
Connected to GoodReads: Now that I'm reading so much more, I'm using GoodReads to track my goals more often. I love that I can sync my current read to my profile but it is even more fun to see recommendations for other books from friends right on the home screen of the Kindle!
Kindle X-Ray: This might be one of my very favorite features. When you're reading a book that has a complicated cast of characters, you can tap on the X-Ray feature and it will tell you who is who in the book with the names from the page you are on listed first! This came in SO HANDY when we read The Royal Nanny for book club. X-Ray also has book terms and images to help you with places, maps, and references made in the book.
It's JUST a book: I have the Kindle app on my phone and on my Samsung tablet but I hardly read books there. I get distracted with email, games, social media. My Kindle has nothing to distract me, it's just my book.
Built-in Dictionary: I am too lazy to go looking up a word I don't know on my own. I normally just guess and keep moving. I find I have actually stopped to tap the word to see what it means with the Kindle and my vocabulary is growing.
Personalized Collections: You can sort your Kindle books into custom collections. I have a Book Club folder, a To Read folder, a Favorites collection, and a growing Read in 2017 collection. You can sort your books into multiple collections at the same time so I don't have to choose just one classification of the book.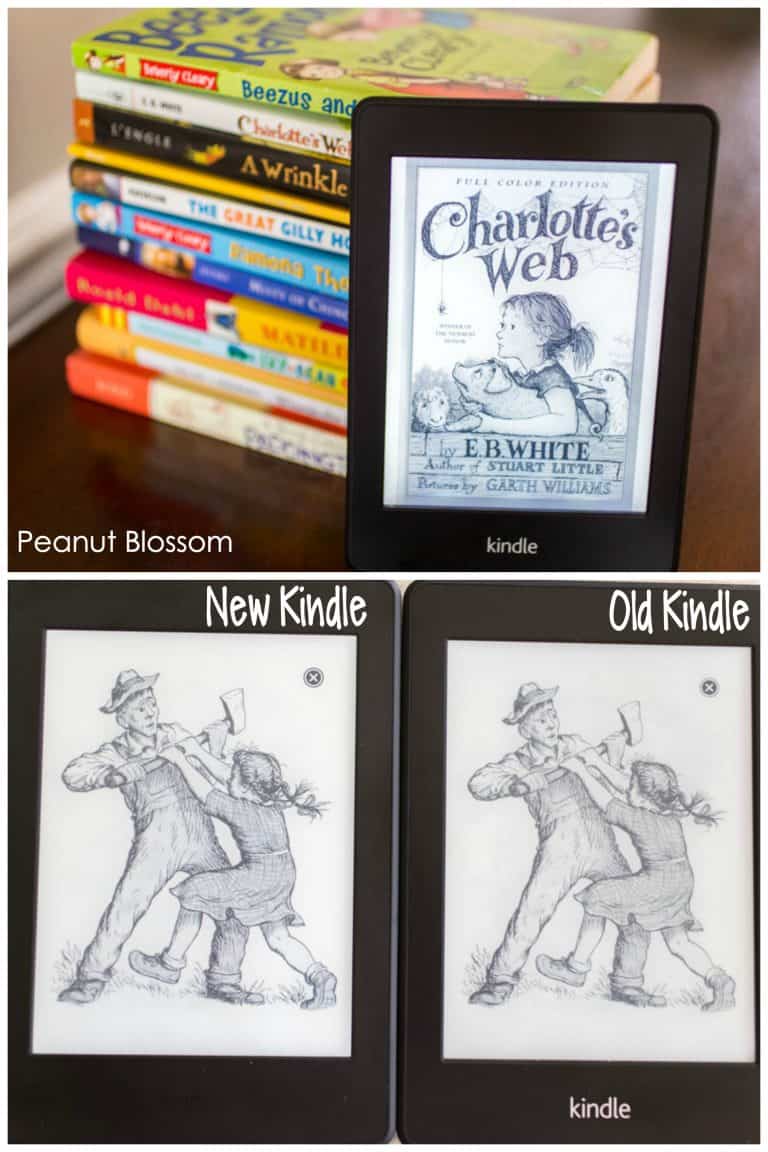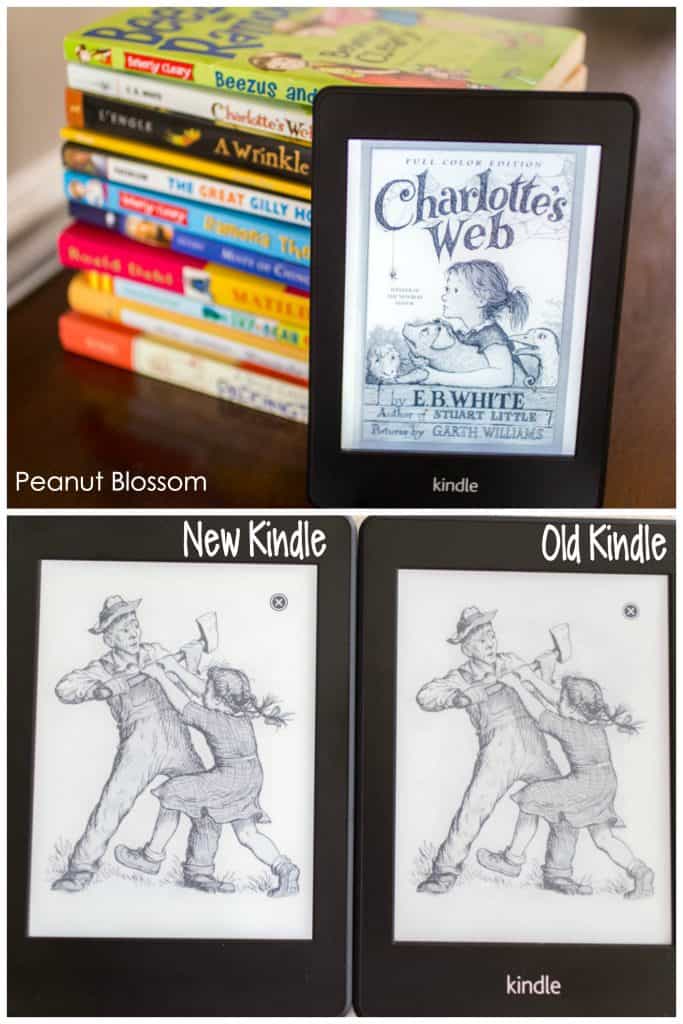 Even though I'm reading on a tablet, it is still setting a great example for the kids. They peek over my shoulder and see me with a black and white screen full of text. Little Pea was curious enough to read over my shoulder and we practiced her reading time together on one of my (grown up but safe for kid eyes) books. She was completely intrigued and asked for a Kindle for her birthday.
I thought it would be the perfect excuse to purchase one of the newer Paperwhite models to compare to my old one from 2012.
I tried to take pictures for you, but the differences between them are not photographic enough. Here are the biggest things I noticed.
Main differences between 2013 Kindle Paperwhite and a new 2017 Kindle Paperwhite:
The screen is brighter: I cranked both Kindles up to their brightest setting and the new one is definitely whiter with more contrast.
Illustrations are crisper: In the image above, the illustration on the left is the new Kindle, the one on the right is the 2012 model. The graphic is more defined and easier to see on the new one.
New custom font: Amazon has developed a new font just for Kindle called Bookerly. It is definitely an easier to scan quickly font and very easy on the eyes when reading for long periods of time. It is only available on the new Kindles.
No ghosting: My older Kindle was starting to have problems where a ghost of the previous page was appearing over the current page. It was very faint but noticeable in the white spaces between paragraphs. I thought I was going crazy at first. It can be cleared by powering off the Kindle completely and restarting it, but that was a pain. I love that ghosting is not an issue on the new one.
Size is the same: Your cover or case will definitely work with a new model because the dimensions and port locations are exactly in the same spot. Nice!
Is it worth shelling out the money for a new model? It really depends on how much you are using it. My eyesight is definitely not what it used to be. I found I was starting to strain with the older model and I do think the newer one is easier on my eyes. The difference was significant enough for me to justify the expense but it helped knowing I have two kids I can hand my older model down to. The ghosting issue alone was also enough to switch.
But if your eyes are great and your current model is working well, you may be disappointed that the differences are not more significant. It is a fantastic product, they just didn't change a lot of it compared to the older model.
You can grab your own Kindle Paperwhite right here. But then be sure to join the Peanut Blossom Book Club for Recovering Readers so you never run out of things to read!