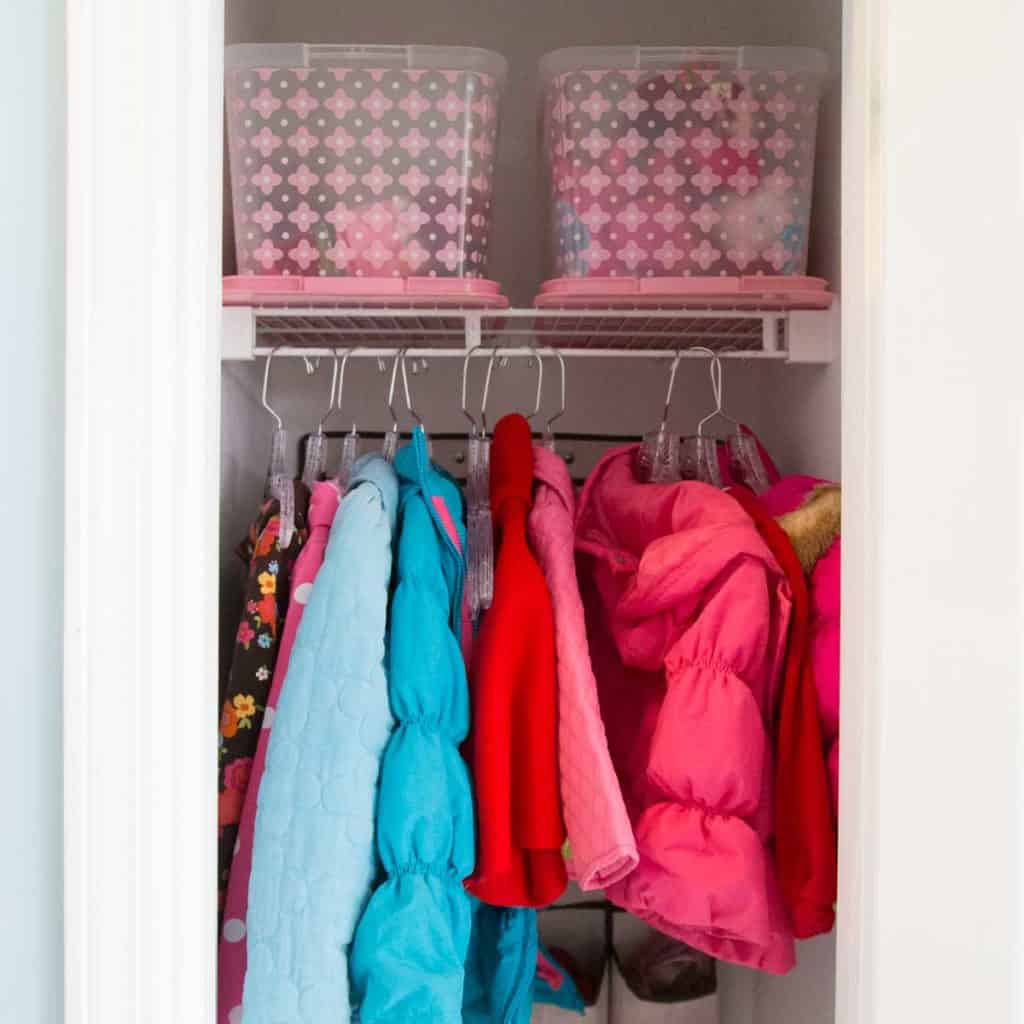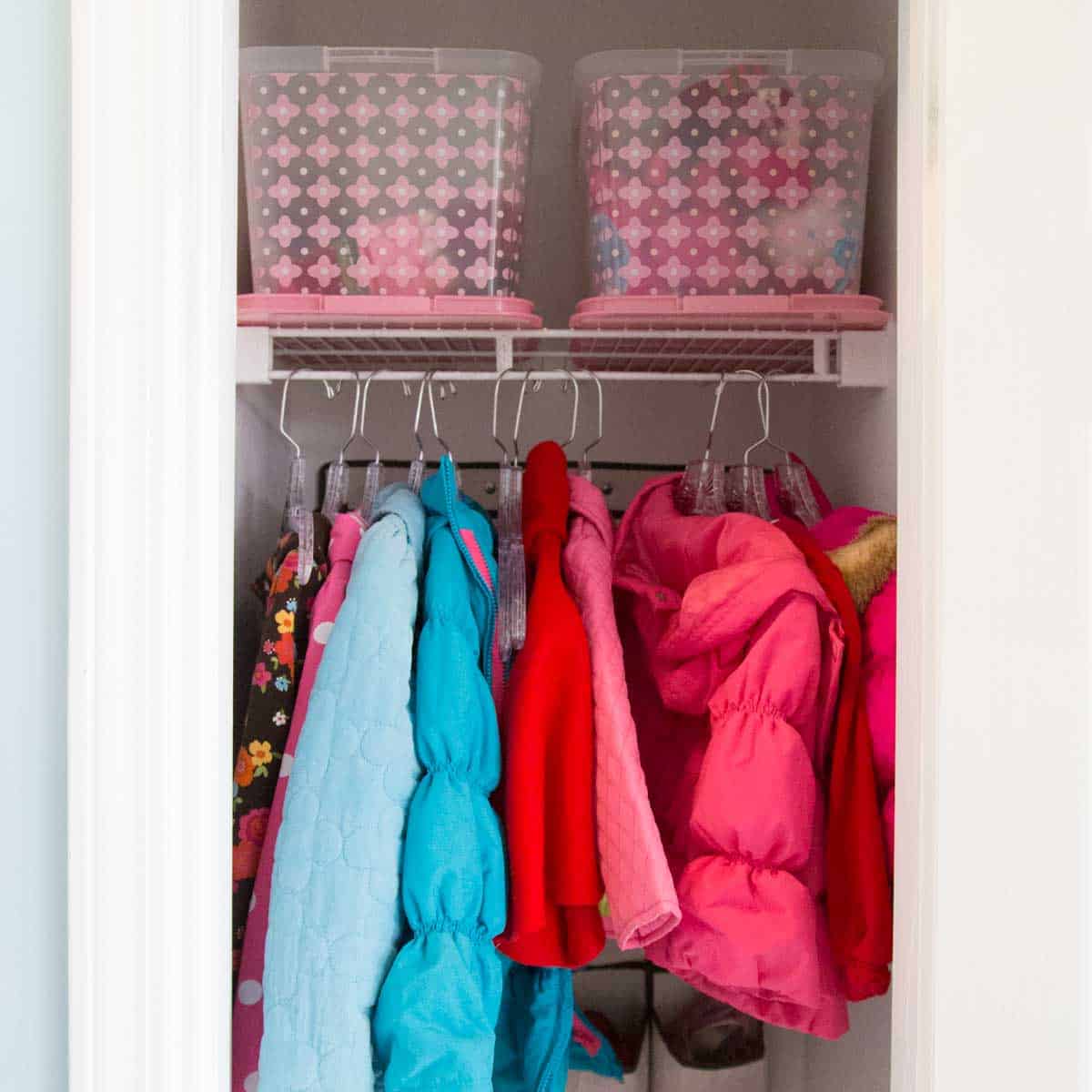 Please don't laugh. I'm about to get very excited about something that seems completely ordinary and commonplace.
This closet is a work of art.
Am I the only one that has a threshold for chaos? In my heart I know that the key to a well organized home is having a place for everything, everything in it's place. But in practice? I really struggle with the execution of that concept.
We've lived in our house for 18 months. For EIGHTEEN MONTHS I have hated our front entryway closet. With two little independent girls in charge of the taking on and off of their shoes and outerwear, that closet was always an eyesore.
I'm talking a virtual mountain of shoes cascading down every time I opened the door. Covered by a pile of jackets and sweatshirts that never made it to the hangers they could not reach.
I was stressed every time I put on my coat or shoes.
For 18 months.
Then in a burst of New Year Resolutions Energy, I finally did something about it!
In one afternoon I solved this nagging problem. The solution was so ridiculously easy to implement, I can't believe I didn't think of it earlier. But, I swear that's why people have "honeymoon" phases in new houses. It takes a while to know how your lifestyle works in a new place.
This is just the tip of the iceberg. I'm hoping to be sharing a lot more home organization projects soon!
So tell me, what's your greatest house conquest? Have you tackled a junk drawer or pantry lately??
How to Organize a Closet for the Kids
1. Assign a space: I banned the children from using the front entryway closet and found them a space of their own. We have a tiny broom closet right off the kitchen near our garage door that was holding random items like dog food, winter coats we hadn't needed once in 18 months, random hats, mittens, and laptop bags long since abandoned.
It took me about 10 minutes to gut the closet right down to empty.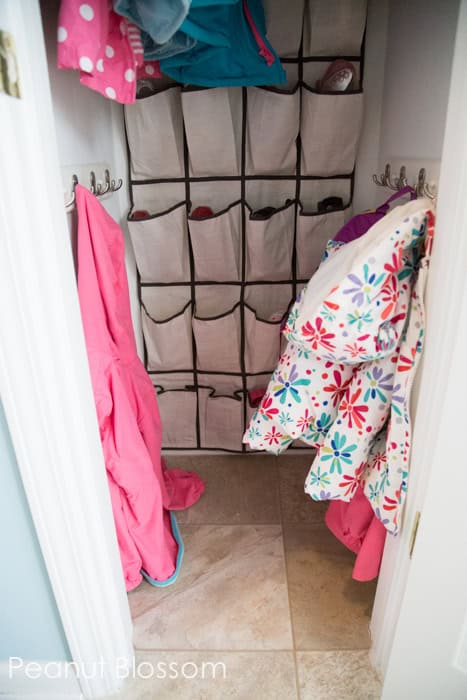 2. Define the purpose: If I was going to dedicate an entire closet to the girls, it needed to earn it's keep. I wanted this closet to store:
All outerwear for all seasons for both girls (jackets, hats, mittens, boots, etc.)
Their entire collection of shoes for all seasons
Their school backpacks and daily grab items
3. Measure and plan: I wanted long-term storage of coats to be up above their reach but the day-to-day necessities to be hung on hooks right at their level.
I mentally split the closet right down the middle. Each girl has exactly the same amount of storage on both sides.
A quick trip to Target and I grabbed:
2 rows of hooks
A shoe organizer
2 plastic bins
1 set of hangers
4. Get creative: I actually hate over-the-door shoe organizers. They flop when you open the door, they feel squooshed, and I'm not a fan of the hooks peeking out over the door when it is shut.
Our shoe organizer is heavy duty fabric. Handyman Tim mounted it directly to the back of the closet with screws for hooks: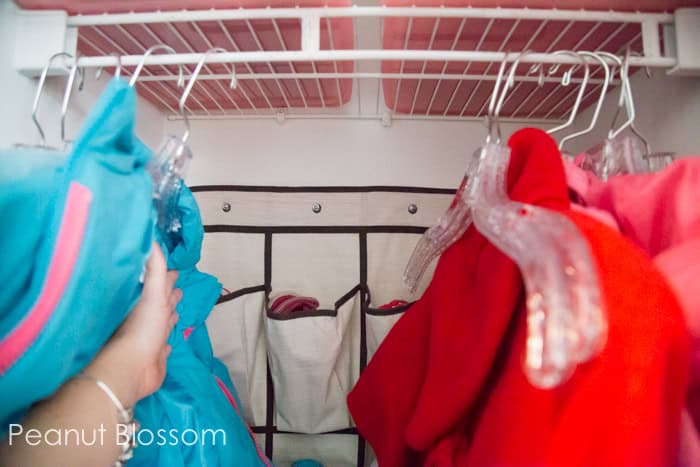 Little Pea is in a "fashionista" stage and loves to ransack the closet and wear shoes of all kinds for fun. Though it may seem inconvenient to have pockets hidden behind coats and up so high, the off season footwear is slipped away out of sight up there. It's half the mess automatically taken out of rotation!
Tim thought the closet felt a little too stuffed, but the girls are short enough and small enough that they walk right in and get what they need! They've been great about putting their shoes back in the pockets and hanging their backpacks on their own hooks. I think they like this little hidden secret space of their own.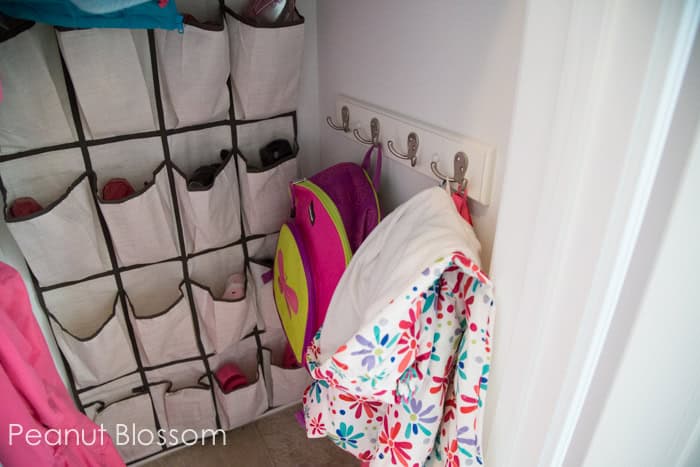 As the girls grow I'll adjust this space as needed but for the sizes they are now and for the next several years, this solution has dramatically cut down on the chaos in our front entryway. I love going to hang up my own coat and put away my own shoes in a quiet organized adults-only closet of our own!