The crazy, messy kids back to school preparations are the memories that will stick with you way longer than the fleeting perfect front step photo op. Don't miss these 24 real life Back to School photo prompts.
This year, take the time to notice and appreciate the bigger picture. This post is sponsored by Minute Maid who wants moms to know that #ThisIsGOOD , every messy awesome bit of it.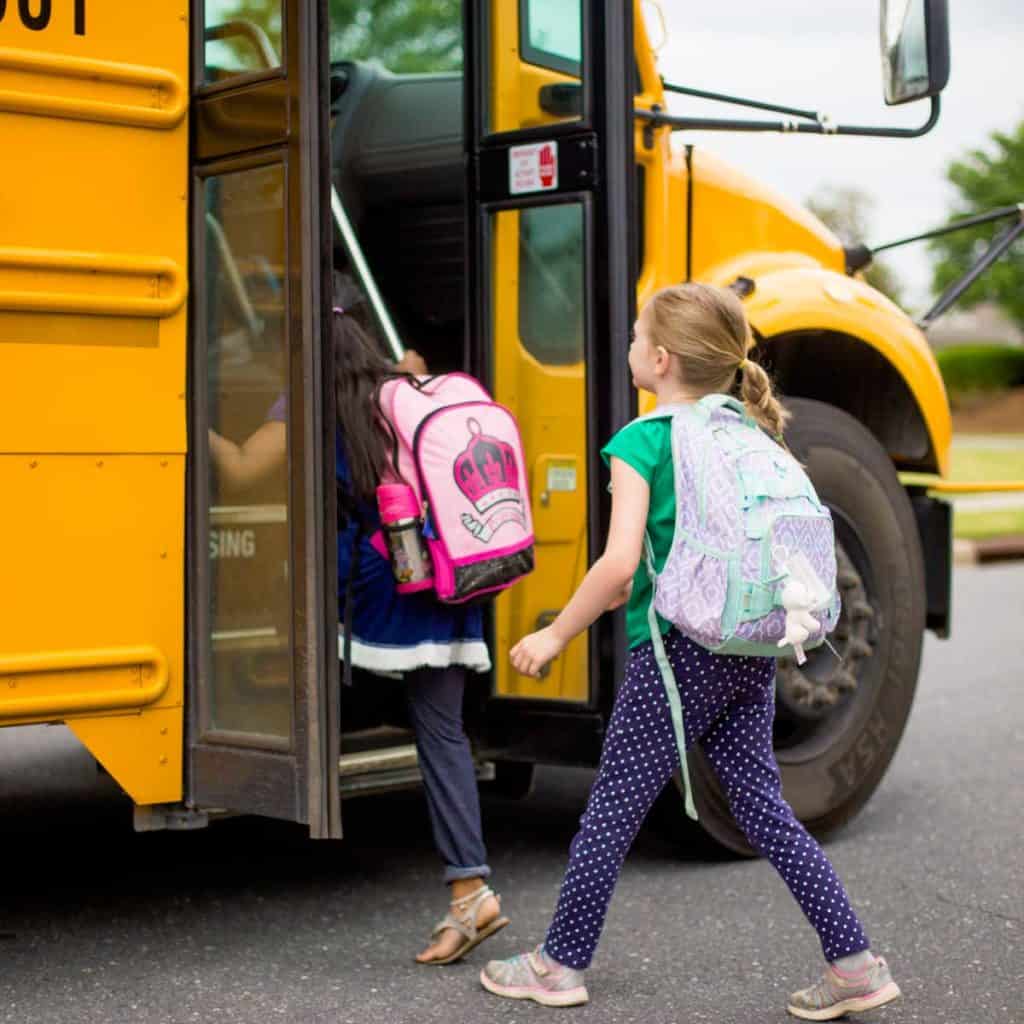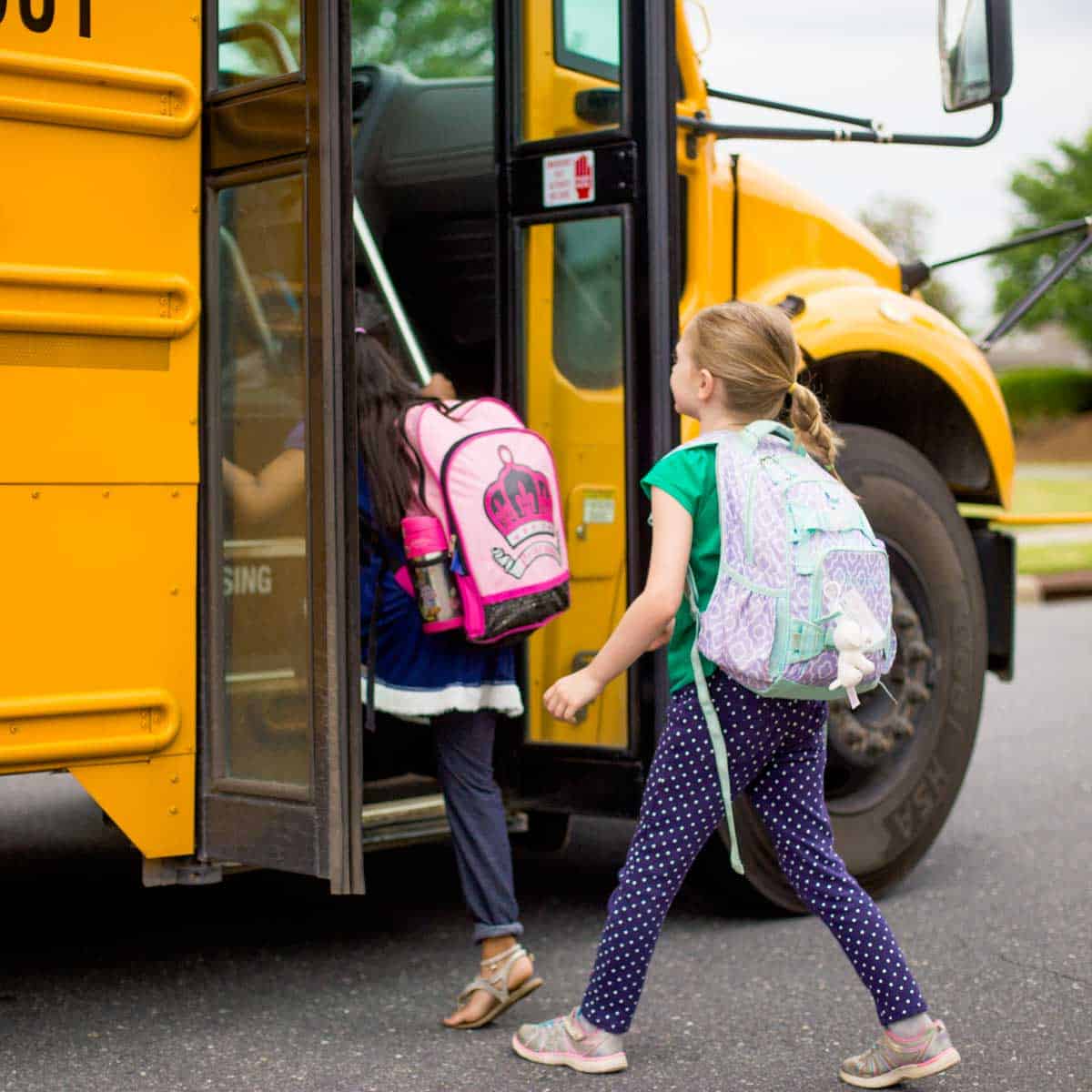 There are two holidays in the year where it might be super obnoxious to be on social media if you don't have kids in your life: Back to School and Halloween.
Every year my newsfeed overflows with adorable pictures of the little ones in my life growing up before my very eyes.
Those two seasons happen to be my favorite time to be on social media, because my friends all consistently share peeks into their everyday world and their growing families all at the exact same time.
But you know what is really super common with those photos?
STAGED PERFECTION.
Jump to:
Let's take the kids back to school pictures for example:
I see picture after picture of smiling happy kids wearing the perfect first day outfit and a shiny new backpack on their back standing on the front porch of the house in the morning.
I also see plenty of staged hand held grade signs to signal just how old they are this year.
I take those exact same back to school photos of my kids and I love them. They are standard mom photos for a reason.
But they only tell one small piece of the kids' back to school story, don't they?
[adthrive-in-post-video-player video-id="HW7nBnVq" upload-date="2021-08-01T12:54:17.000Z" name="24 Real Back to School Moments Moms Know" description="Recognize these REAL LIFE back to school moments? Family life is messy behind the scenes of those perfect back to school photos." player-type="default" override-embed="default"]
Let's be real with one another for a moment shall we?
Just moments before those photo-perfect smiles, my kids were much more likely to be in tears because their new shoes didn't tie up just right or they couldn't find their hair comb.
There was likely a little bit of hurried frantic yelling trying to get them out the door in time, too.
And the house behind that closed door in the picture? A train wreck with dirty breakfast dishes all over the counters and the remnants of the efforts to get the lunches packed.
Why aren't we noticing and appreciating these much more real versions of our family?
We all can certainly relate to those crazy back to school moments. Are we so worried that our friends have it more put together? (Spoiler alert: They totally don't!)
Your Real Family Moments Are Worth the Photo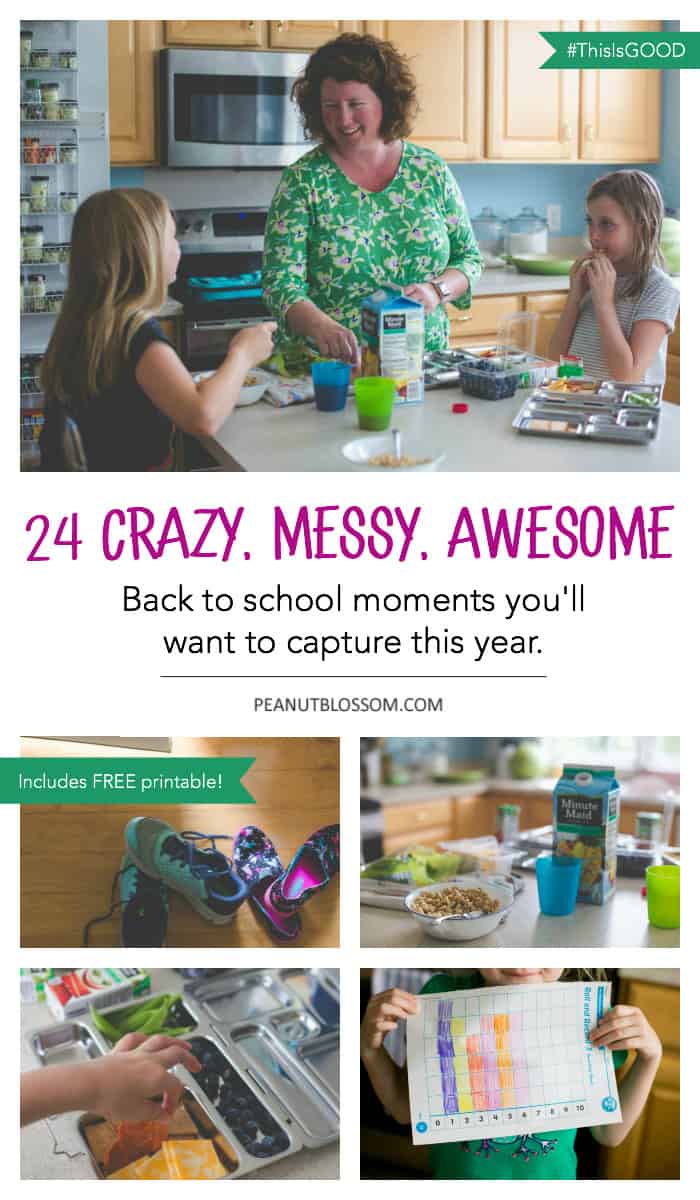 Minute Maid conducted a parent survey and found that 43% of parents who use social media agree they only post flattering photos or videos of their family. More than four-in-five (81%) of parents who do post pictures on social media admit they have avoided posting a picture because something embarrassing was in the background or their home looked messy.
The Difference between Unflattering and Real
We all know how it feels to have a photo taken while we make an awkward expression, have a mouth full of food, etc. BUT I think we need to clarify the difference between "unflattering" and a beautiful real moment:
A perfectly adorable picture of my kid who happens to be standing in my messy kitchen at the moment? Ignore the mess, this is GOOD.
A shot that captures my kids and our lives in a way that makes my heart sing but happens to have clutter in the background or I'm not wearing makeup or our outfits aren't perfect? This is not unflattering, this is GOOD.
FREE Printable Photo Prompts List
This year I want to encourage you to notice and appreciate your entire back to school story. Look around at your crazy, messy, awesome family and know that life won't always be like this. Document these memories for yourself even if you never plan to share them online.
Minute Maid wants you to know that This is GOOD. Every messy moment of our precious years parenting our kids.
Don't miss the handy printable checklist I pulled together for you! Maybe you'll be that one awesome friend who can publicly admit that her life is amazing in all it's realness . . .

24 Back to School Photo Prompts
You can keep the printable checklist in your purse all month long because many of these photo prompts will happen outside that front porch moment on the first day.
Before the First Day of School:
Shopping at three separate stores to be able to complete the full school supply list. Where are you orange pocket folder with three prongs??
Kids' back to school shoe shopping and the annual dash to find the best deal since you'll just be buying another pair 3 months down the road.
The knee-high pile of back to school catalogs and flyers all screaming that they have the best clothes sales when really your kid just wants to wear their beloved t-shirt and leggings every day, all year long.
The long line at the hair salon when every kid under the sun needs their back to school haircut.
Dragging a pile of school supplies bigger than your kid into the school orientation day. (Pro Tip: We bought a wagon for this!)
Kids obsessively organizing (and then re-organizing!) the school supplies before the first day, when you know those folders are just going to get lost or forgotten by week 2.
Incessant checking the computer all summer long to see if teacher assignments have been announced. And the cheers (or tears) when they finally find out.
The never ending pile of forms and documentation the school needs to care for your child 7 hours a day, 5 days a week, 9 months in a row.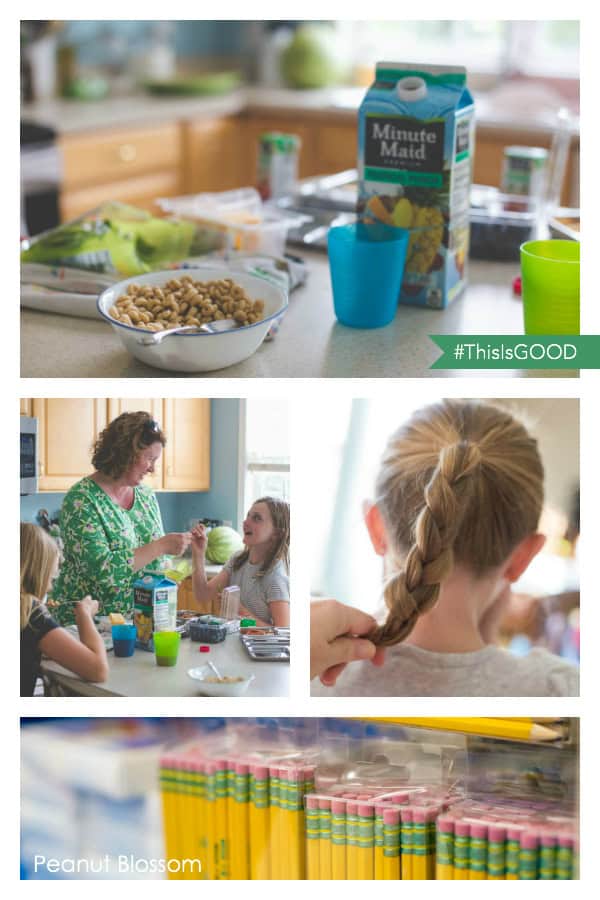 The First Day of School:
The epic crazy bed head hair your kids sport when you have to drag them out of bed early for the first day.
Frantic laundry sorting to find "just the right shirt" when your perfect back to school outfit is shunned at the last-minute because it suddenly feels "scratchy."
Mountainous stacks of cereal bowls and a Tower of Pisa made of orange juice cups on the kitchen counter after a hurried breakfast.
Lunch boxes all lined up and filled with the only mix of foods you know your picky kid will eat.
The endless piles of water bottles from your constant hunt to find one that won't leak or break and might have a hope of lasting one whole year.
The bus stop gang who all seem to have doubled in size over the few precious weeks of summer.
The nervous faces fueled by butterfly-filled tummies, the extra long hand squeeze when they want to delay departure for just a second more.
Watching your kid go out into the world from behind. Knowing you'll be there waiting to be their safe spot at the end of the day.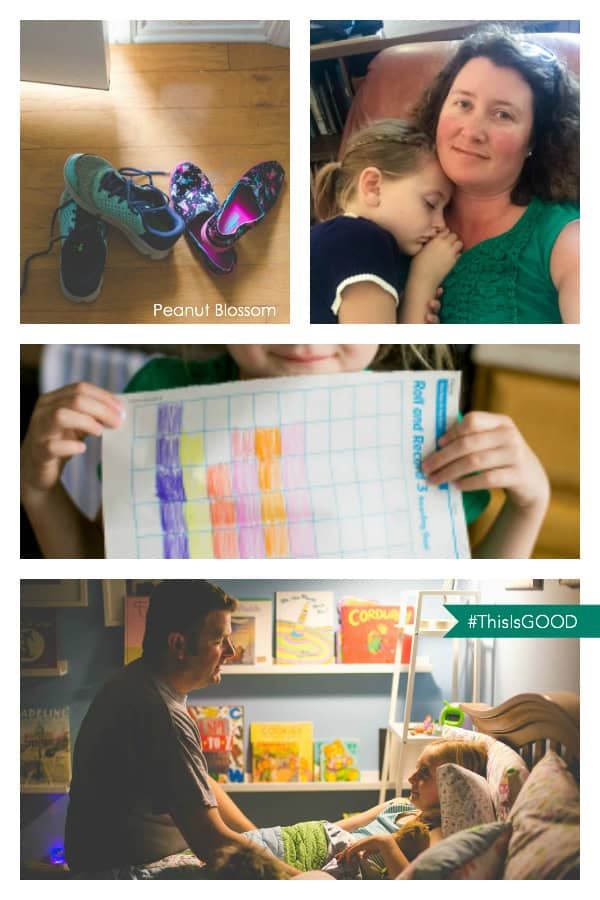 At the End of the First Day of School:
The cranky "I need a minute" faces when they walk in hot and sweaty and overwhelmed.
Kids who haven't napped in years are suddenly passed out on the couch every afternoon during the first long week back.
The never ending piles of shoes at the front door -- cleats, tennis shoes, sandals, and more all in one easy-to-find but annoying to look at mess.
The backpacks overflowing with new books and more paperwork to be filled out and first day "get to know you" homework.
The joyous reunion between kids and pets who've gotten used to one another's company all summer long.
The crazy mixture of paperwork and cutting boards and pens and chopped veggies all over your counters as everyone huddles into the kitchen during the evening Prime Time of homework + dinner.
Quiet moments at the end of the day when they really open up for the first time on how school actually went. Not the dinnertime announcement version, but the heart bursting "I need to tell you something" time.
Tucking them in so you can do it all again tomorrow, and the next day, and the next. This is life, This is GOOD.