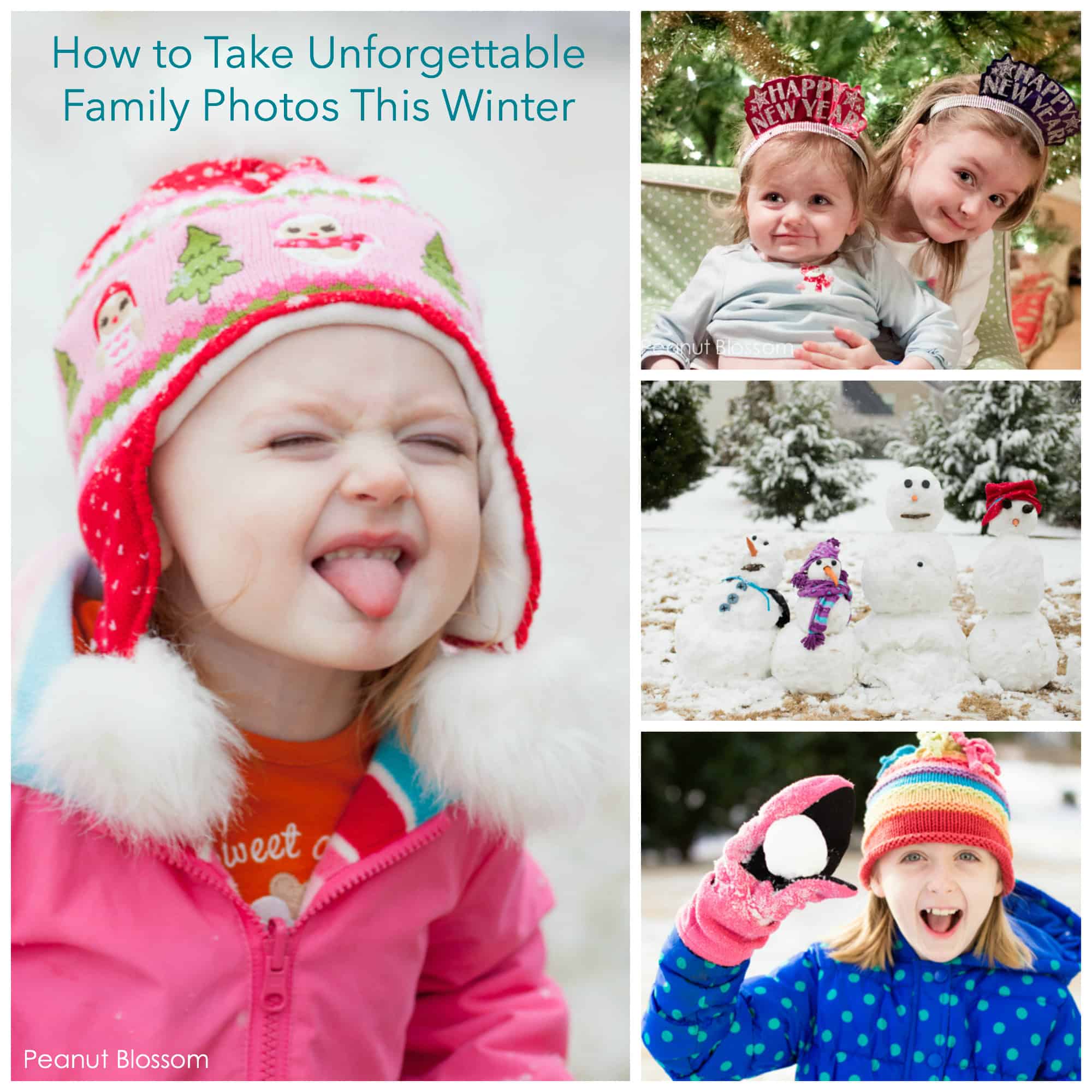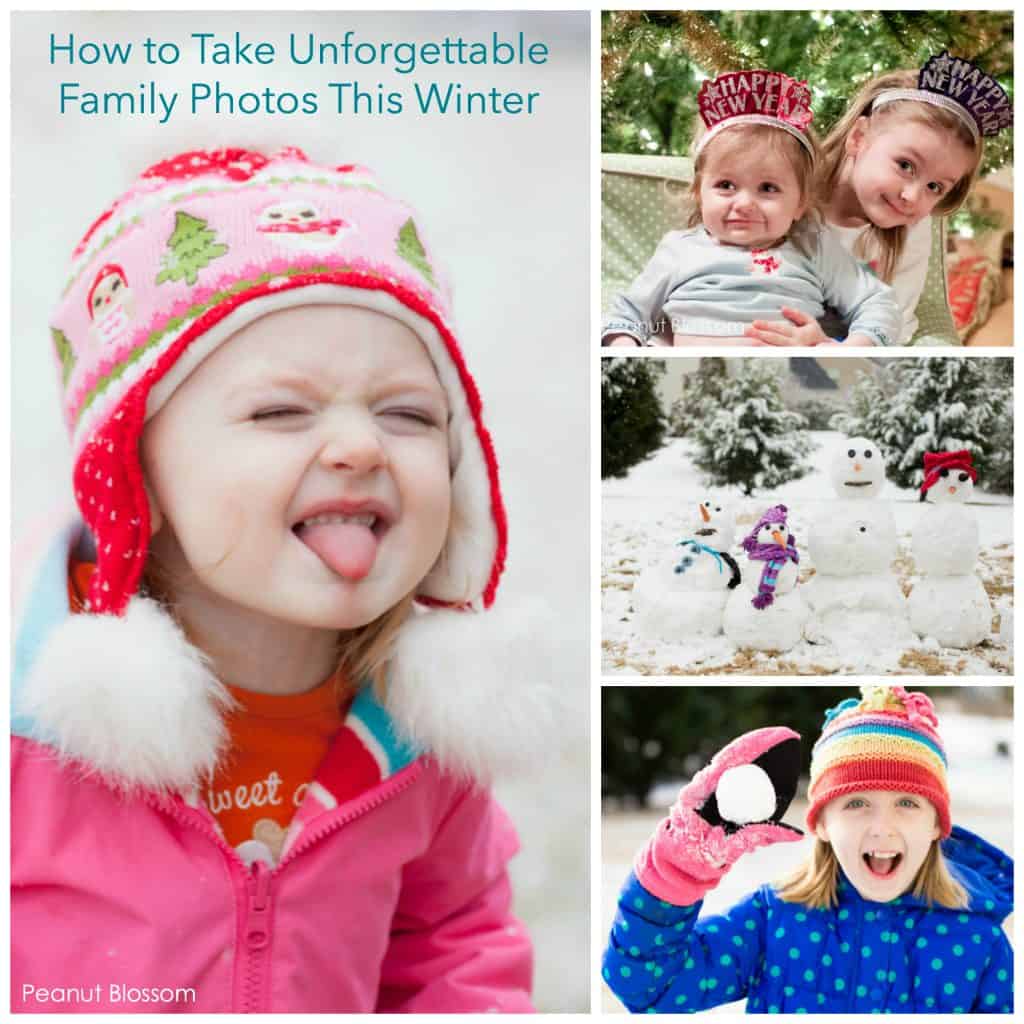 We're thinking like Calendar Creators this year and documenting a year in our families' lives through monthly photo sessions. Each month I will share photo inspiration and tips for you to capture the perfect images for making photo gifts at the end of the year.
For January's photo, I want you to think about the season and what winter looks like to your family. (Of course, this is assuming you're living in the half of the world where "winter" is actually happening! For those of you Down Under, please feel free to swap the snowsuits for swimsuits as necessary . . . )
10 Pictures to Take of Kids in January:
Kids in the snow: Sledding, snow ball fight, snow angels, catching snowflakes on tongue
Drinking hot cocoa out of cute mugs: Maybe try a hot cocoa taste test challenge like this!
Snuggling up all together under a favorite blanket or quilt
Totally overly bundled up wearing colorful accessories (cute hat, scarf, mittens, etc.)
Wearing New Year tiaras and blowing on horn blowers
Participating in their favorite winter-time activity (hockey, ice skating, etc.)
Create a cute scene with dozens of enormous paper snowflakes dangling in the back for an indoor wonderland: Don't miss the awesome tutorial for these GIANT snowflakes here
Reading a wintery picture book
Bundled up in cozy jammies by the fireplace
Holding a giant homemade Happy New Year sign
Planning the Perfect Winter Photo:
As we start our photo challenge this year, I encourage you to try something that might feel a little different . . . rather than trying to capture photos of your kids that are 100% real and in the moment, I want you to try a little "staged realism."
Gorgeous backgrounds, perfect lighting, and cute photo accessories don't just *magically happen*. I think through what I want my final photo to look like and then try to set the scene in a way that still allows freedom for the kids to act naturally. I am still able to capture some very real candid shots but the overall photo is significantly stronger because of the staged set.
Let's look at some examples:

My planning begins all the way back when I first purchase winter clothes for my kids in the fall! I try to find bright colorful accessories knowing I want to take photos later.
When we get that magical first snowfall, I bundle my kids up in their outfits and then spend the first several minutes letting them play and explore on their own. Trying to stage any sort of shot when the siren call of fresh snow is ringing in their ears is utterly futile so it's best to take a deep breath and give them a little space.
I use that time to sit back and just watch them play. If you don't want to get a bunch of shots of the back of their heads as they run away to explore, I recommend these simple tricks.
How to Get Your Kid to Face the Camera:
Ask them to show you a snowball they made. You can capture a close-up of snow in tiny hands inside a mitten or maybe they'll hold it up by their face and you can catch an eager smile.
Ask them to check out a certain area of the yard and report back on how much snow fell there. When they turn back to tell you, they are facing you with the pretty trees you want in the background.
Ask them to walk like a penguin (you can see my little one waddling along so seriously in the top image of the collage above.) You will likely get great giggly faces.
Ask them to try to catch a snowflake on their tongue, even if the snow isn't falling! The expressions are priceless.
After the kids have had time to explore, I will finally ask for a few more posed photos. It is highly unlikely they'll be patient with you about this, so be prepared to move fast.
3 Quick Poses for Kids:

Shooting down, no eye contact: This is an awesome strategy for a peaceful shot and capturing gorgeous eyelashes on your kids. By shooting down at my child, the snow on the ground makes for an all white background and the focus is completely on her sweet face. She doesn't have to feel subconscious about smiling at all and can just relax.
Shooting at eye level, close up: Squat down and shoot straight into your child's face at their level. This puts the trees in the background, so choose your angle wisely. This is an intimate way to capture a smiling happy portrait. I LOVE that I also captured her two missing front teeth.
Shooting at eye level, farther away: Take a few steps back and ask your child to show you just how excited they are about the snow. In this shot, she decided to Rawr like a Dinosaur and is trying to catch the falling snowflakes with her hands/dino arms. The shot may have been staged, but the personality is ALL HER.
I love that in 5 minutes I got a peaceful grandma-approved shot, a heartwarming toothless mommy melting shot, and an energetic total-kid personality shot. 3 different looks in one mini backyard session.