Whoever thinks that books don't make a serious impression on a child would be dead wrong. I have an extremely vivid memory of one particular book, and one particular page within that book, that single-handedly sparked a life-long love of travelling.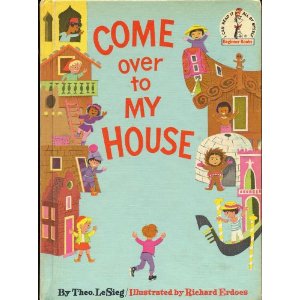 I realized just the other day that I was likely the same age as my Peanut is now (5) when I encountered an illustration of the canals in Venice, Italy for the very first time. To my young mind, it was the most amazing thing to consider that there were people that travelled through their towns via boats vs. cars. I truly recognize that moment as the one where I realized things were different for people who lived places other than my own neighborhood and that there was a whole wide world to discover.
Out of crazy curiosity, I asked my Facebook friends for some help and within minutes I was reunited with "Come Over to My House" by Theo LeSlieg (a.k.a. Dr. Seuss). A new-to-me version is whizzing through the air to our house as I type this.
With this odd but colorful memory that I've carried through my adult life, I am keenly aware that the books I introduce to our children are making an indelible impression. I don't know which one will stick for them in that same way, but I want to introduce them to lands outside our neighborhood in the hope of instilling in them a curiosity and desire to go exploring.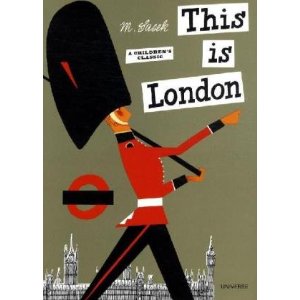 With the Olympics just beginning, we've had several discussions about the countries gathering for the games and about the host country in particular. When I hunted for some books to pick up at the library to introduce this concept to my Peanut, I stumbled across a title I've been waiting and waiting to purchase for our home library: "This is London" by Miroslav Sasek.
"This is London" is part of a travel series for children that Mr. Sasek created in the 50's. I first discovered it at The Land of Nod but at the time my girls were far too little. I recently ordered our very own copy knowing that I might be pushing it a bit too soon but willing to take the risk.
It was an absolute hit. At 5 years old, the Peanut isn't ready for some of the more intricate details the pages of the book hold but she was absolutely intrigued by the general story. The guards with their furry hats, the double decker buses, the underground subway were all exciting novelties for her. This is the kind of book she'll easily grow into and appreciate more as she learns about history.
I'm very eager to add "This is New York" to our collection before my trip to BlogHer next week. I love the idea of her having a better idea of where mommy is spending the weekend. But if I'm really truthful, the book is far more for me than it is for her. These travel books intended for children bring back that initial thrill from 30+ years ago and I remember the feeling as though it were yesterday.