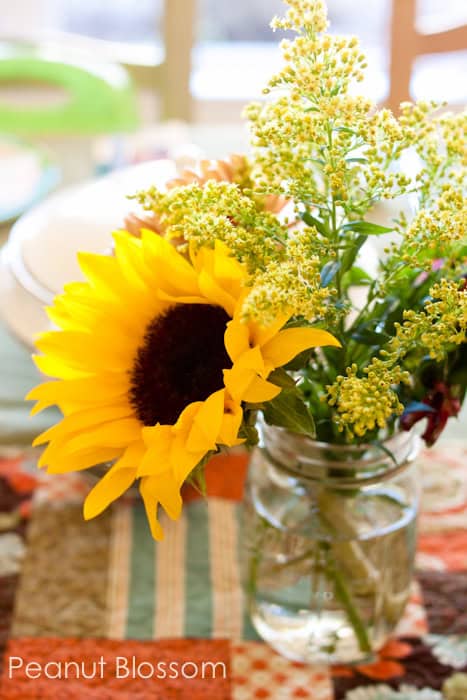 The Inspired Plate ladies chose our November food photography challenge to focus on The Holiday Table. Our assignment was open to interpretation to the many different kinds of holiday festivities we all celebrate this time of year. With my deadline just a few days after Thanksgiving, I knew exactly what I wanted to capture this month:
The Dahle Family Thanksgiving Table!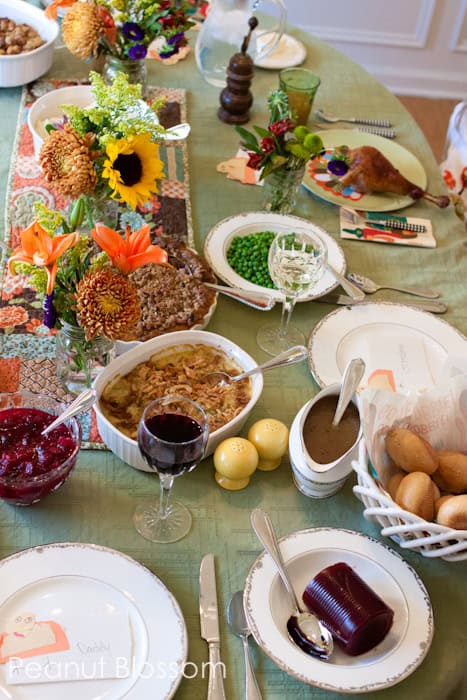 Is that a perfectly styled food photo? Nope. Is it precisely the table my family gathered around for our feast? Yep.
This month I present a true, real-to-life peek into my family. Most of the food photos I've shared in the last year or so were plated and styled with particular attention to the final photo. It is all the real food we are eating, but perhaps on a prettier plate or with fancier props. This time, I did nothing special other than to maybe move a floral arrangement out of the way so I could catch a particular dish.
My mom and I absolutely nailed our Thanksgiving dishes this year. There isn't one I would have left off the table or done differently. It started with this simple and gorgeous roasted turkey. Can I even say what a domestic goddess I felt like when I pulled this pretty baby out of the oven?!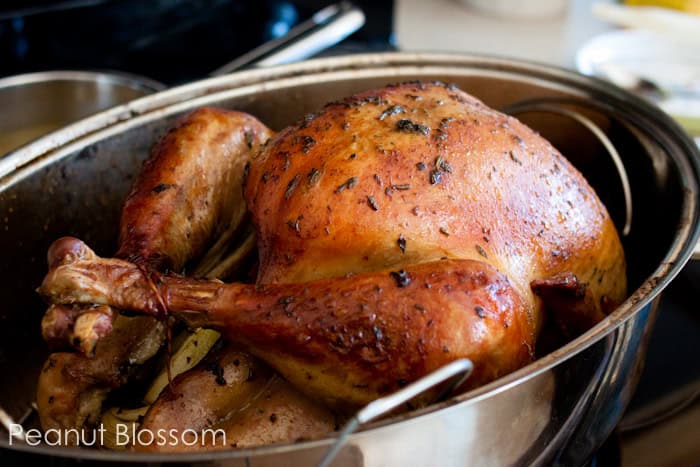 Handyman Tim carved her up and she was sent to the table on a heated platter: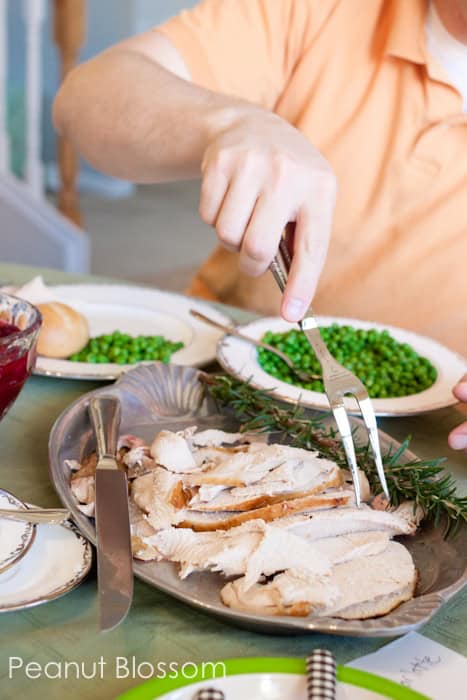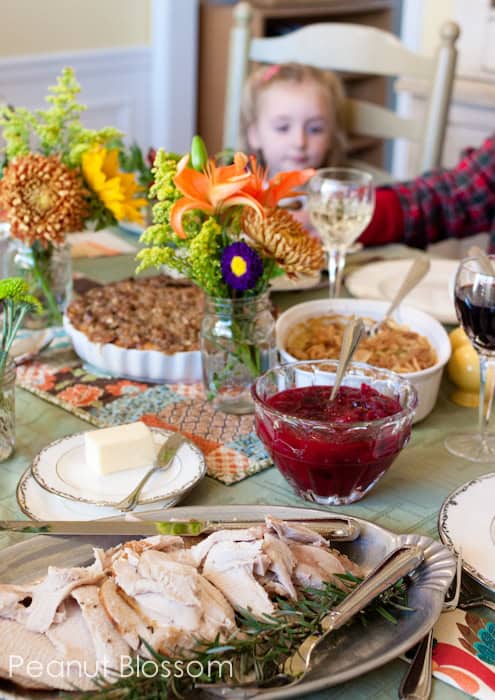 Then there was this mouthwatering stuffing. It's my mom's masterpiece. There is nothing crazy in there, just bread, celery, onions, butter, some seasonings, and her special touch: a pound of bulk sweet italian sausage. YUM. By far my favorite dish on the table.
The image below is actually a bit blurry, I think I was too giddy to see those crunchy edges to hold my camera steady:
The plain mashed potatoes. With butter & cream cheese. Hold the garlic.:
My second favorite item: Pioneer Woman's Soul Sweet Taters. omg, soooo good: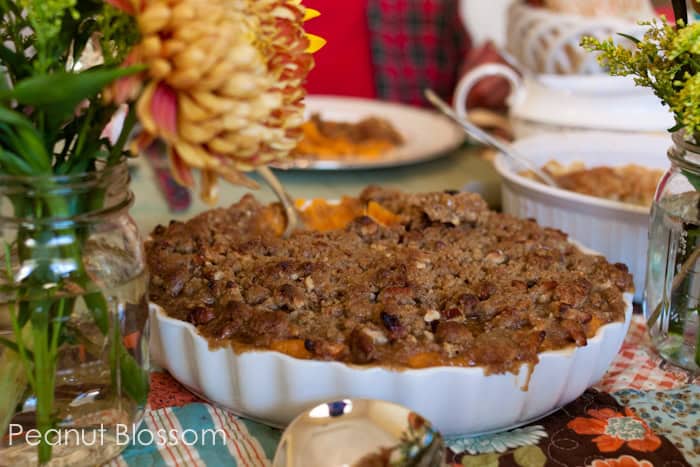 Grand Marnier Cranberries, a new addition to our table this year thanks to my friend Kim over at Liv Life. I used a slightly different method (cooked in a pot vs the oven) but they were absolutely delicious.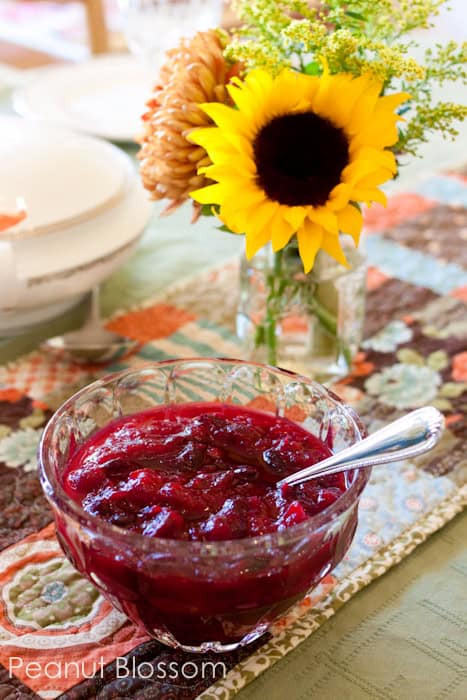 Contest winning pecan pie. We followed the recipe from "Thanksgiving: How to cook it well" and I can honestly say every last one of you should buy that book. It was an absolute life saver. The turkey method also came from there and I referred to pretty much every single chapter for something that day. But this pie. Oh man, this pie. Worth the price of the book.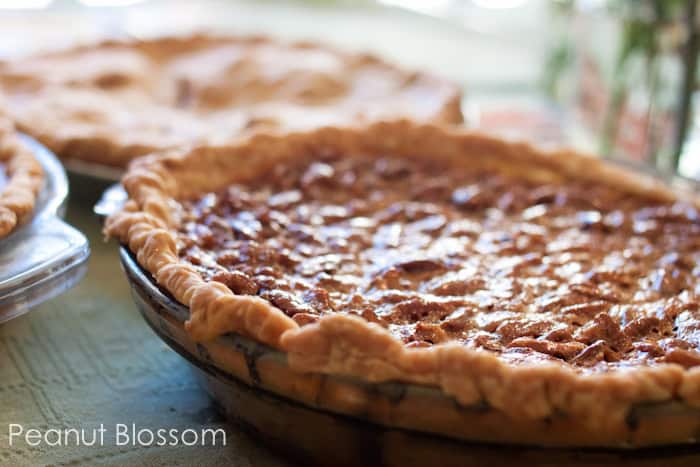 And our own little funny family tradition. We may whip out the fine china for dinner, but once our bellies are stuffed and we're heading on to dessert, it's the paper plates & napkins that are set out instead. I always look for the cutest ones I can find. I loved the turkey plates & napkins my mom would set out when I was little and my girls get just as excited.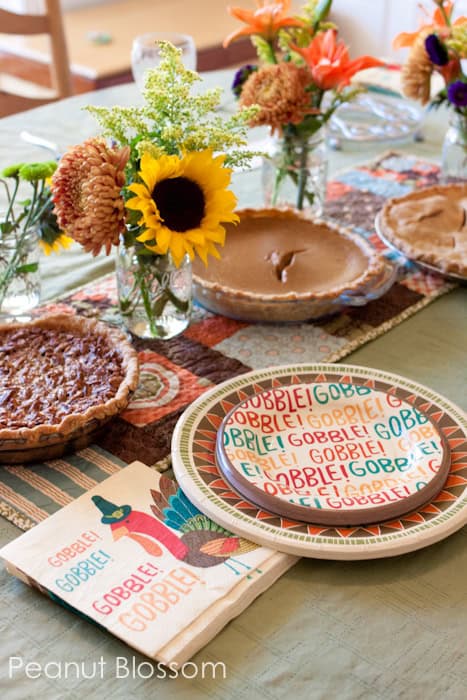 So there you have it. My real, actually ate that, holiday table photos. Despite my best efforts, you're still missing shots of green bean casserole, Tim's peas & corn, his canned cranberries (straight onto the plate with can lines and all), and the dinner rolls. Beyond the pecan pie, we also had pumpkin & apple pies with whipped cream.
My favorite line from "Thanksgiving: How to cook it well" was about the fact that this holiday is about abundance and we shouldn't be afraid to embody that with our cooking. Point taken Mr. Sifton. I hope we did you proud.
Now please stop on over by Laurie Vengoechea | Southern California Food Photographer to see the next in line of our holiday project. Laurie always has gorgeous things on her table,  I can't wait to see what she's come up with for this!