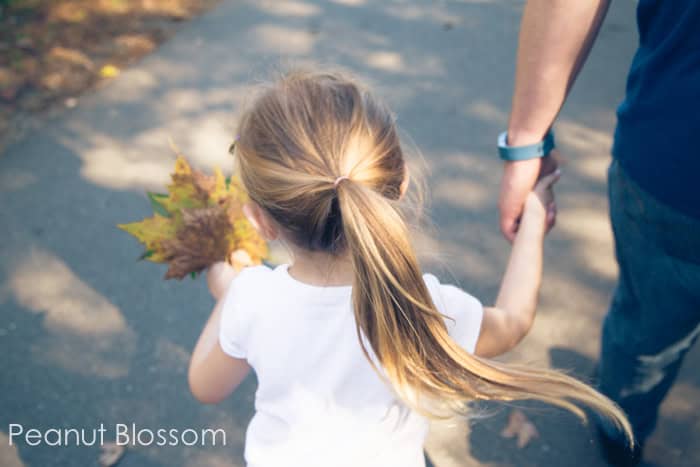 Holidays tend to be overly planned and hyped up but you can still celebrate in very simple ways. We're relishing our last-minute procrastinator habits all this week and sharing our favorite ways to celebrate Halloween on the fly. Yesterday we shared our simple pumpkins tradition and today's activity is even easier:
Grab your kid's hand and go for a leaf walk! No preparation required other than lacing up your shoes.
We took advantage of a glorious weekend day and headed to our local walking path but you could just as easily hit the sidewalks of your own neighborhood. The instructions were very simple:
1. Look for leaves that were "fresh" as opposed to overly dried and crackly. We want to do some art projects with them and I worried the dry ones would crackle and break under the pressure.
2. Try to find a variety of colors and shapes. This proved more difficult for us since it is still early in the season. Though we are doing this for our Halloween week, I can tell it will be repeated a second time once the trees are offering up a better variety in another week or two.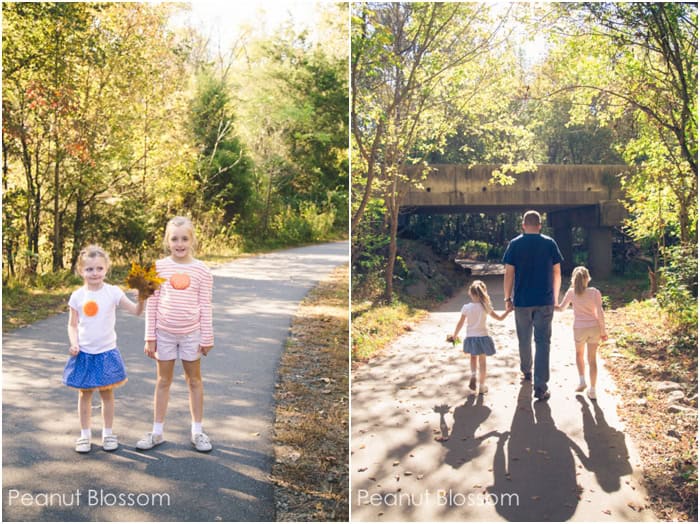 Little Pea proudly showed off her "flower bouquet" to all the pedestrians we passed on our path. Her glee made more than one person smile a huge grin back at her.
We placed the leaves on our dining table and later this week we will be turning to one or more of these very simple leaf art activities:
Leaf Doodles (This one is my favorite, I have a stash of metallic Sharpies I've been holding on to for just this purpose!)
Have the leaves turned in your neck of the woods yet? Take 10 minutes after school and head outside!


Looking for more fall fun? Follow along with the extra ideas I'm sharing all week on Facebook!