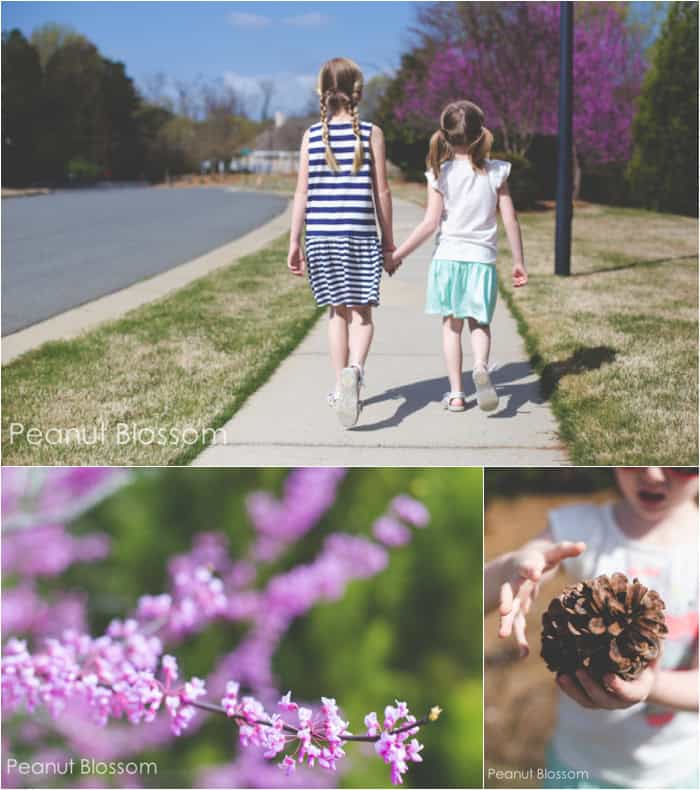 Last week for our Spring Break, I got a little taste of what the full three months of summer is going to feel like in just a few more weeks:  endless stretches of time, with no planned activities, where my kids are going to need constant interaction.
One thing is very clear. It would be Oh So Easy to use a pair of iPads to keep these girls entertained while I get work done around the house.
On the surface, that sounds like horrible parenting, doesn't it? iPads as babysitter? But now consider those devices are loaded with educational math games, art tutorials, and eBooks. All parent-approved, seemingly high quality activities for the kids.
But what about real play? What about fresh air and running around and using your imagination to invent your own game?
I was not going to allow our vacation week to be drowned in a sea of screens. The importance of outside play is so big to me.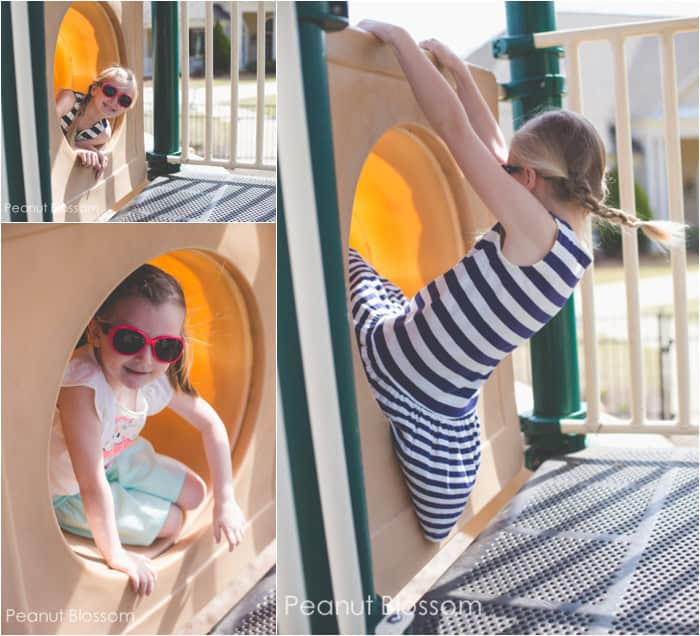 On the very first day of break, I got these peanuts dressed and outside right away. We decided to take a walk to our neighborhood playground before lunch.
On the way, we found signs of spring everywhere. Little Pea stopped within the first few feet and excitedly ran to get a pinecone as big as her head out of the nearest bush.
Before I could even stop myself, I snapped: "Put that down, we're going to the park!"
Then I paused. What on earth was my hurry?? Wasn't the whole point to get them outside? What's better than taking notice of pinecones and flowers and sticks??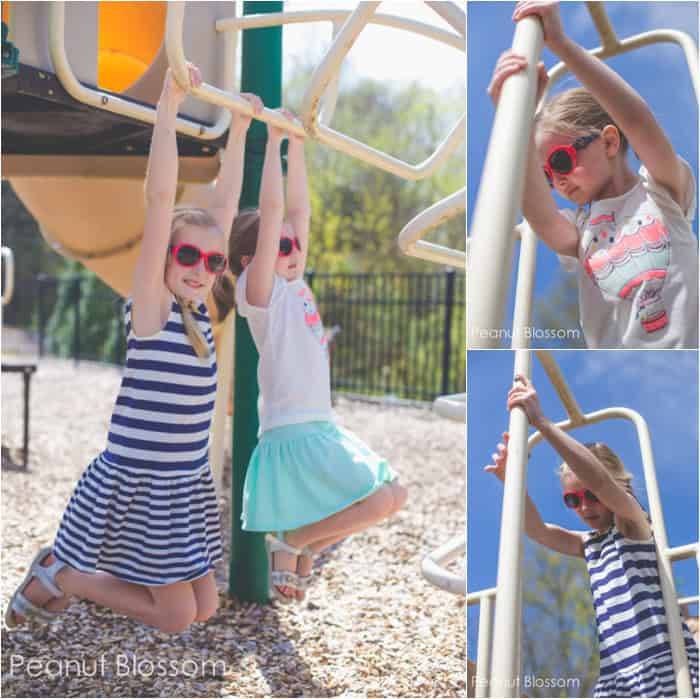 I apologized and told Little Pea to go grab the pinecone again. She carried it with us to the park.
We also spotted:
blooming tulips
a flowering tree
dozens of sticks
inchworms
caterpillars
snail shells
lots and lots of crazy fat bumblebees
The walk to the park was an adventure in itself. When arrived at the fenced in playground, I let the girls run off to their hearts' content. For them, that means as much climbing and dangling as humanly possible.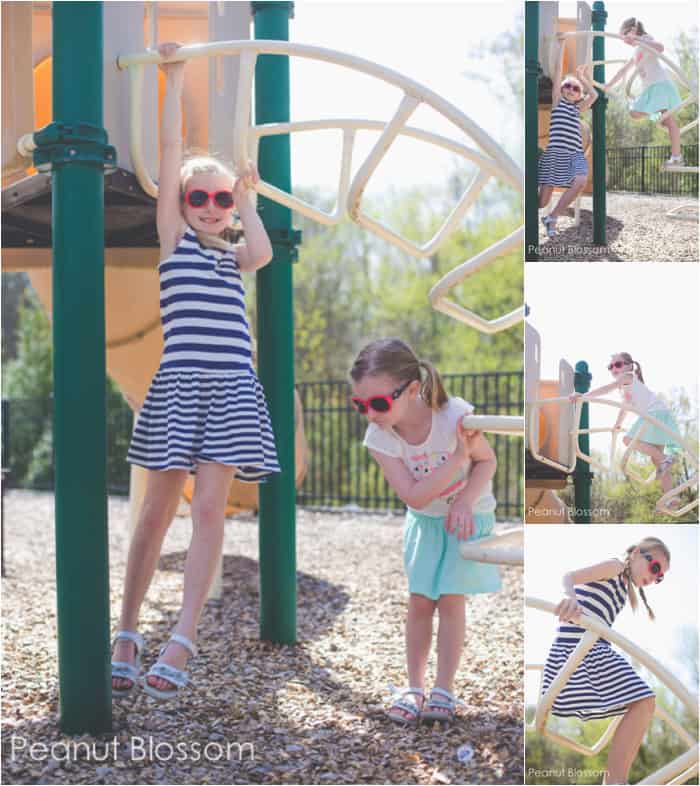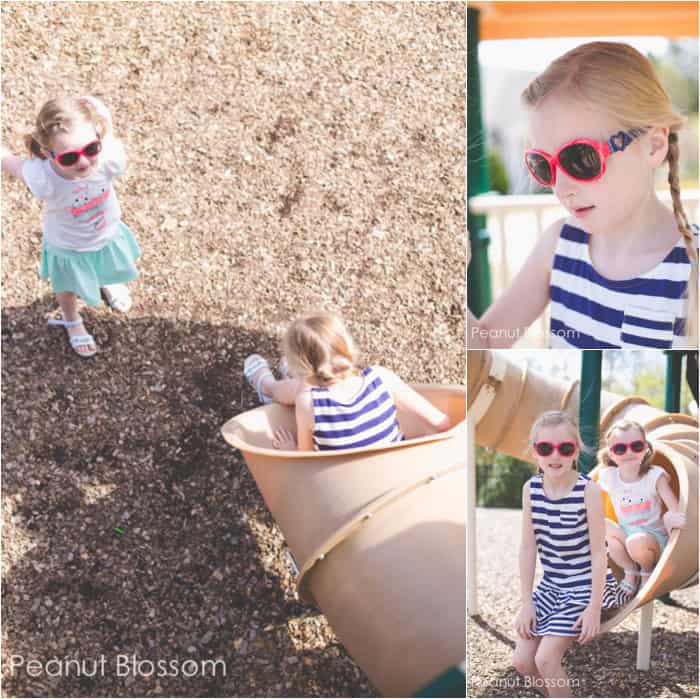 5 ways to encourage outdoor play for kids:
1. Lead by example: Put away your own phone. When you're at the park, bring a paper book if you want to sit on the bench. Or chat up another parent and have some face time interactions.
2. Stop and smell the flowers: Don't make my mistake, your adventure actually starts from the moment you step out the door. If it takes you three times as long to get there, that is not a problem. Let the kids pick up sticks, point out worms, smell the flowering bushes.
3. Give them some freedom: Give your kids enough age-appropriate distance. You don't need to feel pressured to play WITH them every second, let them explore on their own from as far away as you feel comfortable.
4. Conscientious rule breaking: It drives me BATTY to see kids climbing UP the slide. But they all love it, don't they?? We were alone at the park that morning, so I let my kids get away with it until new friends joined us and we had to return to being courteous playground partners. Biggest. Thrill. Ever.
5. "Dirty" is a compliment: Try really hard to not comment on your kids' level of dirt accumulation with a negative tone. Instead say, "Awesome! Your muddy knees tell me you had an excellent time at the park today, what were you looking at closely?" Dirty kids come clean. I promise.
6. Be prepared with simple games: If you want to really extend the amount of time your kids spend outside, keep this list of 30 outdoor activities handy. You'll find fun new ways to spend time outside as a whole family.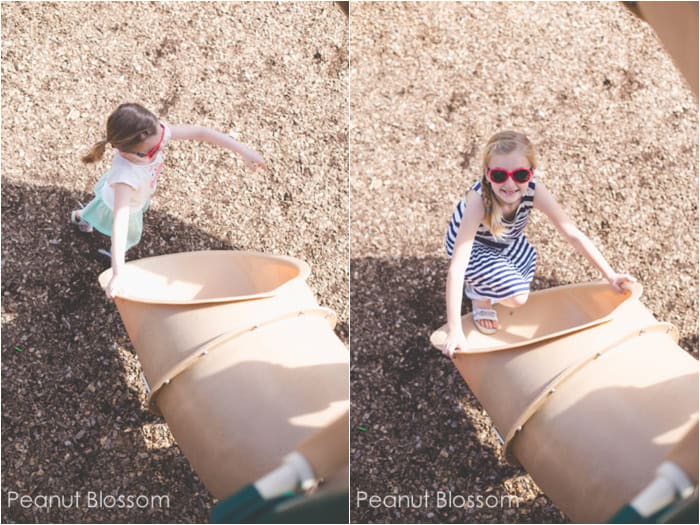 Where is your favorite outdoor play space?