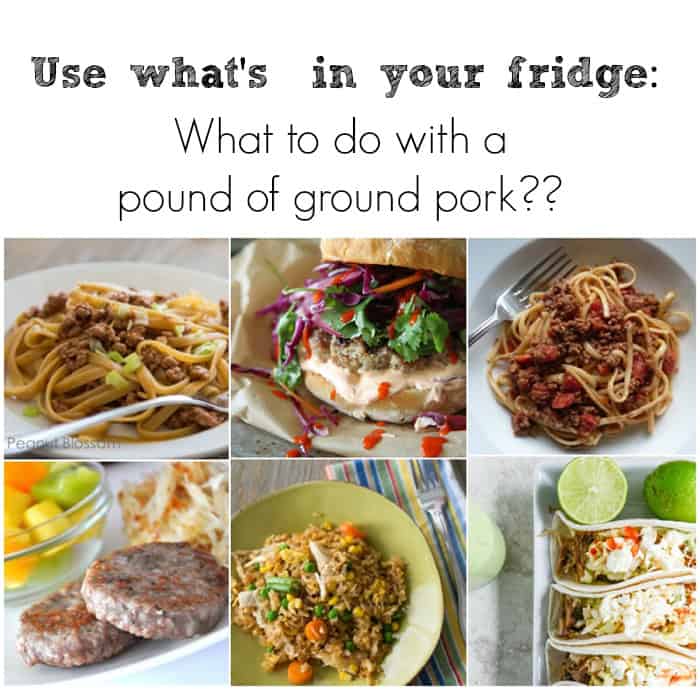 I have a pound of ground pork that has been sitting in my fridge since Saturday and it HAS to get cooked up today or risk being thrown out. I hate when this happens. It was on sale and I couldn't resist the price but I didn't have the rest of the plan figured out! Has this ever happened to you?
Thanks to some lovely suggestions from my friends and neighbors on Facebook, I am now filled with inspiration on how to use up the meat. Many of these recipes I already have ingredients in my pantry for making. The rest look awesome enough they warrant a last-minute trip to the store for whatever might be missing.
I hope you are inspired to try something new next time you're stuck with a random package sitting in your fridge, too!


How to use up a pound of ground pork
1. Tacos!:
Regular ground meat & seasoned and put into your family's favorite tortilla shell works, but check this out alternative! Technically a slow cooked roast recipe, this pulled pork tacos with sweet chili slaw from How Sweet It Is would be interesting to try with ground pork. While the whole thing looks awesome, I'm absolutely intrigued by the avocado cream sauce to go with it!
2. Burgers!:
Suggested by my friend Carey, these Asian twists on a classic look absolutely drool worthy: Grilled asian burgers from Heather Christo or this version found over at Food & Wine.
3. Pasta!:
It's hard to beat this recipe for asian noodles with spicy pork and peanut sauce, Handyman Tim devours it. But if you're looking for a classic, the real deal bolognese sauce over at Dinner: A Love Story is a blue ribbon winner.
4. Breakfast for Dinner!:
Several friends suggested turning it into homemade sausage patties and doing breakfast for dinner! I'd never thought of that and now I'm obsessed with trying it. I'm curious about Alton Brown's recipe here or this more simplified version over on AllRecipes.com.
5. Short cut, no rules fixes!:
brown it and mix into your favorited jarred tomato sauce for pasta
mix it into your favorite meatball recipe and serve as sandwiches
crumble it and serve on top a homemade pizza with peppers and onions
stir it into homemade fried rice (try my favorite version here!)
Looking for more great dinner ideas? You can find all these recipes and more for pinning over at my Bring Back the Family Meal board on Pinterest!
Follow Tiffany Dahle's board Bring back the family meal on Pinterest.