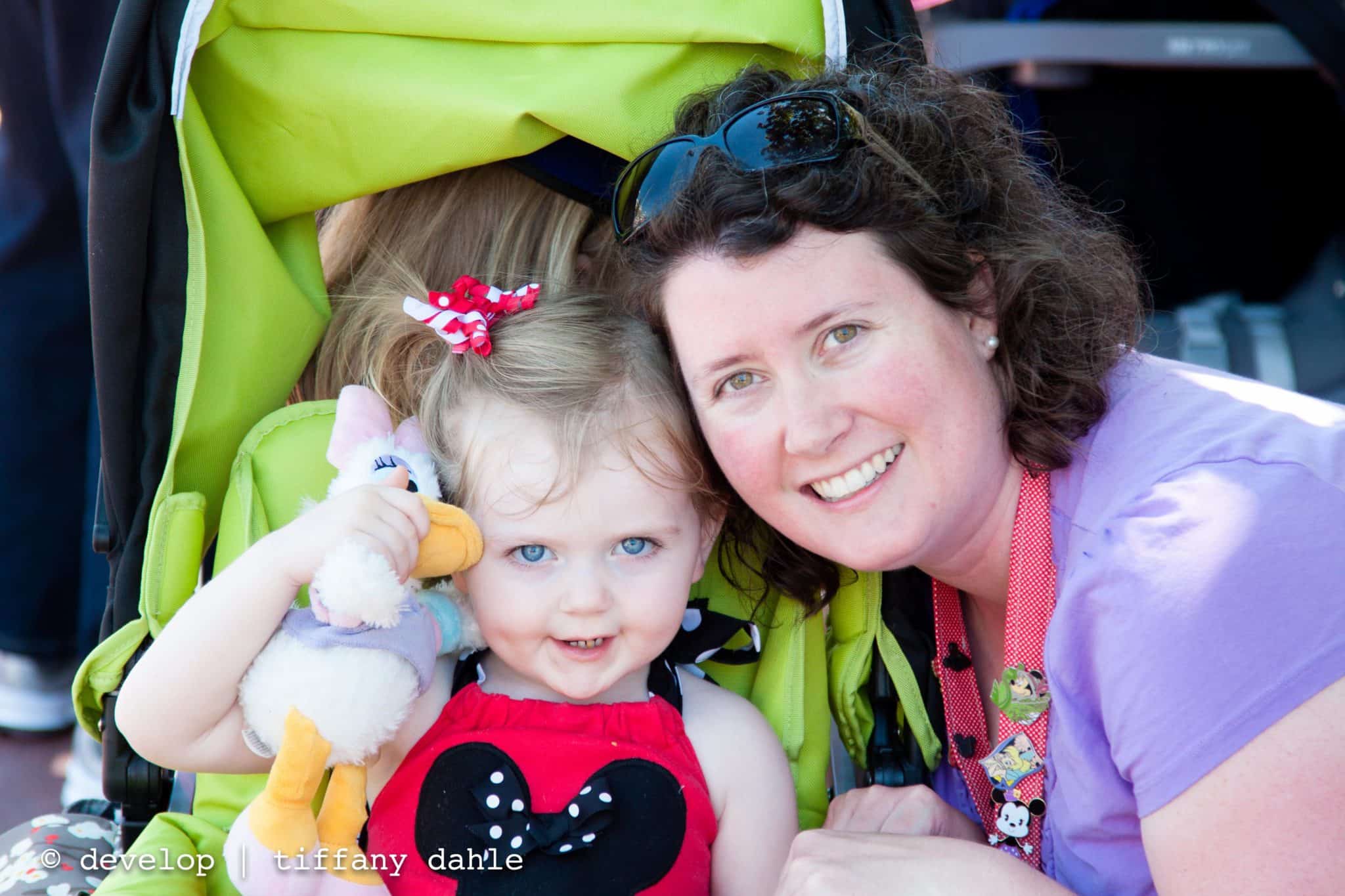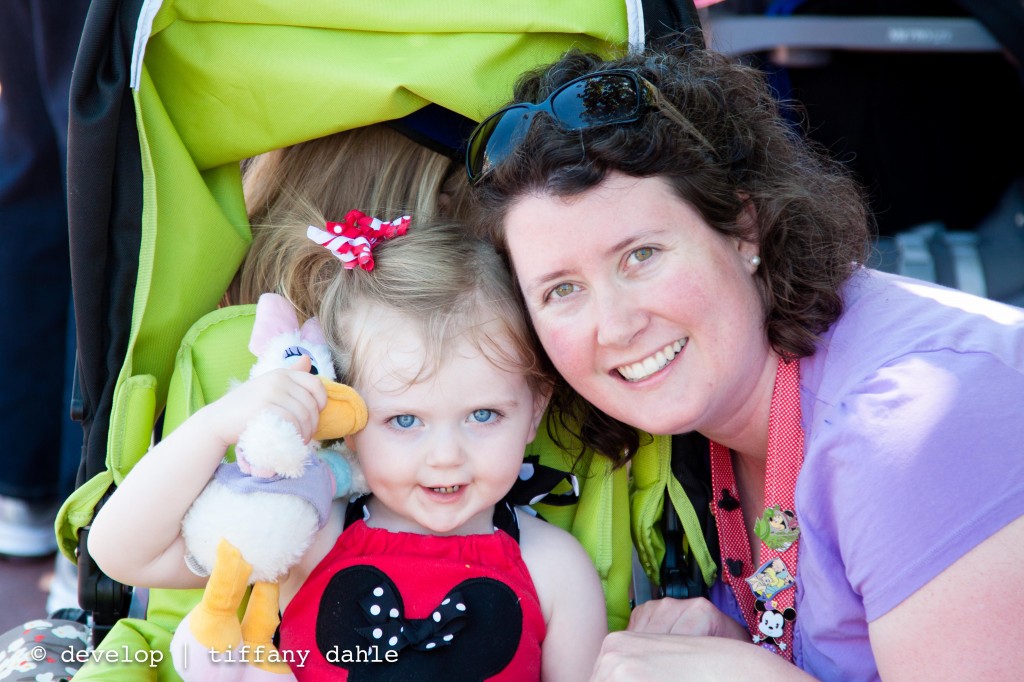 My single greatest regret when I first downloaded the photos from my memory cards was: "WHY didn't I hand the camera over more often and get IN the photos??"
Of the 600+ images I took over the course of 6 days I think I appear in approximately 7 of them. I'm so grateful for those 7 images. I did make sure to have my husband capture me with each girl individually at the park, we have family shots in front of the castle at Magic Kindgom and with Mickey Mouse, and there's this nice shot of us in front of the Epcot "golf ball".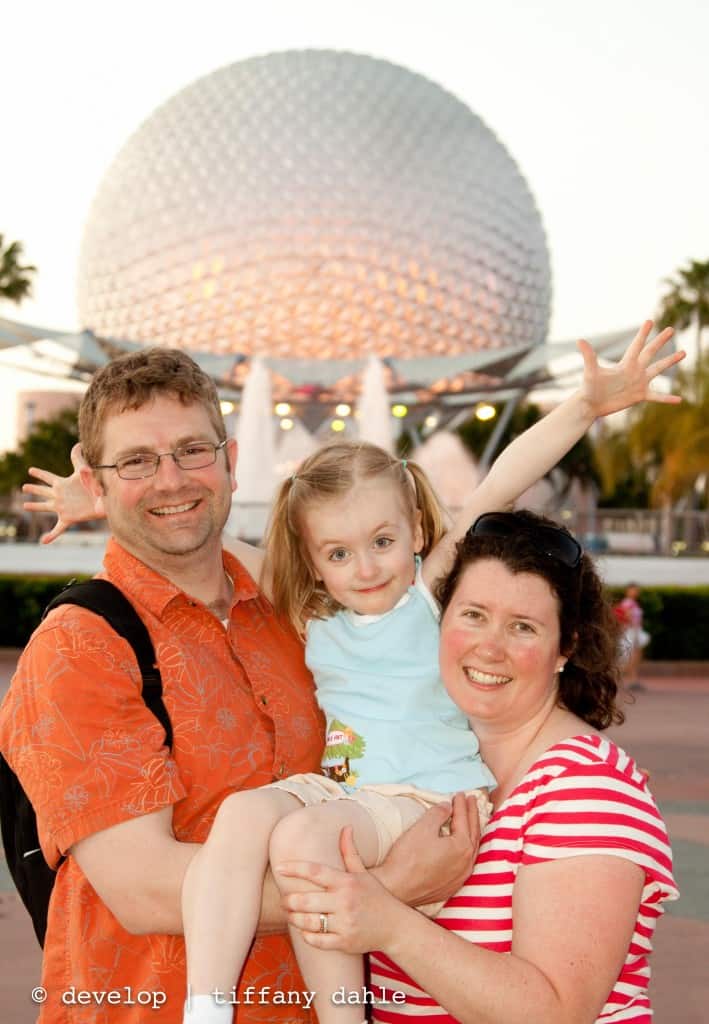 We brought along our point & shoot. I had every intention of handing it to my husband so he could capture things from his perspective (including more shots of me) with a camera he felt more comfortable with but we were overcome by how much there was to juggle between keeping an eagle eye on both kids and the stroller and taking in the parks. It was all just too much.
Instead I made sure to pass over the DSLR a couple times to make sure I was in the photo. I set the settings for him and my husband is well versed in "focus and recompse"--I've made sure he's practiced at home so he can nail the big moments when they hit. He has a good natural eye for composition and I'm always pleased with the images he captures. One of these days, I swear I'm going to get him shooting on his own. I know he enjoys it but he just hasn't had the free time to explore it more.
So while I'm grateful to have handed the camera over, I'm really wishing I would have thought to do it far more often. Learn from me--whether you think you look good or not, whether you wish you were skinnier/younger/dressed better/had more make-up on, none of it matters. You'll want to be in your own vacation photos in the future. Your kids will be happy to see your smiling face in there too.
It feels awkward to have to say so directly: "Take my picture!" but you'll be so glad you did.
This post is part of my ongoing Disney vacation photography series:
Interested in reading more? You can see the whole Disney photo tips series here.
And if you'd like tips on how to look YOUR best in your family photos, you'll definitely want to check this post here.