One extremely common to-do list item this time of year is taking your family's annual holiday photo. I know Christmas/Hannukah/New Year's cards are going to be printed by the dozens over the coming weeks so this is the perfect time to chat a little about posing that photo.
I've been starting to think about what we'll use as this year's card photo. I know I want both the girls featured in some kind of festive holiday pose. I'm not sure what we'll do, but I'm pretty sure what I'm NOT going to do.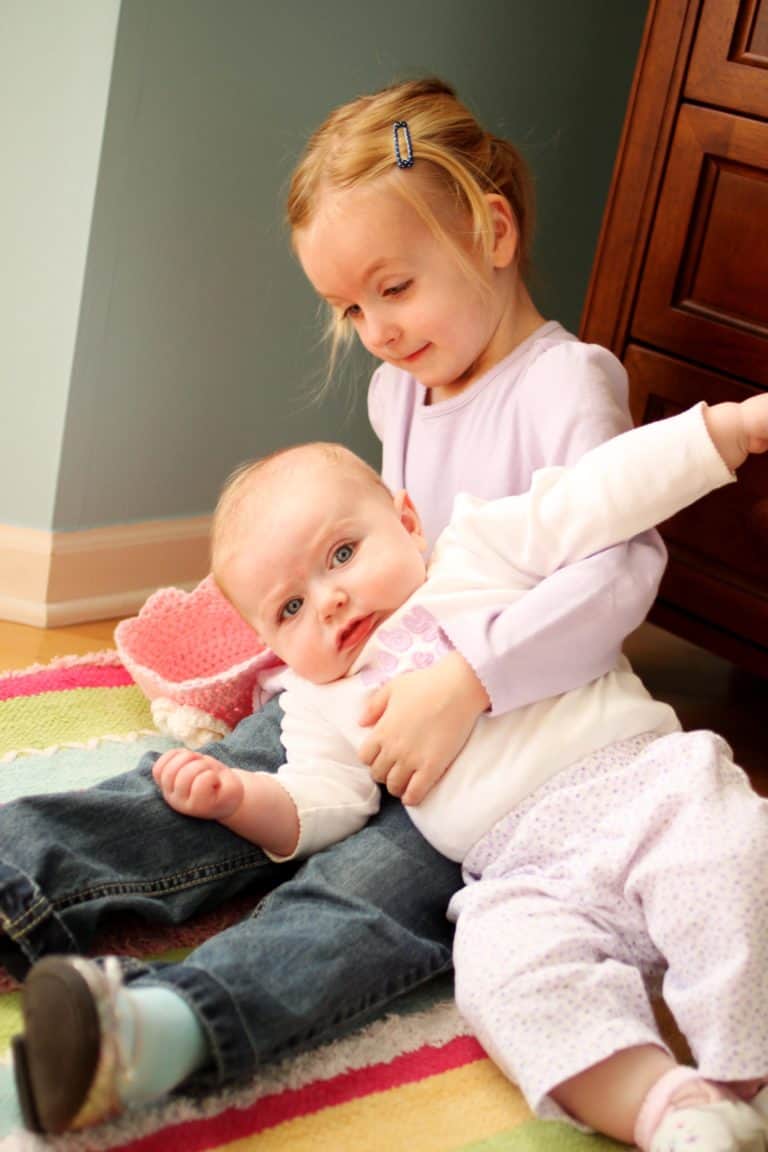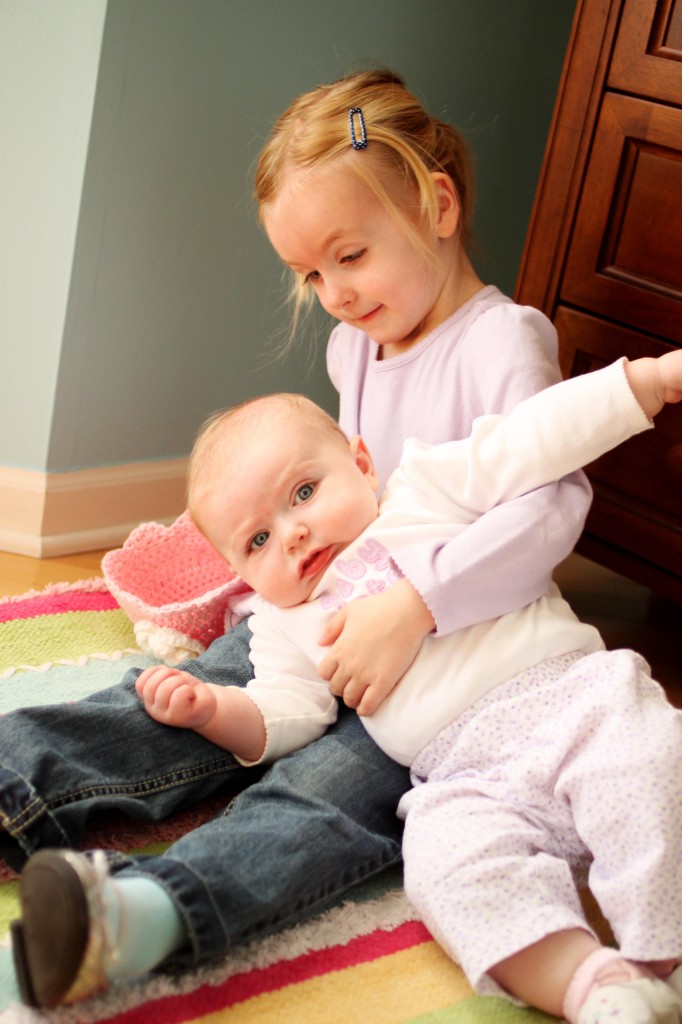 That was my pathetic attempt to get the girls to sit next to each other for a "posed" picture. Both girls were in a good mood, so that is already a few steps ahead from my first attempt at my 2008 card. I thought it was a natural transition from what they had been doing to just turn towards the camera for a quick smile.
Instead, the Peanut decided it was a good opportunity to grab Little Pea and "hold her". The resulting photo is painful to see--stiff, awkward, random hands and feet have been chopped off, and Little Pea looks quite freaked out.
But look at the photo I captured just a few minutes before the "posed" one. This is something the girls were doing all on their own, a true un-posed candid: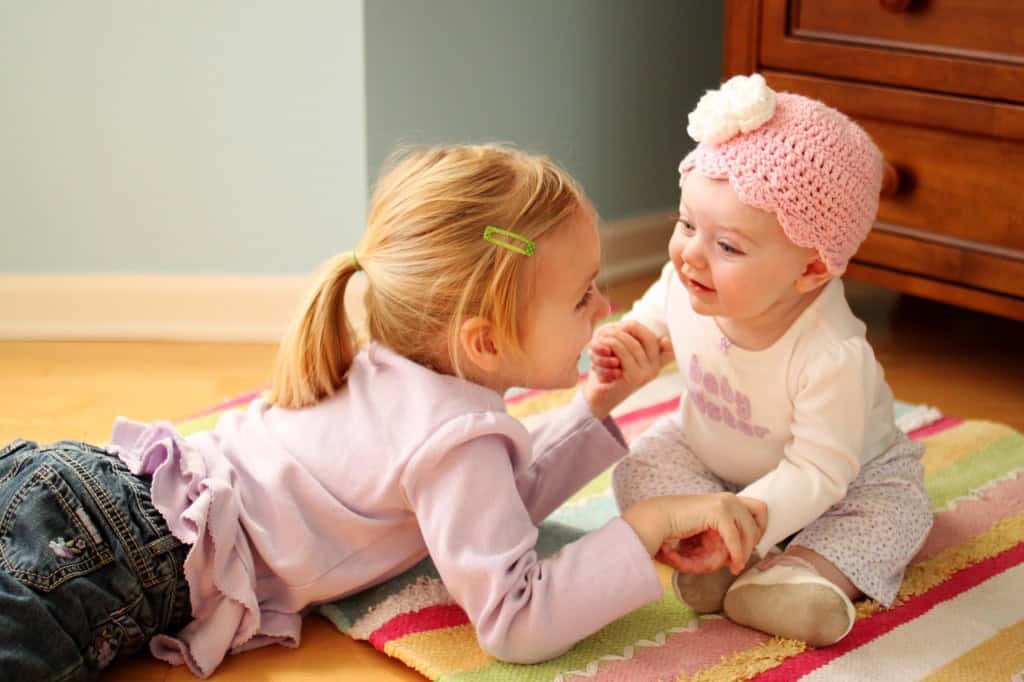 It's not a perfect photo by any means but I would gladly put this on our Christmas card over the forced posed one above. The girls look natural, relaxed, and the glee on Little Pea's face melts my heart. She just adores her big sister and the Peanut can get that baby to laugh in a way that no other person on the face of this earth can. That is the kind of moment I'd love to capture (but maybe with a little pine in the background and festive red outfits. . .)
So my 2010 NOT to do list for shooting our holiday photo includes:
1. Do NOT pose the girls. Set up a random holiday scene and let them do their thing. Cross fingers, pray.
2. Do NOT ask them to look at the camera. Hopefully use Handyman Tim as background bait to get them to look in my general vicinity.
3. Do NOT have any preconceived notions of what this photo will look like. I have shooting one or the other girl down pat. I'm a single subject portrait rockstar. Adding just one more peanut to the equation and all insanity breaks loose.
4. Do NOT forget that natural moments are the ones I want to remember in 20 years when my peanuts are big and grown.

_____________________________________________________

P.S. An update! Sometimes the hardest part of Christmas photos is finding a template where your photo looks great. I love these user-friendly designs from Tiny Prints this year.
The sparkly overlays and die cuts will make your photo look even more professional!
It can be very helpful to peruse the designs and decide whether you want to go with a horizontal or vertical shot and go into your session with that in mind.
If you'd like more tips on shooting your own holiday photo, be sure to check out my "How NOT to photograph your Christmas card photo" series!! Learn from my annual mistakes!
How NOT to Photograph your Christmas card: 
Along with my Capture your Christmas post here.
I haven't decided which card I'll go with this year but I'm debating between this style and this one in the red pattern. What do you think?
This post contains affiliate links. You may view our full disclosure here.