How is it December 14th?! I'm starting to feel the pressing panic of a to-do list longer than I can manage. Of course it is all things I really enjoy doing but it is the nature of this season to be bustling around trying to get things done. This weekend it occurred to me that I had not even started our Christmas card. If I want to get it out in time for the holiday, it needed to be ordered asap. As I sorted through my photo files, I chuckled over the memory of last year's card.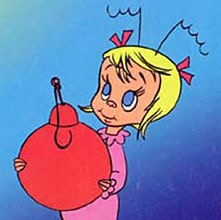 Last year, we were inspired by the original "Grinch" Christmas special and came up with the "brilliant" idea of dressing the peanut up as Cindy Lou Who for our card.
It took several trips around town before I found an appropriately large red ornament to mimic Cindy Lou's classic pose. I dressed the peanut up in a pair of pajamas we had on hand that just happened to match the color scheme needed. All this prep and effort, it had to go well, right?! Ugh.
This was my first attempt: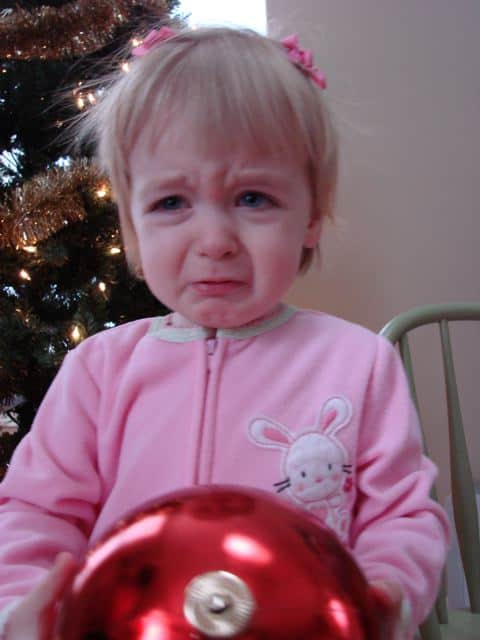 Oh how many rules I broke that morning:
1. I was in a rush. The card HAD to get out. I am positive the peanut picked up on my stress.
2. I was strict about where she sat because of the lighting. I know I've mentioned bad winter lighting before, but that morning was especially rough. If I had planned better, I could have kept an eye on the weather and done this on a sunny day which would have improved my chances of a good shot significantly.
3. I attempted to get a 1.5 year old to pose in a specific way. You should be laughing by now at the very thought.
4. I remember we were both hungry. I broke the golden "eat snacks first" rule.
5. In a final fit of brilliance, I attempted this shot just before her naptime thinking that I could edit the photo and card while she slept.
When I saw that gorgeous expression, I threw my hands up in a fit of frustration and put the poor girl down for her nap. After some deep breathing and relaxation techniques, we tried it all again the next day when I was much calmer and way more prepared. And voila', a classic Christmas card was born: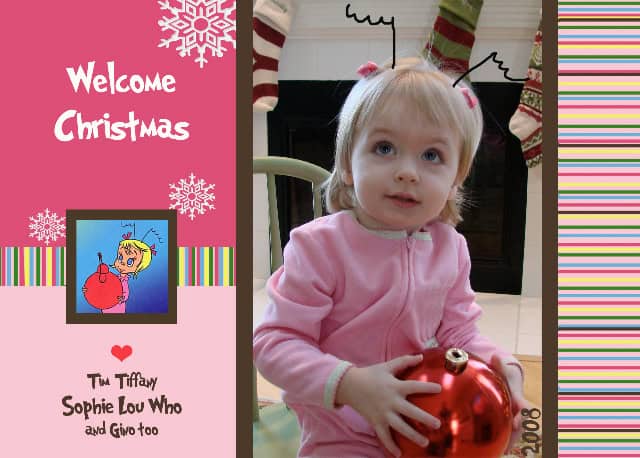 I learned my lesson last year. This year I took the easy route and just chose a photo I already had taken on the day we put up our tree--no special photo shoots required and especially no props needed. It is casual but festive and I love the peanut's expression. Good enough for this year. I'll share it once the real deal is in the hands of our Christmas list recipients, too many of whom read this blog!
Hope your Christmas cards are on track and causing you the least amount of stress this year!


_____________________________________________________

P.S. Sometimes the hardest part of Christmas photos is finding a template where your photo looks great. I love these user-friendly designs from Tiny Prints this year.
The sparkly overlays and die cuts will make your photo look even more professional!
It can be very helpful to peruse the designs and decide whether you want to go with a horizontal or vertical shot and go into your session with that in mind.
If you'd like more tips on shooting your own holiday photo, be sure to check out my "How NOT to photograph your Christmas card photo" series!! Learn from my annual mistakes!
How NOT to Photograph your Christmas card: 
Along with my Capture your Christmas post here.
I haven't decided which card I'll go with but I'm debating between this style and this one in the red pattern. What do you think?
This post contains affiliate links. You may view our full disclosure here.