The House in the Cerulean Sea is the official April Pick for the Peanut Blossom Book Club for Recovering Readers.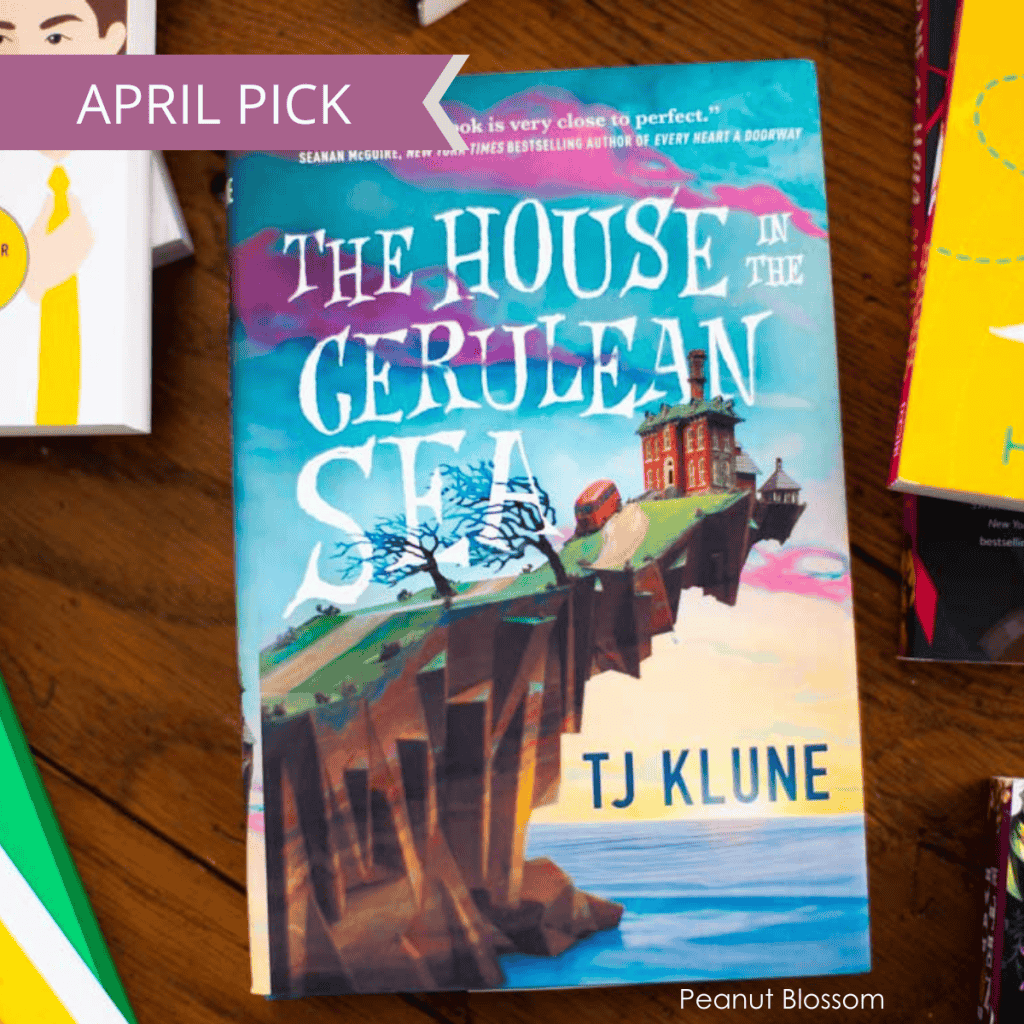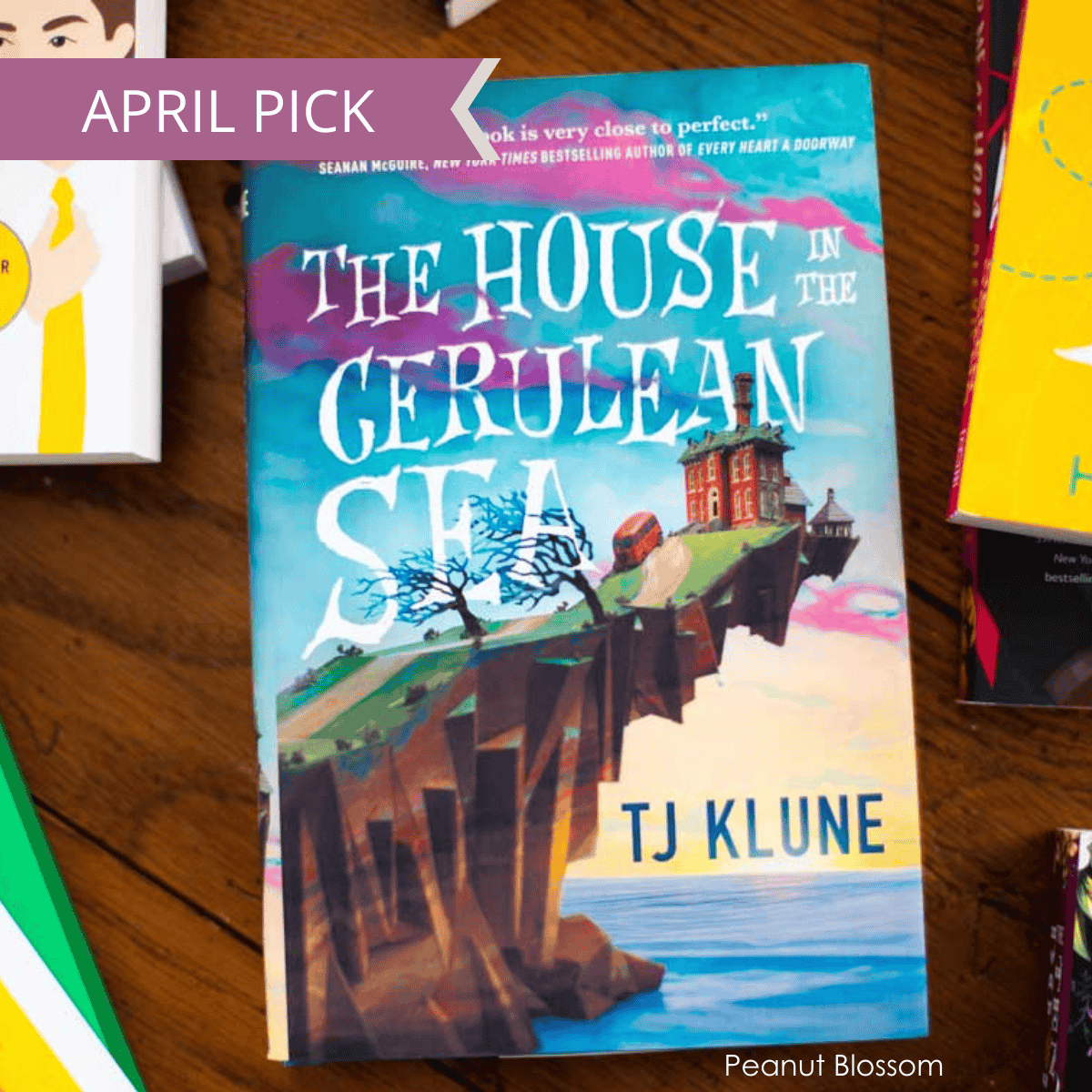 I know you're not supposed to judge a book by its cover, but every time this month's book pick popped up during my Amazon searches I stopped in my tracks. Super colorful and oh so whimsical, I couldn't take my eyes off it.
When I read the description that said: "1984 meets The Umbrella Academy with a pinch of Douglas Adams thrown in." I was even more intrigued.
While our book club has had a magical realism book in each year of our reading, I don't believe we've explored a book that truly fits in the Fantasy genre. The overwhelmingly high reviews from both Amazon and real world friends cinched the deal.
I can't wait to hear your thoughts on this month's pick!

P.S. Just joining us? Don't miss the full 2021 line-up for our book club picks.
Want Free Reminders for Each Book Pick?
Sign up for my book club newsletter right here:
April's Official Book Club Pick: The House in the Cerulean Sea by T.J. Klune
I'm pleased to announce that it is our official April Pick for this year.
Get your copy of this month's book club pick:
Money-saving tricks for reading this month's book pick:
You can get the book from your library.
The Kindle version is cheaper than the paperback AND you can save money on the Audible version if you own the Kindle copy! I love to use the Amazon Whispersync feature to go back and forth between audio and digital reading.
What Is This Month's Book About?
"Linus Baker is a by-the-book case worker in the Department in Charge of Magical Youth. He's tasked with determining whether six dangerous magical children are likely to bring about the end of the world.
Arthur Parnassus is the master of the orphanage. He would do anything to keep the children safe, even if it means the world will burn. And his secrets will come to light.
The House in the Cerulean Sea is an enchanting love story, masterfully told, about the profound experience of discovering an unlikely family in an unexpected place—and realizing that family is yours."
Get your copy of the book here.
Discussion Questions for The House in the Cerulean Sea:
Want to discuss this month's book with your book club friends? Here are some great conversational questions to get the party started.
You can download the full discussion guide here and then print it to have handy.
All of the children were unique in their own way. Did you have a favorite character amongst the orphans? 

If you could have any magical power, what would it be? 

The characters all have different fears they have to face. How do you deal with your own fears? 

Do you have your own "found family" of individuals outside your nuclear family? 

Have you ever felt trapped in a job or life choice like Linus does in the beginning? 

Are you a rule breaker or a rule follower? How would you answer that for Linus?

What would you have changed about this story if you were writing it?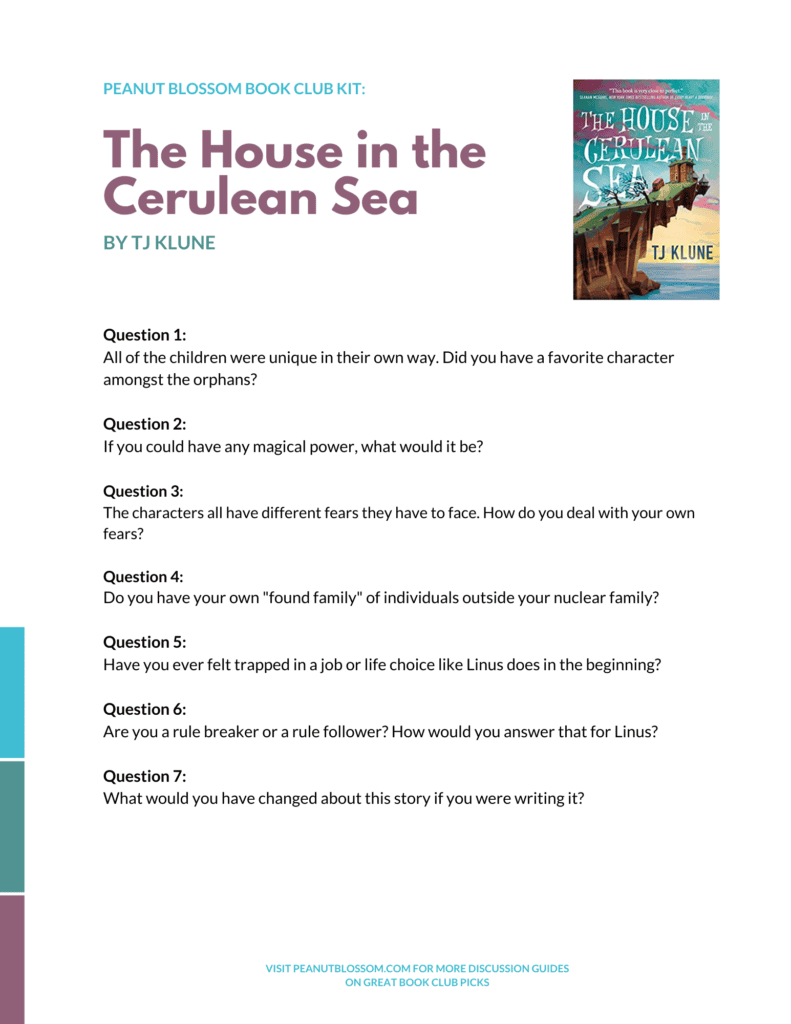 Book Club Party Recipes
"Wish You Were Here!" Since a very large portion of the book's story takes place on an island, book club party recipes are easy to match for The House in the Cerulean Sea. Try the piña colada fruit dip, mojito salsa served with chips for dipping, or cut the crab melts into squares for easy nibbles. Don't miss the homemade cherry ice cream that "tastes like childhood" for your final treat.