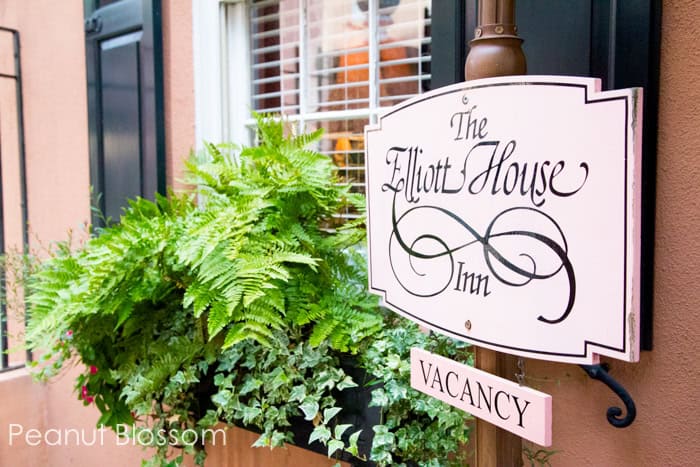 Editor's Note: Please check out the significantly updated version of this post here:
With as little research as I did ahead of our trip to Charleston, I really wasn't sure where to stay or which hotel in Charleston we should choose. Mostly by very happy accident I discovered the Elliott House Inn in the Historic District. From the photos I saw on their site, it looked like the perfect cozy little spot for us to spend the one night we had in town.
What looked good online, looked even more awesome in person. The Inn is right on Queen Street and is an older historic residence that has been converted to a hotel. The rooms surround an open air courtyard filled with palm trees, a small swimming pool, and little bistro tables for lounging. It is welcoming, quaint, and oh so pretty.
We weren't able to check in as early as we had arrived, but the concierge on duty finished all the paperwork so all we had to do upon returning was grab our key. When we finally got into the room just before dinner, we discovered a gorgeous four-poster bed and a small but richly furnished space. Every single thing in that room served it's purpose so that the space makes up in comfort and luxury what it may lack in size.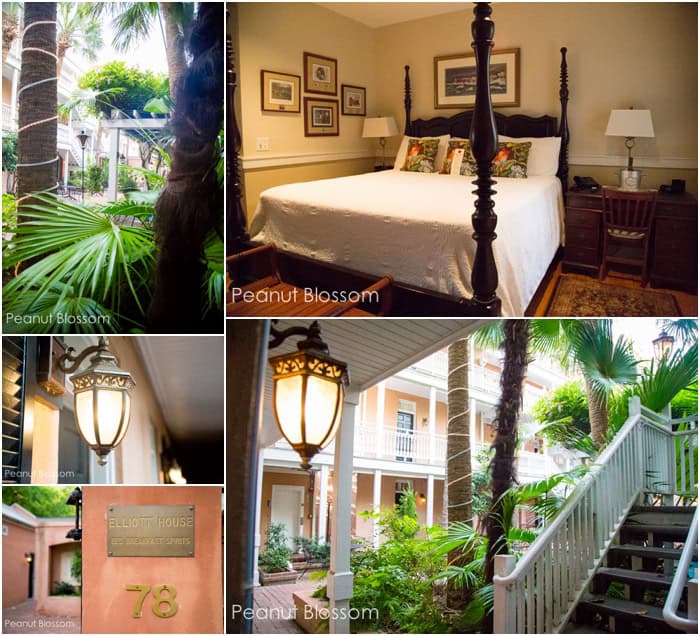 As sweet and charming as the Inn is, the single greatest benefit to staying here is the location! I didn't realize what a gem it was when we made our reservation but we couldn't believe our luck when it came to actually touring.
Elliott House Inn is located right smack dab in the middle of three amazing restaurants. You can read more about them in my post on dining in Charleston coming soon. After a fantastic dinner (and perhaps a little too much wine) we were able to simply get up from our dinner table, walk down the stairs of the restaurant, round the corner and walk right into our hotel room. I LOVED not having to deal with a taxi or long walk and we felt comfortable enough to linger over our coffee and dessert knowing we'd be "home" in no time at all.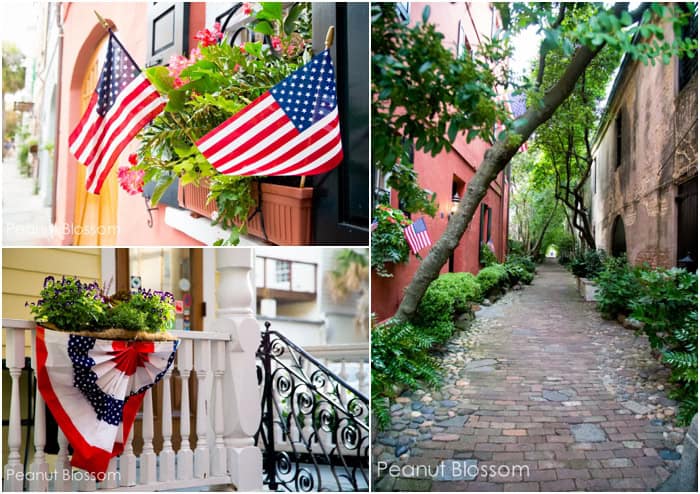 Queen Street is just full of personality. Within just a few minutes of Elliott House, you pass buy dozens of adorable buildings overflowing with flowering window boxes. In one direction you end up at the waterfront, in the other direction is King Street and all the shops and restaurants they offer.
Elliott House also has bikes available for guests to use to tour the city. We were too nervous to try it since we weren't sure where we were going, but next time I'd hop on one in a heart beat.
The icing on this cake is that we were encouraged to fill out our breakfast card and the complimentary tray of morning treats was served to us in bed! Our room had a private patio in the back where we could enjoy our coffee and muffins before heading out for the day.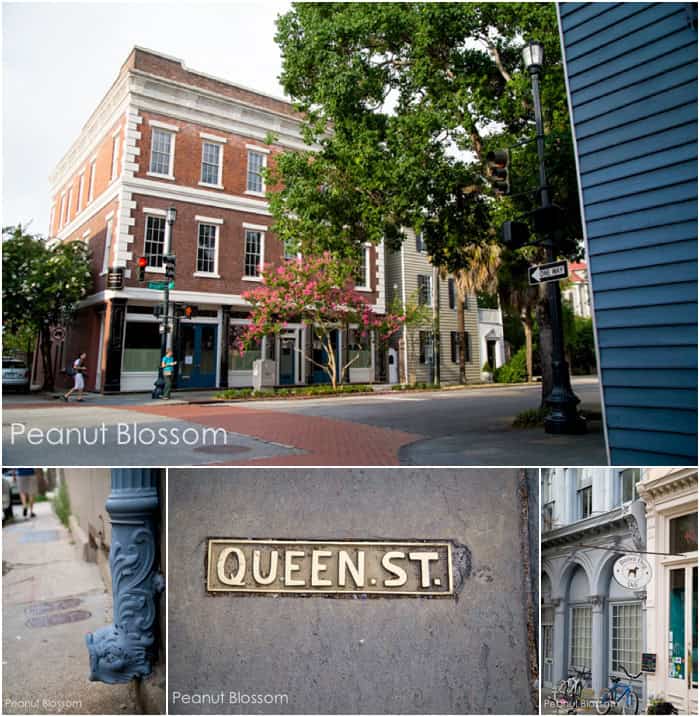 If you're interested in checking out Elliott House Inn, you can make reservations here. Be sure to stop and say hi over on Facebook and Twitter.

P.S. I forgot to mention, there is no on-site parking at the Elliott House Inn. The best place to put your car is in the parking ramp directly across the street. The rate during our visit was $20 for 24 hours.