Whether you plan to homeschool or intend to keep your kids enrolled in traditional school, every parent should read these fantastic books about raising intelligent kids.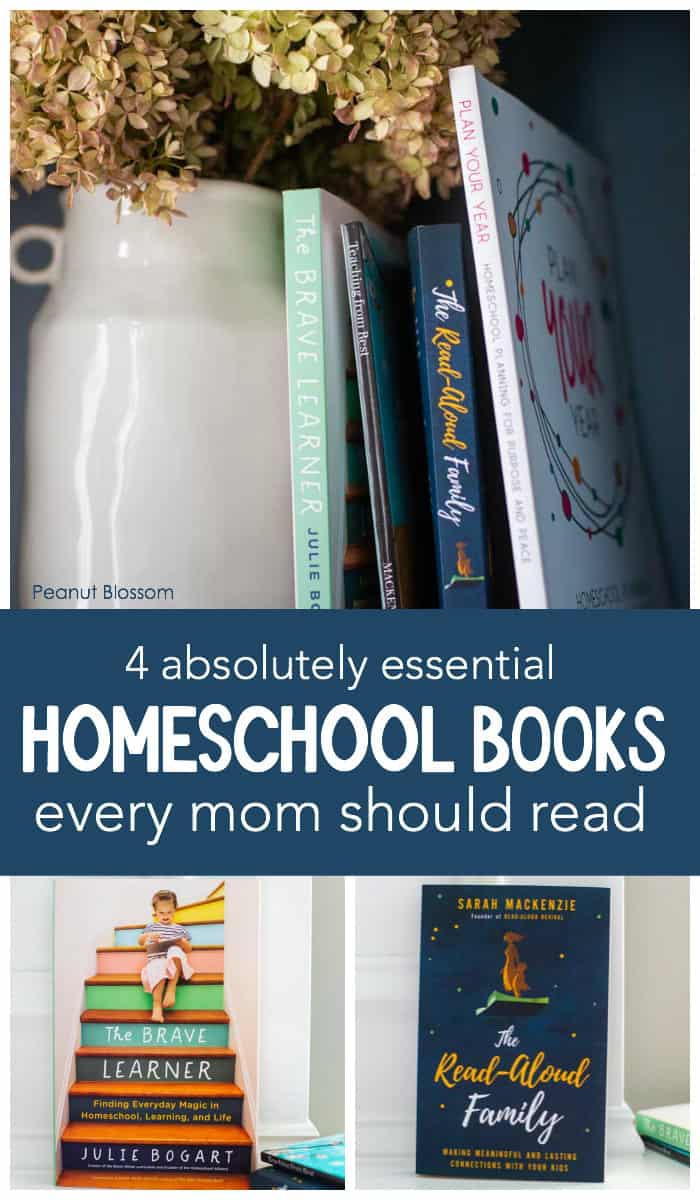 Our sudden decision to homeschool for the first time last summer left me with a total of three weeks to prepare for our first day of lessons.
I didn't spend months upon months doing research. I knew literally nothing about how to homeschool.
My initial searches on the internet were incredibly frustrating. All the articles I found felt like they were talking to someone who already knew what they were doing. The vocabulary involved on those pages felt like a foreign language. How do you find answers to the questions you're not even sure how to phrase??
I found the logistics about how to file with our state, I found high-brow advice on academia and early childhood education. But what I really wanted was for someone to hold my hand and talk to me in plain English. To reassure me that everything was going to be ok and that I could handle this.
I wanted someone to give me practical advice on what to do that first day I sat down at a table with my daughter to teach.
So, I did what I always do when I'm feeling panicky--I looked for a book.
I didn't find all of these books all at the same time, but over the course of our first year of homeschool their advice was absolutely essential for my sanity and confidence. If you're considering homeschool for your family, these titles are 100% worth your time.

Essential Books for Every Parent
Yes, my headline says you should read these before you start homeschooling. The truth is, it took me almost a year to get through all the titles and I was teaching that whole time. I read one at a time at different points during our first year.
If you're suddenly thrust into homeschooling with little time to prepare, don't worry. You can read these as you go. But if you're planning months down the line for homeschooling in the future, I recommend reading all of them before you begin!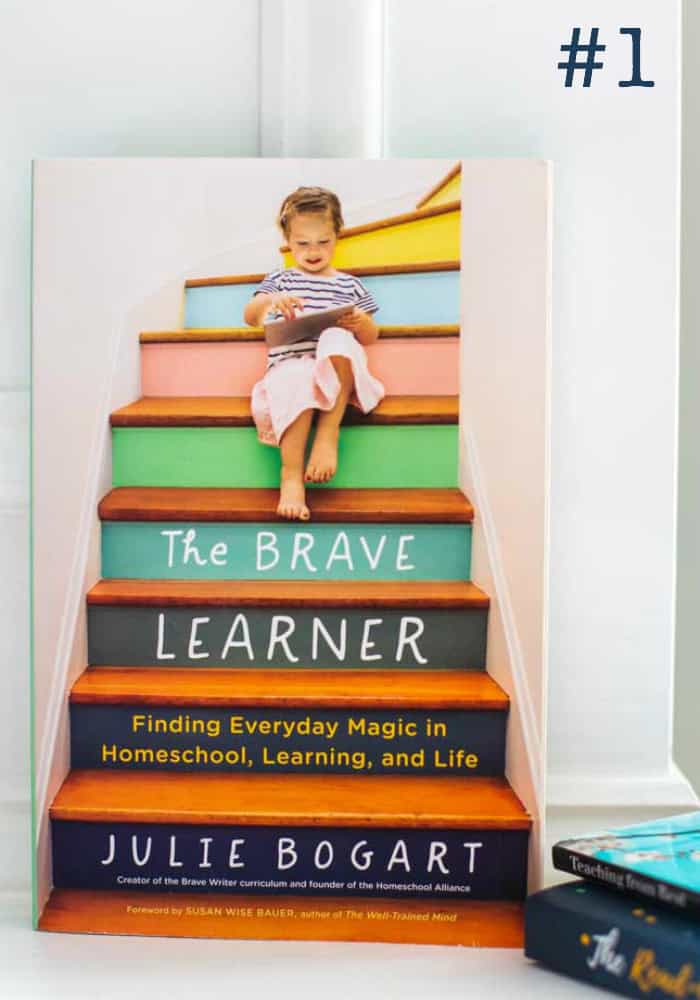 1. The Brave Learner by Julie Bogart
This was the first book I found after we made the official decision to homeschool. The title absolutely spoke to me. "Finding everyday magic" is one of my core missions here at Peanut Blossom and there that phrase was right in the book's name.
I flew through this book in just days, I couldn't put it down. Julie's book, The Brave Learner, has shaped my entire approach to homeschool and positively impacted how I teach my daughter. Her advice is practical, reassuring, and completely do-able.
Julie made me believe that even though I'm just a regular mom without a degree in education, I am perfectly capable of teaching my daughter. She helped me see the educational opportunities I give my family every single day, even before I was a homeschooling mom.
I honestly believe every parent should read this book, whether you plan to homeschool or not. Family life is precious and her advice would be easy to implement if you simply want to connect with your kids in a more meaningful way while they are still young.
Get your copy of The Brave Learner here.

2. The Read-Aloud Family by Sarah Mackenzie
I read Sarah Mackenzie's Read-Aloud Family a full year before we made the decision to homeschool and I firmly believe that was the first little seed planted in my brain that I could do this.
We had already made reading out loud as a family part of our routine and I had already seen the amazing impact that choice was making on our kids. As I sat and listened to the therapist discuss the results of the reading tests our daughter took, all I could think about was what would happen if I had more hours in the day to read, read, read with her on our own.
The books we've read together during our first year of homeschool have been my favorite part of this whole process. Homeschool doesn't look anything like public school at home if you're doing it right. It can absolutely look like a giant pile of amazing books you read together as a family.
Sarah includes several fantastic book lists by age and interest but it is her advice on how to talk to the kids about the books we read together (and apart) that I found most helpful.
Seriously, every parent should read this book whether you plan to homeschool or not.
Get your copy of The Read-Aloud Family here.

3. Plan Your Year by Pam Barnhill
While Julie and Sarah's books spoke to my heart, Pam Barnhill speaks to my soul. I am a planner, a list-maker, a goal-setter. I want to see that finish line and figure out the best way to get there.
While the other books gave me an idea of how I wanted our homeschool to feel, Pam's Plan Your Year helped me to actually execute that dream and make it reality. Her practical book helps you thoroughly think through a year of homeschool and break it down into bite-size chunks that make your days feel less stressed.
When things don't go as planned, and they absolutely will go off the rails more than once, Pam's approach to planning is flexible and leaves plenty of room for impromptu adventure and rule-breaking. She understands the unique challenges to family life and helps map out a homeschool plan that fits into your family, not how to fit your family into a homeschool plan.
Pam's advice is so phenomenal, I've found myself using her approach to life outside of homeschool. I run my work schedule using several of her tips. For anyone who likes to plan and goal set, this book is an incredible source of inspiration.
Get your copy of Plan Your Year here.

4. Teaching From Rest by Sarah Mackenzie
We started our fall full of inspiration and mountains of materials to use in our homeschool. By mid-December I was feeling overwhelmed and stressed. I felt like I was completely failing to "keep up" with her education. Nothing I did felt like it was enough.
When you're thick in the weeds of homeschool, it is hard to see the whole field. Sarah's book Teaching From Rest popped up into my Facebook feed somehow and I felt called to check it out. The super-short length of it promised it wouldn't take too much of my overly-stressed mind.
I ended up loving it so much, I'm fairly certain I read it within 24 hours.
Sarah reminded me that there's no such thing as a perfect education. I don't need to be perfect to provide everything my daughter needs. She encouraged me to remember that homeschool is about connection, not about checking off lists.
Get your copy of Teaching From Rest here.
5. Raising Critical Thinkers by Julie Bogart
Even though we are not officially homeschooling at this point, we are doing our best to raise critical thinkers. This is one area I believe our public schools are overly challenged to teach and the responsibility falls on our shoulders as parents.
This new book by Julie Bogart, author of The Brave Learner, is perfect for parents wanting to raise smart kids in a digital world.