A baby's first Christmas can sometimes be a little tricky to pick presents for. I remember with the Peanut, she was at an age where most toys were too much for her and she was completely unaware of what was going on. We didn't want to spend a bunch of money on things she would only use for a little while before outgrowing so I made the decision to look for longer-term things she'd appreciate later.
Now that Little Pea's first Christmas is upon us, I'm looking back and really appreciating what a good idea that approach really is. So despite the fact that babies may vary in age at a first Christmas, here's a list of suggestions that would still make a perfect present if you want your money to go towards something more "practical".
1. Growth chart: We bought this cute floral one from Eeboo to match the Peanut's nursery theme.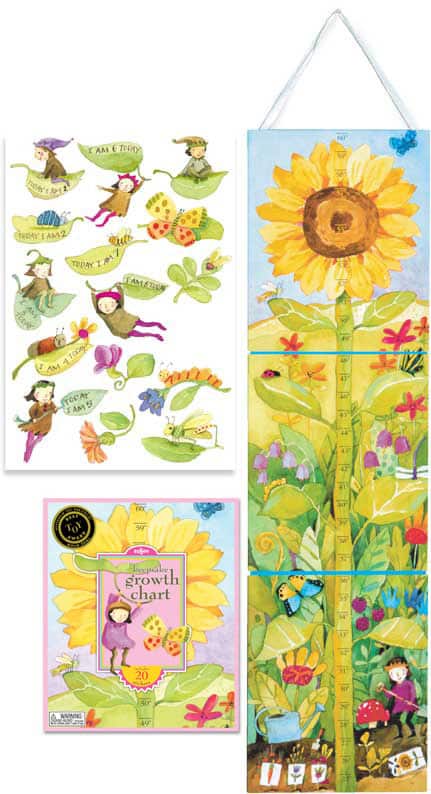 2. My First Anywhere Chair: This miniature overstuffed armchair is just the right size for crawling babies up through at least 4 years old. The Peanut adores her chair. It has been used in almost every room of the house. I debated whether to get her the bigger size this Christmas and just get a new cover for Little Pea with her name on it but this chair gets so much use that we went with a second mini chair so the girls will match for a while. It has been a fantastic photo prop for some precious pictures of the Peanut. (How's that for alliteration!)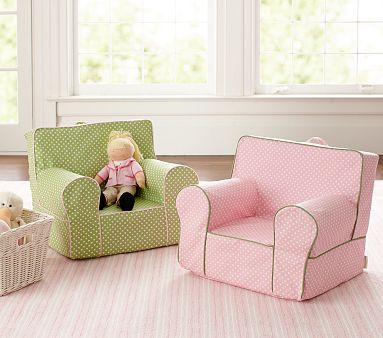 3. Embroidered "big girl" towels: We had a nice stack of cute hooded towels for the Peanut when she was a baby, but for Christmas she received her first set of "big girl" towels and washcloths with her name on them. She didn't start using them for quite a long time later but now she loves them.
4. Cute table setting: The Peanut was barely eating solids at her first Christmas, but we got her a cute tabletop set with matching placemat. We love the Crocodile Creek placemats! It was the first of many and she loves her special plates. Cute utensils like these make awesome stocking stuffers too!
5. Tooth fairy box: This was actually a gift we received for the Peanut's baptism but it would also make an awesome Christmas gift. I love the ones I've seen over on Chasing Fireflies. They have boxes, pewter boxes, pillows, themes for both boys and girls. Fantastic!