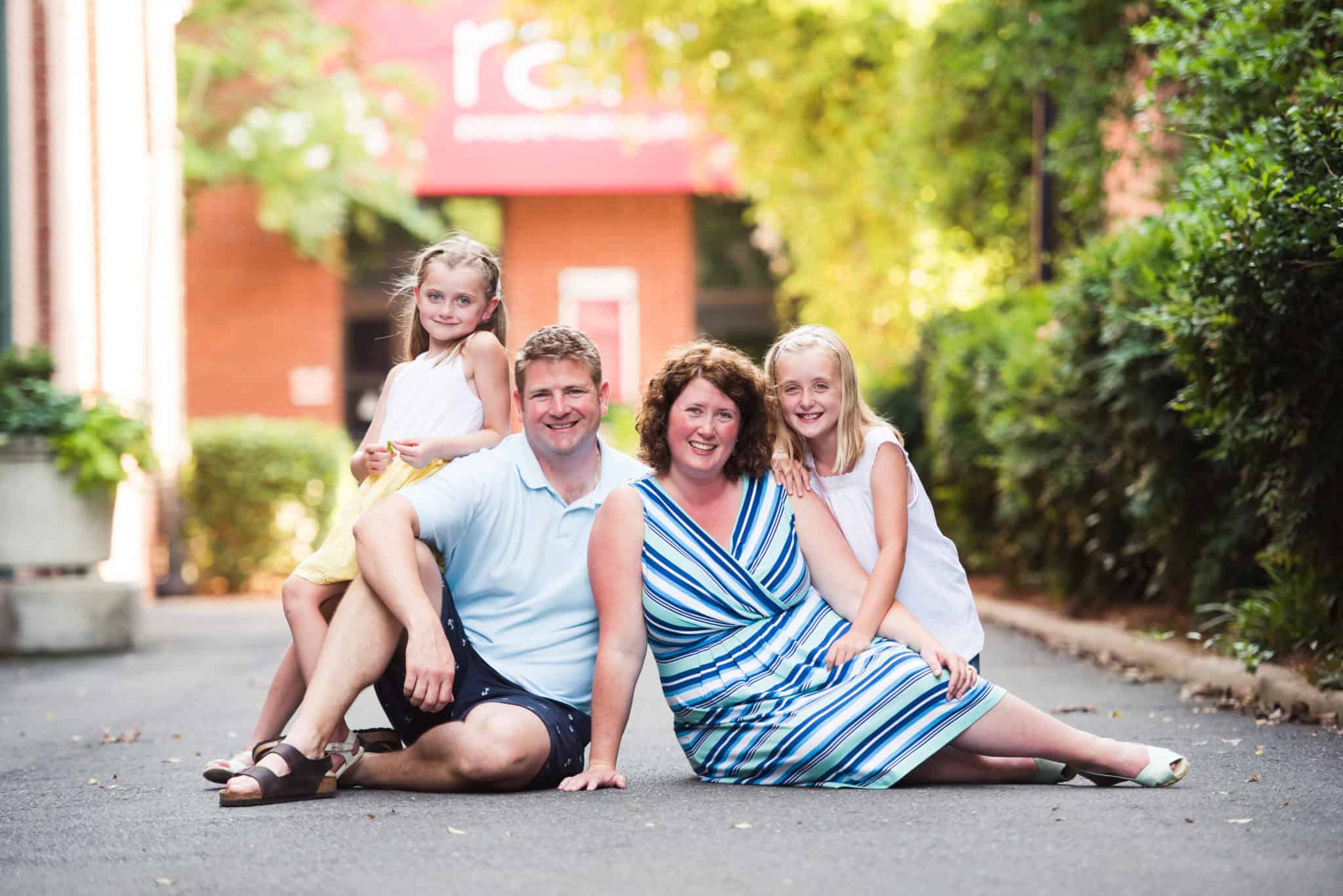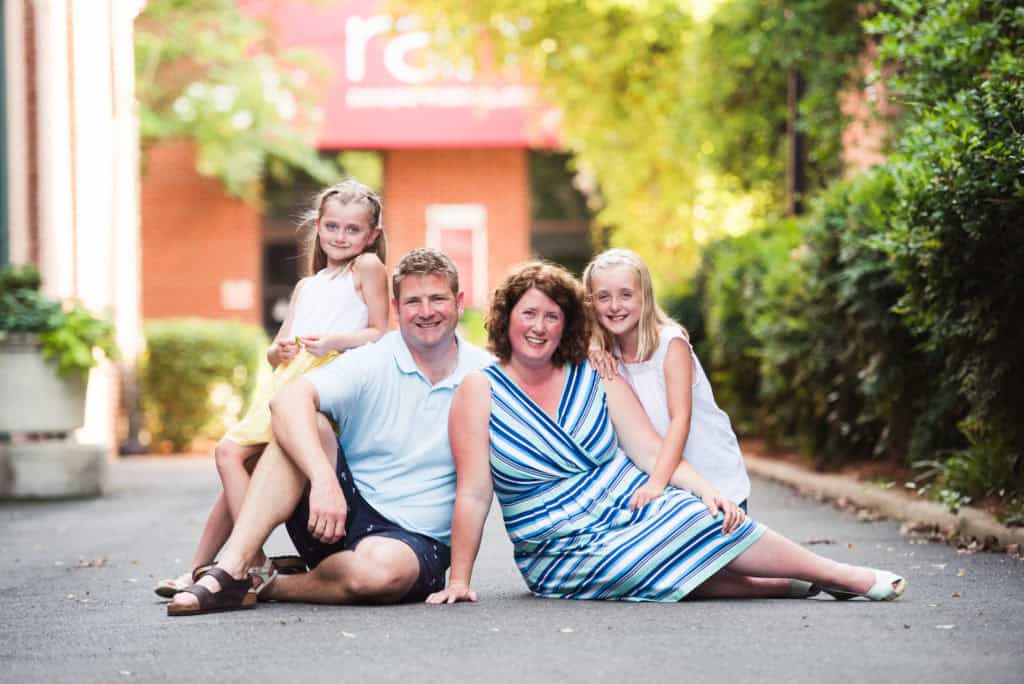 Tim and I have had a long standing rule about the kinds of photos we allow into our bedroom wall gallery. You can read more about that here. For months and months, the selection in the display hasn't changed much. Because let's be honest, when was the last time you had someone take a picture of you and your sweetie?
I've tried to pass the camera to the Peanut to capture Tim and I together in pictures. We've also learned to rock a cell phone selfie. But neither of those options are quite as good as I could do if I was behind the camera rather than in front of it.
This year marked our fifteenth wedding anniversary and I decided it was high time we hired the first professional photographer to capture us together since our wedding day. Fifteen years is quite the milestone and it didn't come easy. We've realized this year just how important it is to focus on US as a couple, not just on us as parents of a family. This article on why photos of you with your spouse are so important for both you and your kids really resonated with me.
But no matter how important I feel these pictures are to have, I can't tell you how many times I put that initial phone call off. Then, even with it scheduled on the calendar there were so many times I came close to calling to cancel.
I had all the excuses:
"We both weigh more than we want to right now. Let's wait till we lose 5, 10, 15 pounds . . . "
"We have nothing to wear. I'm overwhelmed by picking our outfits."
"It's too hot right now, we'll be all sweaty in the pictures. I should wait for fall."
"We're both feeling nervous about this. Maybe this was just a bad idea all together."
Every time one of those negative thoughts popped into my head and I was tempted to cancel, I FORCED myself to keep moving forward with the plan. I want you to fully understand how very much we didn't want to go through with this so that you can understand why I am so glad we did.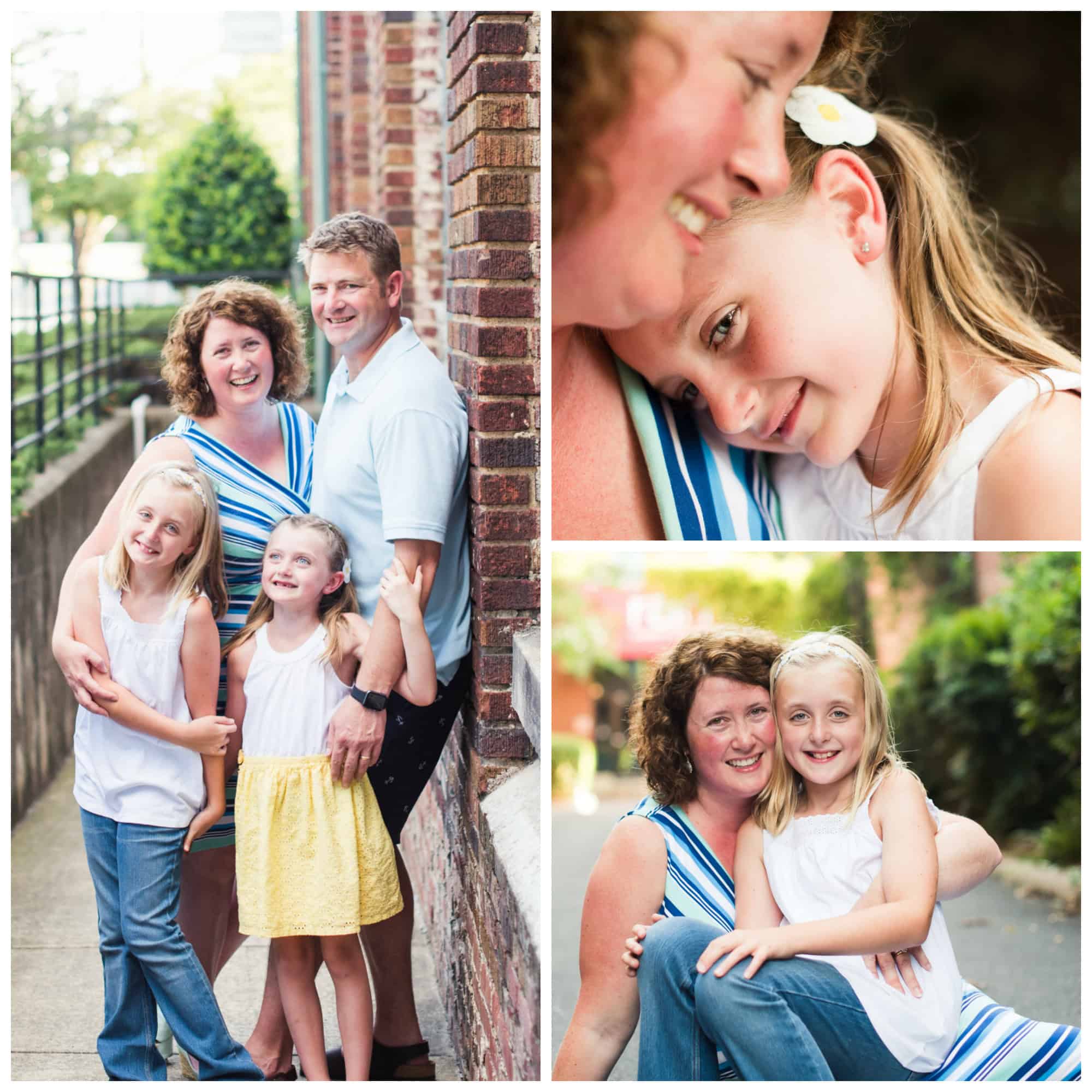 The plan was to center the session around just Tim and me and then throw in just a few of us as a family of 4. I also wanted maybe 1 new headshot for use here on my About page since the last time I had my picture taken was over 4 years ago.
It took me no time at all to decide on Melissa from KRJ Photography for our photographer. I was lucky enough to meet Melissa when we first moved to Charlotte during the annual ClickinMoms photo walk. I've watched her as her business grew from just the occasional family session to shooting full breathtakingly gorgeous weddings. I knew her personality would be a perfect fit for our family. She's a warm and funny mom of 4 cute kiddos. Who else could relate to our season of life as well??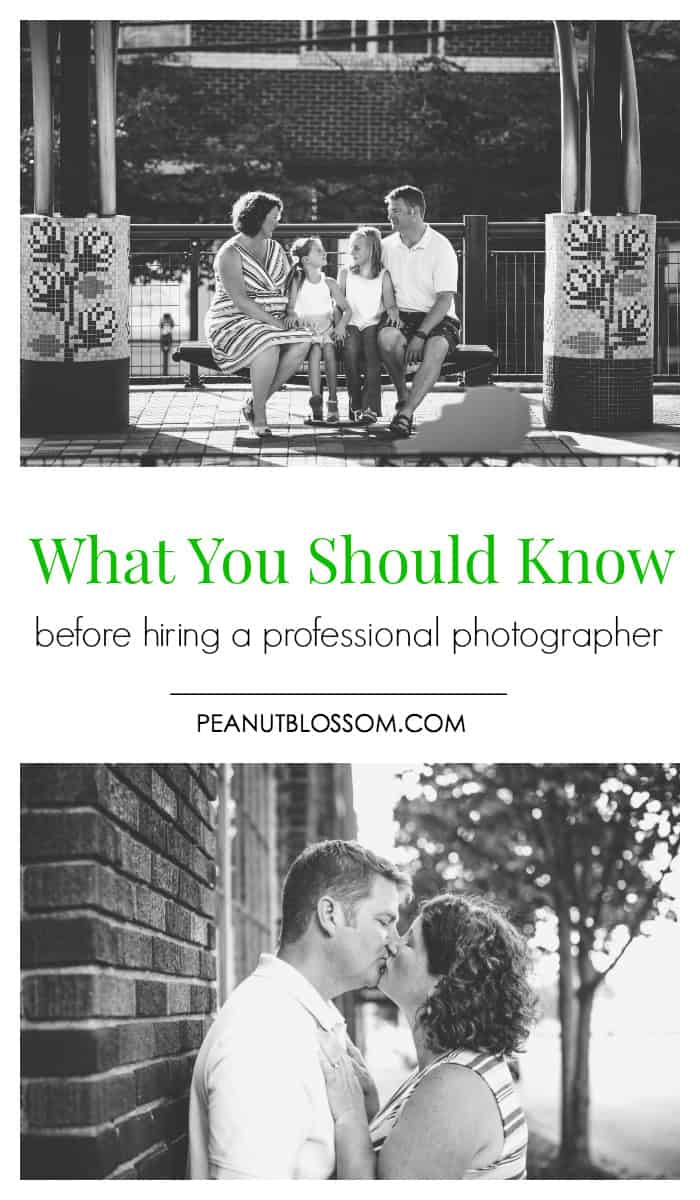 When you want to hire a professional photographer, you need to take a very close look at their portfolio and consider this:
Are there people in the portfolio that look like you? It's really easy to have an amazing portfolio filled with gorgeous 20-something skinny brides in pretty dresses. It takes another level of skill to take a 40 something curvy figured mom and her husband and make them look good. Getting a couple to relax and connect on camera, posing them in flattering ways, and finding just the right scenery, all takes a strong eye and considerable effort on the photographer's part. Is their portfolio filled with only the easy stuff or do you see people your age and size looking happy in poses you'd feel comfortable doing yourself?
What about their style appeals to you? I once made the mistake of hiring a photographer to capture the girls and I during the winter in her photo studio not realizing that the images I loved from her portfolio were taken outside in natural light. As amazing as she was at outdoor natural light photography, she was equally as weak in an indoor artificial light setting. I was so disappointed by that experience it took me another 5 years to chance it again. If what you love about the photographer is outdoor photography, be sure you want outdoor pictures of yourself! Don't hire someone who does predominately black and white imagery if you prefer color. Try to imagine yourself in the photos you see in their portfolio when you're looking for the best fit.
Once you have your photographer picked, it's time to plan the session with them:
Location: Melissa asked whether we were looking for a natural setting or something more urban. As much as I love the families in a big open field, that just didn't feel like a good fit for us. We decided to meet in the Historic South End of Charlotte which offers exposed red brick, gorgeous huge windows, and plenty of foliage.
Time: I picked the location but she set the time. It is very important you work around your photographer's suggestion for time because they are likely trying to work with the Golden Hour if it is an outdoor session.
Wardrobe: I created a secret Pinterest board for planning out our wardrobe. I'll share more thoughts on this process in another post soon but I sent pictures of my plan to Melissa for the official "ok!" Knowing she was excited about our look made me that much more confident walking into the session.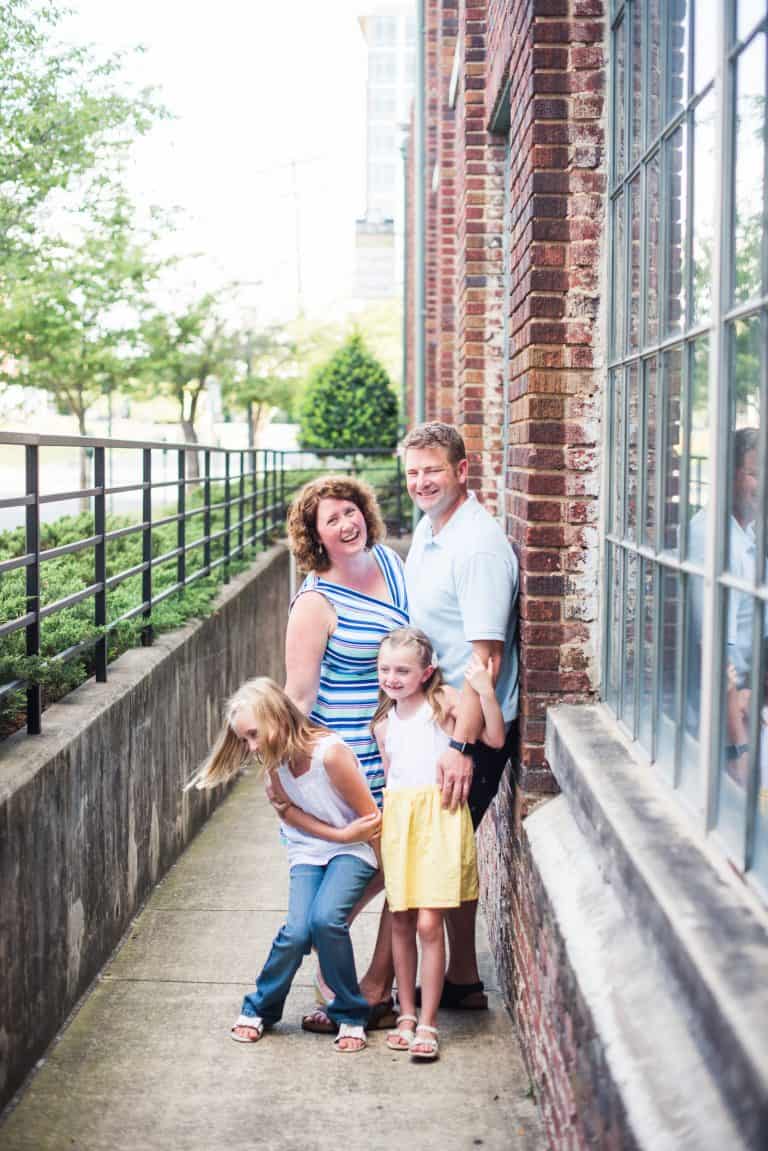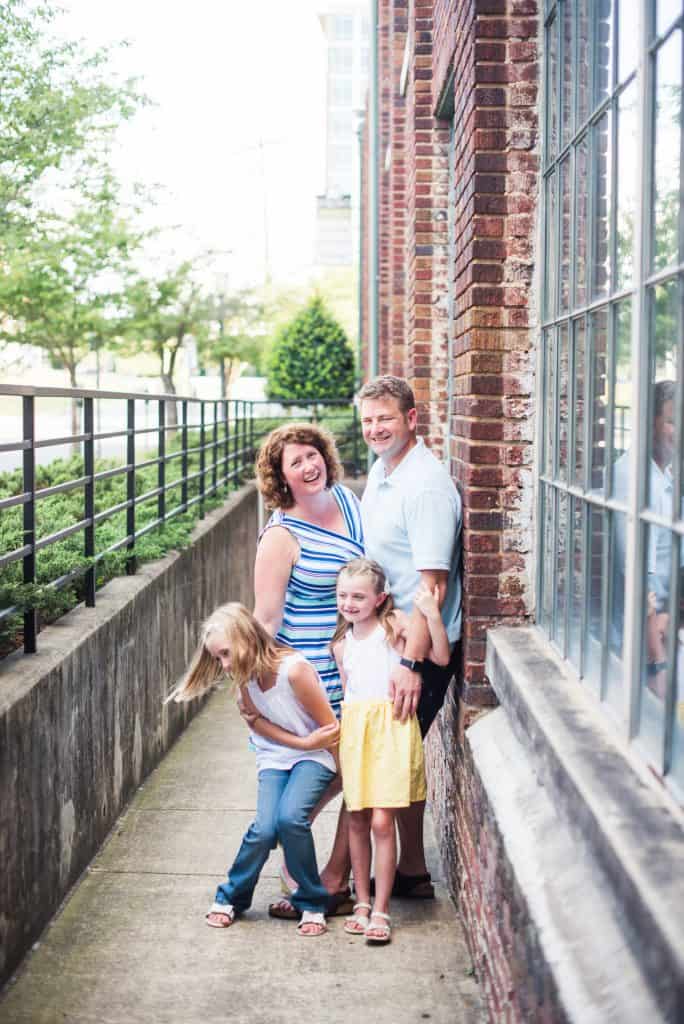 The Big Day--Tips for getting the most out of your professional photography session:
Be organized but flexible: When we got together with Melissa in person for our photo shoot, we started by refreshing her memory about which photos were the most important to me. She made mental notes of the shot list and then briefly described how we'd shoot in several locations and be changing things up as we walked around the area.
Relax: The most important tip is to RELAX. As hard as it sounds to do, you really should try to enjoy the session. You've picked a photographer you trust, you're dressed in outfits that will look good, if you try to have fun with it your smiles will be more real and you'll be happier with the final images.
Trust: We let Melissa completely lead us around town. We sat where she told us to without worrying about how the background would look. Many times, she was shooting an image that focused tightly cropped in on our faces and the background didn't matter! She was the one looking for the right light and I knew I didn't have to worry about it.
In the end, I set my expectations low. I told Tim that if we came away with ONE good picture of us, ONE good family photo, and maybe ONE picture of just me with the girls I'd call this experiment a success. Instead, Melissa delivered so much more. I had a hard time choosing which ones to download to share in this post and more are coming soon. The whole family had so much fun with the session and I loved being in FRONT of the camera for once that I think we may make this an annual occurrence from here out.
How about you? What's holding you back from calling in a pro? Or do you take professional family photos every year, too? I'd love to know!