Have you seen the adorable Eric Carle printables from Gymboree? I have been a fanatical client of theirs since the Peanut was in utero. When they asked me to share their newest Eric Carle line with you, I couldn't say yes fast enough.
Be sure to check out the adorable pieces featuring The World of Eric Carle that launched today!! - Tiffany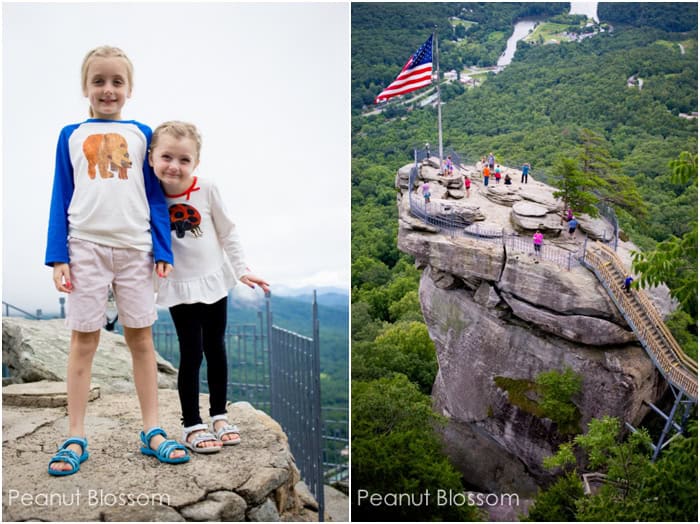 Our family goal for 2014 was to actively make the decision to spend time together outdoors every single week, come rain or come shine. Sometimes our time is spent simply in our own backyard but we knew we wanted to incorporate some bigger outdoor adventures with the girls.
We are lucky enough to live just 2 hours from the Blue Ridge Mountains in North Carolina. As midwestern natives, this is an especially awesome treat. Little Pea is finally big enough to take out on simple hikes so a few weeks ago we loaded everyone up and headed out to see Chimney Rock outside of Asheville.
To say that the views were spectacular is a gross understatement. My photos don't do it justice. I couldn't believe how big the sky feels when you're standing on top of Chimney Rock.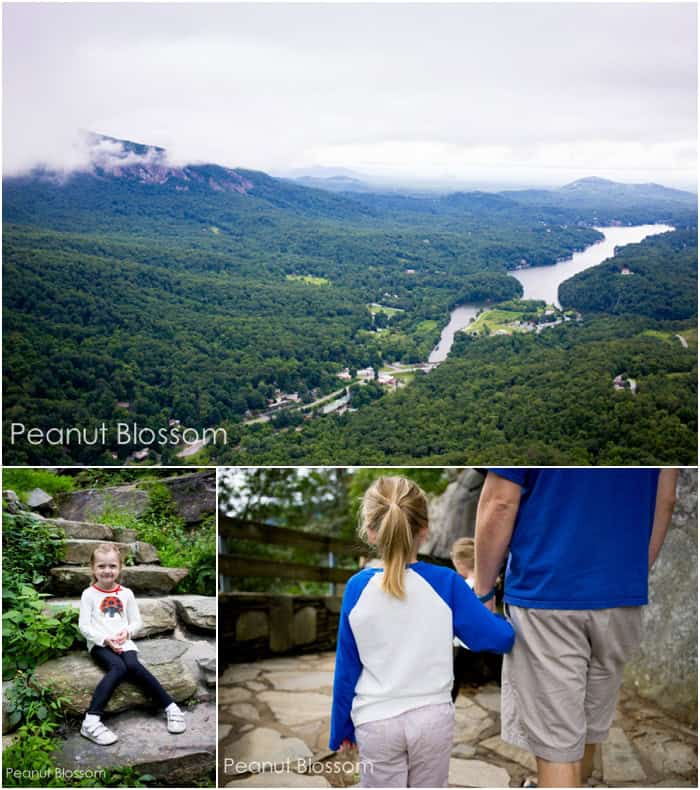 We hiked to the top part of the mountain so we could look down at Chimney Rock and then descended all the way back down to take a hike to view waterfalls at the base. Believe it or not, I think the walk to the waterfall was more exhausting than the stairs winding up the mountain side!
Tim couldn't resist taking each girl in turn to experience the waterfall up close and personal. The Peanut was brave enough to step right into the water with him and got more than a little wet. It was invigorating for her if perhaps a little nerve wracking for this mommy to watch.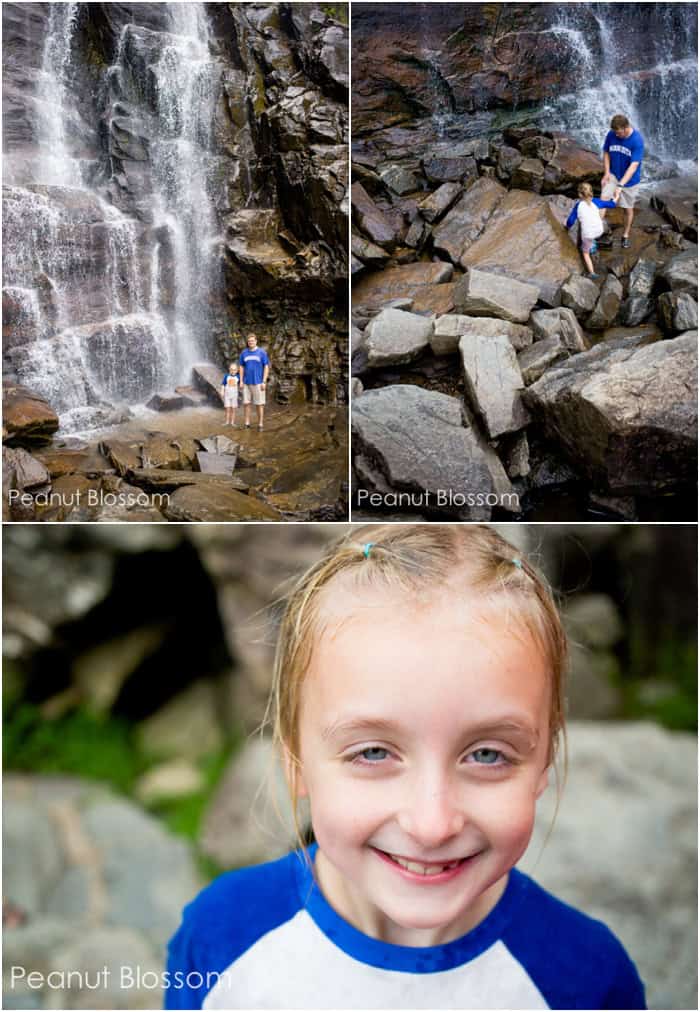 I loved watching each girl experience the mountain in a slightly different way. The Peanut is my adventurous thrill-seeking lady. She didn't hesitate for a moment when daddy suggested they try climbing pretty much anything. Little Pea was a little more nervous but loved finding rock structures that were just perfectly sized for her to climb and pose on top of.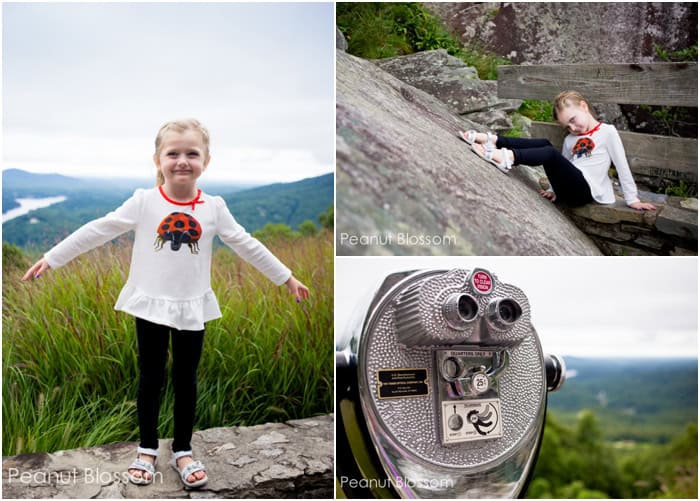 The adorable outfits from The World of Eric Carle line were just perfect for our hike. Little Pea chose her grouchy little ladybug shirt while the Peanut chose her brave brown bear baseball-style shirt from the boys' collection. They fit their personalities perfectly and were just the right choice for such a physically active day. I've been an obsessed Gymboree fan for what feels like forever because the clothes are built so well and stand up to all my girls' adventures.
This collection in particular made me smile so big. We're doing our best to instill a love of nature in our girls and the whimsical watercolors from Carle are the perfect inspiration.
If you plan to try a hike with your kids, these are the thoughts I'd definitely keep in mind:
1. Set the expectations before you start: Little Pea still struggles with wanting to have absolute freedom to run where she wants. We explained right off the bat that there would be times she had no choice but to hold our hands and other times when she could run.
2. Provide controlled freedom: We did our best to seek out areas that were penned in by gates and fences to allow both girls a safe opportunity to explore on their own. As nerve wracking as it was for me to do, I bit my tongue and let them climb on the rocks and experience several different spots on their hands and knees. My Mama Bear Alarm went off when they got too close to the edges, but other than that we let them try it themselves.
3. Look for the details!: When you're hiking a mountain it is easy to get lost in the big picture. I tried hard to slow the girls down and point out the smallest details of the hike. I asked Little Pea to hunt for ladybugs like on her shirt and she ended up finding small glittery rocks, curious plants, and soft moss. Things that might have gone unseen without actively looking for them.
4. It's a tactile experience!: Get dirty. Get wet. Touch all the things. Now is not the time to be worrying about stains. My girls were both drenched and/or covered in mud by the time we left. We hosed them down and wiped them up and they're all the better for it!

P.S. Be sure to snag some of these adorable picks for your own budding nature lover while they're available! Gymboree styles tend to go quickly, grab the sizes you need stat!:

Gymboree has also created some awesome interactive activities to extend the fun. Be sure to check out all their adorable games and printables at the Eric Carle and Gymboree hub here:
Like this post? Pin it!