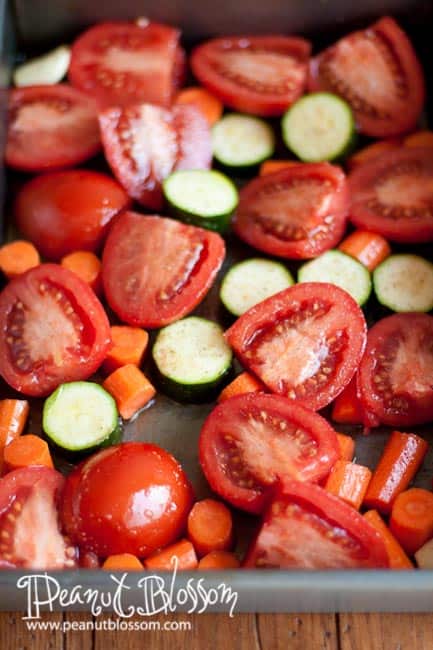 My roasted tomato sauce has been one of my favorite freezer staples ever since I discovered it. In the last 2 years I think I have purchased "maybe" 3 jars total of spaghetti sauce. I much prefer to make my own with big batches of tomatoes from Costco and whatever combination of onions and peppers maybe be laying around in my fridge.
After two years of making this sauce, you'd think it would have occurred to me earlier what a great opportunity it would be to hide a few more veggies in while I did the roasting. I can be pretty slow sometimes. I happened to have an abundance of zucchini and carrots from my recent soup making ventures and decided to toss a few in at the last minute before roasting.
I added 4 chopped carrots and a single thickly sliced zucchini to the mix. I didn't want the zucchini to turn the sauce too green so I left it at that. My favorite part of the roasted tomato sauce is how sweet everything tastes from the high heat of the oven. I love roasted carrots and just felt they'd be right at home in there.
I'm thrilled with how this combination turned out. The resulting sauce is very thick, sweet, and flavorful. My girls (and Handyman Tim himeslf) will absolutely never guess the extra veggies I've hidden inside. Since Little Pea has turned into quite the picky eater, I'm grateful for a recipe like this to sneak a little extra nutrition into her!