Welcome!
If you like this post about finding creative spots in your home for the kids to play, you will really love the cookbook for kids I've written! Coming to a bookstore near you in the next few months, it focuses on finding special mom-kid time together in the kitchen and inspiring picky eaters to explore new foods.
Sign up here and be the first to know when it is available! - Tiffany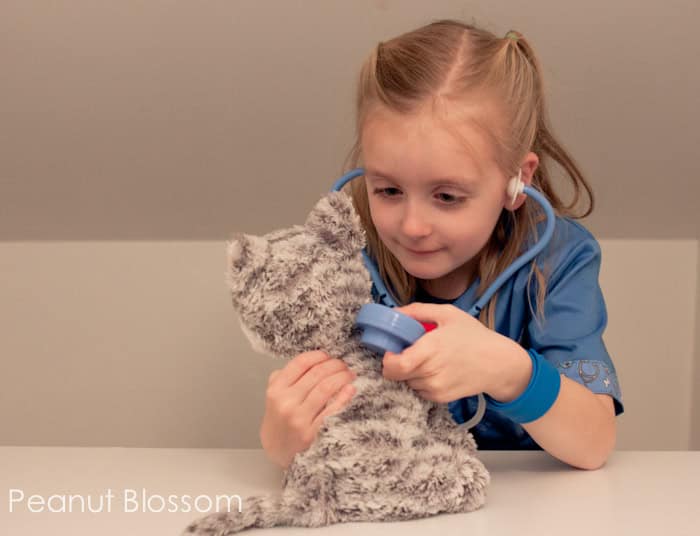 The Peanut has an unbelievable imagination. I'm sure most parents say that, but she never fails to amaze me with her creativity. Role playing has been a big game between the girls now that Little Pea is big enough to be included. Sometime last fall we started noticing the game of Doctor was being played out on all the stuffed animals that have taken up residence in our house. So when Christmas time came, we jumped at one of Melissa & Doug's personalized Veterinarian dress-up kits.
When we house hunted for our new home last summer, Tim was the one who claimed the space underneath our stairs for the girls. We have one of those "Harry Potter Cupboards"-- drywalled, carpeted, and complete with door. I distinctly remember him whispering with glee, "The girls are going to love playing in here." We mentioned it time and again during the chaos of our move.
Sadly once we got into the house, all those moving boxes had to go somewhere. The secret hidden playzone got filled up front-to-back with junk we needed out of the way. When I placed the order for the Peanut's vet outfit, we hatched the plan to finally clear the space and turn it into a full blown Animal Hospital for the girls to share.
It took quite a bit of clearing out and a little bit of planning but one simple trip to Target for some supplies and a whole lot of "shopping my house" and we were thrilled to finally give this space the love it needed. There is a storage unit with "animal cages" for the patients, an exam table with washtub for those that need a bit of grooming, and a little office center for mail and wellness charts.
Other than the new lamp to light the hospital and the exam table (which is actually a shoe rack turned sideways) most items were found around our house.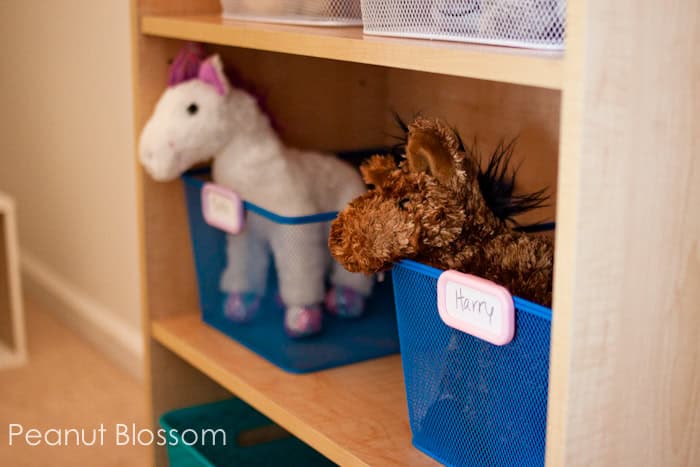 Animal cages: Wire baskets from the dollar bins with dry-erase clips for the patient names.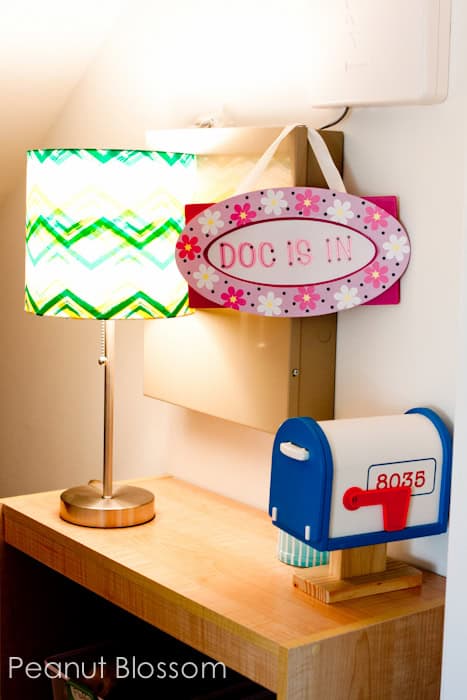 "Doc is In" sign & Mailbox: A flower door plaque and this classic toy both from Melissa & Doug
Lamp: Target spring collection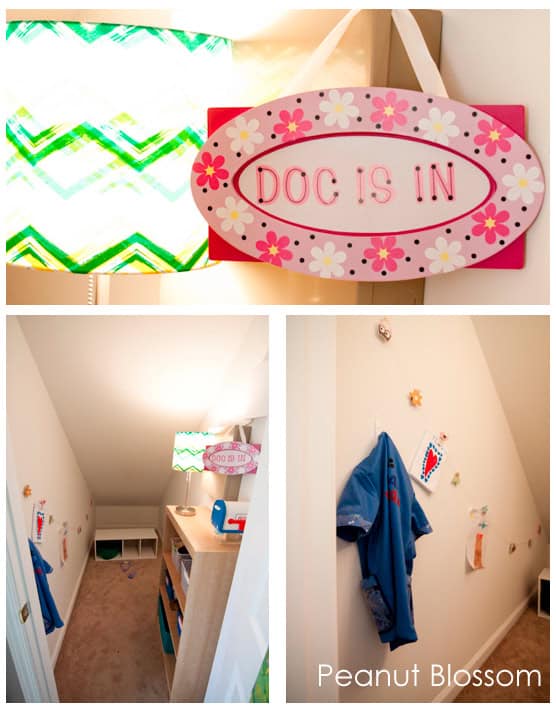 I used a simple 3M hook for hanging her uniform when the hospital closes for the night.
The Peanut is thrilled to have her own private place to play downstairs. Both girls sneak away and have had a blast taking the animals down to be healed and putting them back to rest.
There is so much room leftover in our baskets and bins. We plan to keep a basket of books and other small toys in there so the Hospital is just as likely to eventually become a Post Office, a Grocery Store, or a Library at a moment's notice. It will be fun to watch it rotate through the coming months!
Do you have a space in your home that you could turn into a playzone? These pictures make the area look far bigger than it actually is. With kids this size, any closet would likely work! Here are my top tips for outfitting a small space for your kids:
1. Keep it strong: Look for sturdy but inexpensive storage units. I shopped in the closet organization section and just went by the measurements for the space, not the original intent for the furniture item. We used a shoe rack turned on it's side as an exam bench because the dimensions were exactly what I was looking for. The bookshelf was a hot deal for $13 a couple years ago on clearance.
2. Bins are the new boxes: You know how kids love to play with boxes on Christmas morning? Give them a stack of brightly colored bins and it is the exact same effect! I looked for the cutest colors for our space that were also the cheapest. Dollar sections, clearance racks, just stock up on various shapes and colors.
3. Don't over crowd the space: If I try to pile in every last toy they own, they're not going to be able to move around. They enjoy the visual whitespace in this play zone and it allows them room to rearrange the few items in there. Bins can be removed from the shelf and placed or stacked on the floor. And then there's room to put it all back at the end of playtime.
4. Keep it creatively cohesive: Bright colors, fun accessories, but give it a theme. I went with a blue & green color palette to match the Vet costume but those are also the Peanut's favorite colors. Even when we swap this space into a different theme, the colors will work with the next play idea because they aren't so specific to "animal hospital."

______________________________________________
This post is sponsored by Melissa & Doug. We purchased the vet costume and mailbox ourselves as actual Christmas presents for the Peanut but I was compensated to share this idea with you. They also kindly populated our little hospital with a few extra furry friends. All thoughts are my own and I am truly grateful to have found such an awesome gift for my young daughters that encourages exploring the medical field. And that isn't pink!! But in fact blue: "My favorite color!"