The Hating Game by Sally Thorne is the official February Pick for the Peanut Blossom Book Club for Recovering Readers.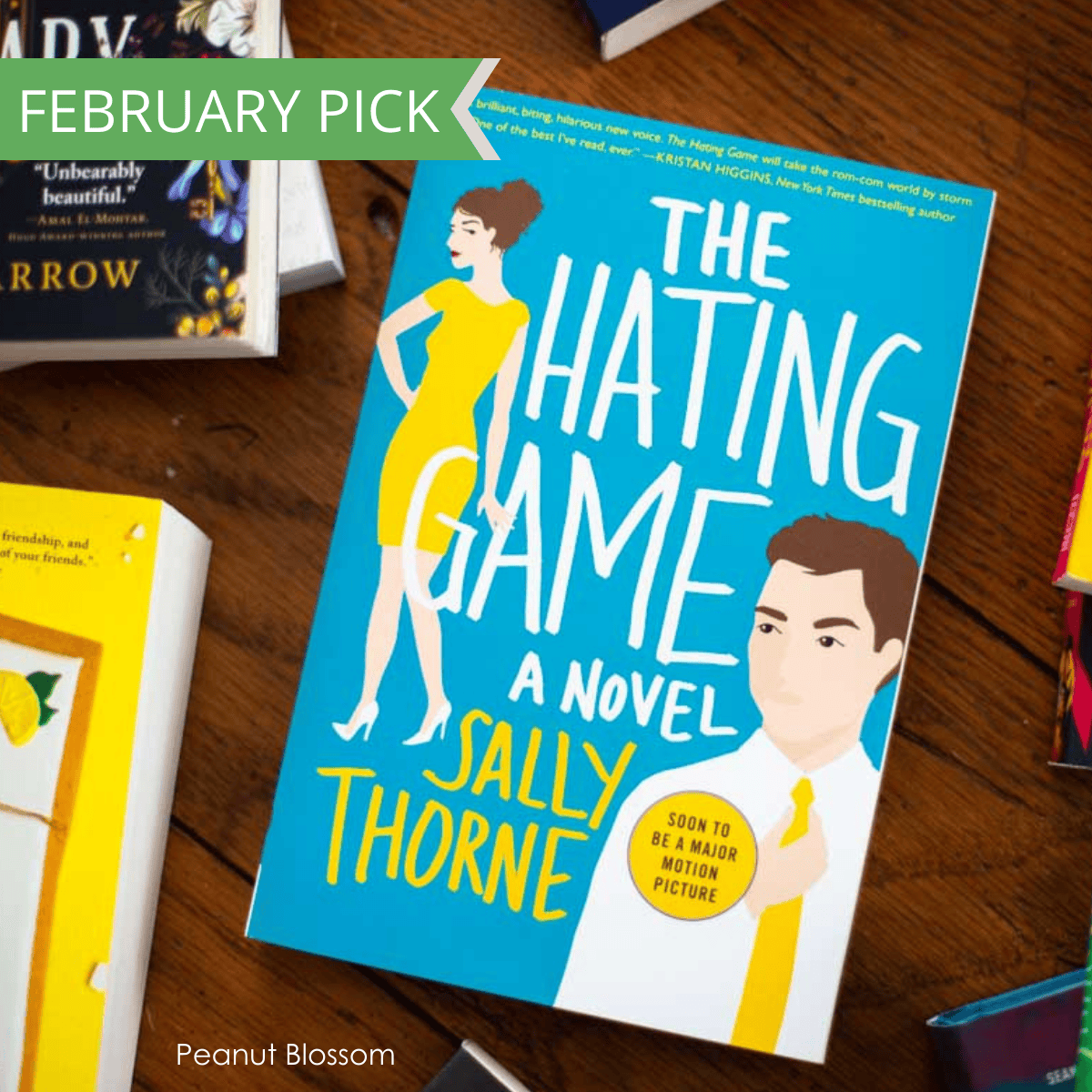 My favorite part of the Peanut Blossom Book Club is watching for book recommendations that pop up over and over again. I add them to my watchlist and then use that as the starting point for making our monthly picks for the new year.
Our February pick is exactly this sort of book. So many of our members have enjoyed and recommended this book as a must-read that it has been on my To Read list for ages.
I love to pick quirky romance books for February and with the title: "The Hating Game," I just couldn't resist.
Scroll down for more info about the book and I'll see you in the group once I've finished it.

P.S. Just joining us? Don't miss the full 2021 line-up for our book club picks.
Want Free Reminders for Each Book?
Sign up for my book club newsletter right here:
February's Official Book Club Pick: The Hating Game by Sally Thorne
I'm pleased to announce that it is our official February Pick for this year.
Get your copy of this month's book club pick:
Money-saving tricks for reading this month's book pick:
You can get the book from your library.
The Kindle version is cheaper than the paperback AND you can save money on the Audible version if you own the Kindle copy! I love to use the Amazon Whispersync feature to go back and forth between audio and digital reading.
What This Month's Book About?
"Debut author Sally Thorne bursts on the scene with a hilarious and sexy workplace comedy all about that thin, fine line between hate and love.
Nemesis (n.) 1) An opponent or rival whom a person cannot best or overcome.
2) A person's undoing
3) Joshua Templeman
Lucy Hutton and Joshua Templeman hate each other. Not dislike. Not begrudgingly tolerate. Hate. And they have no problem displaying their feelings through a series of ritualistic passive aggressive maneuvers as they sit across from each other, executive assistants to co-CEOs of a publishing company. Lucy can't understand Joshua's joyless, uptight, meticulous approach to his job. Joshua is clearly baffled by Lucy's overly bright clothes, quirkiness, and Pollyanna attitude.
Now up for the same promotion, their battle of wills has come to a head and Lucy refuses to back down when their latest game could cost her her dream job…But the tension between Lucy and Joshua has also reached its boiling point, and Lucy is discovering that maybe she doesn't hate Joshua. And maybe, he doesn't hate her either. Or maybe this is just another game."
Get your copy of the book here.
Discussion Questions for The Hating Game:
Want to discuss this month's book with your book club friends? Here are some great conversational questions to get the party started.
You can download the full discussion guide here and then print it to have handy.
Have you ever experienced a workplace rivalry or competed for a promotion?

Would you have felt comfortable letting Josh care for you with a stomach bug? Is that expected behavior while dating?

Were your parents pleased with the work path you chose? Were they more like Lucy or Josh's family?

Would you ever date someone from your office?

The Hating Game is being made into a movie. Who would you cast as Lucy and Josh? 

Have you ever had to stand up for your partner to their family?

Where do you see Josh and Lucy next?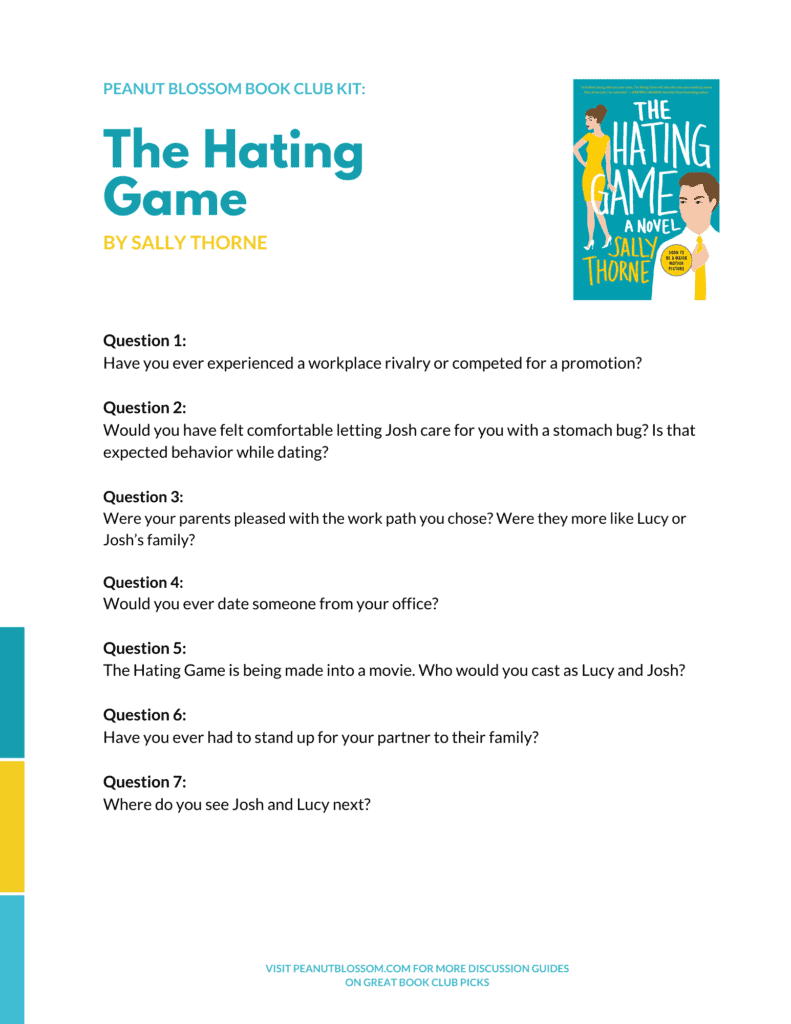 Book Club Party Recipes:
For your The Hating Game book club party, serve a variety of fresh strawberry recipes and simply pretend they are from Lucy's parent's strawberry farm! The strawberry lemonade could easily be used to make a wine spritzer with sparkling wine.