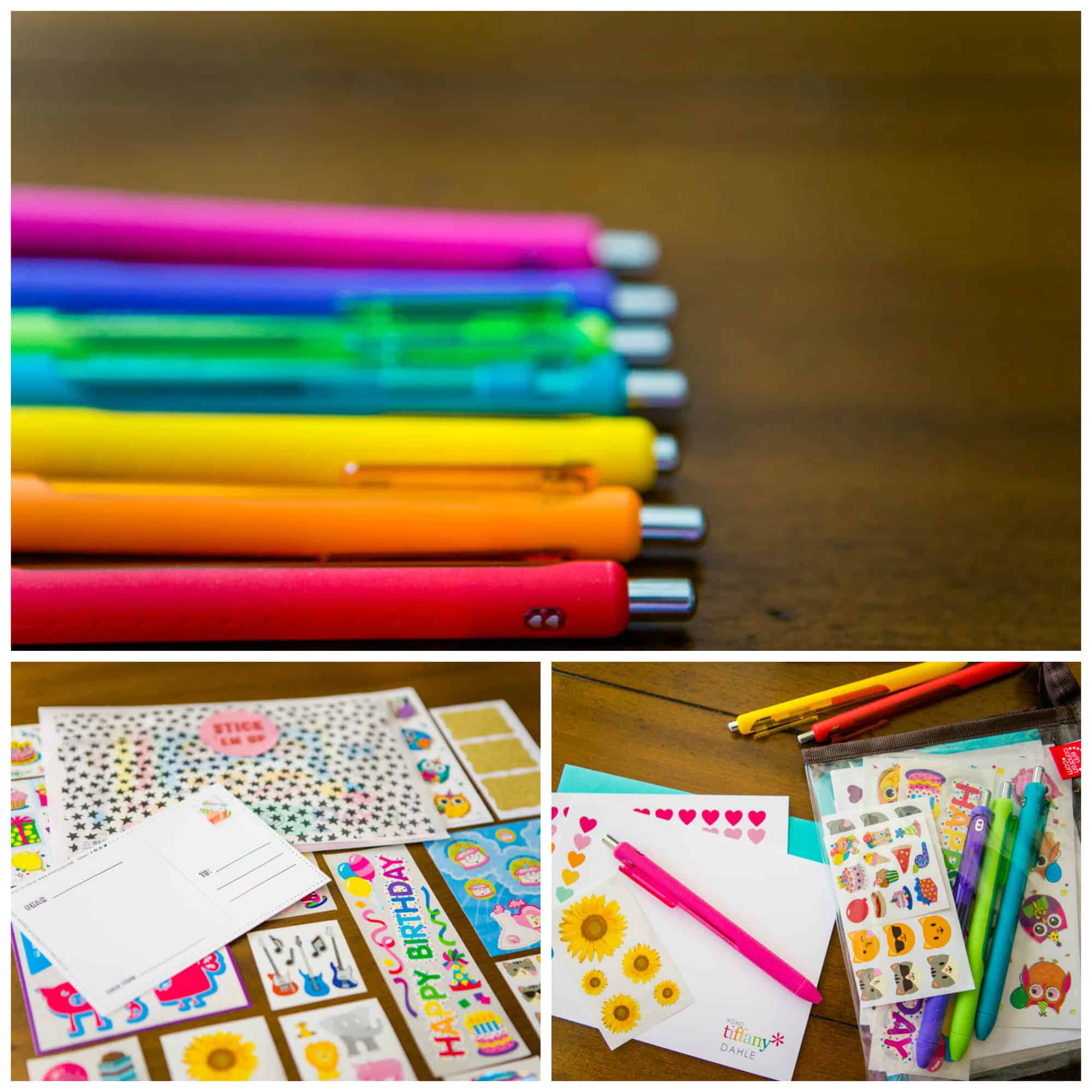 Thank you notes, birthday cards, handwritten messages of any kind: I suck at producing the happy mail that breaks up your boring mailbox haul. Oh you guys, how much guilt I carry in my life that I am so terrible at something I think is so important. I feel like I'm doing a horrible job and failing as a mom because my kids don't even know what it is to send a thank you note for a gift. I am the worst.
There are three people I know that set a shining example of what it means to spread joy via happy mail: my sweet friend Jodie, Tim's Aunt Lee, and my mother-in-law Evelyn. When I see a colorful envelope with an actual stamp and a hand-written addressed envelope mixed in with my pile of junk and bills at the mailbox, I know it has likely come from one of those amazing ladies and it fills my heart with joy.
I know how much I appreciate happy mail, why can't I get it together to do the same for others?? This problem has bothered me enough that this fall I vowed to be better. I sat and thought about what was holding me back from taking the time to write sweet messages to my loved ones.
It broke down like this:
I don't know where the stamps are.
I only have a broken pencil to write with or a yucky ball point pen from a hotel.
I have a stash of Thank You notes but it's a birthday card I'm supposed to be sending.
I have time to write it, but I don't have time to go on a scavenger hunt for supplies.
And the winner for the worst excuse: I go through the process but then the stamped card sits in my purse for weeks. Our mail man is awful and folds our mail so I prefer to drop it off at the post office instead. And there my lovely treasure languishes in the bottom of my cluttered purse.
So this is how I fixed it. . .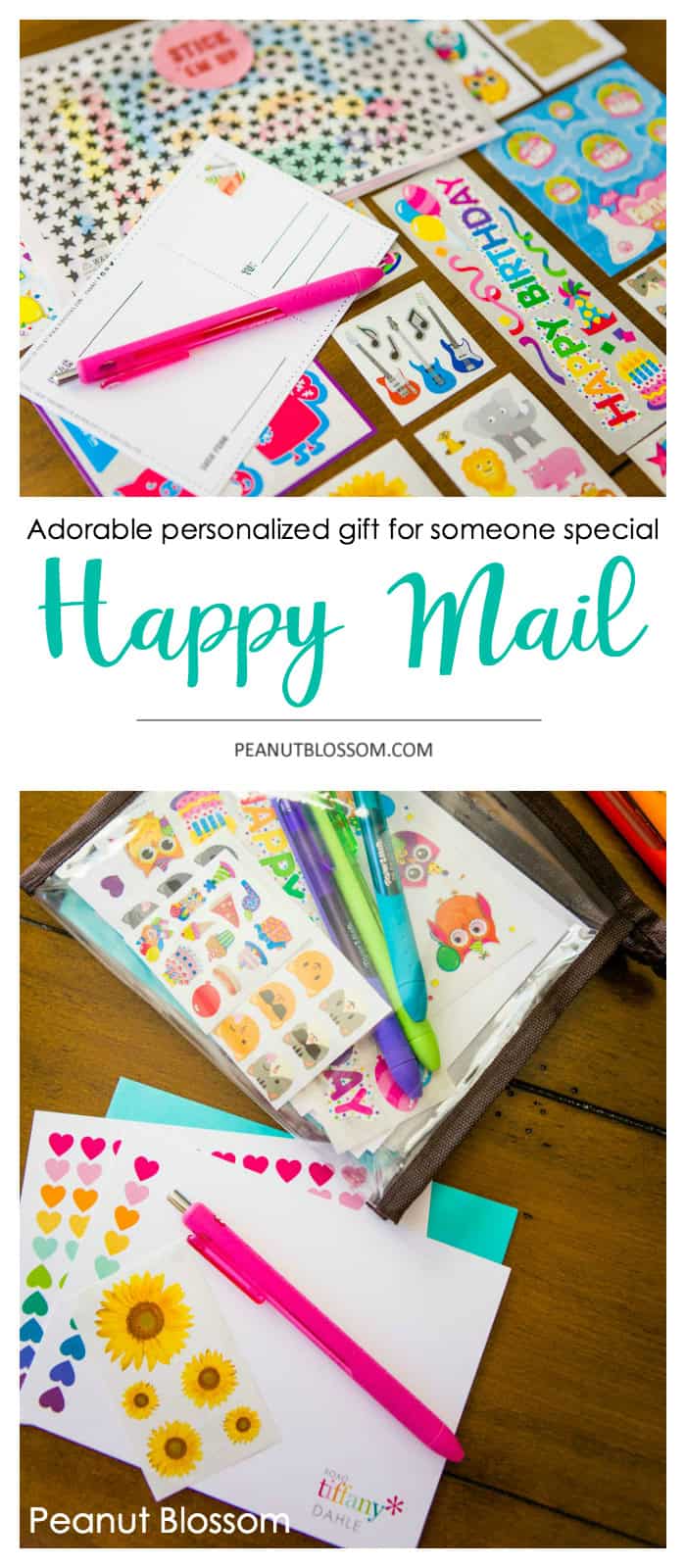 I'm a stationary JUNKIE. I could spend hours in a good paper store just petting the wares. If my goal is to create truly happy mail, I wanted to start with cute, colorful supplies.
The Basic Ingredients for Happy Mail:
The note cards: I started by ordering a set of personalized note cards from Erin Condren. You can pick from several adorable designs; personalize with your name, family name, or a saying; and even choose the envelope color. I chose the bright and happy heart card design with aqua colored envelopes.
The storage unit:  The notecard set from Erin Condren is delivered in a sturdy clear plastic zipper pouch container with a little room inside to spare. This pouch serves as the Central Hub of all things Happy Mail and is sleek enough to be stashed in a kitchen drawer.
Stamps: Did you know you can order fun stamps from the USPS post office? I stocked up on Wonder Woman designed Forever stamps to add to the zipper pouch. It's also not a bad idea to stock up on postcard stamps if you'd like to mail a notecard without an envelope.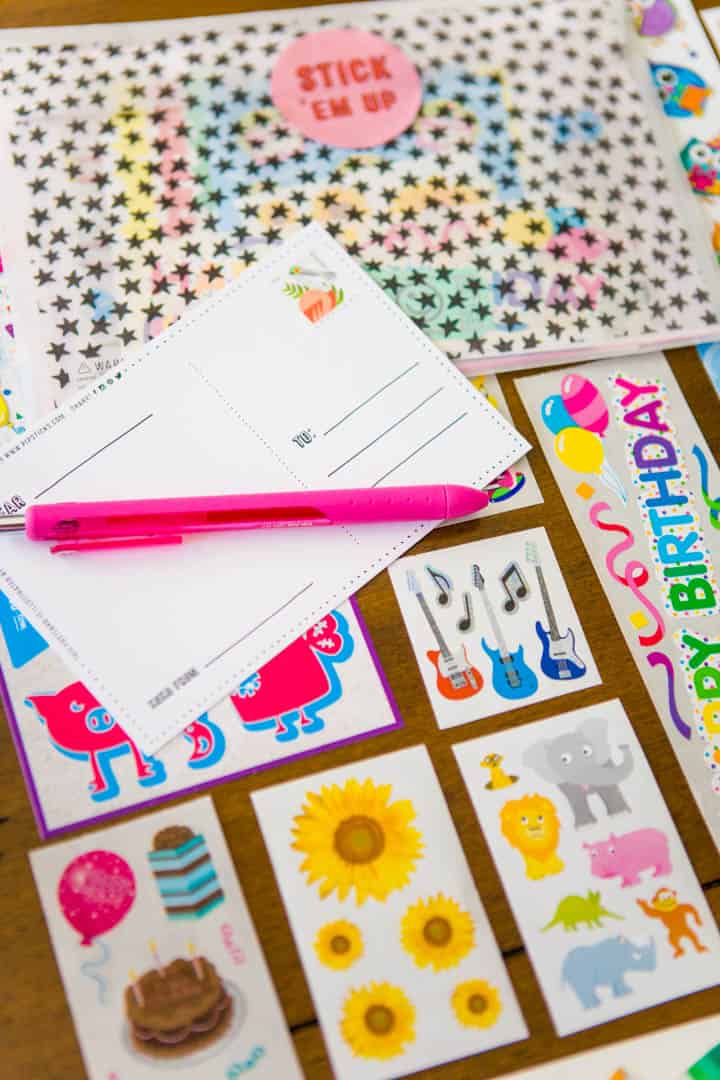 Stickers: While the notecards are cute enough on their own, my true goal is to get my kids inspired to send happy mail of their own. I know that notecards are just not enough to get the girls excited about sitting down to write. I decided to sign up for a subscription to Pipsticks monthly sticker delivery which serves three purposes:
Inspiration: The kids were giddy to discover the tempting vellum envelope hidden in our mail stash and couldn't wait to rip it open and put it to use.
Reminder: This goal is exactly the kind of thing I could have great intentions to do and then easily forget in the busyness of everyday life. The arrival of our newest sticker kit is the reminder that a month has passed and it is time to create some happy mail.
Fresh supplies: The sticker kits each have a separate theme. One month was filled with happy birthday stickers, another month brought Halloween themed goodies. We can't wait to see what the winter holiday months bring! But the kit doesn't just bring stickers. Each set has a pre-stamped postcard and several pieces of plain colorful card stock to make your own creations.I love that the Pipsticks themes will inspire us to send mail beyond just thank you notes & birthdays and start reaching out to friends and family all throughout the year!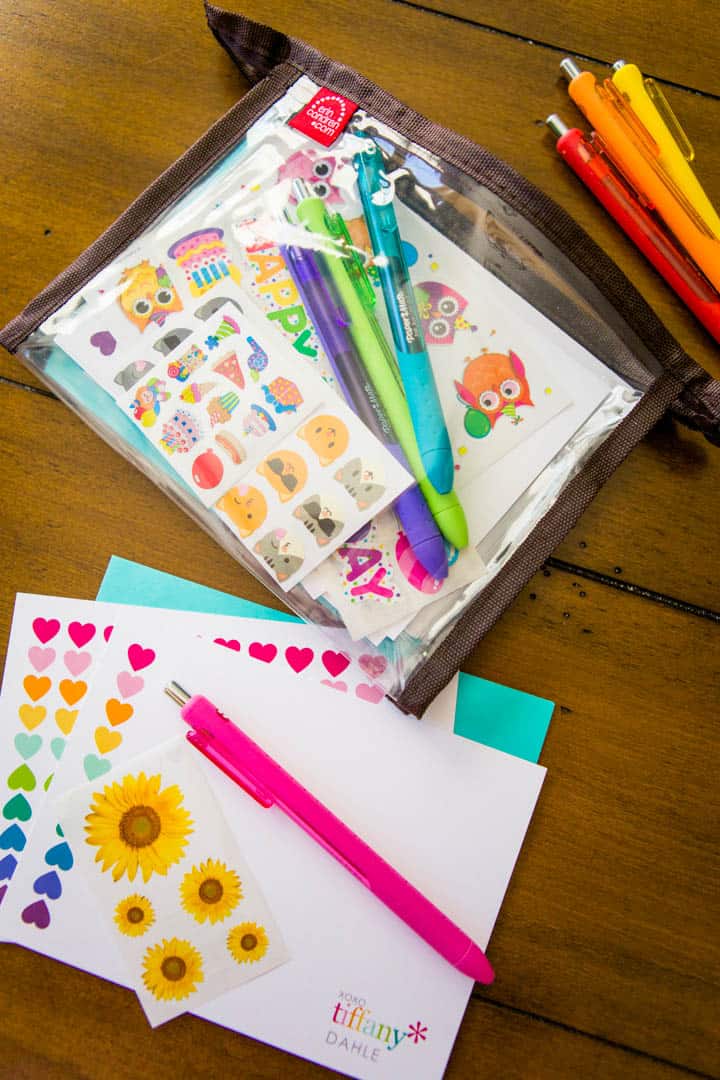 Pens: I type just way too much. My handwriting has truly suffered in the last decade. I was excited to reap the benefit of more consistent sessions of slowed down patient writing to help reverse the damage. I've become completely addicted to these Papermate Ink Joy Gel pens. They are bright and colorful, write smoothly, and most importantly do not bleed through the note cards or my beloved Erin Condren planner.
The zipper pouch has plenty of room to stash a full set of pens, stamps, stickers, notecards and envelopes: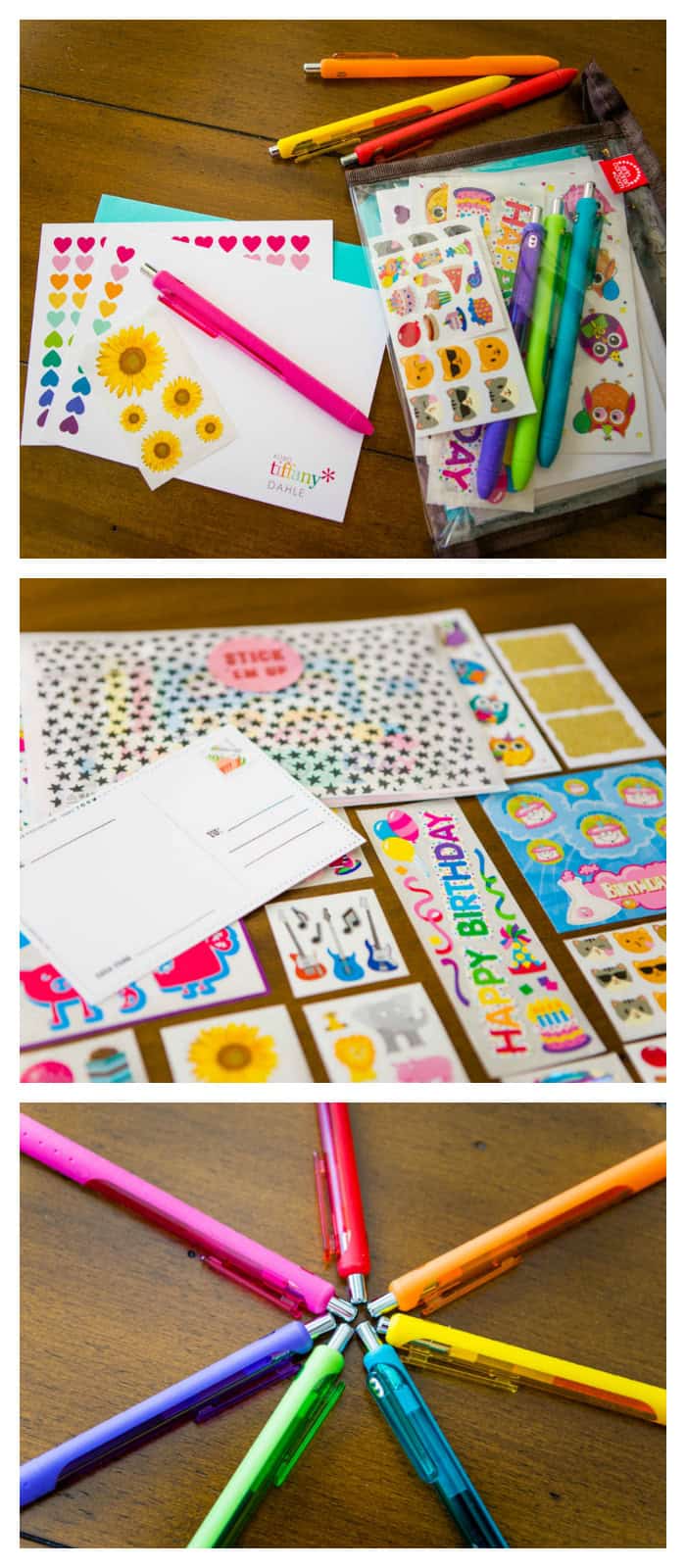 And how to solve that last problem about leaving the card in my purse?? We've decided to just chance it with the postman. I send the girls running out to the mailbox to put our creations inside and raise the little red flag for pickup. We're hoping that the bright happy mail will catch his eye and maybe he'll stop and pause before he folds it up with the rest of the deliveries.
If you're looking for a gift to give the tween in your life this Christmas, wouldn't this bring a huge smile on her face?? I plan to give each of my girls' their own set so they can control their supplies.
Shopping Guide to Assemble a Personalized Happy Mail Kit Gift:
If you enjoyed this post, be sure to check out my review of the Erin Condren planner I've used for the last 5 years. It is essential to my everyday life!