This delicious cranberry apple crisp is a sweet and easy side dish for Thanksgiving. It's a great alternative to cranberry sauce.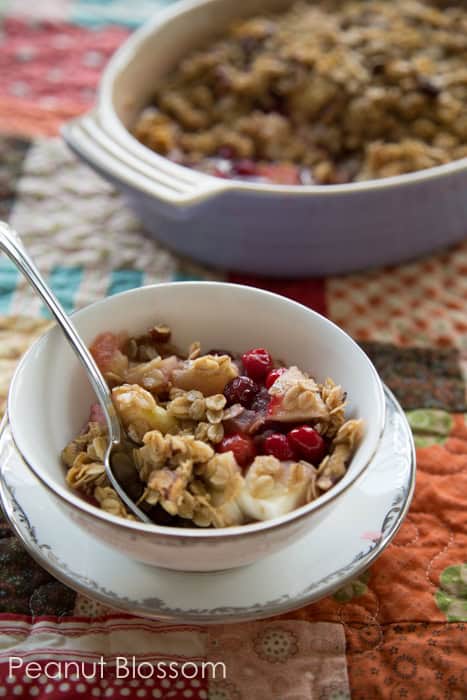 Right about now is the time when every year I start scoping out sources for inspiration for new holiday recipes for our Thanksgiving table. It's only been a few years that I've done the hosting for this big event and I feel like I'm still tweaking some of the staples that need to be on our menu. The item that seems to cause the most grief in our picky eating family?? The cranberries.
I'm a late-in-life convert to those festive little fruits. I avoided them like the plague when I was a kid but I was finally introduced to the real-deal homemade variety in my 20s. Thanksgiving is just not Thanksgiving without cranberries on the table for me.
But for my kids? Well, they take after the childhood me. They want NOTHING to do with them. So I was super intrigued when I discovered this awesome idea from Stephanie over at Modern Parents Messy Kids:
Cranberry apple crunch cobbler.
The tartness of the berries is toned down a smidge by the sweetness of the apple and the buttery crunchy oat/nut topping but is still tart enough to do it's job in complementing the turkey. At first glance it looks like a dessert but Stephanie said her family has the tradition of serving this as a side dish for the holiday. Oh How I Love that idea! I couldn't wait to test it out.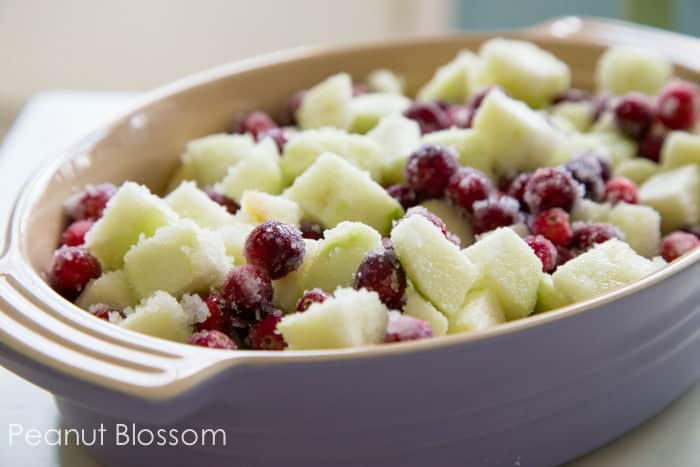 I tested it out on a busy afternoon knowing it would go well with dinner that evening. Truly at the last-minute, I second guessed my too long to-do list and thought maybe I'd save the recipe for a different day. I reviewed my notes and realized that it basically just involves chopping up a few apples and the rest is all measuring. Sold! I had this prepped and ready to go into the oven in minutes.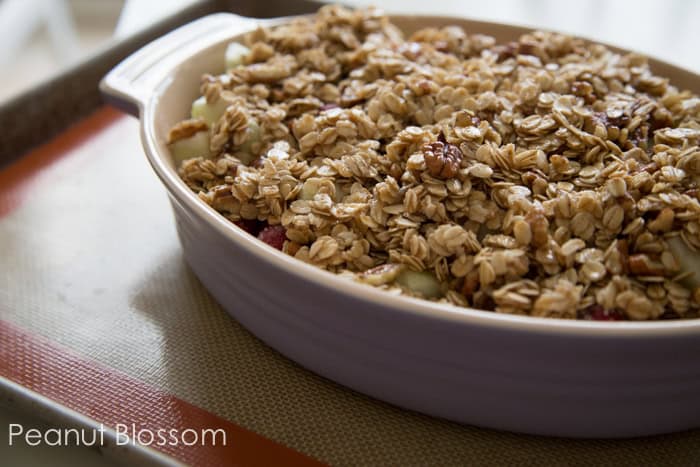 Even better news? In my opinion, this is not a dish served best directly hot out of the oven. It is so much better once it has cooled way down but still warm. You could have this done and out of the oven waiting on your holiday table while you pull together all the fussier items like the mashed potatoes or green beans that need to be HOT.
And the final bit of awesomesauce to this? It is the perfect kid-friendly recipe for assembling in the kitchen. Once the apples are cut, even my Peanut could pull this dish together as long as the ingredients had been properly measured out for her.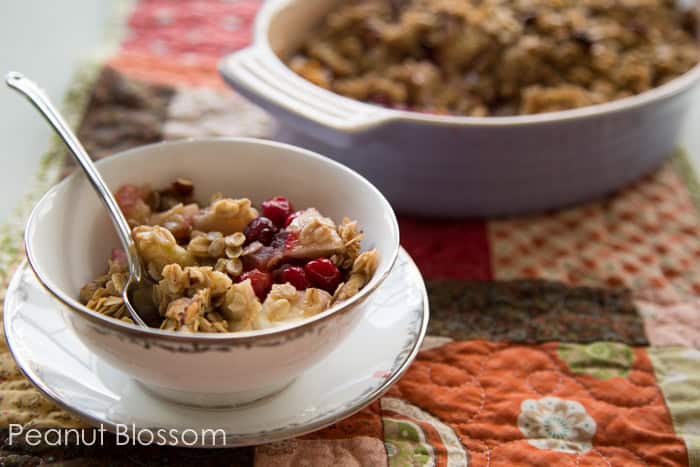 Stephanie's keeper of a recipe comes from her new book "Hands-On Holidays" which I was so pleased to review. It covers activities, recipes, and house decor ideas for Halloween through Christmas. I just love her attitude of doing festive family-focused things but keeping it all in check so you can actually find realistic time to work them into your schedule!
You can check out more details here.
How about you? Do you have any Thanksgiving table staples I should know about?? What is your go-to side dish??
Like this post?


This post contains affiliate links. You can view our full disclosure here.