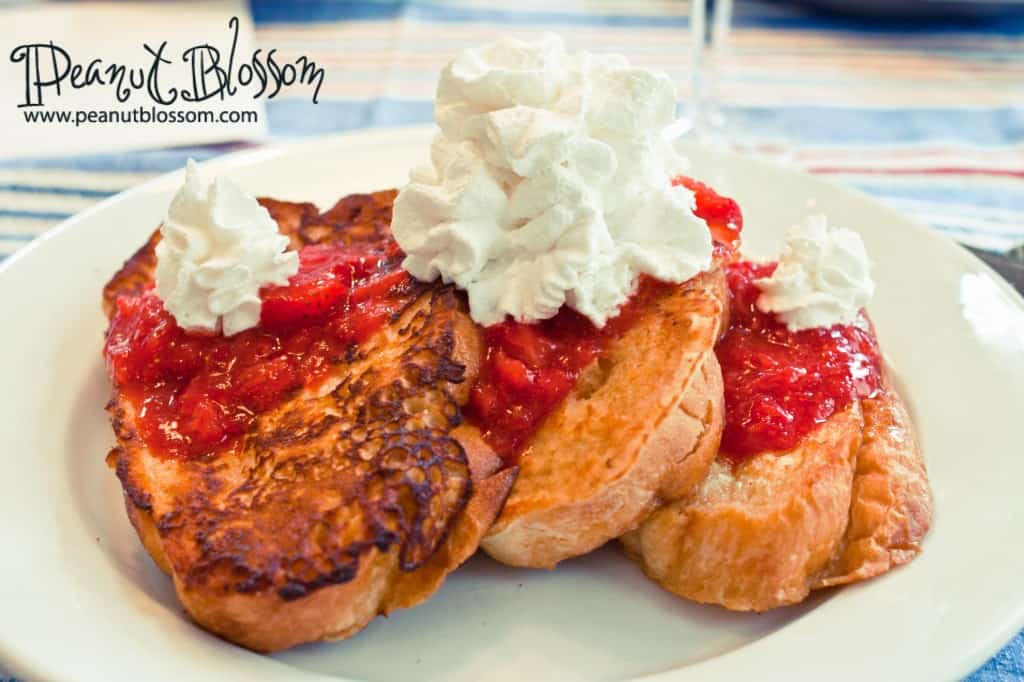 You all are going to have a nice laugh over what I ended up making for our special anniversary dinner last week. I asked for suggestions over on Facebook. (If you're not a "friend" of Peanut Blossom over there, I'd love to have you join in future conversations. Come check it out!) The winning idea was to serve waffle ice cream sundaes.
I had 20 minutes total to go grocery shopping that morning and had to choose my grocery store wisely. I went to the "fancier" spot hoping they'd have some nice thick premade Belgian waffles. No such luck.
But what they did have? Challah bread! I can almost NEVER find it and it is the crucial ingredient to Handyman Tim's favorite french toast. I initially grabbed it with intentions of putting it in the freezer for a future breakfast but when I couldn't find the waffles, Breakfast for Dinner was made.
We normally serve this french toast with maple syrup and sausages. But since it was a special occasion and I couldn't get the sundaes out of my head, I went wild and made a fresh strawberry sauce. Took me all of a minute to crush the strawberries and add a bit of sugar. Served along with some whipped cream and it was a fantastic celebratory dinner.
You can read my original post about the Best Ever French Toast here. When I told Tim what we were having for dinner for our anniversary, I actually got a "YES!" along with a fist pump. Well alrighty then! I guess that is his official word on the topic.