Sometime last fall I realized I was absolutely dreading doing any grocery shopping.
While some women may loathe that particular errand, it has always been a favorite of mine.
Then Little Pea came along.
While the Peanut was more than happy to get out of the house and be my shopping buddy, Little Pea is an absolute handful at the store.
"No cart! Go home!" followed by a constant stream of whining that escalates into full out screaming in order to get me to hustle just a bit faster. I can't even tell you how many grocery lists I tried to suffer through but left the store with them unfinished.
Both girls loved their Melissa & Doug shopping cart and play food and we've played dozens of games of shopping at home but when it came to the real deal I just couldn't bear going anywhere near the grocery aisles with Little Pea.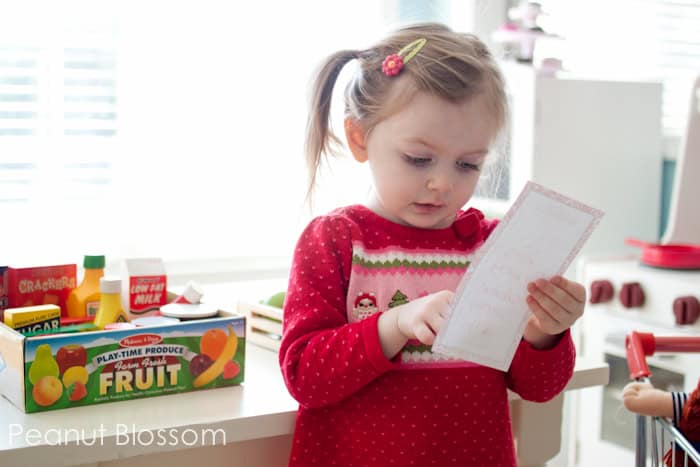 Thank goodness for good friends with older kids who have blazed those parenting trails. After another dinner of macaroni & cheese because I didn't have what I needed on hand, I vented my frustrations with a friend.
She gave me the most brilliant and easy solution:
Give Little Pea her own shopping list!
So I dug up every single stitch of play food we have in the house and set up a pretend grocery store on her little kitchen table:
I put all the fresh ingredients in one bin and all the pantry/fridge items in a second one.
I wrote out a shopping list using the same paper I've been using for household to-do's and told Little Pea:
"This is YOUR shopping list. It is VERY important. Will you please help me to find these things?"
Obviously at 2.5 years old, reading the list wasn't something she's able to do on her own so I prompted her for each item.
"Can you find the milk?":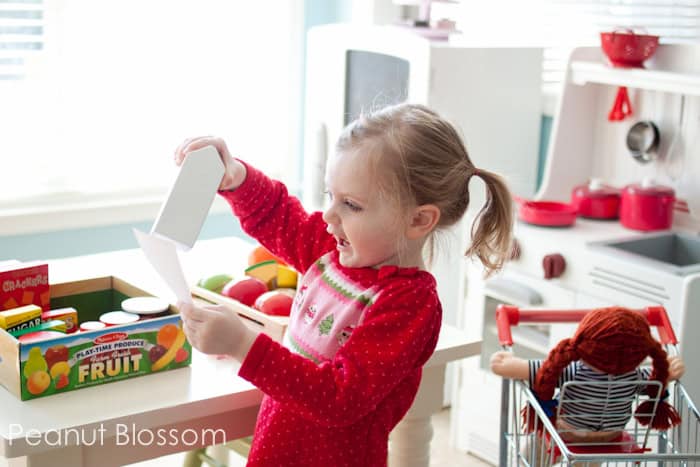 "Check your list, did we miss anything?":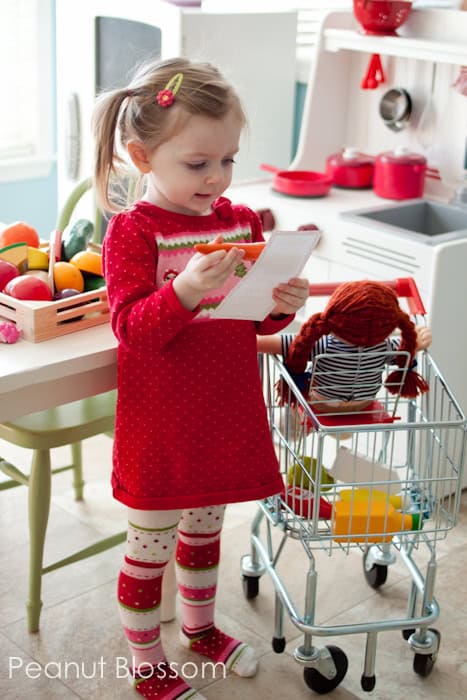 "Which veggies should we grab for dinner tonight?":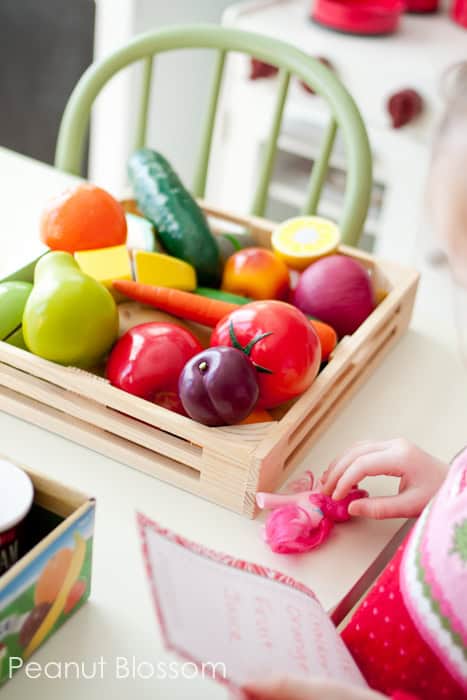 She was absolutely 100% enamored with this game. We went through the list several times and she still continued to play after I was done and had to get some other things going instead.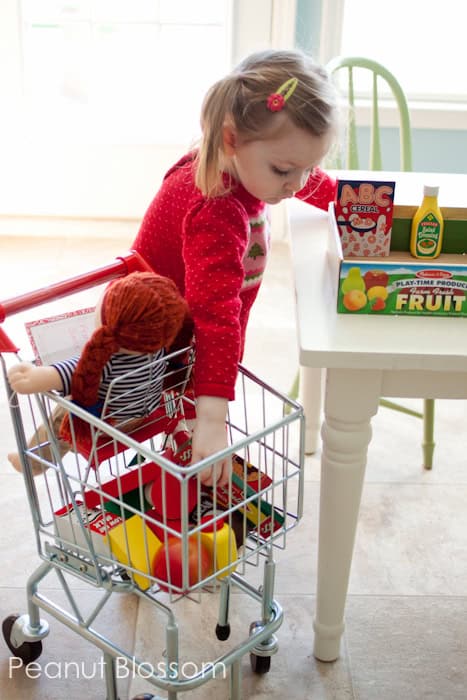 But the best news?
It has completely changed our shopping trips.
Now that I give her a list of her own to carry through the store she has some responsibility over things we need to find. It was exactly the control she seems to have needed.
She also feels so important with her very own list and the butchers and deli helpers have all commented on it which only makes her feel even more special.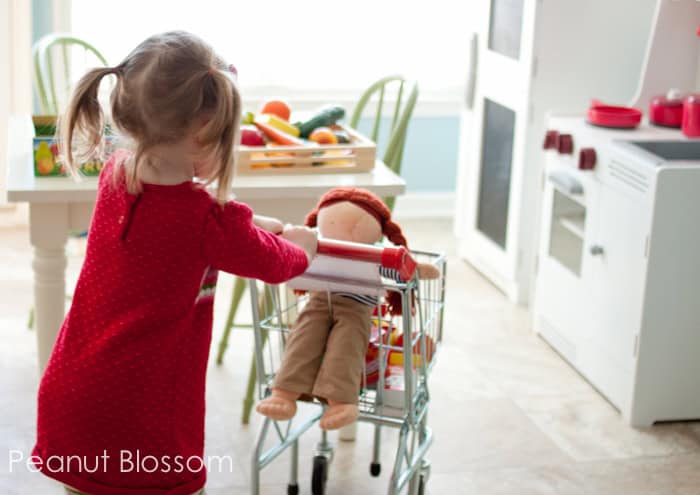 We love our play food and kitchen but I had no idea it could be used to fix such a stressful situation. I love shopping with my little helper now.
(But I still keep that emergency bag of goldfish in my purse just in case. Luck favors the prepared.)
Our play food is going on 3-4 years old now and has taken such a beating. If you're just starting to stock your play food store, I highly recommend:
Fridge food: That juice bottle has been beloved by both girls.
Dry goods:  The box of crackers has been a favorite.
Farm fresh fruit & vegetables:  The carrot has been used for everything from a stirring stick to a snowman's nose! But the fruit is my favorite of the entire group, I love how colorful everything in this set is. Just the right amount of shine to it, too.
A grocery cart to put it all in: This was a Santa gift when the Peanut was 3. It was ALL she wanted for Christmas that year along with the dolly to put in it. Both girls have loved it to pieces.
Do you have any solid tricks for surviving the grocery store with your little one? Or is your peanut an angel like my Peanut was?
I never understood the complaints till Little Pea tested me out. So thankful to have found a solution that worked!