The Giver of Stars by Jojo Moyes is the official January 2022 pick for the Peanut Blossom Book Club for Recovering Readers.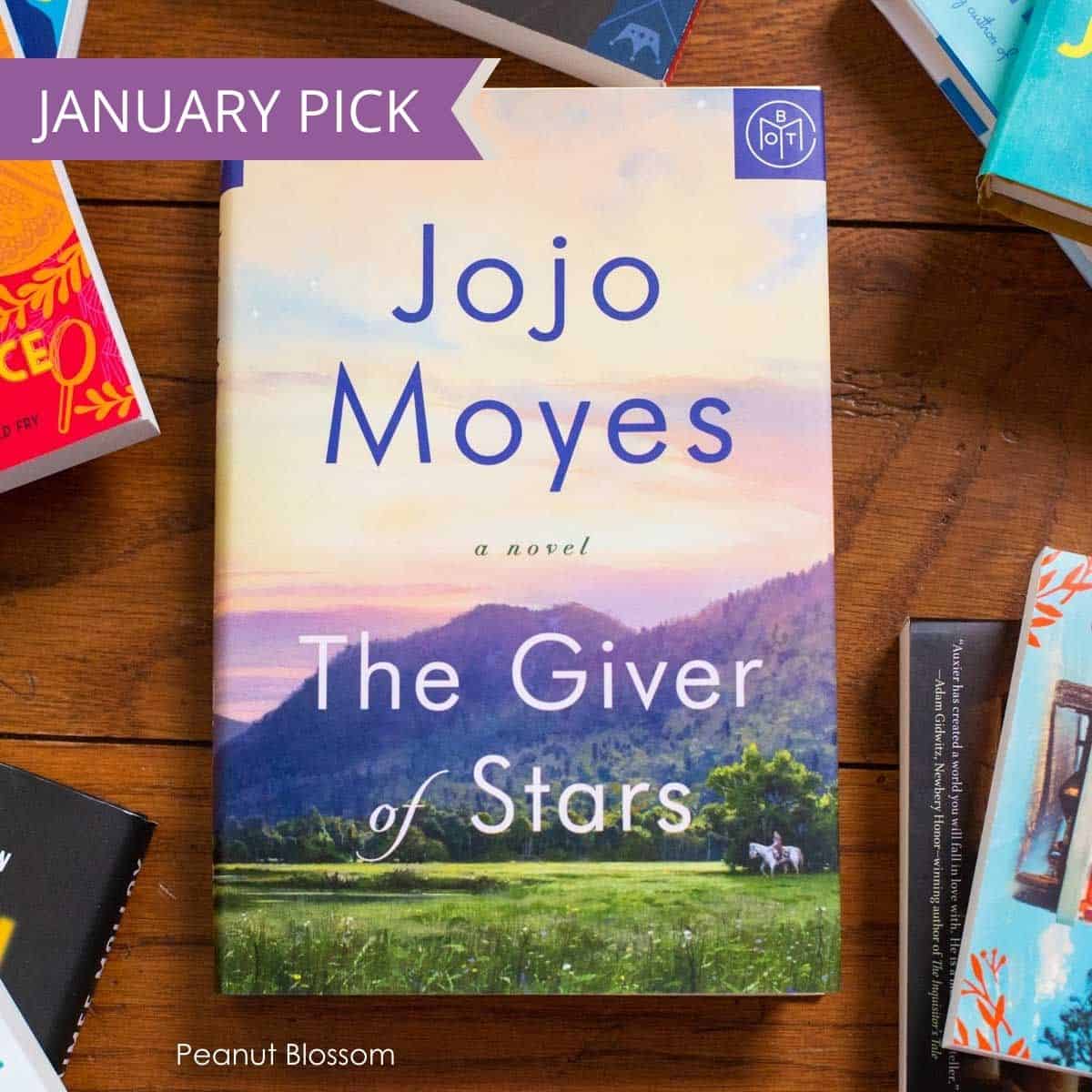 I love to kickstart a new year of book club with a bang. For our January pick, I always try to find a super popular bestselling novel that comes highly recommended by readers in our group.
The Giver of Stars by Jojo Moyes has been a title that consistently pops up on member favorite lists.
When I took a closer look and realized the story was about women delivering books as part of a traveling library in rural Kentucky, I couldn't help but smile at the similarities to our group starting a new year of reading together.
Whether you're a new member joining us for your first pick or a seasoned member of the group ready to start up our 8th year, I hope you love this January book club pick!

Want Free Reminders for Each Book?
Sign up for my book club newsletter right here:
January Official Book Club Pick: The Giver of Stars by Jojo Moyes
I'm pleased to announce that this is our official January Pick for this year.
Get your copy of this month's book club pick:
Money-saving tricks for reading this month's book pick:
What is this month's book about?"
"From the author of The Last Letter from Your Lover, now a major motion picture on Netflix, a breathtaking story of five extraordinary women and their remarkable journey through the mountains of Kentucky and beyond in Depression-era America.
Alice Wright marries handsome American Bennett Van Cleve, hoping to escape her stifling life in England.  But small-town Kentucky quickly proves equally claustrophobic, especially living alongside her overbearing father-in-law. So when a call goes out for a team of women to deliver books as part of Eleanor Roosevelt's new traveling library, Alice signs on enthusiastically.
The leader, and soon Alice's greatest ally, is Margery, a smart-talking, self-sufficient woman who's never asked a man's permission for anything. They will be joined by three other singular women who become known as the Packhorse Librarians of Kentucky.
What happens to them--and to the men they love--becomes an unforgettable drama of loyalty, justice, humanity, and passion. These heroic women refuse to be cowed by men or by convention. And though they face all kinds of dangers in a landscape that is at times breathtakingly beautiful, at others brutal, they're committed to their job: bringing books to people who have never had any, arming them with facts that will change their lives."
Read the full description of the book here.
Discussion Questions for The Giver of Stars
COMING SOON
Book Club Party Recipes
Since this month's book takes place in Kentucky, serve traditional southern recipe favorites for your party menu.
Kentucky is known for barbecue and mint juleps at their amazing Kentucky Derby parties. Mix those with my favorite southern style peach cobbler and sweet pecan shortbread bars.