The Fourteenth Goldfish by Jennifer L. Holm is the official August 2023 pick for the Peanut Blossom Book Club for Recovering Readers.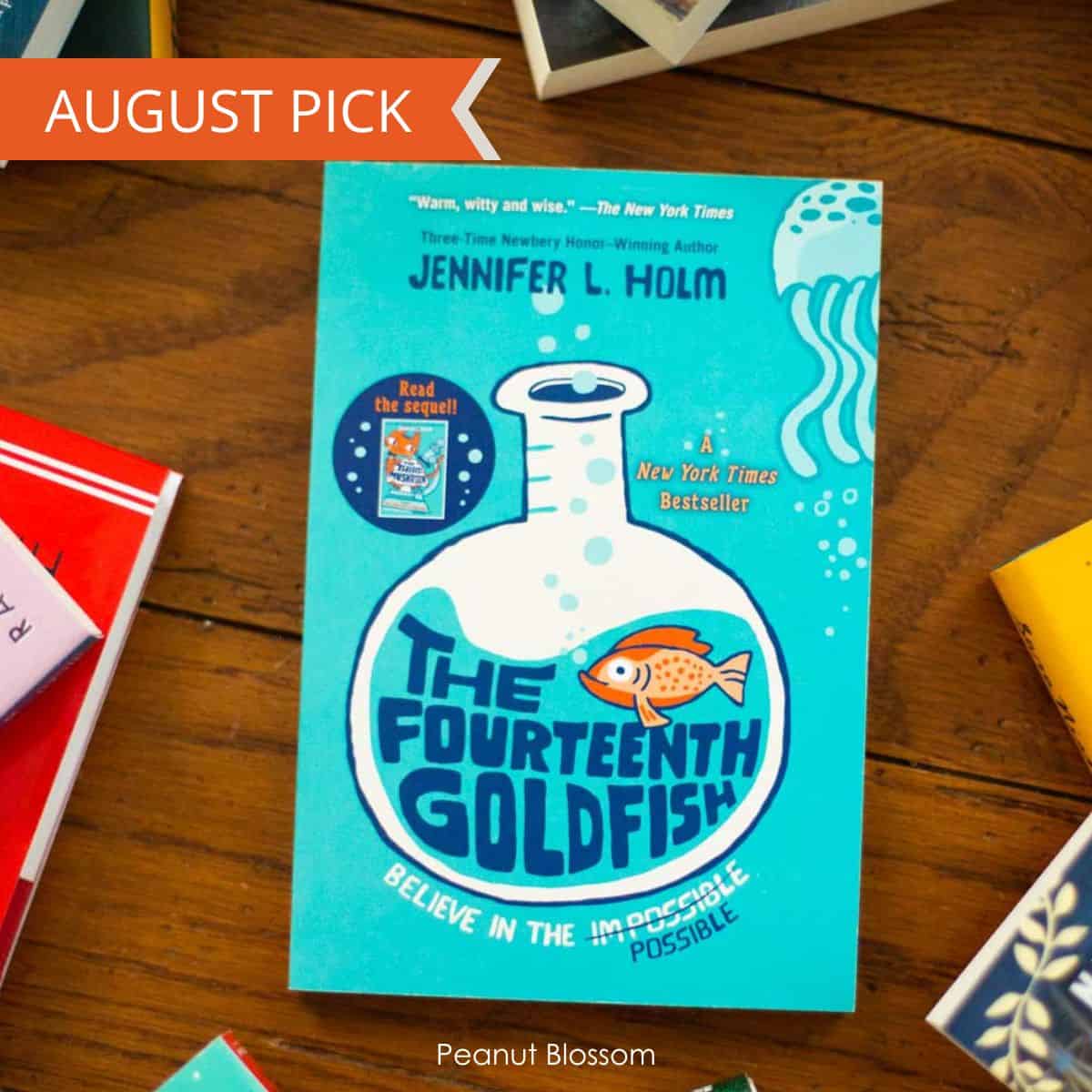 I think this month's book may have raised a few eyebrows when I first announced it at the start of the year.
One of the most common pieces of feedback I get about the Peanut Blossom Book Club is that our members love being encouraged to try new-to-them genres.
While we are all technically past the recommended age for this middle grade novel, I chose this book for August because many of us still have kids home for summer break and what better way to encourage them to read than to model it ourselves??
Even if you normally read a book via Kindle or Audible, I'd encourage you to buy a paper copy of this book and let your kids see you reading it over the course of the next few weeks.
Then just leave it laying around and you might be surprised to see they end up picking it up, too!
No kids? I still recommend that you read this timely book, especially if you've seen the new Oppenheimer movie!
I LOVED this book so much. It's a quick and easy read that I finished in an afternoon. Just what every busy parent needs in this crazy-busy season of transition back to school.
Want Free Reminders for Each Book?
Sign up for my book club newsletter right here:
August Official Book Club Pick: The Fourteenth Goldfish
I'm pleased to announce that this is our official August Pick for this year.
Get your copy of this month's book club book:
Money-saving tricks for reading this month's book:
What is this month's book about?
"Galileo. Newton. Salk. Oppenheimer. Science can change the world . . . but can it go too far?

Eleven-year-old Ellie has never liked change. She misses fifth grade. She misses her old best friend. She even misses her dearly departed goldfish. Then one day a strange boy shows up. He's bossy. He's cranky. And weirdly enough . . . he looks a lot like Ellie's grandfather, a scientist who's always been slightly obsessed with immortality. Could this gawky teenager really be Grandpa Melvin? Has he finally found the secret to eternal youth?

With a lighthearted touch and plenty of humor, Jennifer Holm celebrates the wonder of science and explores fascinating questions about life and death, family and friendship, immortality . . . and possibility."
Discussion Questions for The Fourteenth Goldfish
I think the best book club questions help members to connect with one another on a personal level.
While you're free to discuss the specifics of the plot of the book, here are a few great personal questions to help you get to know each other better based on Lost Lake:
1. Were/are you close with your grandparents? What kind of influence did they have on you?
2. What would you want to teach your own grandchild about your career?
3. Who is your favorite scientist?
HINT: If you don't have one, why do you think that is?
4. Who do you identify with more? Ellie's Mom or Melvin, her grandfather? Why?
5. At 11 years old, Ellie is experience a shifting in her friend group. Did you go through something similar? Looking back as a grown up, what advice would you give your former self?
6. Did you see Oppenheimer, the movie? Compare the messages of that movie with this children's book.
7. How did you feel about reading a middle grade novel? How does it compare to what you normally read? Would you read the sequel?
8. Did you see the ending coming? Is there something you would have changed?
Book Club Party Menu
I think it is so fun to plan your book club dinner menu or dessert list based on the theme of the book.
There are a few fun routes you could take with your book club party menu for this month's book.
Ellie's Grandpa loves Chinese food and it plays a recurring feature in the story. Serve my popular Oriental chicken layer dip with buttery crackers for an appetizer and my sweet almond cake for dessert. It's not exactly fortune cookies, but it is similar in flavor. ha!
Alternatively, you could play off the "fridge experiments" plot line and serve an appetizer that involves blue cheese like my baked buffalo chicken dip.
Without any spoilers, there's a poignant moment where Grandpa and Ellie discuss an apple. Serve my make ahead apple cake for dessert!
You Might Also Like
If you LOVE this month's book, you may also enjoy one of these fun books for book club: