This post is brought to you by Panera Bread as part of their "Panera Breakfast Backstory Challenge. 
We are honored to be sharing our thoughts on a recent special "Mommy & Me" morning out together, but if you're a big fan of Panera's bakery like we are, you'll definitely want to check out all the details on their Breakfast Backstory Challenge here. Plus, don't forget to enter to win a $100 gift card by leaving a comment at the end!
-----------------------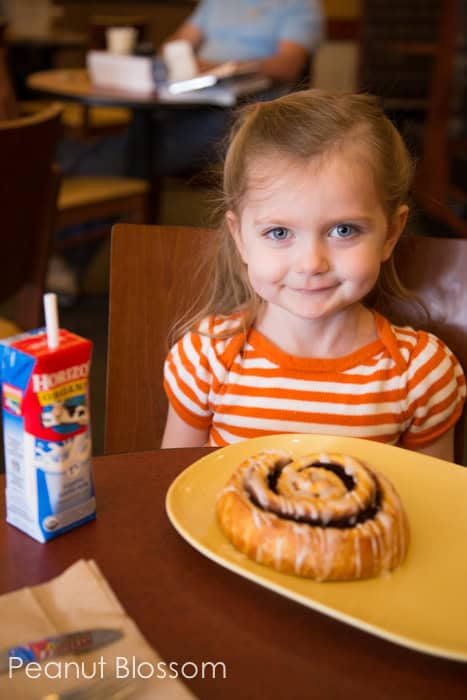 There are few things in life that make me happier than killing two birds with one stone. Time is such a precious commodity for moms everywhere and I think finding ways to act on multiple goals all at the same time is the best approach to actually maintaining healthier lifestyle changes.
This fall I've been focusing so hard on our new meal planning system to make sure my kids are getting exposed to more veggies and homemade real foods. I'm also trying desperately to focus more attention on my Little Pea because I know her time home with me during the day is becoming more and more limited. She's growing up so fast and soon the day will come when I don't have my little buddy home with me.
To accomplish both of those goals, we've been doing a little of this and a little of that. I've been trying to reinstate our Mommy & Me Mornings on a weekly basis, but sometimes I can't afford a whole morning spent at a museum so our special time has to happen in the middle of errands. When I took a look at my latest meal plan I realized that our Monday Night Soup & Bread night would provide the perfect opportunity for killing those two birds.
I had planned to make Pioneer Woman's homemade broccoli cheese soup using the fresh broccoli from our last farmer's market trip. Ree suggests serving it in a bread bowl for an extra fun presentation. My mom has always loved Panera's fresh baked sourdough bread bowls and they are a staple when she serves her chili.
I decided Little Pea and I could go out for a special breakfast, just the two of us, and snag the rolls for dinner that night. If I hadn't been organized enough with my meal plan, I would never have had a pocket of time to slow down and turn a food shopping trip into a special occasion. I feel like every week has been another fresh start for our family time, and I'm finding more and more ways that meal planning has allowed me to better enjoy my time with my girls.
Little Pea was over the moon excited about being allowed to select a special treat for our breakfast together. No, I didn't allow the cupcakes as an option! Ha.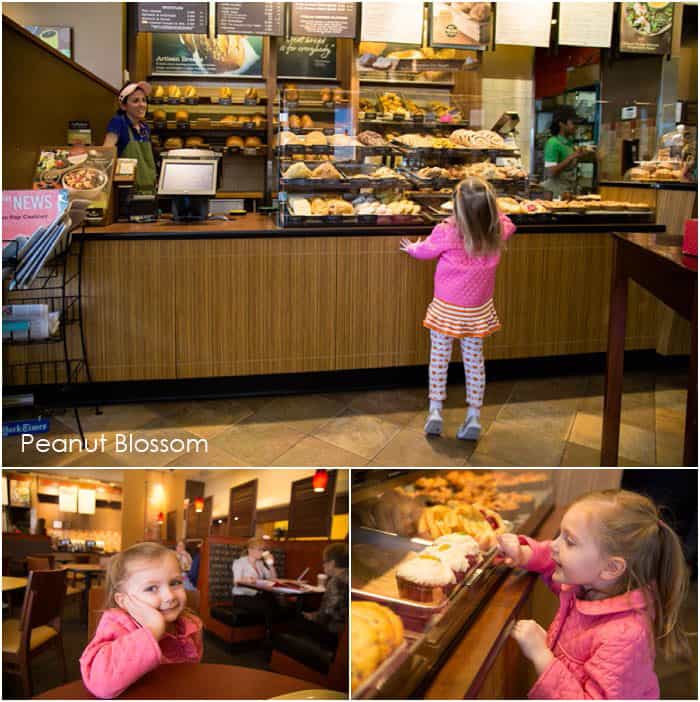 I selected a hot egg & bacon sandwich and a cappuccino for myself and a cinnamon roll for Little Pea. I was pleasantly surprised when we were handed a buzzer and told we could sit down at our table, and that the food would be brought to us. Oh how I can't stand juggling food & beverages and trying to hold a preschooler's wiggly hand at the same time! We were able to just go find a seat together and relax for a moment. (While every Panera doesn't offer this, I'm glad ours does!)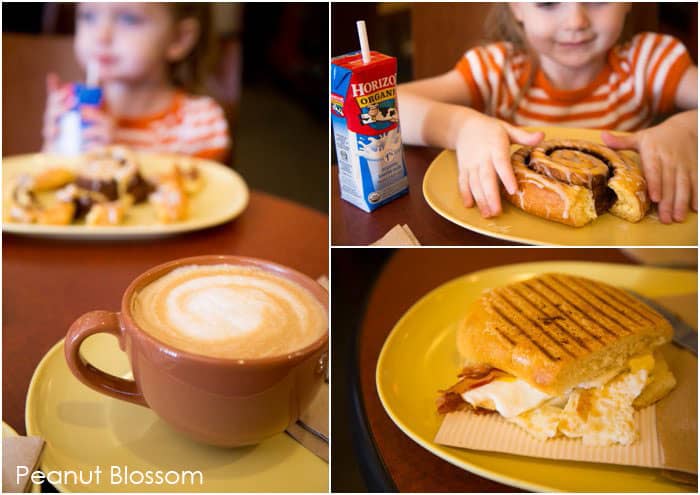 Sitting down at 9 am with a hot coffee, in a real mug nonetheless, felt like such an indulgence. How crazy busy have I allowed our schedules to become that this feels so unusual?? I realize now that these Mommy & Me Mornings are definitely just as much for me as they are for Little Pea.
How about you? What is your favorite way to start the day? Have you done something special for yourself lately--with or without a little buddy along? Leave me a comment below and you'll be entered to win a $100 Panera Gift Card!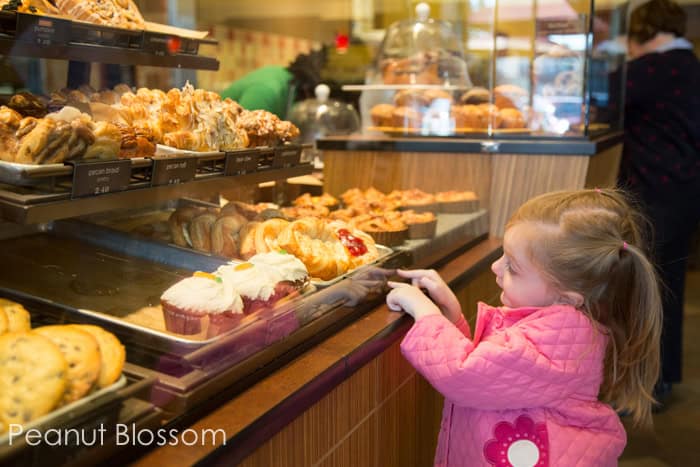 P.S. I signed up for the MyPanera Rewards card during our visit and was delighted to discover they load it up with free treats. We received a free pastry just for registering. When we got home I participated in the Panera Breakfast Backstory Challenge and entered to win an all-inclusive culinary experience trip for 2 to NYC. Oh how awesome that would be for Tim and me!
The challenge was actually really interesting. You complete 3 actions to earn a badge and they have a mix of cool action options like viewing recipes, articles, and videos such as this one:
Once you've clicked on your three choices you earn your badge. There are a total of 3 badges for 3 chances to win. It only took a few minutes of time to earn all 3 and one of the recipes was for an awesome overnight oatmeal. I totally clipped it to try sometime down the road. Tim is an oatmeal fanatic!
Sweepstakes Rules:
No duplicate comments.
You may receive (2) total entries by selecting from the following entry methods:
Leave a comment in response to the sweepstakes prompt on this post
Tweet (public message) about this promotion; including exactly the following unique term in your tweet message: "#SweepstakesEntry"; and leave the URL to that tweet in a comment on this post
Blog about this promotion, including a disclosure that you are receiving a sweepstakes entry in exchange for writing the blog post, and leave the URL to that post in a comment on this post
For those with no Twitter or blog, read the official rules to learn about an alternate form of entry.
This giveaway is open to US Residents age 18 or older. Winner  will be selected via random draw, and will be notified by e-mail. You have 72 hours to get back to me, otherwise a new winner will be selected.
The Official Rules are available here.
This sweepstakes runs from 11/13/13 – 12/8/13.
Be sure to visit the Panera Bread's page on BlogHer.com where you can read other bloggers' reviews and find more chances to win!