I'm  excited to introduce my first guest contributor: Colleen from Flee Fly Flown.

Colleen agreed to be my guinea pig with this idea for guest recipes and I couldn't be more thrilled with her submission. Handyman Tim gave this recipe two thumbs up. THANKS, Colleen!!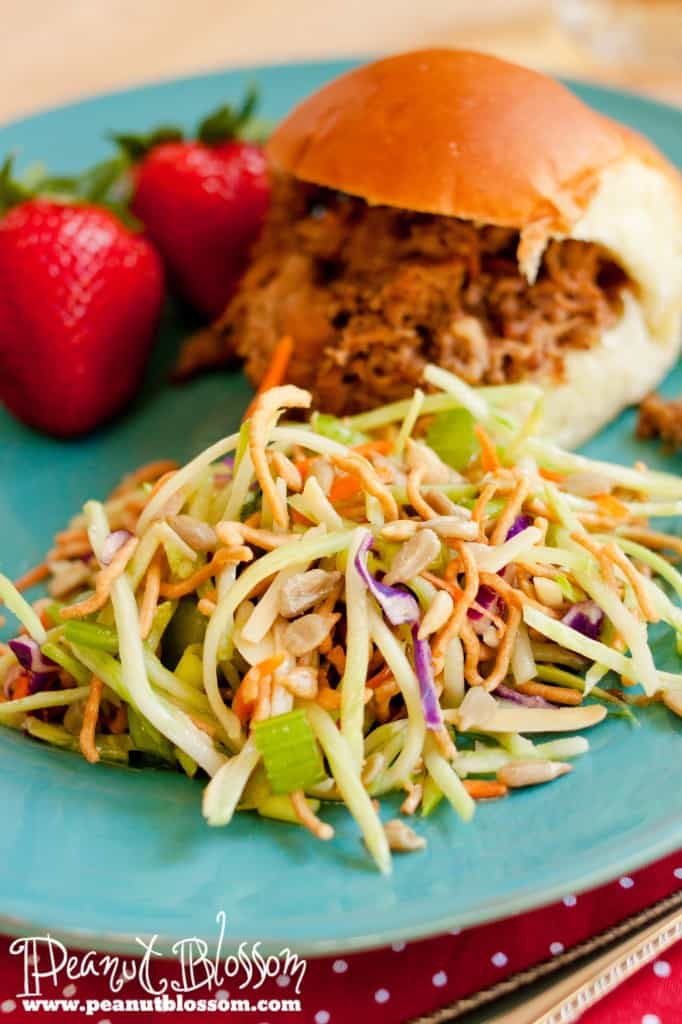 Favorite Summer Slaw
As is typical in backyards and decks of many a Midwest house during the few summer days when the weather is nice and the grill is fired up, my family is no exception to the ritual backyard barbecue. While the meat of choice may vary, there is one staple that is a requirement to our meal, Brocco-Slaw - an Asian inspired slaw with a nice crunch. 
While any grilled meat will do, below is the standard summer menu my family insists upon when we gather at the cabin.
- BBQ Bone-In Chicken on the Grill (Sweet Baby Ray's is our sauce of choice)
- Corn on the Cob
- Fruit Salad or Watermelon Wedges
- Asian Slaw
- Drink of choice
Other serving ideas - on top of a pulled pork sandwich, in an Asian inspired fish taco, beside the classic burger.
Here's to a tasty summer!

Asian Brocco-Slaw
Serves :: 6-8
Slaw Ingredients:
1 package of Broccoli Slaw (usually found near the bagged lettuce in produce)
5 Scallions, sliced
3 Celery stalks, chopped
¼ Cup Sunflower Nuts
¼ Cup slivered Almonds
1 small can of Chow Mein noodles (6-8 oz.)
Dressing Ingredients:
½ Cup Sugar
¼ Cup White Vinegar
⅓ Cup Salad Oil (vegetable, canola, etc.)
1 ½ teaspoon Soy Sauce
Directions:
Combine slaw ingredients. Combine dressing ingredients in a jar with lid and shake to mix well. Pour over slaw and mix with a spoon. Serve immediately.
NOTES:
-        If you make ahead, keep the veggies separate from the nuts and chow mein and dressing. (Combine veggies in their own bag, nuts in their own bag, dressing in its own container.)
-        Substitution / Addition ideas:
Honey instead of Sugar
Edamame (shelled soy beans, freezer section) added in addition to or instead of one of the veggies.
You can go low sodium soy sauce, but the soy flavor won't be very strong. Half low sodium, half regular is another way to go.